USAFL Proud to Announce Second Umpire Scholar at International Cup 2011
The USAFL develops Aussie Rules in the USA not just by promoting playing of the sport across the country - it actively promotes umpire accreditation too. Umpiring? Yes! After all, you can't have a game without umpires. From early on, promotion of umpires has been a priority, with hosting of umpire clinics as early as 2000 and the USA was the first ever country to send an umpire to the International Cup in 2002.
The USAFL raises the bar again in 2011 by sending a second umpire to the International Cup (IC). Jonathan Mills, of the St. Louis Blues football club has been selected as the USAFL Scholarship Umpire to represent the USA in August when the Revolution and Freedom teams join 24 other countries in Sydney and Melbourne. He will be coached by Jeff Persson who became the first ever non-Australian to be accredited at Level 2 at the 2002 International Cup.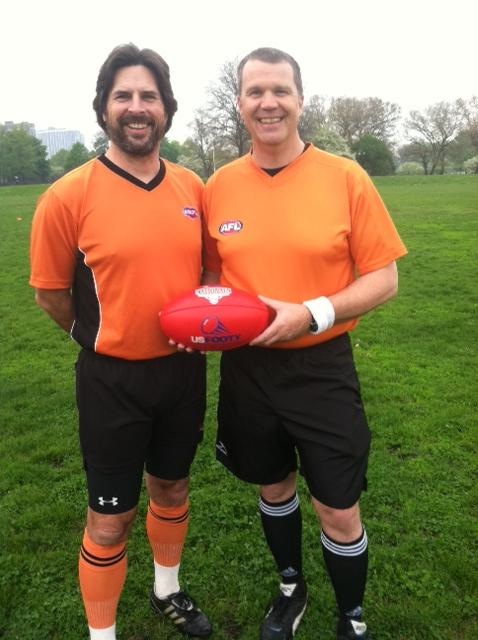 Jon initially trained as an umpire in 2002 and has been the Blues lead umpire ever since. Jon also attends the USAFL National Championships and umpires as many as 8 games on the weekend. He was awarded Level 1 Certification back in 2008 and has umpired a number of Grand Finals. While in Australia, Jon will be umpiring International Cup games in both the Mens and Womens divisions and will also be attending local umpire training. In addition to the IC matches he will get a few local games as well. There is a possibility to attend the AFL Umpires training and see just how the top of the profession prepares the best of the best.
Said USAFL Umpires Director, Jeff Persson, "Being the first USAFL Umpire Scholar in 2002 was a huge boost in my training and opened up a lot of doors, including a whole series of 'first ever' opportunities, highlighted by being the first ever non-Aussie umpire to work as a field umpire at the MCG [for the 2005 Grand Final]. I am proud to volunteer as the Umpire Coach and be able to give back to the USAFL by taking Jon through the same experience I had."
"As an umpire myself, I'm truly excited for Jonathan to take advantage of this fantastic opportunity. It also cements the USAFL as an international leader in umpire accreditation, having the only non-Australian Level 2 umpires in the world and the first country to send umpires to the International Cup and have them umpire in official international matches" stated Richard Mann, USAFL President.
Jon is no stranger to Australia: "My love of Footy started in the early 1980's when an upstart cable company called ESPN started showing Australian Rules Football's game of the week on Thursday afternoons. I told a few of my college buddies about this new game on cable and invited them over to watch. Next thing I knew, we were 4-6 guys each week watching. I quickly grew an affinity to the Hawthorn Hawks featuring greats like Leigh Mathews and Gary Buckenara (still my favorite player!). Since we were still a bit iffy on the rules, I went to the library, looked up the AFL, and soon I joined the Hawthorn Hawks barracking club and asked them to send a rule book which they obliged. It was a thrill to watch the Hawks wallop the Essendon Bombers in the 1983 Premiership. But then ESPN grew too big and the AFL Game of the week was dropped from the lineup."
"Things were dark till 1991 when I won a three week trip to Melbourne, Australia. During the three weeks, I was determined to see as many games as possible. After careful scheduling and a month long mass transit pass, I managed two Bomber games in the old Windy Hill stadium, numerous MCG games (renovation was underway on the Southern Stands) and of course, a few games at Waverley Park to barrack for the Hawks and to watch the great Jason Dunstall play. Talk about your Footy fix!
"After returning home, things again went dark until 2002 when I was looking to be more active over the summer months and I remembered seeing a news piece about a group of young men playing Australian Rules Football in my home town of St. Louis. A quick internet search found the St. Louis Blues USAFL club and the phone number to the Blues' President Jim Martin. I called Jim, introduced myself, told him that I was a College and High School soccer referee, that I was very familiar with the game of Footy, and wanted to know if they needed Referees. I remember Jim hiding his excitement in his voice as apparently Footy umpires in St. Louis were hard to come by. We discussed all of the particulars and within a month I was training with the club. My first umpiring experience would turn out to be a month later in April when we traveled to Cincinnati for the Revolution try outs and my first year of "Umping" culminated at the October Finals in Kansas City! And the rest, as they say, is history!
"It is an extreme honor to be the recipient of the 2011 USAFL Umpire Scholarship. I was thrilled to learn of my selection and thank Richard Mann, Seth McElvaney, Jeff Persson, all members of the USAFL Board for their consideration, support, and generosity. I am eager to be a part of the United States Revolution and Freedom 2011 International Cup Teams, to represent our country, and be an ambassador for the USAFL. I am excited to work closely with my mentor Jeff Persson and the AFL Umpires during the Cup. I hope to absorb as much as I possibly can, and in turn, share all of the information, insight, and  knowledge I gain "Down Under" with my fellow USAFL Umpires upon my return and do all I can to further our development and expansion."
Who is Jonathan Mills?
Home: Lake St. Louis, Missouri
Age: 50
Married to wife Shelly. One daughter – Audrey
Australian Rules Umpire since 2002
Level 1 Field Umpire Accreditation - 2008
Soccer referee since 1980
First Missouri State High School soccer game worked: 1981
First National Intercollegiate soccer game worked: 1983
American Indoor Soccer League (Professional League): 1985-1986