Revolution Staff
Head Coach - Tom Ellis
Tom has been involved in the USAFL since 1999, playing and coaching with the Denver Bulldogs.  Tom has also played on the USA Revolution starting in 2000 playing in Canada, Europe and in 2 International Cup.  He has played  22 games with the squad.  He was Vice Captain for the 2002 Inaugural International Cup.
For the Bulldogs he played on 7 Division 1 National Championships.   Earning Division One Most Consistent at Nationals in 1999, 2001 and in 2007.  In 2004 he was named Best on Ground in the Grand Final against NY Magpies.  He is the only American to Coach a Division 1 Team to a championship and he has 3 under his belt, 2007,2009 and 2011.
In 2006 he was named coach for the Denver Bulldogs and also coached the Revolution in a curtain raiser for the G Day LA game prior to the Swans Roos game held at UCLA.  At the National Championship Division 1 he has coached to a record of 20 wins and 5 losses.  As a player at the Nationals Championships Div 1 he has a record of 39 wins and 7 losses.  Tom has a background of American Football growing up in Texas and also coaches Pole Vault at the High School Level.
 USAFL Experience:
AFL Denver Bulldogs played on team 1999 - 2012
AFL Denver Bulldogs coached team 2006,2007,2008,2009, 2011, 2012, 2015
 Played on the US National team 2000 - 2005
Vice Captain of US National team during International Cup 2002
Played in the International Cup in Melbourne 2002 & 2005
Coached Division 1 USAFL National Championship teams 2007, 2009, 2011
AFL Talent Scout for Fredrick Sports Imports
Qualifications: AFL Level 1 Coaching Accreditation, Kick Builders Certified Coach
Assistant Coach (Back Line) – Jason Becker
Jason began playing footy with the Milwaukee Bombers in 1999. In 2000, he became the Center Half Forward for the American Revolution, where he played for three years, representing the USA in 10 international matches. In Melbourne in 2002, Jason kicked the first ever goal in International Cup history. Jason was an Assistant Coach for the American Revolution in 2008. During his career with the Bombers, Jason's on and off field leadership helped the team grow. With the Bombers, he played in USAFL Grand Finals in Divisions III, II and I.  Jason then coached the Minnesota Freeze, a team that won the USAFL Division III title in 2005 while playing in their first tournament as a full squad. Only a year later, the Freeze finished the season as Division II runners-up and a year after that took home the Division II flag.
USAFL Experience:
2008 & 2011 Assistant Coach for USA Revolution at AFL International Cup
2005 - 2009 Coached Minnesota Freeze
2000 - 2003 Played USA Revolution
1999 - 2004 Played Milwaukee Bombers
Coach Midfield- Dan Sarbacker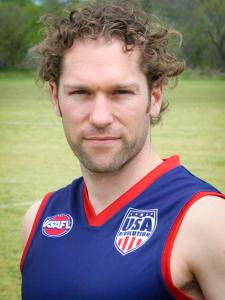 A two sport athlete in college (soccer, track & field), Sars discovered footy a year after graduation in the fall of 2002. He joined the Revolution in 2003 and has appeared over 30 times for the Revolution in exhibitions, internationals, and three International Cups.  Captaining the squad in recent years, he led the national side's climb back into prominence in the world footy scene at last fall's International Cup, as the Revolution reached the semifinals, ultimately finishing 4th behind perennial powers Ireland, PNG, and New Zealand.
Sars began coaching soccer in 2000 with Busch Soccer Club in St. Louis and carries a US Soccer National D Coaching License.  He finished with Busch in 2007 sending a majority of his players to collegiate programs, including the Player of the Year as a freshman at Marquette.  After some informal coaching stints around the USAFL, he took an official position with the US Freedom Women's National Team on their 2009 Australian Tour.  He was an assistant for the first ever women's international team to tour Australia.
He looks forward to joining the Revolution staff as the Development Squad Head Coach supporting the National Team program as it grows and gathers momentum toward the 2014 International Cup.
USAFL Experience:
2009 Assistant Coach for USA Freedom tour of Australia
2003 - Present Played for the USA Revolution
2011 Captained the USA Revolution at AFL International Cup
Played for St Louis Blues
Played for Milwaukee Bombers
Played for Chicago United 2011-present