History of the Freedom
In 2003, the first women's match of Australian Football was played in North America at the USAFL National Championships in Kansas City. Less than 4 years later and 2 years from the first Women's championships, the US Freedom was founded in 2007 as the USAFL Women's National Team. On August 4th & 5th 2007, the Freedom traveled to Vancouver, BC to play the newly formed Canadian Eagles national team. We believe that this was the first women's international match in the history of Australian Football. On Saturday the two teams played a tune up match of 2x20 minutes. The Freedom ran out winners by a score of 7.7.49 to 0.0.0. Highlights of the match were Atlanta's Judith Stein scoring the first international goal for the USA.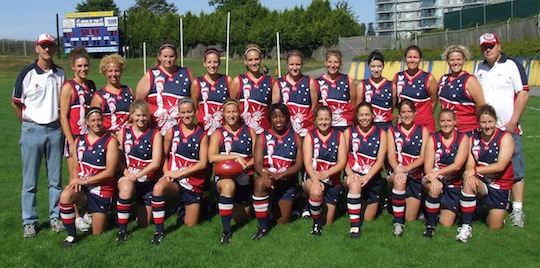 Sunday was a new day and the Freedom did not take their opponents lightly. They knew that Canada would come out hard trying to improve on the previous days results. This match was 4 quarters of 15 minutes each. The Americans won again, this time by a score of 14.13.97 to 0.0.0. The Canadians were much younger and their program is very new. The Freedom are going to have to work very hard to stay ahead of Canada for any length of time.
The founding members of the USA Freeedom are
Kathryn Hogg, Minnesota Freeze
Judith Stein, Atlanta Lady Kookaburras
Jennifer Sarbacker, Atlanta Lady Kookaburras
Dewi Mitchell, Atlanta Lady Kookaburras
Nikki Peoples, Atlanta Lady Kookaburras
Denise Lafaver, Atlanta Lady Kookaburras
Christina Murdock, Atlanta Lady Kookaburras
Stephanie Powell, Atlanta Lady Kookaburras
Cathy Reinhardt, Atlanta Lady Kookaburras
Nicole Martiny, Milwaukee Lady Bombers
Suzy Thomas, Milwaukee Lady Bombers
Michelle Buchicchio, Milwaukee Lady Bombers
Ellie Frey, Milwaukee Lady Bombers
Diana Pizzari, New York
Erin Welsh, Arizona Lady Hawks
Geri Jellison, Arizona Lady Hawks
Tina Arend, Arizona Lady Hawks
Audra Woodward, Arizona Lady Hawks
Dionne Jones, Florida Fusion
Ali Van Horn, Florida Fusion

Unable to play due to injuries:

Denielle Beilfuss, Milwaukee Lady Bombers
Pernille Christensen, Atlanta Lady Kookaburras
Karla Mascerena-Pack, Arizona Lady Hawks

Coaching Staff:

Wayne Kraska, Head Coach
Dan Sarbacker, Assistant Coach
David Pack, Assistant Coach