USAFL Junior Development
Australian Rules Football has a strong history of youth involvement in the United States. Over the past decade, passionate volunteers have established long-running and successful programs in places like Washington, D.C., New-York and Sacramento, CA, and run kid's clinics in cities across the country. Kids who've taken part love it as its fast pace and variety of skills makes it both new and familiar - often feeling like a hybrid game of some of America's favorite sports like soccer, basketball and volleyball. We like to think it's the best of everything rolled into one awesome game, with skills and learnings applicable to many other sports!
In Australia, young footy talent is nurtured and developed through the Auskick program, which teaches boys and girls between 5 and 12 the skills of the 150-year-old native sport through a non-contact variant of the game. Auskick is to Australia what Little League is to baseball in the U.S., and it has become a ubiquitous sports activity across many parts of the country that sees participation levels north of 200,000 kids a year. It is an inclusive and diverse program that has spread across the nation and continues to grow internationally. "Auskickers" are regularly seen playing matches at half time of AFL games, to the delight of the crowd. 
Building on the strong legacy of youth football programs and clinics, the USAFL is proud to support the growth of 'Aussie Rules' to more kids across America through the USAFL Junior Footy initiative, sharing best-practices and centralized support to a network of passionate volunteer programs across the U.S.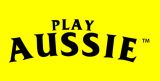 Play Aussie is the lead sponsor of USAFL Junior Footy
This program has been specially designed for the U.S. physical education curriculum, providing for cardiovascular stimulation, diversity in skills and a fantastic team dynamic to keep all participants active all the time. Sessions often comprise of running-based games for fun and to build cardio-vascular capacity which is critical in footy(elite footballers are known to run an average of 8 miles per game); skills sessions to teach kids such as kicking (similar to NFL punting or soccer goalie kicks); marking (catching the ball like NFL wide receivers or basketball passing); hand-balling (similar to a volleyball serve); bouncing and ruck tap-outs (both similar to basketball equivalents). With 18-a-side at the adult level and game-play like basketball and soccer, footy is fundamentally a team sport so USAFL Junior Footy also commonly includes drills and mock games that are essential for teaching kids the importance of teamwork, coordination and on-field communication that is essential for success. 
Both here in the U.S. and in Australia, Auskick isn't just a program for kids - it's for parents to get involved too! The program has a tradition of involving families on the field together, having fun learning and celebrating those footy 'firsts' with their Auskickers. It's super easy to help, even if you're not familiar with footy.
USAFL Junior Footy is an adaptable program that anyone can run and can be designed to fit local conditions - including variable field size, team numbers and rules - to best suit your local community, school and students.
The Auskick website is loaded with all the resources you need to get an Auskick program started in your school,  instructional videos and links. 
Auskick Resources
USAFL Junior Footy Programs
For more information contact juniors@usafl.com.