2010 USAFL National Tournament
The 14th Annual USAFL National Championships will be held in Louisville Kentucky over the weekend of October 9th-10th, 2010.
It is a fitting tribute to Louisville to see the return of the USAFL to the city that hosted the VERY FIRST game in the USA in September of 1996. To compliment this, starting in 1997, the first three National Championships were held in the city of their opponent in that game, their mid-west neighbor, Cincinnati.
In a tribute to the first decade of the US Footy Nationals, the championships returned to Louisville in 2007 and with the huge success of those championships, the enthusiasm of the local community and the subsequent irrigation of the fields, it is fitting that the USAFL Nationals return once again to Louisville, Kentucky.
The growth of Australian Rules Football in the USA since that game has been truly amazing. The first Nationals in 1997 saw five teams compete on one field over two days of exciting footy, and plenty of socializing.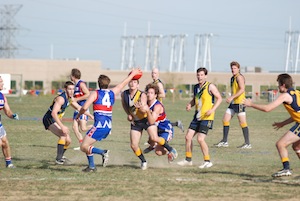 This year will see over 30 men's teams and looking forward to seeing 8 or more women's teams compete at Louisville Soccer Park, just minutes from downtown Louisville and world renowned locations such as Churchill Downs, the home of the Kentucky Derby, the Louisville Slugger Museum and Muhammad Ali Museum.
The entire USAFL board, National Championships Organizing Committee and the Louisville Kings Football Club take great pride in announcing the location for this years National Championships and putting on a world class event.
ACCOMMODATION >
SCHEDULE >
MAPS & DIRECTIONS >