USAFL News
Jul 25, 2018

Katrina Scherer (Columbus Cats) – Bond University (QWAFL)
Read more »
Jul 19, 2018

Footy in the US is a summer sport.  It's a complete 180 from the climate in Australia, where it is dead in the middle of their winter and that's where the game thrives.
That's why the game here is a completely different beast, and last Saturday in Nashville the winners were those who could handle not just the teams in front of them but the neigh-triple digit temps that greeted them at Metro Soccer Complex.  With planes landing at Nashville International behind them, 13 teams from the breadth and width of the Midwest came in search of a cup.
Read more »
Jul 18, 2018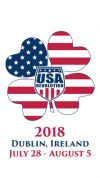 As the clock ticks towards the 2020 AFL International Cup, coach Tom Ellis is taking the USA Revolution men's National team overseas to stretch its legs.
The Revos will head to Ireland this month for three matches, two of them against the Irish Warriors in Dublin, sandwiched around a midweek trek to Belfast to take on the Belfast Redbacks Football Club.
Read more »
Jul 13, 2018

They say that Boston is the hub of New England, such that all roads seem to lead there.   Tennessee, it might be argued, is the hub of the south.  No fewer than seven states border her, and smack dab (nearly) in the middle is the city of Nashville.
Read more »
Jul 10, 2018
Sam Murphy's journey from American football walk-on to state league Aussie footballer has been a fun and eventful odyssey. The ruckman from the Los Angeles Dragons made his debut two weeks ago for the West Perth Falcons in the WAFL, becoming the latest American to thrive in local footy.
Read more »
Jun 29, 2018

The forecast called for thunder and lightning, very very frightening.
There was rain, and mist, but there was no physical lightning.  But there was a change of the guard across all three contested divisions at the Eastern Regional Championships in suburban Philadelphia.
The Philadelphia Hawks and Columbus Cats won their first ever men's regional championships, while the Boston, Baltimore, and DC Eagles ladies combined to lift their first ever trophy on the women's side.
Photography Credit: Tim Koen Photography
Read more »
Jun 26, 2018

The USA Revolution is Proud to announce they will be traveling to Dublin Ireland July 28-August 5th 2018. 
The Revolution will take a squad mostly consisting of developmental players. Most of this squad barely missed out on making the Revolution team that placed 4th in last year's International Cup. They are all eager to show the USA that they are deserving and will look to make an impression leading up to the next cup in 2020.
Read more »
Jun 25, 2018
It's with great delight that the Chicago Swans officially announce the Chicago Swans Women's team.
The Chicago Swans have been an integral part of the US footy community since the mid 90s, and off the back of growing popularity of Women's AFL across the world the Club are excited to launch the Swans Women's team in 2018. 
Read more »
Jun 22, 2018

Philadelphia is a city of beginnings.
It was America's first major city, it's first capital, and the birthplace of this country's two most important documents.  It's where Ben Franklin, Mike Schmidt, and Ed Rendell had their best years.  It's an area that loves its history, its culture, and its sport.  In the words of comedian Joe Conklin, "It's the only place where babies learn to boo before they can walk."
It's also the only place in America where you can get a decent cheesesteak.  Don't try and fight me on this, you will lose.
Read more »
Jun 21, 2018
Everyone's favorite poll is back for another year.
The USAFL Top 20 Poll returns for its fourth season, as we've again assembled our crack, nine-person super-secret expert panel.  Each panelist votes for who they think are their top twenty USAFL teams.  Each first place vote is worth twenty points, nineteen points for each second vote, and so on.
Read more »
Jun 19, 2018

With over 1500 men's and women's players across 40 clubs nationwide, the strength of the USAFL is definitely its clubs.   A key challenge for clubs has been achieving sustainable growth with obstacles such as travel distances and costs often making it difficult to sustain operations and build player numbers.
Read more »
Jun 11, 2018

Ten years after bursting onto the American footy scene, a new era begins for the club from the capital of Ohio.
The Columbus Australian Rules Football Club, whose teams up until this season have been known as the Jackaroos and Jillaroos, are officially now known as the Columbus Cats.  The change includes a relationship with the AFL's Geelong Football Club, which was founded nearly 150 years prior to the team in Columbus.
Read more »
Jun 9, 2018

This is the eight weekend of USAFL play, and from coast to coast and all points in between, there is a heaping helping of footy available.  This week, you'll be able to click the name of most of the events below to get more information direct from the clubs via Facebook events and team pages.
Its GAME DAY, USA!
Read more »
Jun 7, 2018

DES MOINES 80/35 TOURNAMENT – WEST DES MOINES, IA
MEN: 1st Chicago Swans (4-0), 2nd Minnesota Freeze (3-1), 3rd Denver Bulldogs (2-2), 4th Des Moines Roosters (1-3), Wisconsin/Minnesota-B (0-4).
WOMEN: Minnesota Lady Freeze 6.15.51 def All-Comers 1.4.10
Read more »
Pages