Six Americans Lead Charge Towards AFLW
It's been a meteoric rise for women's Aussie Rules football over the past five years.
The most visible aspect has been the birth of AFL Women's in 2017 and its rapid growth.  From eight teams in its inception year of 2017, the league is poised to go up to fourteen clubs next year, and it will only be a matter of time before all eighteen AFL member clubs are represented.
The impact of AFLW has trickled down into the roots of the sport, from the state leagues in Australia, to local clubs, and to leagues and programs overseas.  It has given women a pathway to play football at the highest level and firmed up the foundations for more and more female athletes to get involved in our great game.
For a group of American women, it is a chance to strike while the iron is hot.
Six Americans, including four with USAFL ties, are currently in Australia traversing the AFLW ladder.  Four of the six are currently listed by VFLW clubs, a fifth is on trial with another VFLW club, and the sixth has captured the attention and inspiring the football community.
It has taken a lot of hard work to make the ascension towards playing at the state league level, let alone be able to get an audience with an AFLW club.  But these six have all taken different paths to get to this point, both before and after discovering the game.
One of the most experienced of the bunch, 25-year-old Jessica Blecher (pictured above), made her debut for Collingwood's VFLW team this past weekend.  Starting at fullback for the Magpies, she had a solid game in a 43-8 loss to the Southern Saints, the VFLW affiliate of St. Kilda.  Blecher, who first played footy while attending school in Western Australia, began her USAFL career with the Portland Sockeyes in 2015.  In late 2016, with the help of the USAFL Australian Advisory Board (AAB), she began playing for the Nightcliff Tigers of the Northern Territory Football League. 
Heading to Melbourne once the NTFL season ended in March 2018, the San Jose, California native donned the blue, white and red of Keilor FC in the Northern Football League, where she was among the best players on a team that reached the Grand Final of an increasingly improving women's competition.  After competing in her fourth USAFL Nationals for the Sockeyes, and returning to Nightcliff for a second NTFL season, Blecher was awarded the inaugural Tony Fairhead Scholarship Award, allowing her to continue her footballing odyssey overseas.  She began training with Collingwood in March and was presented the number 58 jumper before the season opener against the Saints last week.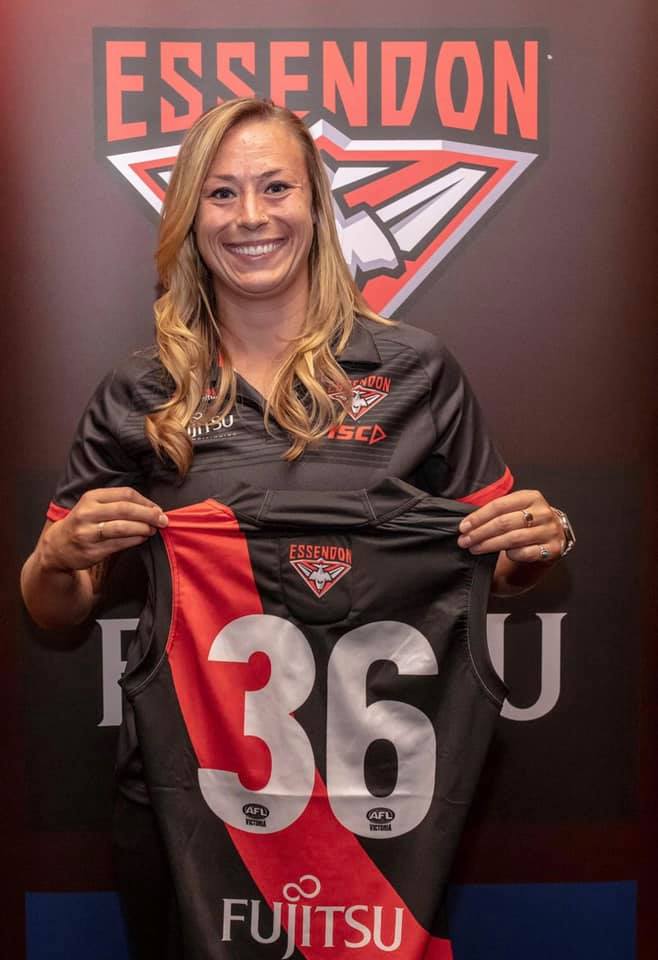 Blecher joins a growing list of players, both men and women, who have been a part of the USAFL AAB's player exchange program.  Another exchanger, Katie Klatt, just returned from a two-and-a-half season stint with Melbourne University.  Klatt was the first regular American VFLW player, and her time with the Mugars has been key in paving the way for others.
While Jess Blecher landed at one legendary club, 29-year-old April Lewis (pictured left) landed at another.  Originally from the Seattle suburb of University Place, Washington, Lewis was recruited by Essendon from the CrossCoders program.  The 5'10" Lewis played soccer into her teens and won a scholarship to run cross-country at New Mexico State University.  Upon arriving back home, she joined the Seattle Grizzlies in 2017; just in time to be a part of the Grizzlies' dramatic arrival as a major player in the USAFL Women's competition in just their second year of existence.
Playing mostly in the ruck, Lewis was awarded Best & Fairest honors at both the 2017 and 2018 Western Regional Championships, and helped lead the Grizzlies all the way to last year's Division 1 Women's Grand Final.  Before going to Nationals, Lewis travelled to Melbourne as part of CrossCoders, alongside Seattle teammate Amelia Kahr and around twenty other women from around the world.  Selecting Essendon from a number of club offers at the beginning of this year, she is one of two North Americans, aside from Canadian Kendra Heil, donning the sash at Windy Hill this season.  Lewis was not named in the Bombers' opening round game against Casey, but did play for her community team, the VAFA's West Brunswick Magpies, in their seventeen-point win over Fitzroy this weekend.
In addition to Blecher and Lewis, two other Americans were signed by VFLW teams this season, both of whom picked up the game from outside the USAFL. 
Minnesota's Erin McLaughlin (pictured right) joined the Darebin Falcons after playing two seasons for West Brunswick.  In 23 total games for the Westies, she notched seven Best-on-Ground nominations and kicked four goals.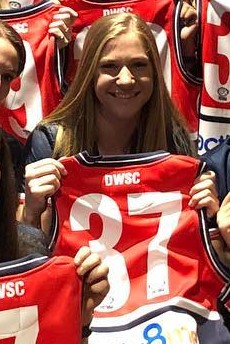 In her VFLW debut for Darebin this past weekend, McLaughlin kicked a goal and was in her team's best in a losing result to Richmond.  The Falcons are well known in the women's football world, having been a perennial powerhouse in the league's VWFL days.
Then there is 6'2" Katie Stone (pictured left).  From California originally, Katie first began playing Aussie Rules while at Oxford University, and also suited up for AFL London's North London Lions.  After joining the Women's AFL Academy, Stone was recruited to Carlton, surrounded by the core of the Blues' AFLW Grand Final team from this past season.  In spite of her never having played a USAFL game, she was named to the USA Freedom Training Squad camp in Racine, Wisconsin this August, ahead of next year's AFL International Cup tournament.
As McLaughlin, Stone, Lewis and Blecher got their seasons underway earlier this month, two USAFLers made their way across the Pacific to try out with clubs on their own right.  Arizona Lady Hawks' Danielle "Dani" Marshall and Denver Lady Bulldogs' Sara Edwards-Rohner were making the rounds in Melbourne as part of month-long trips.  In the past week, their stories have been picked up by most Australian news outlets, including the Herald Sun, the ABC, and 1116SEN in Melbourne.
Marshall, a 27-year-old Coloradan, was a standout soccer midfielder at the Colorado School of Mines, an NCAA Division II program.  She and her freshman-year roommate, Aubrey Bagley, discovered Aussie Rules on ESPN while channel surfing one night in 2009 during their first year at Mines.  Bagley started playing for the Houston Lonestars in 2017, and informed Marshall that there was a team in Marshall's current home of Phoenix playing that cool sport they had seen on ESPN a decade earlier.
It turned out to be a match made in heaven.  Not only was Marshall arguably the best first-year player in the USAFL Women's, but she became the first rookie to take home the Paul Roos Medal for Best & Fairest in the Women's Division 2 competition.  She was added to the Western Bulldogs' VFLW roster this week and will be available for selection in their season opener against Williamstown on Saturday.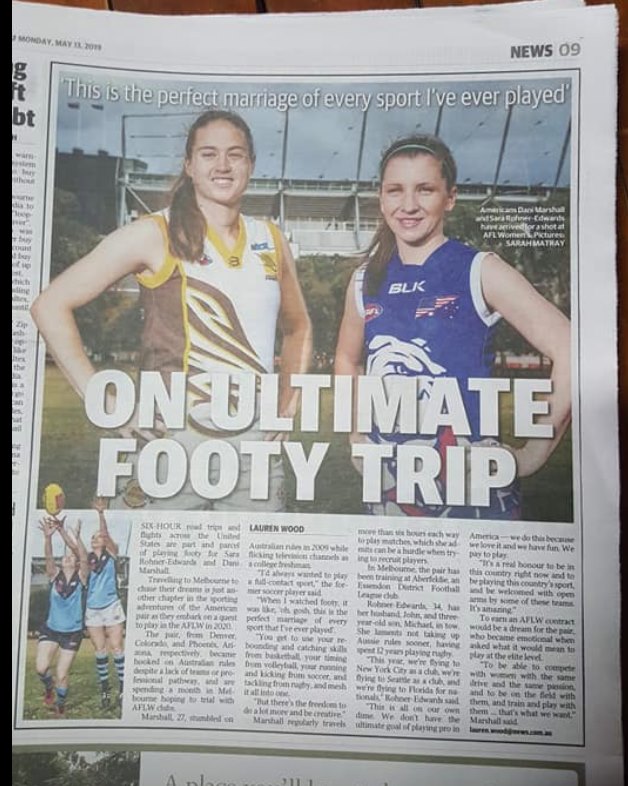 For Edwards-Rohner, however, the road has been more arduous.  A member of USA Rugby's elite program for nearly a decade, she made the switch to Aussie Rules in 2012 after her friend, Lady Bulldog Colleen McNab, convinced her to give footy a try.  She hasn't looked back.
Edwards-Rohner was one of the main ingredients in Denver's dynasty at the beginning of the decade, being a part of four of the team's six premierships and earning a spot on the USA Freedom's 2014 International Cup roster.  But as she wrote in Exclusive Insight, she struggled to regain her form and fitness following the birth of her son Michael in 2015, playing sporadically over the next three seasons.
With AFLW gathering momentum, and with more opportunities for American women to play overseas coming to the fore, last season saw her recommit to the sport, both as a player and clubperson.  She took on the role of Vice President for the Bulldogs, as well as an on-field leadership position on the Lady Bulldogs' playing group.  What's more, she had arguably the best season of her career and was named team Best and Fairest.
At 34, Edwards-Rohner's window of making it to the AFLW is slimming, but with help from fellow Bulldog James Waddell she was able to attain tryouts at clubs in Melbourne and Queensland.  Irrespective of how her story ends up, it has been an inspirational one, and she has reported receiving messages of support from footy fans in Australia in response to the coverage of her journey.
Just as important, as explained in their interview on SEN, is that both she and Marshall have the support of their families, should a spot in the AFLW and a move overseas be in the cards.
The experience that these six women gain from playing and training in Australia will do more than just put them in position for upward mobility.  For the four USAFL players, and for the four (Blecher, Lewis, Stone and Marshall) heading to the USA Freedom Training Squad camp in August, it will give them a multitude of lessons in preparation and execution that they will be able to impart to their teammates.
Nonetheless, the door has been kicked open for Americans to be a part of the AFLW conversation, and we'll be following them, as well as the men representing us in Australia, all season long on the Export Report.
Photo credits, from top to bottom: EverArt, April Lewis, WorldFootyNews, Women's AFL Academy, Herald Sun via facebook