2022 Regionals Recap & All-Regionals Team
Summer.  Hot weather, barbecues, sunnies, and a blank canvas to paint adventure.
A perfect setting for the return of a yearly tradition – the USAFL Regional Championship Series.
After missing out in 2020 for that big ol' pandemic, and seeing the Summer Series spread across six cities a season ago, the classic traveling road show returned with tournaments held in each of the league's three regions.  
The Eastern Regionals were held in at Lower Perkiomen Valley Park in Oaks, PA (Philadelphia) on June 4th, the Centrals two weeks later at the National Sports Center in Blaine, MN (Minneapolis/St Paul), and the Westerns wrapping things on July 16th at Westminster City Park in Westminster, CO (Denver).
---
EASTERN REGIONALS SCORES AND REPLAYS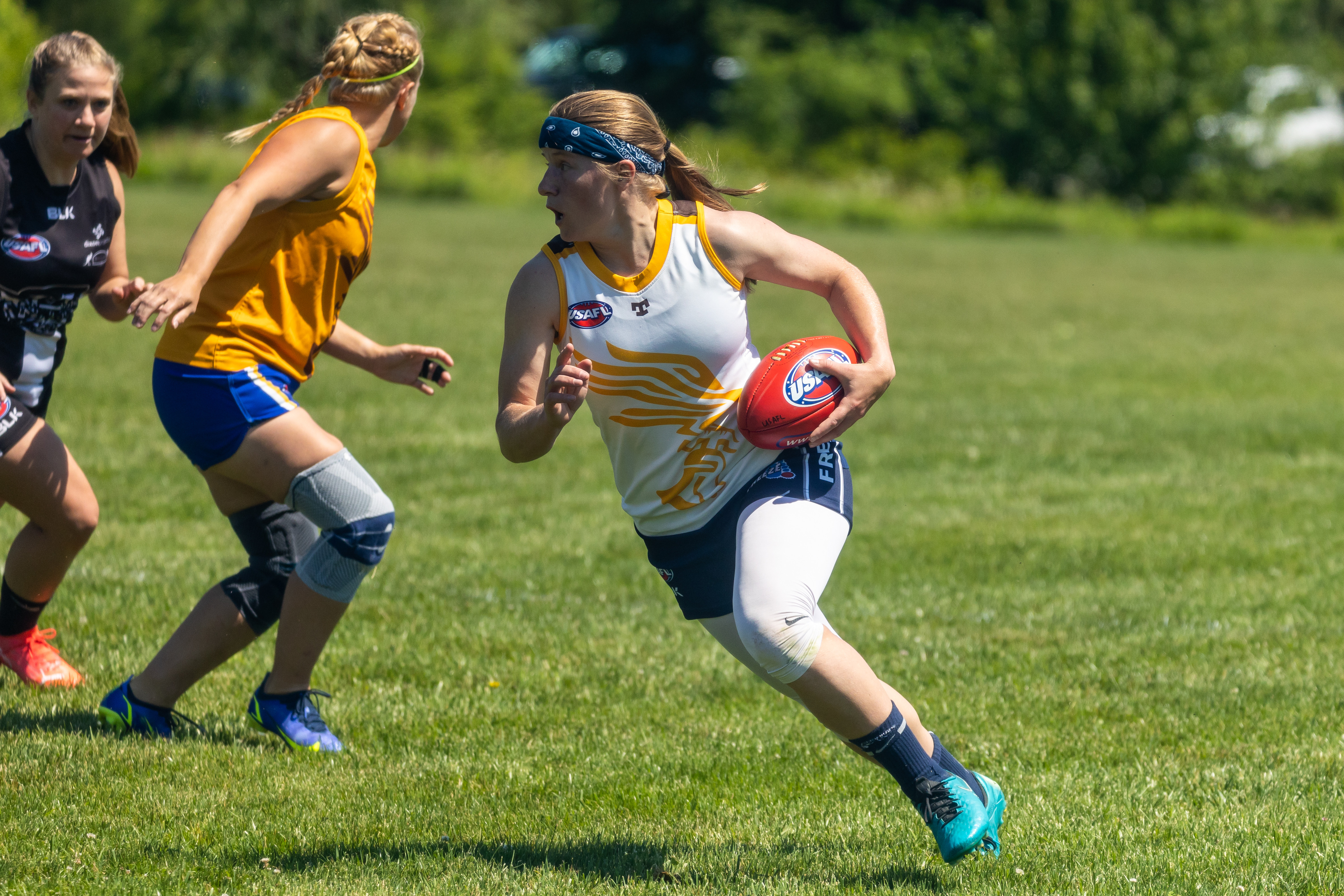 We started out at the Hawks Nest, where a warm but clear day greeted four men's teams and three women's sides.  The location along the Lower Perkiomen Creek Trail was excellent for bringing in new fans for the first time.
There, the hometown Philadelphia Hawks men were trying for their third straight Regionals title. Just like the 2021 Summer Series, the first game was between the Hawks and DC Eagles, and like deja vu, it was the Hawks surviving a missed Eagles kick after the siren to hang on.  But the afternoon ended with the New York Magpies sweeping through the field, including a come from behind victory against Philly, to be beasts of the East for the first time since 2016.
It wasn't all bad news for the hosts, however, as the Lady Hawks combined with athletes from the Minnesota Freeze, Baltimore Dockers, Cincinnati Dockers, and Columbus Cats to take out the Women's Division.  It was actually a historic first, as all three teams finished at 1-1.  A 31-9 victory by the Hawks and friends over the Magpies women ended up being the difference, as the DC Eagles were held to a 3-point win by the combo team, and NYC's two goal victory over DC was not enough for them to overcome Philly/Minny/etc on percentage.
CENTRAL REGIONALS SCORES AND REPLAYS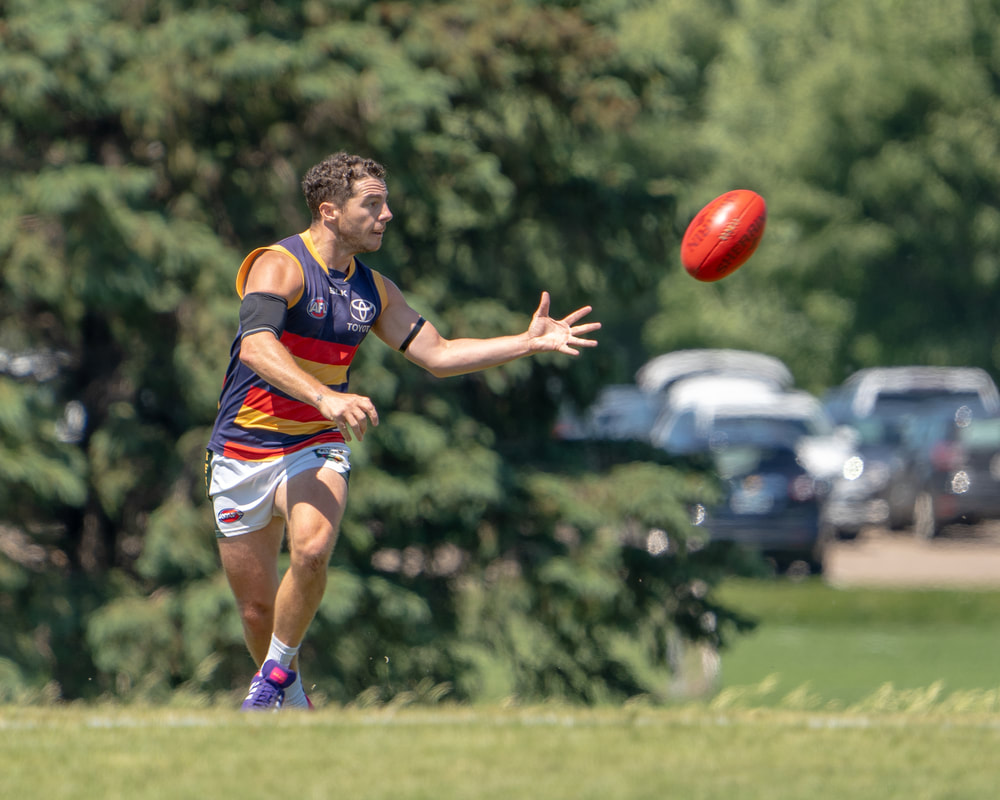 From the Keystone State we flew to the North Star State.  Six men's teams and two women's teams converged on the NSC for the first time, and we lucked out by having moderate temperatures in the low 80s F, two days before the area saw triple digits.
Though the top seeds on the men's side, Austin and Minnesota, won each pool, it was not without a struggle from the other clubs that came to Blaine.  Nashville/Chicago gave the Crows a scare in the second game of pool play, but the Crows prevailed and went onto the Grand Final, where they accounted for the hometown Freeze by 49 points to win their third straight Central Regional Final and fifth overall.
More than two dozen women made their way for a rivalry match pitting the Minnesota Freeze and North Star Blue Ox, with a number of players from the Freeze helping to top up numbers.  There were many highlights, including Freeze player Cathy Hoha throwing a shepherd on one daughter to spring her other daughter, and Blue Ox's Jenna Rimmereid, recruited an hour before game time, kick one of the goals of the tournament.  It was the Freeze who ran out by 20 points.
WESTERN REGIONALS SCORES AND REPLAYS
Onward to Denver we went, the largest carnival of the series with twelve teams playing in three divisions.  It was good Melbourne weather, four seasons in a day – hot and humid, warm and without win, then blustery, the pouring rain and hail, then sun and heat again.
The Denver Bulldogs were the top seed in men's Division 1 and despite winning eight National Men's D1 titles, they were still in search of their first regional crown.  The stiffest test they got all day was from the Seattle Grizzlies, who held them to a 44-21 scoreline, but the Doggies kicked on against Los Angeles and Golden Gate to sweep the field, and enjoy their first win in a USAFL tournament since 2011.
Just as the men did, the six-time National Champion Denver women also went into the field as the top seed, though they had a tough field to navigate.  Indeed, the Seattle Grizzlies showed a bit of a resurgence after struggles last year, fielding a full side and pipping Denver and Sacramento to finish in second at 2-1.  But it was Katie Klatt and the current five-time National Champs from San Francisco who ran away with their second straight Western Regional championship and third all time.
It had been five years since the Sacramento Suns won a Western regionals of their own, but in Men's D2 this would be their year.  They had to scrap for it, though, after a four-goal win over the Denver reserves, they took a four-point squeaker over Orange County before coming back to beat the Arizona Hawks in that aforementioned squall.
---
In addition to the team trophies, a number of individuals were honored at the tournaments themselves.  Each division's best-and-fairest was awarded based on the umpires voting, with the best player from the game pitting the top two teams in each division being given MVP honors.
Further to the awards given out at the carnivals themselves, the voting by the umpires were used to compile the second ever All-Regionals Teams.  Continuing a tradition started in 2019, the top players on the men's and women's sides are honored below with each of the playing sides (as opposed to clubs) guaranteed of at least one representative. 
There are more than a few veterans amongst the 49 players named to these two teams, including New York's Kim Hemenway and Janie Green on the women's side, and Austin's Nolan Cox for the men.  But there were some dazzling rookies, including the ruck efforts of Minnesota's Liz Edd, who caught more than a few glances and were rightly rewarded with a spot for posterity.  
For the first time, these honors include a coach, as selected by your humble writer and the observations of umpires and other on-lookers.  For the women's team it was Minnesota's Mark Fischer, who led the combined Philly/Minnesota and friends team to the Eastern/Central crown over two very strong D1 clubs.  The men's coach was Facundo Lay of Sacramento, who helmed a Suns team who deftly defeated three strong opponents to take out the Western Men's D2.
Players were chosen for these teams based on the voting and not by position; these were assigned by yours truly based on observations over the tournament and from past appearances, so if you or a teammate is not in a normal position, I beg your pardon and indulgence.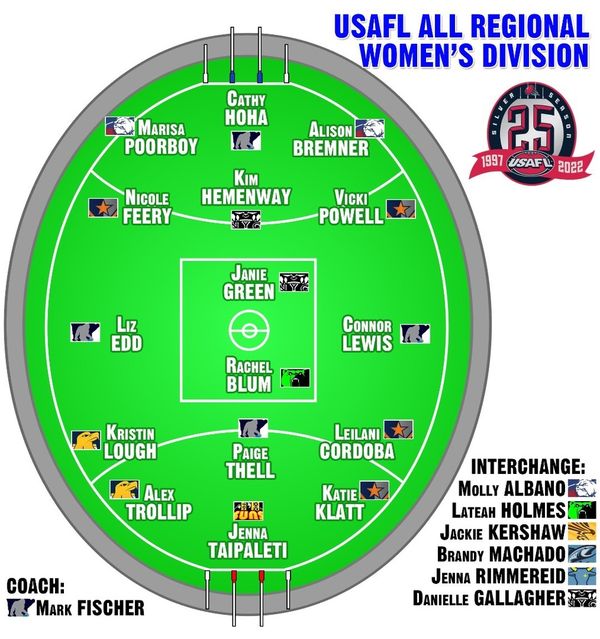 2022 Women's Division All-Regionals Team
BEST & FAIREST: Connor Lewis (Minnesota), Cathy Hoha (Minnesota), Vicki Powell (San Francisco), Nicole Feery (San Francisco)
MVP: Kristin Lough (DC Eagles), Katie Klatt (San Francisco)
Forwards:

Marisa Poorboy
Denver Bulldogs

Cathy Hoha
Minnesota Freeze
Alison Bremner
Denver Bulldogs
Half Forwards:
Nicole Feery
San Francisco Iron Maidens
Kim Hemenway
New York Magpies
Vicki Powell
San Francisco Iron Maidens
Midfielders:
 
Janie Green
New York Magpies
 
Rovers:
Liz Edd
Minnesota Freeze
Rachel Blum
Seattle Grizzlies
Connor Lewis
Minnesota Freeze
Half Backs:
Kristin Lough
D.C. Eagles
Paige Thell
Minnesota Freeze
Leilani Cordoba
San Francisco Iron Maidens
Backs:
Alex Trollip
D.C. Eagles
Jenna Taipaleti
Sacramento Suns
Katie Klatt
San Francisco Iron Maidens
Interchange:
Molly Albano
Denver Bulldogs
Lateah Holmes
Seattle Grizzlies
Jackie Kershaw
Philadelphia Hawks
Brandy Machado
Portland Sockeyes
Jenna Rimmereid
North Star Blue Ox
Danielle Gallagher
New York Magpies
Coach:
Mark Fischer
Minnesota Freeze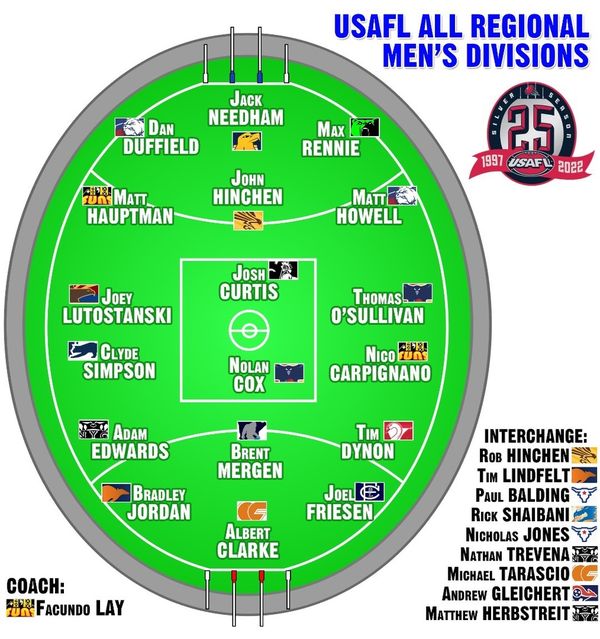 2022 Men's Divisions All-Regionals Team
BEST & FAIREST: Jack Needham (DC Eagles), Nolan Cox (Austin), Matt Hauptmann (Sacramento), Dan Duffield (Denver)
MVP: Nathan Travena (New York), Thomas O'Sullivan (Austin), Nico Carpignano (Sacramento), Alex Eckstein (Denver)
Forwards:

Dan Duffield
Denver Bulldogs

Jack Needham
D.C. Eagles
Max Rennie
Seattle Grizzlies
Half Forwards:
Matt Hauptmann
Sacramento Suns
John Hinchen
Philadelphia Hawks
Matt Howell
Denver Bulldogs
Midfielders:
Joey Lutostanski
Arizona Hawks
Josh Curtis
Des Moines Roosters
Thomas O'Sullivan
Austin Crows
Rovers:
Clyde Simpson
Columbus Cats
Nolan Cox
Austin Crows
Nico Carpignano
Sacramento Suns
Half Backs:
Adam Edwards
New York Magpies
Brent Mergen
Minnesota Freeze
Tim Dynon
Chicago Swans
Backs:
Bradley Jordan
Golden Gate Roos
Albert Clarke
Orange County Giants
Joel Friesen
St Louis Blues
Interchange:
Rob Hinchen
Philadelphia Hawks
Tim Lindfelt
Golden Gate Roos
Paul Balding
Houston Lonestars
Rick Shaibani
Los Angeles Dragons
Nicholas Jones
Houston Lonestars
Nathan Trevena
New York Magpies
Michael Tarascio
Orange County Giants
Andrew Gleichert
Nashville Kangaroos
Matthew Herbstreit
New York Magpies
Coach:
Facundo Lay
Sacramento Suns
Finally, a quick thank you to the USAFL board, the RVPs, and Executive Director Doren James for putting together yet another amazing Regionals Series and making things feel somewhat normal again after three years.  More thanks to Jerry Long for the amazing pictures you see here, and to Sonni Lovel, Donnie Hess, Brad Costen, all of the volunteers within and beyond the clubs, and everyone in Oaks, Blaine, and Westminster for helping us on the day.
With our 25th Anniversary season now in its 2nd half, we look Markforward to Nationals in Ontario, CA on October 15-16.  Hope to see you there.