Kick Around and Find Out - Previewing the Eastern Regionals
Philadelphia is a city that was born from hard work.
It loves its industry.  It loves its sweat and its meddle.  We embrace winners, but if you give your all, we applaud you even if you don't get the job done.  Aaron Rowand played just two seasons for the Phillies but the fact that he broke his nose running into a wall in pursuit of a fly ball against the Mets means he never has to shout drinks in this town. 
The sport of Aussie Rules football seems a perfect fit for the Quaker City.  Gritty, unique, rugged, action packed, unpredictable, and full of characters  For almost 25 years, the Philadelphia Hawks have soared at varying heights, with three men's and two women's National Championships in the metaphorical pool room wedged 'twixt the lean years that invariably occur to every other club in the USAFL.
Follow the creme brulee colored Schuylkill River up from Center City and you'll find Lower Perkiomen Valley Park, nestled between the creek that bears its name and US Route 422.  That's been the Hawks' home since 2014.  I can tell you about the one time a family from Sydney happened to be on holiday in the Philadelphia area passed by the ground on the highway while the Hawks were playing and immediately pulled over to catch the second half, but then you'd be reading longer than you'd want to.
The Regional Championships are back in the old, meandering summer road show that we've come to know and love, and on Saturday, seven teams will try to claim the title of Beasts of the East.  New York has dominated in previous years in both the men's and women's, but Philly and DC have tasted victory previously, and will try to do it again here.  All three of these teams were in Oaks a year ago for the Summer Series, but this hits different.  Nine hours of football from beginning to end, and perhaps a roadmap of where these teams are as we start to embrace some sort of pre-2020 sporting normalcy.
Here is how the teams look ahead of this weekend:
---
2022 USAFL Eastern Regional Championships
Saturday, June 4, 2022
Lower Perkiomen Valley Park, Oaks, Pennsylvania
First game: 9am EST (Full Schedule Here)
Coverage: USAFL YouTube (on delay)
---
Men's Division: New York Magpies (0-0), DC Eagles (1-0), Philadelphia Hawks (0-1), Columbus Cats (3-0)
New York is where dreams are made of.  And if you play sports, those dreams involve lots of winning.  The Magpies are coming off a resurgent season in 2021 that saw them win the Summer Series on this very ground and shock more than a few people en route to the Men's D1 Grand Final.  After seeing their season opener in Baltimore called off, the 'Pies are looking to regain the Regional Championship crown for the first time since 2016.  New York is still the well-skilled, well-drilled team they have always been, and though they will not have some of the big names that led them to last year's granny, their usual mix of Aussie guns like Troy Danilo and Matthew Herbstreit and skillful Americans like Tim Arakelian and Spencer Reisbick.
Washington, DC has always claimed itself to be first in war and first in peace, but last year it was also first in Men's D2.  It's taken the Eagles five years to get back to where they were prior to the great Baltimore-Washington expansion of 2017, but after beating Boston in Austin last year and starting off 2022 with a convincing win over Ryan Cup rivals Baltimore, they appear to be heading for bigger and better things this weekend and this season.  There is a United Nations feel about this side, with Americans – such as enterprising forward Tom Mathew and former San Diego veteran Bryan Powers – Kiwi Luke Ibbs, and Iceland's own Jon Hoeskuldsson joining Sam Rowley and a strong Aussie wearing the white, blue, and gold.
The last time we did regionals at Lower Perk, the Philly Hawks won their first ever regionals title en route to their first D3 Nationals crown in 16 years.  They repeated the trick in Raleigh the next year, and after a year of COVID and sub-regionals they finally get the chance to officially defend their regional supremacy.  They look to put an early home loss to Baltimore on ANZAC Day weekend behind them as they build off of their D3 Nationals title a season ago.  Philly's recruiting has brought in exciting local prospects such as Fred O'Connor and Peter Volk to compliment the omnipotent Hinchen brothers, ruck Chris Gough, and forward wrecking ball Greg Glasgow.  Wily Boston defender PJ Devine comes down from New England to sure up the Hawks defense.
Red hot Columbus blows in from the west seeking to repeat their heroics from their last Regionals trip to Philly, where the Buckeye boys took out D2 on percentage.  The Cats are 3-0 in 2022, having beat Nashville to open the season, then took out Cincinnati and St. Louis at home as part of a three-way matchups a fortnight ago.  Nathan Jordan, Dean Panik, and the courageous Clyde Simpson lead the hoops into battle hoping to pull off the upset. The Cats will be topped up by players from the new look Virginia Lions, who will send five players up north, led by frisky forward Darren Green, as well as quick utility Derek Shotwell who comes over from Cincinnati.
---
Women's Division: DC Eagles (1-1), New York Magpies (0-2), [Philadelphia/Columbus/Cincinnati/Minnesota/Baltimore]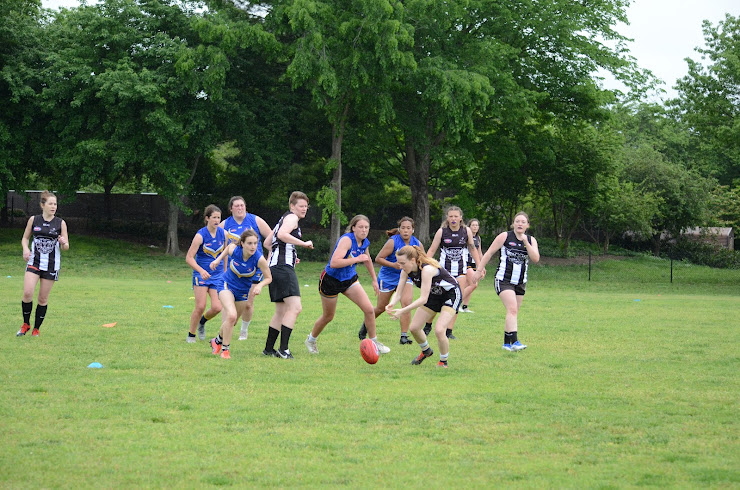 One of the great stories of the growth of women's footy in the USA has been in our Nation's Capital, where the Eagles women finally made their long awaited debut in D1 after dealing with the obstacles of being in a market with a transient population.  The team they brought to Nationals a season ago fought hammer and tong over four games and finished in third place out of five.  After splitting a home series against Centennial and New York, Alex Trollip, Mackensy Medlin, and Kendall Jennings lead the birds of the Beltway on the hunt for their first Eastern Regional since 2018, when they combined with Boston to stun the Magpies in a physical final under gray skies.
After focusing on their local competition in New York in 2021, Christina Licata's Magpies come to Philly in search of their fifth regional championship and will bring a full side to that effect.  With the sting of those two losses in DC last month fading, the Gothamites hope that the trip to Lower Perk will spur their offense which scored just 15 points at that DC tournament.  Kim Hemenway, the current leading goalkicker in Sydney Swans history, will be patrolling the forward line on Saturday as part of a tall lineup that includes Lucy McLeod, Andi Hargrave, and Nat Wolff.  Those skyscrapers may leave the other teams as awe-starting tourists, but it will come down to execution in what should be good conditions.
The triumvirate is rounded out by a conglomerate that is anchored by the home side and sweeps all the way westward to Minnesota.  The Hawks' women, winners of the 2019 D2 Nationals, set forth a quintet that is skilled defensively.  Barb Dempsey and Jackie Kershaw have sonar for the Sherrin, and are known for harrying their opponents into mistakes.  From the Minnesota Freeze comes offensive punch in national team products Cathy Hoha, Connor Lewis, and Jessica Nelson.  From Ohio come two more former national teamers in Stephanie Shipley Snyder and 12-year veteran Stephanie McKitrick, who can slot in wherever they are asked to play.  Combo teams are always a question mark, but there's talent and enterprise here for this to be a competitive side.
Photo Credits: Andrew Tyson