All Users - Checking Match Results and Player Points
The LMS allows anyone to check match results, view the electronic and uploaded rosters from any game recorded in the LMS, and view accumulated nationals player points for any player as well as the details on which matches those points were earned.
This information is available on every club's portal page which can be accessed by clicking the club's icon at the top of any page of the USAFL website.  You do not need to be logged in to view this information.  The club portal page defaults to the View tab as shown below.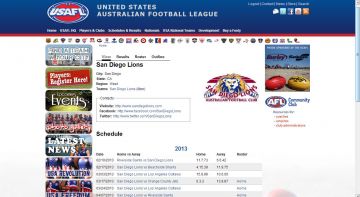 This page includes a club's details as well as the match results for that club for the year.  By clicking on a match title in the schedule section of this page, anyone can view the details from that match.  This includes the electronic roster from that game along with whether the player was registered and had paid USAFL player fees at the time of the match, and so whether that player was eligible to earn nationals player points for that match.  Any user can also view the match sheet for any match if uploaded by the club admin. 
The image below shows a match page after the match details have been entered.  Note that the player names with the minus sign are unregistered players and the players with the exclamation mark are registered but unpaid.  Neither of these types of players will receive nationals eligibility points for this match.  The players with no symbol beside their name have registered and paid their USAFL player fee and will receive nationals eligibility points for the match.  The system will also include the club logo showing which club any borrowed player is registered to.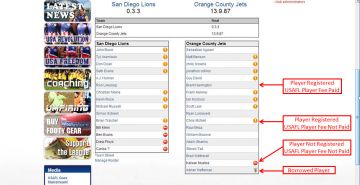 Back on the Club Portal page, any user can also access a Results page which includes not only the game results from the current year, but also any previous years for which the USAFL has a record. 
The other tab that a user may choose on the Club Portal page is the Roster tab.  This tab includes a list of all currently registered players for that club with the current number of nationals points that player has accumulated.  By clicking on that players name, you can view each match that he was reported as playing in.