2023 USAFL Nationals - Men's Divisions Preview
To play for a National Championship is a big deal, no matter the sport.
Beyond Division 1 on the men's side are 26 teams of all shapes and sizes.  Some of them big clubs with years of history looking to make their way up to the top tier.  Others are relatively new and are here to make a name for themselves and develop.
But everyone comes to Nationals to compete.  Okay, the beer and the comraderie and everything cool that Florida has to offer is nice too.  All the same, big or small, the magic of Nationals is that any of the teams that come can go home with a medal around their neck and a trophy to lift.
Here are the teams competing in the remaining four Divisions at the 2023 USAFL Nationals:
---
MEN'S DIVISION 2:
Pool A: Sacramento Suns (3-5), D.C. Eagles (6½-5), Minnesota Freeze (5-3), Columbus Cats (6-4)
Are you ready for another Sun metaphor? Because here it comes… Sacramento's rise has been a gentle winter one rather than the full on summer blast. But Faku Lay's team has played solidly all season long. They've used their 2-point loss to Boston in last year's Div 2 Grand Final as fuel for this season, and it has carried them all the way. They even came within a straight kick of knocking off Bay Area neighbor Golden Gate back in June.
Sacramento is a team of high flyers and quick ball movers.  Nico Carpignano, the best player to come out of Zurich's "Little Santiago" neighborhood, and Colby Campbell are both speedy and springy. The Hauptman brothers and Kendall "Rabbit" Hutchings are as well, and the defense is led by veteran Toby "Sheik" Simmons.  Sacramento may have to go cross country to get back to the Granny, but they have a deep side that might do it.
Teaming with Nashville to win the Super Regional title was the high point of the season for the Kings of the Beltway.  The Eagles were red hot to start the year, winning eight of the first nine games they were a part of. After a cold end to the summer, D.C. will arrive at Lakewood Ranch with a winning snarl, or screech if you want to be more accurate.
Sydneysider Jack Needham is the team's rising star and go-to in the forward line. Tom Mathew, Paul Lashier, Alex Foster and former Golden Gater Jacob Aulner make up the American core that provides the wings for the attack. DC's foreign legion consists of well weathered veterans such as Matt Woodruff and Bevin Main, while Islander Jon Hoeskuldsson and Kiwi Luke Ibbs are also key cogs as the Eagles look for their second D2 title in three years.
Bobbing and weaving up and down the rankings like a bottle floating amongst one of its many lakes, Minnesota's fifth seed in D2 comes after a five-win season that came mostly at its front end. They were winners over Des Moines in the 80/35 tournament, but would later fall to the Rosters on the road at the end of the season. But as always, the Freeze's success depends on clean play from its vets and finding tall targets inside 50.
The three-time D2 champions will have a tough ask to get to the top of this group, but it's one that is a welcome challenge for the plentiful National team veterans that have played for the Revolution in matches past and present. Steve Fashant's big boot helped propel the Revos to victory over Canada in August, and the ever-present Ryan "Hanga" McLuen will be back in the forward line with them. The three-headed beast of Fischer, Werner, and Mergen will also be in toe alongside Goose Kenfield and McKenzie Callahan.
Runners up in D3 in 2019, the Cats are coming off a 2-1 showing in Ontario and a 6-win season overall. They showed up well against regional opponents, accounting for Cincinnati, St Louis, Chicago, and Nashville during the regular season. They might be the eighth seed here, but Columbus plays with sharpened claws and bring a unit unafraid of the big boppers at the top.
20 of the 22 players coming to Florida are American, and the Buckeye Boys have many international and overseas games that make them a formidable side. From the intelligent play of Clyde Simpson to the tall timber of Mark "Stork" McClure, from John Ziegler to Rob Adams and Chase Beardsley, Columbus has been primed for a run from the back of the pack and make more than a few eyes widen if they do.
Pool B: Seattle Grizzlies (4-6), Baltimore Dockers (9-3), Houston Lonestars (7-2½) , Calgary Kangaroos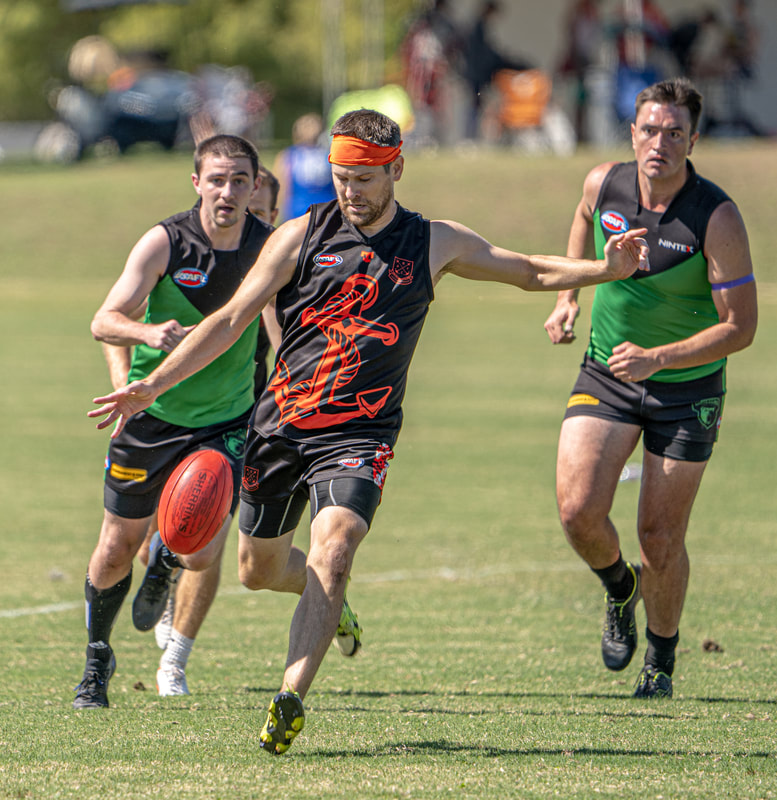 2022 was a bit of an odd season for the Grizzlies. They set a new USAFL record with three draws (no one tell the networks that, because they'll want to implement a shootout), including one at Nationals against New York. They drop down to D2 this year after dropping six of their ten matches. That said, they're a top seed in this pool for a reason, and that reason is the ability to compete and match-up well with teams at the top level, something they've done all season long.
Zach McKinney makes a quick return from De La Salle FC in the VAFA for his second Nationals with the Grizz after a sterling 49PC match. Trent Loosemore, who was kicking torps on the other side for Canada, brings his launchpad to the Grizzlies midfield to set up the likes of Arne Landboe and Kenneth Nogeire.  Saleh Tyebjee isn't afraid to push up and trouble the midfielders, and Austin Cox always seems to rise above the pack like the Space Needle. Seattle's last win was D3 in 2017, and the emerald-and-black think it's time they do the thing again.
Four years ago, Baltimore almost chiseled their name into the annals of lore by taking out Division 2 the year after winning D4. No club had won back to back after going up two levels, and only an emergent San Diego Lions team stopped them from doing so. A nine-win season for a team that plays a lot of footy is the norm for the Dock Show.  Six wins from their last seven - an upset loss to Philly at home aside - sees Baltimore come steaming into port at Bradenton with a hankering to get another crack at the bikkies.
Kit Drury and Nick Sisca are veritable acrobats for a team that can switch back and forth between free flowing football and cracking defense. John O'Connor and Jake Moyer lead the local recruits, slicing and dicing through defenders. Val Kafexholli is one of the most exciting players to come through the eastern region in some time, and the Aussie unit of Albert Kobe, Thomas Waters and the seemingly ageless Matty Byrne are consistent pieces of the Charm City puzzle.
There's nothing like consistency. Upon being promoted to D2 in 2014, the Lonestars finished second in their pool three times in a row. From 2017-2021, they finished in third four times in a row. Then last year, they were winless for the first time. That's something that's stuck in the craw of Houston this season, and it shows.  Seven victories and a D2 Super Regional Grand Final berth staked the 'Stars as a solid dark horse to perhaps turn over the ol' cart and play in their first Nationals decider in a decade.
One thing that will help them is height. Chance Mire has been constantly getting better and better with every game, and on this occasion has landed him a best-and-fairest nod at the 49th Parallel Cup. Jarrad Rexilius returns to the USAFL after an eight year break; the former Dallas Magpie is a strong and omnipotent option for the midfielders.  Jesse Carcamo is quick, Paul Balding is coming off an All-Regionals pick, and Newfoundlander Stevie Johnson (not that one, the other one) has a nose for goal and open targets.
It's great to welcome back a Canadian friend back down this way. The Kangaroos play their first USAFL Nationals since 2018, and always offer a bit of a wild card to proceedings. Calgary has a pretty decorated history in our tournament, having won three D2 titles in 2009, 2010, and 2016. 
Not all the players will be mysteries for the USAFL veterans; Robert "Squiddy" Inkpen and Jason Nysten played this summer for the Northwind, and their Aussie contingent is led by seasoned Nationals veteran Craig Sargent and newcomers like Luke Stockdale and Paul Barron.  Anything can happen with Calgary comes to town, and sometimes it does.  Either way, having the Kangaroos with us in Florida truly means that nature is healing.
---
MEN'S DIVISION 3
POOL A: Nashville Kangaroos (6-3), Des Moines Roosters (9-2), Oklahoma Buffaloes (5½-4), North Texas Devils (3-9)
For Nashville, a D2 Super Regional victory alongside D.C. in June helped soothe the blow of losing out on a Grand Final spot to Arizona last October on percentage after going 2-0-1. Cody McClain and William Procter have been standouts for the 'Roos this year. Former Michigan State Tight End Andrew Gliechert has proved he's pretty good with the Sherrin too, as has James Duty. They'll also have two players join from a reanimated Cleveland Cannons team which comes back to life after five years of dormancy.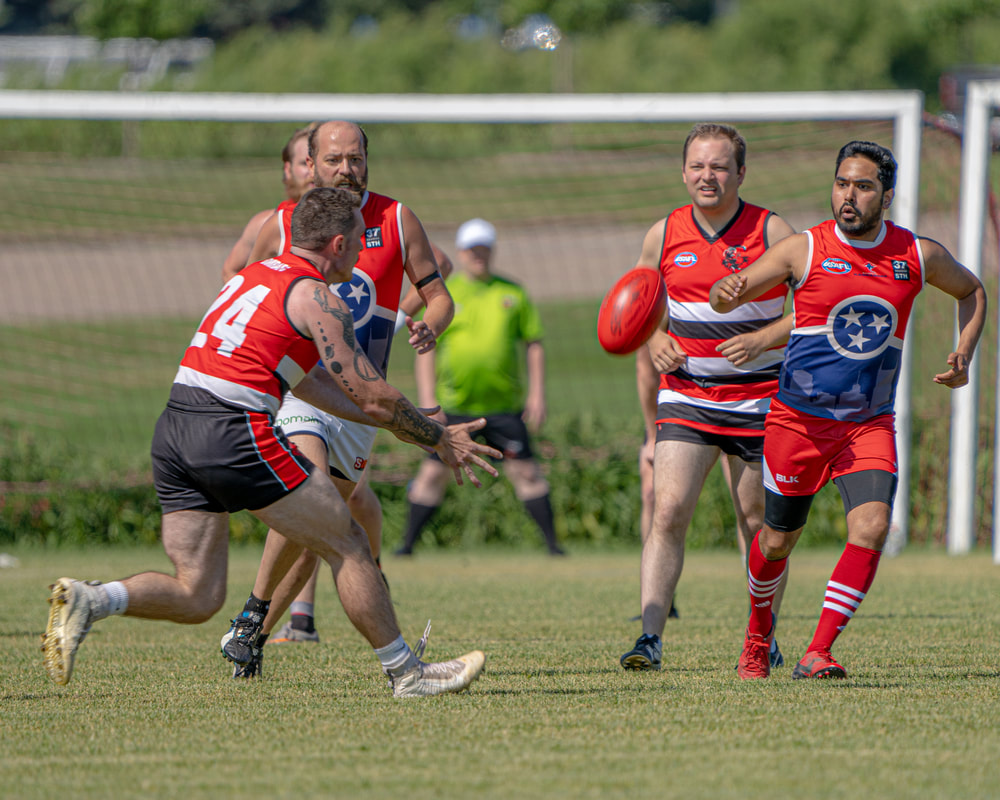 Boasting an all-American squad and arguably the best resume of any of the D3 teams, Des Moines may be on track to have their highest finishing season yet. They took Minnesota to the end of the 80/35 final, then beat them at home in a full-on game last month. Revolution talent, past and present, abounds.  Josh Curtis has staked himself as one of the best midfielders in the country, and with the help of fellow quicks such as Ben Judge, Hamilton May, Jacob Spain, and the Vander Ploeg boys, the Roosters are looking to crow again after making last year's D4 granny.
Oklahoma buffaloed its way to a winning season, and in doing so took on pretty much every team in the middle of America, including their three poolmates, to do it. D3 finalists in 2021, the Buffs are a largely local unit punctuated by some slick Aussies. George Pellersells' consistent play got him an All-Regionals nod, and the usual suspects of Kye Stoneham, Stephen and Andrew Rasbold, and Caleb West amongst them are known for their hard-nosed play. Kansas City's reinforcements are led by Revo veteran Caleb Daugherty.
0-3 on debut in 2021, 1-2 last season. If the pattern holds - and their efforts during the regular season bear this out - the North Texas Devils could find themselves in the top two of their pool in their third season of play. They're looking to capture the magic of the three-game winning streak they had at the beginning of the year. Both Stephen and Kyle Bass have shown they can kick goals from anywhere thanks to their prowess in the skills competition in 2019, and former Austin Crow Jacolby Smith has brought his own flair to the up and comers from NTX.
POOL B: [Philadelphia/Virginia], [Chicago/Minnesota*], [Arizona/Orange County], [St Louis/Ohio Valley]
Much like Peter Frampton, the Philadelphia Hawks came alive at the end of the season, taking wins over D2 DC and Baltimore and giving rival New York a helluva fight. The high flying Hinchens, Revos Ryan Henry and Ryan McGettigan and the rest of the Quaker City squad join forces with familiar faces from the Virginia Lions. The pride of ol' Virginny were alongside Philly at Nationals last year, and founder Darren Green played with the Hawks and Arizona when they won D3 in 2021. Will a commonwealth conglomerate rule the weekend from the 2nd overall seed?
I've loved watching Chicago improve over the years.  They were just two points away against Columbus from what would've been a nine-game winning streak. They teamed with Nashville a season ago which means they also were let down by the percent sign. Slick Scotsman Stu Nicol and journeyman Tim Hermann lead the Bloods back into battle in a well-matched group. Minnesota's reserves join the fray, getting talent from former first teamers such as Luke Gagnon and Isaac Menamparampil.
Arizona and Orange County split their season series in 2023; the Hawks beat the Giants at the Western Regionals, then OC pegged them back at home in a full game last month. The Hawks were D3 champs in 2021 and runners up to Denver's Reserves in D3 last year, and will try to become the first team since Calgary in 2008-10 to make it to three straight D2 or D3 Grand Finals in the same division. All-Regional midfielder Nicholas Hall and venerable Darren Henderson will get the services of six well rounded OC men led by Jack Butler. 
There was a time, not so very long again, when St. Louis was a part of the mighty Ohio Valley combination - with Indianapolis, Louisville, and Cincinnati - that would plunder Division 4 and occasionally threaten in Div 3 year in and year out. Though the Blues have surged from a duo to a full team of their own, they are reunited with their friends from Cincy and the Lou once more to round out this pool. A lot of household names here like Zitko, Nagel, Strenski and Jacobs. But there is fresh talent that will be around the league for years to come, such as Super Regional D2 MVP Derrick Shotwell and 49PC Reserves MVP Joel Friesen.
---
MEN'S DIVISION 4
Round Robin: North Carolina Tigers, [Tampa Bay/Atlanta], [Jacksonville/Wisconsin], [Fort Lauderdale/Baton Rouge], [Rome/Birmingham]
This five-team round robin features largely clubs from the southeast, many of whom have emerged over the past half-decade. They'll be looking to finish the weekend on top and take that momentum into growing their clubs even stronger to come back in future years.
A full-on NC Tigers squad is joined by players from nearby Wilmington as the top seed of the group. There is experience aplenty for the YELLOW AND BLACK, and with the ever-sharpening skills of Keith Phillips in the arsenal, the top seed is warranted.
Hometown Tampa Bay makes their nationals return since we were here last in 2019; Greg Bray and the Sharks are accompanied by an octet of Kookaburras who have had a solid season and have Nationals veterans of their own in Ryan Downey and Kyler Johnson.
Jacksonville's full-on Nationals debut sees them join forces with the Wisconsin Wombats, who took out the D3 Super Regionals crown alongside Denver's Reserves back in June.  USAFL journeyman Basil Benjamin leads the Sainters besides national teamers Dakota Latimer, Jacob Gill, and Brett Biermann.
Fort Lauderdale, derailed by the weather last year, comes cross state to join forces with the Baton Rouge Tigers.  The Fighting Squids were champs of the Florida Cup this year, and both sides will be relying on old hands to pull off their same old tricks.  Tom Hecker and Anthony Colorruso are incredibly reliable, as too is Tigers utility Garret Remson.
Wayne's Kraska's work in growing footy in the southeast cannot be overstated. The town of Rome, Georgia has just 35,000 people but they'll be playing Nationals footy for the first time. Aaron Nobles and the experience of Max Freundenberg head up the spiders, while Joel Dixon and the Birmingham Bushrangers also make their first appearance at the big dance.
---
MEN'S RESERVES:
Round Robin: Golden Gate Roos, Austin Crows, [Denver/North Texas], [Sacramento/Seattle], [Boston/New York]
After a hiatus of five years, the Ressies are back in their own division, featuring five entities full of famous names from the past, and a few who we might see in the future.  Just about all of them have had at least one player on their team with a National Championship medal, but it'll be good to see the likes of Seb Aguiari (AUS), Ari Joniec (BOS), Geoff Shakespear (DEN), Matt Bishop (SAC), and Stu Rackham in this group.  Denver comes in a the technical defending champions, having defeated Arizona in the D3 title game in Ontario.