Heart of Iowa: Remembering Lauren Rice
Being successful at anything is not simply about performing and executing when it counts.  It's about being able to learn from the world around you, and being able to communicate what you've learned so fortify your own knowledge and pass on ideas to others.
Lauren Rice relished being a teacher who absorbed and impacted knowledge.  As an English professor at Des Moines Area Community College and an avid traveler, she shared her love of language with those who were thirsty for knowledge, and she excelled in soaking in everything around her to better herself as an instructor and a person.
 
In addition to her dedication to teaching, Lauren was an accomplished author and poet. Her work was published by Mother Jones magazine, among others.  She was incredibly nimble with her words, thoughts, and wit, creating prose and poems, telling humorous tales, and putting the beauty of her home state of into a book, "Iowa: An Explorer's Guide" so that those near and far could see the Hawkeye State through her own eyes.
 
Lauren was also a devoted member of her family.  Emily, one of Lauren's five siblings, was the first woman to play for the Des Moines Roosters Football Club.  And Lauren, ever eager to be of assistance and support her younger sister, came on board as the club's secretary for two seasons starting in 2018.  She quickly gained another family, that of the men and women who clamored together in the red, black and white, and helped to grow the sport of Australian Football in Iowa's capital.
And though she never played for Roosters, she quickly became a beloved and vital part of the team.

 
Just as she did for her students and for her readers, Lauren Rice put her heart and soul into lending her expertise and personality into the team's success.  Her determination and drive was part of the team's continued success as one of the core clubs of the USAFL's Central Region.  She embraced the team community, but also that of the league at large.
"I still recall Lauren's speech at our Club Presentation Night in 2018," Rooster veteran Sean Chicoine told USAFL.com.  "She spoke of how her sister recruited her to the club board and she initially accepted the role to spend more time with her sister, but never anticipated how much she would grow to love us all as a family."
Two months have passed since Lauren left us, suddenly, on an otherwise peaceful Sunday, April 5th.  And despite the sadness and frustration that comes when a light so bright is dimmed before its time, the glow of the light continues to warm those whose lives that light illuminated.  
And this is true for Lauren's Roosters family.
"Lauren made you feel welcome," Rooster teammate Derek Bixler said.  "She was the heart of the club.  I always admired how much behind the scenes work she did.  Without all the work she put in, I know my footy experience wouldn't have been the same.  She had a contagious smile and was on her "A" game with everything.  She had a knack for taking care of people and taking us all in as her own.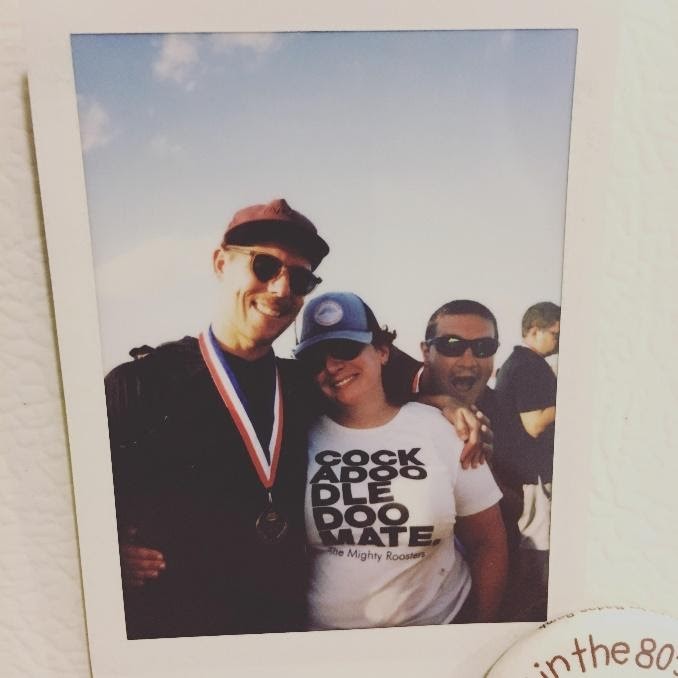 "She is very, very, very missed.  Every club needs a Lauren."
The amount of work and effort that she put into the club was noticed and recognized during her brief two year stint, as she received the Roosters' Clubperson of the Year award following both campaigns.
"Her confidence was inspiring," stated club treasurer Matthew Stoffel.  "She had an 'anything is possible' mentality.  She was a great listener, was thoughtful, compassionate and quickly became like the 'Mom' of the club.  She was fun to be around and her presence will be missed.  In many ways, we lost the most valuable member of our club."
Chicoine added that Lauren's contributions to the team's culture left an indelible mark on the club, such as "boosting our social media presence, launching "Man Thigh" Mondays and #wheredoyouroost on Instagram and giving us reasons to get together and celebrate each other and the club."
Despite stepping back from her secretary role at the end of last season, Lauren vowed to remain involved.  Both the men's and women's teams advanced to their respective National Grand Finals last year, with Emily leading an ever-expanding women's side alongside the DC Eagles to a championship game run.
"Lauren never had a favorite player, but was everybody's Number 1 fan," said Josh Curtis.  "She always went above and beyond what anybody could ask for, not only as a friend, sister, and daughter, but as our Roosters' secretary.  She will be forever missed but never forgotten."
Indeed, whenever the Roosters take the field next, their hearts will still be heavy from the loss they have endured.  But they will still beat with the impact that Lauren Rice had on their lives, and on their football club.  Her words, laughter, and encouragement have helped ensure that the game of Australian football will thrive in Des Moines for years to come.
And though many of us outside of Iowa didn't know Lauren, our game and our league is better as a whole because she was a part of it.
To find out more about the life and legacy of Lauren Rice, click here.