Fiercer and Kinder - Remembering Pat Bilder
The passion of Australian rules football ran deep within Patrick Bilder's veins.
For fifteen years, from Baton Rouge to New York, and then to South Florida, he proved himself  an exemplary teammate, a stalwart defender, a fun loving person, and just all around good human being.
He was also immensely intelligent, and devoted his life to the study and teaching of the sciences, where his work was nationally recognized.
It is those qualities that are being remembered by the USAFL community following Bilder's sudden passing in Tampa on Saturday night, February 22, at the age of 43.
Originally from Livingston, New Jersey, "Patty" played for the Baton Rouge Tigers, New York Magpies, Tampa Bay ARFC, Ft Lauderdale Fighting Squids, and Tampa Bay Tiger Sharks.
Away from the Oval, however, he was known for his research into enzyme structure, his study of tuberculosis, and his studies on the probability of locating prime numbers for use in technical advancement.
Bilder grew up in suburban Philadelphia and graduated from prestigious Malvern Prep School in 1994.  He earned a Bachelor of Arts degree in Biology from the College of the Holy Cross, and got his PhD in Biochemestry from Vanderbilt University in 2005.  
Later that year, he moved to Louisiana to do academic research at LSU.  It was there that he first took up Aussie Rules with the Tigers, and never let go.  
When he moved to New York to continue his studies at the Albert Einstein School of Medicine, he continued playing with the Magpies.  There, he proved to be a key piece of the club's upswing, winning both the club's non-American Best & Fairest award and best-on-ground at Nationals, in 2007.  Consistently one of the 'Pies better American talents, he would be named the best player on the Gotham reserves side in 2014.  
"Patty represented what it means to be a Magpie: a fierce competitor whose love for footy is contagious," Andrea Casillas, Magpies President said in a team statement. "That love for the game trickled into everything that he did and we are a better club because of him. In fact, all of the teams and players who had the opportunity to compete with him (or even against him) are fiercer and kinder because of him," 
Bilder continued to play footy after moving to Florida to take up a position at Southeastern University teaching chemistry and forensics.  He played with the Squids at the 2018 Nationals before joining the Tiger
Sharks upon their formation last summer.
His veteran skills on the field, and his personality and love of the game off of it, was a driving force for the Sharks last year.  Not only was he integral in trying to grow the team on the field, but also to help shape their future structurally as they prepared for the future.
It's a future they'll face without him, but not without the memory of his contributions.  Even those who had only known him briefly were touched by his kindness and enthusiasm for the sport.
"He was always there for all of us; every practice, every match, and this year everything had come together for Pat this year on the field," said Tampa Bay president Greg Bray. "He had made the full-back position his own, and his ability to read the play combined with his superb athleticism and pure speed made him a formidable opponent."
"Quite simply Pat was playing the best footy of his life, and loving every minute of it."
---
The Magpies are creating a photo album for Patty's family, and are asking that any Magpie alumni send photos to Drea Casillas at president@newyorkmagpies.com.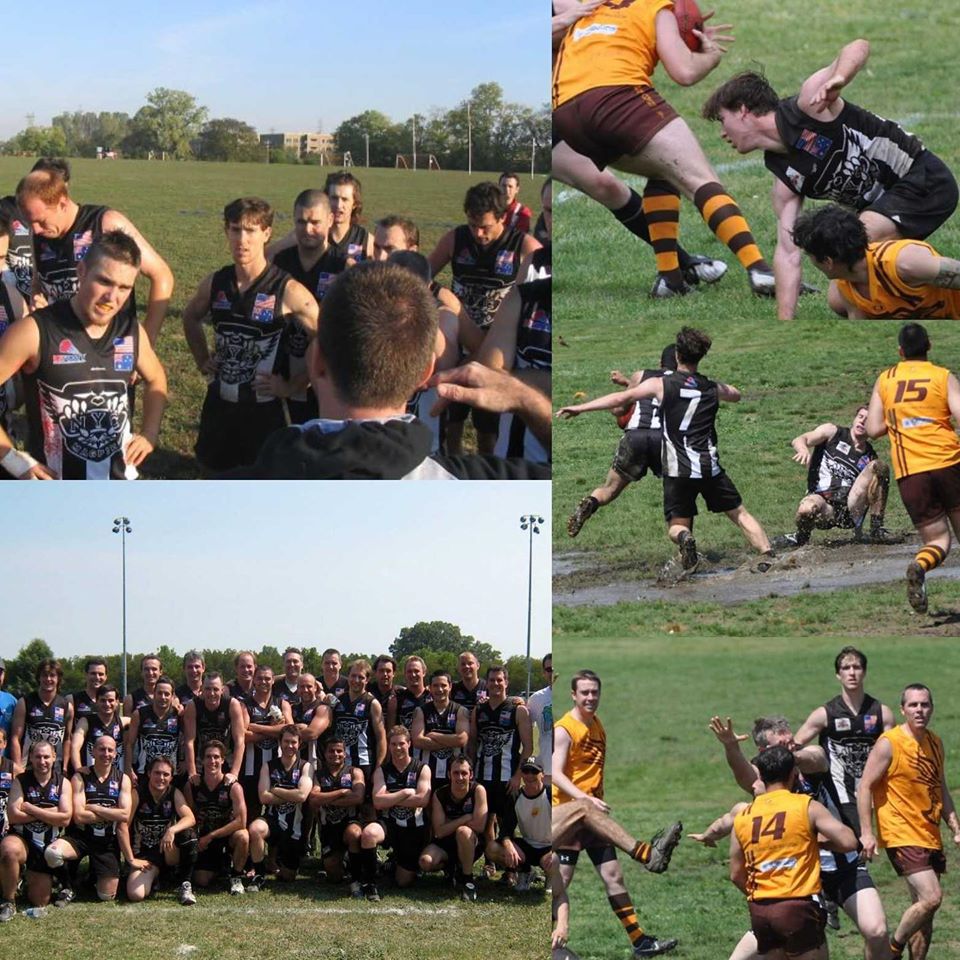 In Tampa, the Tiger Sharks will be holding the Pat Bilder Legacy match this Saturday.  Information about the match from from the club here:
"All are welcome to join us in the game, to play or in support. After the game, we will have some light food and will be sharing our favorite Pat stories. Please bring your own beverages.
"A Tiger Shark Jumper will be retired in his memory and we will be signing and presenting to his family in Pennsylvania.
"We ask that you please share these details with anyone you know that knew Pat and encourage them to come. Whether that was a friend, a person he climbed with, worked with, all are welcome to come together Saturday and remember our friend.
Details:
11:00 am Saturday, Feb. 29th
Flora Wylie Park St. Pete: 1400 N Shore Dr NE, St. Petersburg, FL 33704
Light food provided, Please bring a couple of beverages
A chair or blanket is recommended
Email: contact@TBFooty.com