The Dusty Road to Darwin; Kloh Follows Her Football Passion
Rosemary Kloh's second date with Rob Kwoka was life changing.
Rob had asked her to come along and watch his sister, Lauré, play in the USAFL Western Regional Championships for the Sacramento Suns.  
"I had no idea what was going on," she recalls.  "I just cheered when Rob cheered."
It was the beginning of two successful courtships.  Four and a half years after that date -- a couple of days after this past Christmas -- Rob popped the question, and Kloh replied in the affirmative.
But that hot Sacramento day in the summer of 2015 was also the start of another love affair for Kloh -- between her and the game of Australian Rules football.  And she's taken the next step in that one, too.
After twice being named to the USA Freedom team and establishing herself as one of the most consistent tall defenders in the USAFL, the 26-year-old San Diego-native arrived in Darwin at the beginning of January to join the Nightcliff Tigers of the NTFL.  Within 24 hours of landing in Darwin, Kloh was playing for her new team. It didn't take long for her to make her presence felt.
During her first game with Nightcliff, she stiff-armed an opposing forward -- you Aussies refer to it as a "don't argue" -- and her impressed teammates christened her with the nickname "Dusty", after Richmond (AFL Men's) superstar Dustin Martin.
It doesn't get any better than that.
The ovals of Darwin are a long way from where she came from, both geographically and athletically.  Whereas most athletes transition to footy from team sports, Kloh was rower.
"I was actually training for open water races when I went to that first Regionals," she told USAFL.com.  "I am a big team person, I love training with more than just myself. When I told the Suns this, they said, 'uh, you should probably play.'"
She relented to go to training sessions, but was leery of the tackling element: "When I was rowing I didn't even see my own competitors or teammates' faces for four years.  So this whole contact thing didn't sound appealing."
One hit changed that.  
"In my first game, I got tackled, I don't even know by whom, and my eyes widened.  With my fitness due to open water training, I was able to run circles around those girls."
Kloh's aptitude for the game was immediately apparent.  Initially playing in the ruck, she gave the fledgling Suns a dependable presence in the middle and shored up a physical and fearless defense.  The was one of the best rookies in the league in 2015. By the end of next year, she had polished her skills enough to be named to the USA Freedom side for the 2017 AFL International Cup.
The abundance of tall players on the Freedom with more experience in the ruck led Kloh to be converted to a defender full time in 2017.  She was a key cog in the Suns 2-1 run at that year's Western Regionals, and performed strongly at the Cup, playing all five games and earning a best-on-ground nomination in the Freedom's win over Papua New Guinea.
"I definitely feel stronger defensively, even when I was playing ruck, anything I can clear out from a pack.  I love being in the contest
2018 would be a crossroads in her athletic career.  In April, while playing rugby for the Sacramento Amazons, Kloh tore her ACL, ending her season.  She was on the sidelines for the Suns' Division 2 National Championship victory, but even then, she was working to maintain her fitness to get back onto the oval without missing a beat.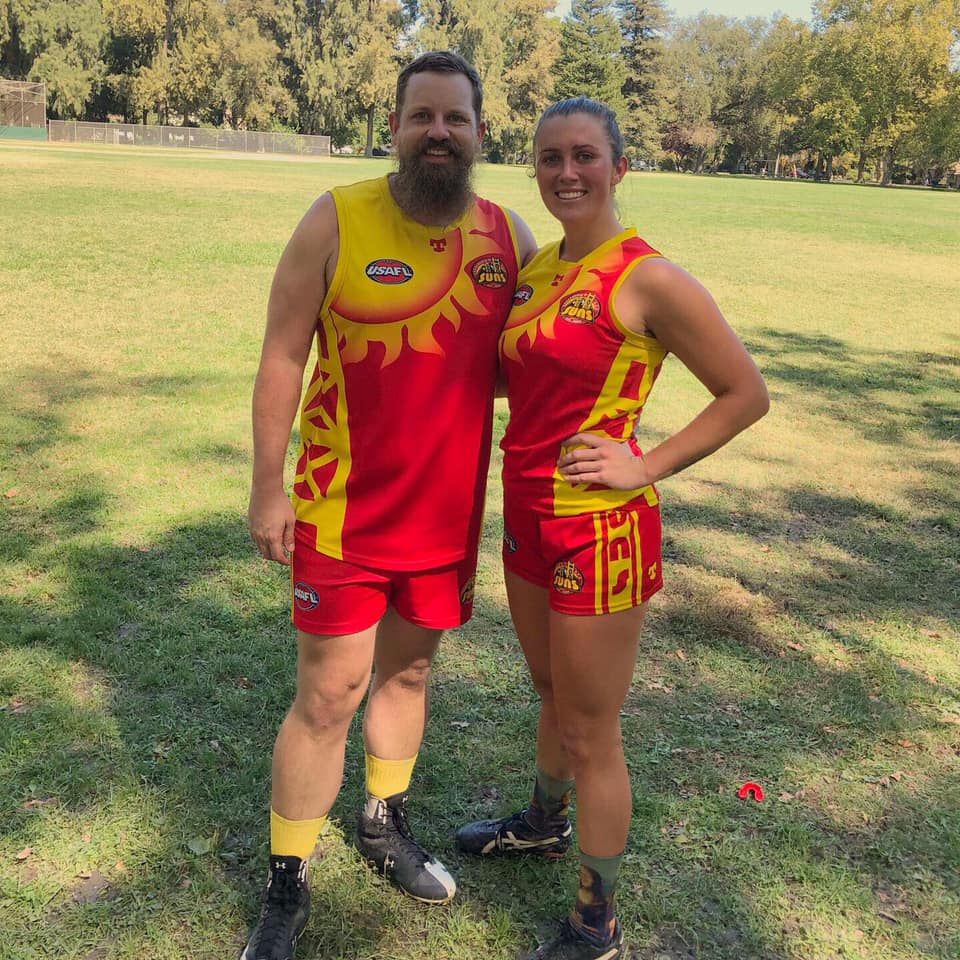 "I worked on my diet the most," she recalled.  "I learned more about my diet than I had my whole entire life.  And then I did the Kickbuilders program because it was the only thing I could do with a footy in the first three months as it didn't require very much movement.
"I did physical therapy which kept me accountable for going to the gym everyday.  I couldn't run for three or four months, and I love running. I wasn't allowed to run, and when I was finally able to, I didn't take it for granted. 
"I never want be unable to run again, and I'm so grateful to have working legs."
All of those hours of hard work paid off.  From preseason on through the two Freedom camps, the chatter from teammates and opponents was that Rosie Kloh had come back from her injury twice as strong as before.  She was the Lady Suns' season Best and Fairest in 2019, and though she missed one game at Nationals due to a brief illness, she helped lead Sacramento to a D2 semi-final spot.
"The Suns have always been a growing and developing team," said Kloh.  "We've always had a very close knit team with men and women, we've always been very close.  We have combined training sessions with the men and so I get a big wide variety of skills when we play."
The coup-de-gras of the weekend came when her name was called out as part of Christina Licata's 2020 AFL International Cup roster.  And that, as well as seeing players, such as former Suns teammate Katie Klatt, go back and forth between the states and Australia, gave her the impetus to make this leap.
"I had just recovered from my surgery, and I was feeling really confident and one day I wondered if I could still go over to Australia," Kloh said.  She spoke to both Klatt and Freedom teammate Jess Blecher about it and weighed her options. 
"I decided to take a chance on myself to see how far I can go."
Blecher, recruited from the Portland Sockeyes, played two seasons with Nightcliff before coming down to Victoria for the southern winter.  She spent 2019 with Collingwood's VFLW side before coming back stateside at the end of the season. She relayed her benificial experience of playing in the NTFL and with Nightcliff to Kloh, and the latter had her side.
Whereas Blecher played with a Tigers team of newer players, Kloh came on board with a side on the rise.  Per her own accounts, Rosie Kloh has received constant support from her teammates from the very beginning.  And so far, the Tigers have been unbeaten with her in the lineup, winning four straight, including the scalps of AFLNT's top two teams.  They've won nine of their fifteen games this season, and are in serious contention of finals football for the first time in the history of the women's program.
"I'm really excited to be around women who have played this sport way longer than I have and have more experience that I have," Kloh said of her teammates.  "I'm excited to better my experience with them. I'm interested to see where my skill level is going to be against them and how much I can progress with the tools and practice that will help me be a great competitor."
Kloh is not the only American / USAFL representitive playing NTFL football this season. Seattle's April Lewis, who was on Essendon's VFLW list last year, plays for the Southern Districts Crocs.  They are a couple of notches up on the ladder and Lewis, who as of this writing has five goals in her last four games, is chasing her own football dream after an injury last season.
Barring anything unforeseen, the Tigers and Crocs will do battle next weekend (Friday, February 7th at 11:30pm USEST / 8:30pm USPST) as Nightcliff looks to sweep the season series.  It will be the first part of what may very well be a historic weekend for American Aussie Rules, as Dani Marshall would be set, if picked for the squad, to make her AFLW debut for the Western Bulldogs 24 hours later.
Following Marshall AFLW is a goal that's far, far away from Kloh at the moment.  She acknowledges that: "I look forward to playing alongside and against my USAFL teammates over there, that'll be exciting.  Maybe someday I'll be the second or third USAFL woman [to play in AFLW]. That's a pretty big goal, but that's not even an expectation right now.  I look forward to representing a good contribution that the league is bringing to the game in Australia."
First is the goal of getting through the NTFL season, and then going down to Victoria to try out with VFLW sides ahead of the normal, winter season.
But irrespective of what happens, Kloh has embraced this trip and what it means to her personally and as a footballer.
"This is going to be a completely life changing experience, and I can only get better.  I want to learn and be the best I can."
Photo Credits: AFLNT and the Sacramento Suns