Four Honor and Glory; Maidens Outlast Field
It's best to not question greatness.
We can scrutinize, analyze, and predict.  But it's all about execution, and when push comes to shove, the cream rises to the top.
For the San Francisco Iron Maidens, they took the brunt of everything an incredibly potent Women's Division 1 field had to give.   There were questions even on Sunday afternoon as to whether the juggernaut would last another year.
And still, they ended up lifting their fourth straight National Championship trophy on Sunday, October 13th at the Premier Sports Campus at Lakewood Ranch, Florida.
The coup-de-gras was a 14-3 triumph over the Seattle Grizzlies in the final, which was a testament to the fortitude of both teams' efforts over the season and the weekend and to the sextet of teams that showed the strength of USAFL women's football.
It was the second straight year that the Maidens and Grizzlies met in the final, and, just like in 2018, they had met in group play on Saturday before renewing pleasantries in front of a National TV audience.  Coming out of Pool A, both San Francisco and Seattle had cooly dusted off a rebuilding Denver Lady Bulldogs outfit.  Having already clinched their semifinal spots, the two slugged it out in an effort to determine the best of the pool. 
In Racine last year, the Maidens accounted for an understaffed Grizzlies team twice despite the best efforts of the emerald-and-black.  On this Saturday, the Maidens again whitewashed Seattle, but the stingy Grizzlies defense held the champs to just two behinds.  For a team that was only playing in its third year of D1, Seattle was now starting to look like an heir apparent.
Pool B had its own upstarts that were there to rock the boat like a storm out on the Gulf.  Both the Minnesota Freeze and New York Magpies had dispatch of the hearty Portland Sockeyes in straight sets, and when they came together on Saturday afternoon they set out upon their own war.  Just as in the other pool, the "rubber" game here was also tightly fought and tightly contained on the scoreboard.  Christina Licata's New York Magpies ducked and parried the attacks of the potent and complete Freeze attack and managed to hang on 15-14.  
On Semifinal Morning, both of Racine's finalists had to go through clubs with robust American talent and the belief that this was Their Year.  Seattle built up an early lead over New York through goals by Katya Hewitt and Rachel Blum, and built up a 16-0 wind-aided halftime lead.  The Magpies were kicking everywhere but between the goals in reply, as a Kim Hemenway major was the only six-pointer to go with six behinds.  And that is as close Pies would get to soothe their seven year Finals itch.
Catherine Georgadis led her Minnesota Freeze into a semis rematch with the Iron Maidens, cognicent of the fact that in Racine, they came up just four points short of knocking off San Francisco.  After falling behind 2-0 late in the first half, the Maidens got a late goal right on the halftime siren by Caitlin Lutz, and that was the kickstart they needed.  Led by Paul Roos medal winner Nikole Makenzie, the Maidens kicked away in the second half to win 27-2 and break northern hearts.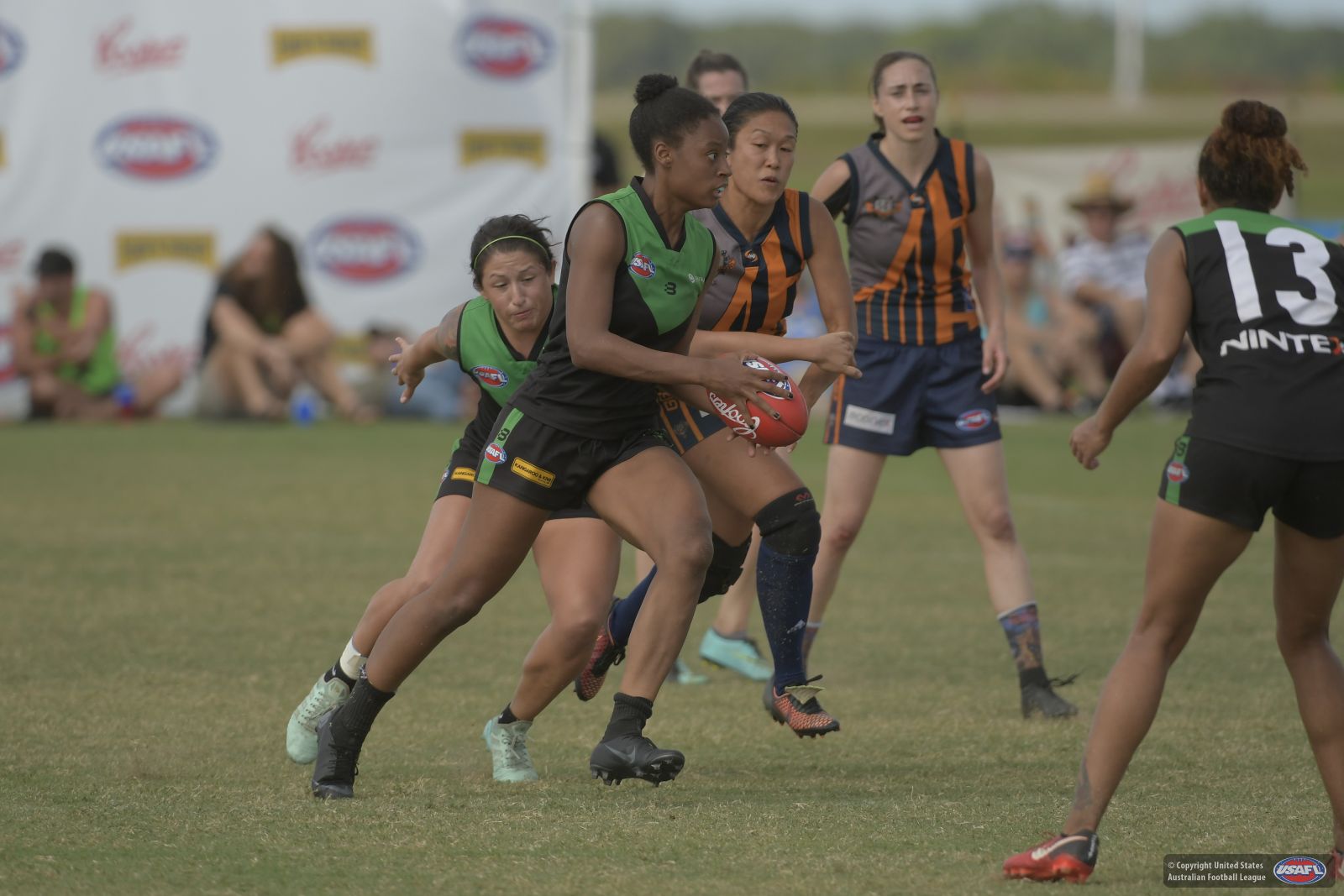 Aside from the weather being about forty degrees warmer, there were two main differences between this Grand Final showdown and last year's.  Seattle, who because of injuries and sundry, had dressed just fifteen players for the decider a season ago.  This year, they had nineteen strong, and had gotten through their three games in relative good health.
San Francisco's roster was largely the same as the one that had taken out flag number three.  But new coach Carly Smolak, winner of two of those titles, had one weapon at her disposal that the previous teams didn't.  Katie Klatt, longtime Sacramento Sun, had come back to the States after 2 ½ seasons playing for VFLW's Melbourne University, would be looming large across the halfback.
This would be the fourth meeting in two Nationals between the two teams.  Within five minutes of the first Grand Final ball up, Seattle had done something they had failed to do in the first three games: score a point.  An early behind through the hard work of Valerie Barber-Axthelm chiseled out a 1-0 lead.  This was a better Grizzlies team, and the Maidens knew it.  They scored the equalizer off of a good chance, but the game was tight and every ball contested in the spirit of it being a game of legendary status.
Goals would appear to be tougher to mine than diamonds.  Seattle's defense, with Amelia Kahr and Lateah Holmes acting as metaphorical shields, kept Maiden offensive chances to a minimum.  It would take the rugged work of veteran Jessica Estrada-Finley to dig up the game's first major.  Literally wrenching the ball out of Grizzly midfielder Marian Dickenson's hands, she sent a ball inside 50 that eventually found its way into the hands of Savannah Green who booted home a point blank sausage roll.
Stunned but not deterred, Dickenson and the Grizzlies kept the pressure on Klatt, Julie Marks, and the San Francisco defense.  They added another point before the break, and went into halftime only down 7-2.  With twenty minutes to play, there was a real feeling that this was anyone's game and that the Maiden streak was in jeopardy of coming to an end.
The intensity and hitting picked up in the second stanza.  So too did the tension.  Through Alison Leonard and Ali Alcocer's midfield play, and the physicality of Tegan Hamilton, Seattle kept asking questions of the Maiden's backliners.  And more often than not, it was Klatt who raised her hand and provided responses.  Remember that this is a women who had played four seasons with a team that, while steadily improved in each season before she went to Australia, hadn't been this far before.  Katie Klatt could taste a National Championship and there wasn't much in this earthly existence that was going to stop her.
Seattle had its chance to take the lead.  And they pressed forward trying to squeeze some juice out of those chances.  But they got caught up too high, and a Klatt clearance sent game MVP Ellise Gallagher forward with the ball.  She found Sara Magallon with a pass, and "Mags" saw Makenzie streaking towards the goals with the quickness of three or four lightning bolts.  When the Gloved Crusader's kick went between the two pipes, trophy number four was assured.
When the siren went off at 14-3 San Francisco, there were tears on both sides.  For the Grizzlies, who were left bereft on the turf, it was the sad end to a story that they thought would have a happy ending. 
But for the Maidens, this one tasted different.  Still sweet, but different.  Carly Smolak, who had been sidelined last year with that early season knee injury, became the first player to win the D1 women's title as a player and coach.  For Klatt, the championship was a deserved end to this chapter of her footballing career.
For Gallagher, title number four was a tribute to the Maidens as a community, and to their competition.
"The competition gets more competitive and more fun every year," Gallagher told USAFL.com.  "Seattle definitely brought their A-game. It was awesome going up against them for the second year in a row. I'm impressed with their growth on the field and in the footy community.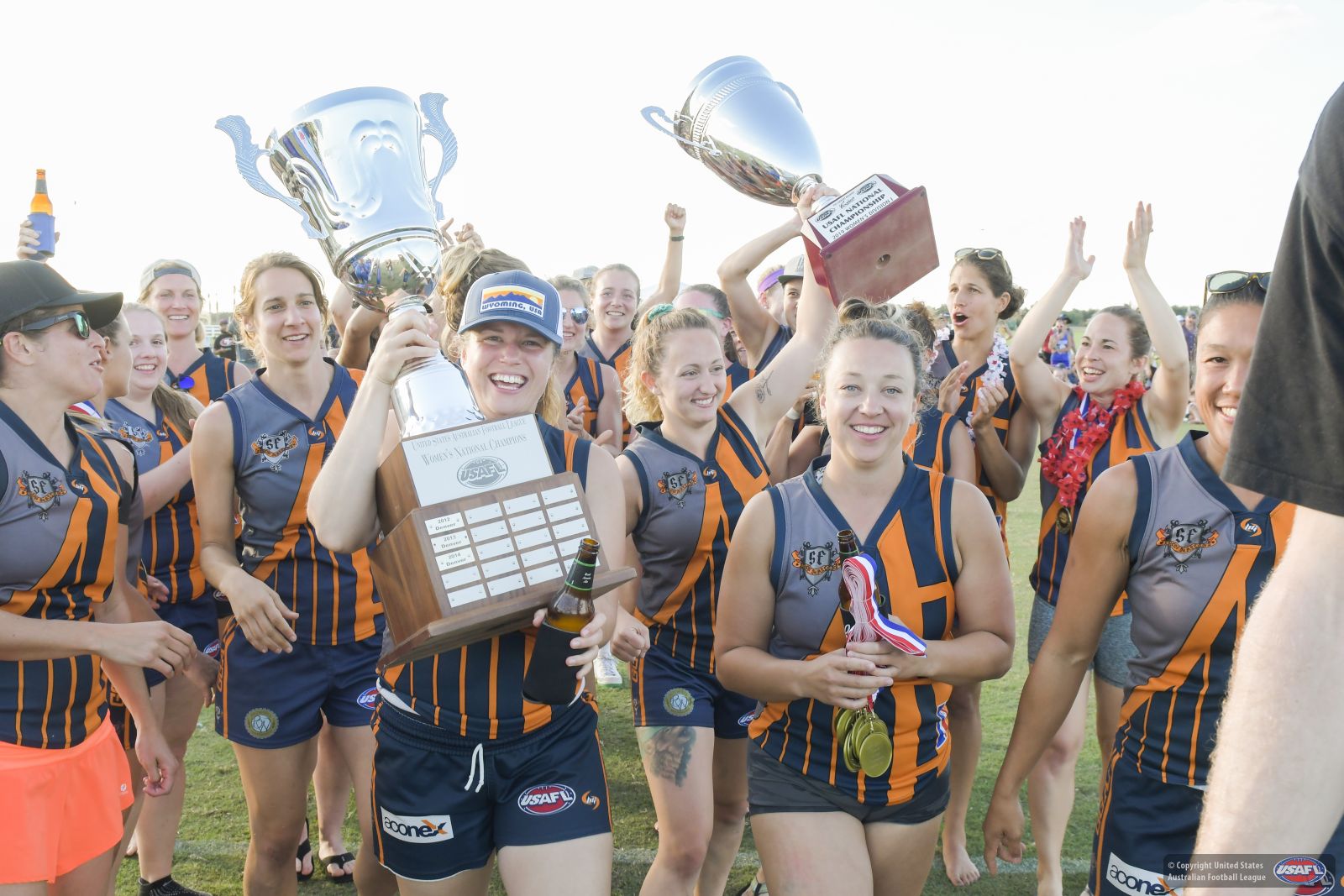 "What I love about being a Maiden is that all of us are assets on and off the field. Everyone steps up, plays hard, and truly cares about each other. Winning is fun, but it's not about that, it's about the support and comradely we have when things are and aren't going well."
Marks, affectionately known as Mama, echoed Gallagher's statements.  She's been through it from start to finish with the Maidens, from their formative beginnings seven years ago and through the leadership role with the Golden Gate AFL at large.
"Winning 4 in a row has been amazing for the Maidens and for the GGAFL.  Each year has been presented a difference challenge for us to step up to.  It has been incredible to be apart of this teams that has taken each for the past 4 years head on, together. 
"These 4 titles are a culmination of the Maiden family, current and past players, social and support.  So many amazing people have help us achieve this and that it why the 4 titles are for all Maidens and the GGAFL."