2019 Nationals Preview - Womens Division 1 and 2
More and more women are playing Australian Rules Football.
And more importantly, the football they're playing is getting better with each passing year.
For the first time in USAFL history, there will be not one, but two Grand Finals in the women's divisions, with both competitions fielding six sides.  All told, 24 clubs will be represented in the Women's Competition as a whole, the most ever.
In Division one, five teams, who themselves have improved in the last twelve months, are trying to chase down the three time defending champion San Francisco Iron Maidens in the process.
In D2, a combination of teams on the precipice of moving up to the top tier play with, and against, programs that range anywhere from established to the plucky.  And the best part is, any of the six teams could legitimately lift the trophy as the sun goes down on Lakewood Ranch on Sunday.
90% or so of the field in this year are American and Canadian Nationals.  For some of the latter group, this may be one very last chance to show USA Freedom coach Christina Licata and her roving staff that they deserve a coveted spot on next year's AFL International Cup 2020 roster.  Said roster will be announced live on Sunday afternoon.
But for now, here's a look at the combatants for what will be the most competitive women's divisions to date.
---
WOMEN'S DIVISION 1
POOL A: San Francisco Iron Maidens, Seattle Grizzlies, Denver Lady Bulldogs
You can't stop the river as it rushes to the sea, you can try to stop the hands of time, but you know it just can't be.  And stopping the Iron Maidens seems like an improbability.  Yes, I know that's not how the song goes, but it's the truth.  When it comes to the National Championships, San Francisco has been like been… yup, I'm going to say it… stronger than a garlic milkshake.  This regular season has been better than the last three, as they took out their first Western Regional Championship since 2015.  With twelve straight wins at Nationals, a 17-3 mark since 2014, however, they have always come with their dancing shoes on at Nationals.
Part of the reason behind their success in 2019 has been that they have, by and large, retained most of the veterans from their cup run.  Trying to defend against Jess Estrada-Finley, Sara Magallón, Ellise Gallagher and Nikole Makenzie in the midfield is like trying to pin down one particular bee in a beehive.  A new crop of National team candidates, such as quicks Savannah Green and Annica Stull-Lane, have given the Maidens an abundance of potency in the middle of the ground.  Panda Nguyen's ascension as a ruck option has allowed Meg Leone and Brette Brower to wreak havoc elsewhere, and the addition of German-born Beeke Weinert and VFLW veteran Katie Klatt alongside Julie Marks ensures a virtually air-tight defense for coach Carly Smolak's side.
Standing in the way of the Iron Maidens and the banner of "four-on-the trot" are five other teams.  They've prepared for Nationals with the knowledge that they were a straight kick away from being plucked by the Minnesota Freeze in the semi-final.  And, with the quality of play improving, it really is anyone's ballgame.
When the final siren sounded on the 2018 Women's D1 Grand Final, there was an aura of accomplishment about the result for the Seattle Grizzlies.  Even if that was a 20-0 blanking at the hands of San Francisco.  When they last came to Florida three Nationals ago, they had just six women playing in D2.  It has been a long and winding road back to Sarasota-Bradenton, and they make the long, cross continent journey this time with many expecting them to expand on their 8-2 resume for season 2019.
Adding to the fairy tale of last season's Grand Final run was the fact that they did it with a painfully short bench, one that had evaporated by the deciding match.  They will once again be thin on interchange again, but the proof is in the pudding that they can handle the stress of it.  Defenders Amelia Kahr and Lateah Holmes have handled the pressure splendidly, and that has spurred key ball winner Marian Dickinson to rack up the possessions.  The midfield, which has been paced by Tegan Hamilton and Corie Hou will get an extra jolt with the return of ruck April Lewis (Essendon VFLW) and wonder utility Valerie Barber-Axthelm (Darebin) from Australia.
There was a time when I used a line from Hairspray to describe the Denver Lady Bulldogs run of six championships.  In fact, that was three years ago when we came to Lakewood Ranch last.  And it seems strange to be talking about them as the bottom seed in a pool.  But this year has been a rebuilding one for coach Colleen McNab and her squad, who by and large are made up of rookies and sophomores who have shown that the future will be bright.
The veteran 'Dogs on the squad have done a fantastic job of mentoring the new class.   Anna Thexton is still playing with the quiet efficiency of a Prius, the same way she has when she broke in with the club in 2007.  Jess Gray's midfield presence has been a huge positive too, and she's poised for another big weekend.  But there are some breakout performances from the new players possibly in store.  Dot Wheeler impressed many at the Central Regionals with her ruckwork as she vies for the role of Hallie Kastanek's successor.  Tori Galvan's quick consumption of the game pairs well with her pace, and Spanish national Andi di Ortega was among Denver's top performers at Regionals.
POOL B: Minnesota Freeze, New York Magpies, Portland Sockeyes
In the relative vastness of USAFL history, the Minnesota Freeze's broad strokes streak across history books as one of the more robust programs in the country.  But in their thirteen years of Nationals play, they have never finished better than third.  And boy-oh-boy did they come close last year, just three points short.  The mind boggles at "what-ifs".  The take away from that near miss is that the Freeze know that a final, and perhaps further, is within their grasp.
Brent Fischer has been around the USAFL and football a long time.  It's in his blood.  And in his first year as coach, he has harnessed last year's frustration into motivation.  So far it's paid off for a team that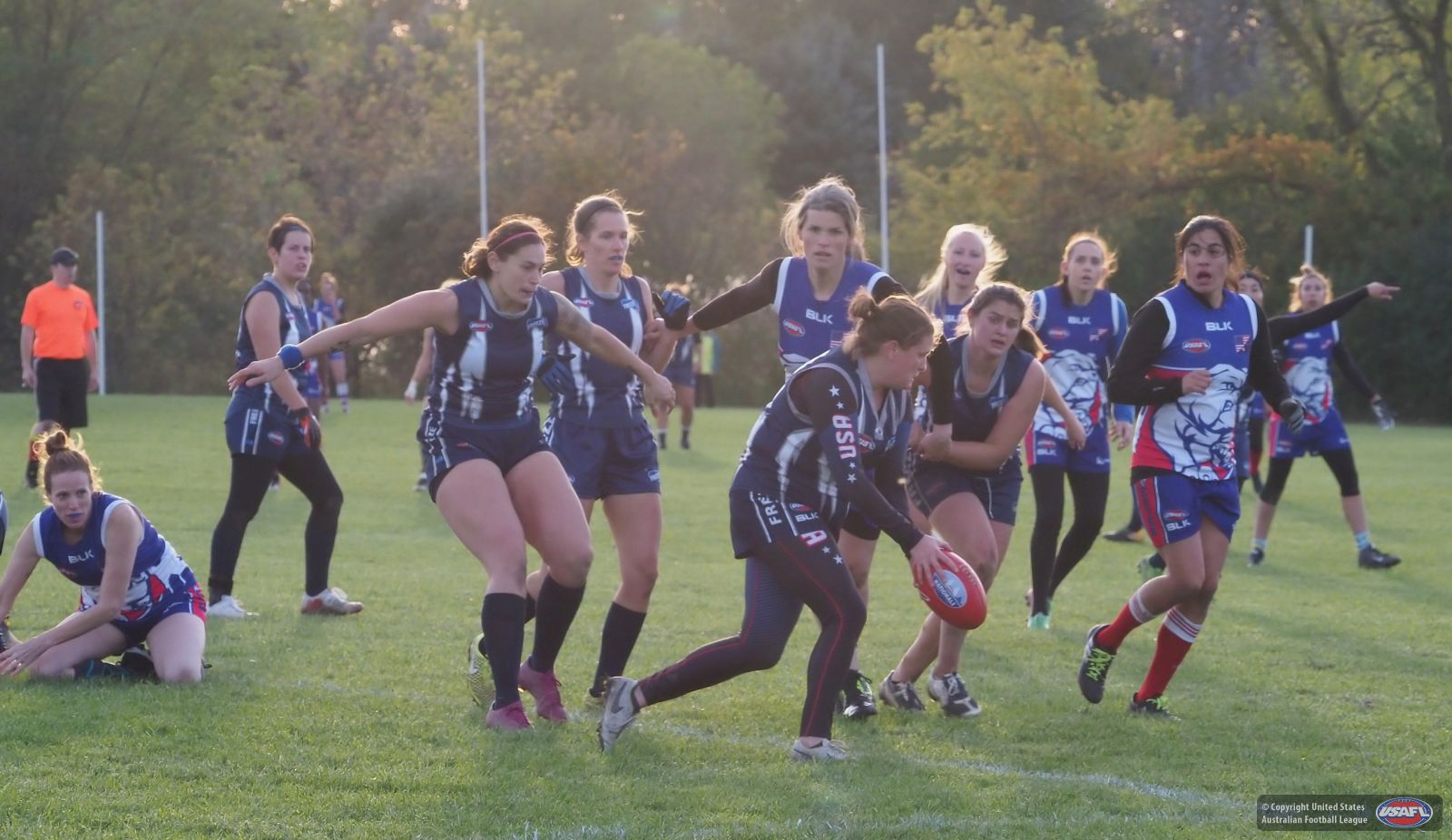 boasts an all American-lineup.  Midfielder Catherine Georgiadis helped lead the Freeze to a rollicking Central Regional title, and though veterans such as Paige Keicker, Lizzy Even, Jess Nelson and Cathy Hoha will be on their normal game as usual.  What's helped spearhead this surge has been its newcomers, specifically the athleticism of Connor Lewis and Lindsay Stene, and rangy utility Pia Richardson.
Nary can an Aussie be found on Minnesota's roster, but that's not the case with the New York Magpies, whose imports have been one of several reasons the Gothamites have established themselves as final contenders.  That, along with Christina Licata's program of bringing new locals up to snuff with the sport and the "side-by-side" culture, look to eradicate a Saturday winless at Nationals going back to 2016 and break the top two for the third time.
Stopping Perthite Janie Green and Melbourian Jani Boal in the center will be like trying to solve a problem like Maria (How do you catch a moonbeam, etc.); they are quick, and both have the scoring touch to assist Clare Algozin and Kim Hemenway in the forwards.  The latter has really come alive this year, and defenses are going to need to play her tough the entire weekend.  New York's defense is still at its consistent best – the cool play of Taylor Davidson, the hard hitting Grace Koplow, the equally hard hitting Natalie Wolf, and the determined leadership of Drea Casillas.  Casillas has played in every women's National Championship tournament since it debuted in 2005, and she comes back into the fold having not missed a beat after giving birth, in July, to a Roos Medalist circa 2040.
Much like their Cascadia rivals from the north, the Portland Sockeyes have enjoyed a quick and steady success to their women's program.  After three straight D2 championships, they made the move up to D1 last year.  Though they finished in fifth of the sixth teams, there was much positivity in the Rose City camp heading into 2019, and it soared through the beginning of the year with two wins, over Seattle and San Francisco, at the Cascadia Tournament in June.  Despite a 1-2 record at their home regionals in Salem, and a split at Stumptown, there is confidence that they will improve over their go in Racine an October ago.
Though longtime Sockeye and current Collingwood VFLW player Jess Blecher won't be playing this year, and team sparkplug Heather Serpico has gone to Austin, Portland's offense has been bolstered by Liberty player Lauren Skonieczny and Cork returnee Olivia Artaiz.  Simone Shepherd's all-covering, all-acomplishing presence will be there, and Lucy Parrington's support through the halfback and midfield has been on of the Fish's key catalysts through the last two seasons.  Hollie Petrie's gridiron experience as a poised quarterback has translated into footy, and she's been a key target for emerging ruck talent Brandy Machado.  Lauren William's athleticism has been a shot in the arm, and Aman Weaver's tenacity will force foes to be smart with their passes.
PREVIOUS WOMEN'S DIVISION 1 WINNERS
2005: Atlanta 6.5.41 def Fusion 2.1.13
2006: Atlanta 3.10.28 def Pacific Coast 0.0.0
2007: Atlanta 7.7.49 def Arizona 0.0.0
2008: Calgary 4.3.27 def Atlanta 3.4.22
2009: Milwaukee 8.3.51 def Calgary 1.5.11
2010: Denver 3.1.19 def Calgary/Montreal 2.6.18
2011: Denver 3.7.25 def New York/Montreal 0.1.1
2012: Denver 3.4.22 def Boston/Baltimore-Washington 0.0.0
2013: Denver 3.7.25 def San Francisco 0.0.0
2014: Denver 2.3.15 def San Francisco/Portland/AZ Hawks 0.4.4
2015: Denver (3-1 in round robin, defeated NY in Tiebreaker)
2016: San Francisco (4-0 in round robin)
2017: San Francisco 2.2.14 def Denver 1.0.6
2018: San Francisco 3.2.20 def Seattle 0.0.0
---
WOMEN'S DIVISION 2
POOL A: [DC Eagles/Des Moines/AZ Outlaws], [Montreal/Chicago], [Texas Heat/Los Angeles]
After nearly a decade of fluctuation, the DC Eagles women continue their ascendency and, for the third straight year, have brought their best team ever to Nationals.  An early win over mighty New York and a kitchen-sink performance in a regionals defeat to the 'Pies in June have signaled the possible end to the doldrums of a 1-10 record in the last three big dances.  Des Moines, with veteran Emily Rice (DSM) and two young sidekicks – Taylor Dougan (DSM) and Hannah Bailey (DSM) – supplement what is already a well-rounded roster.  Former college lacrosse player Amanda Mora (AZO) leads the Arizona Outlaws duo with more expeditious play as well.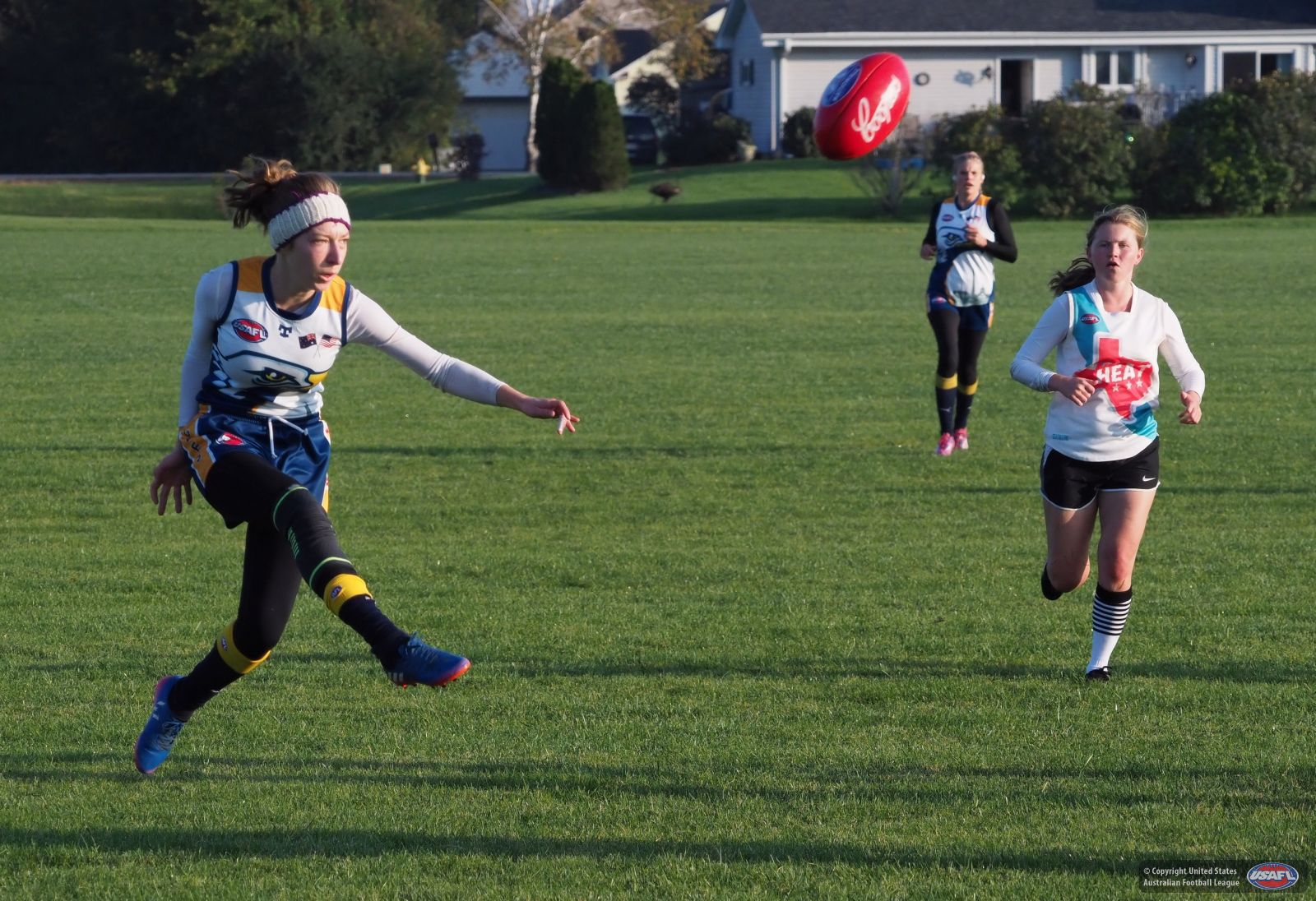 These Eagles fire lightning bolts, as exemplified by midfielders Molly Halberstadt (DC), Miriam Mehter (DC), and Mackensy Medlin.  Backstopping them is Kristin Lough (DC), who was rewarded for her stellar fullback play with an invite to the Freedom camp, and forwards are going to have to earn every mark against her contests.  A half dozen Aussies round out the group, led by Johanna Gleeson and Alex Clayton, and they look to provide smart options for the forwards.  This might be a dress rehearsal for D1 for DC for next season and beyond if they can build off of a strong showing here.
Pairing with Sacramento to win both teams' first National championship of any flavor, the Montreal Angels team up with the Chicago Swans to form a partnership that will challenge teams to defend closely.  Montreal is coming off a combined pair of losses to New York, and though they will be missing the Legault Sisters and Valerie Moreau, their combo has talent all over the park.
The Angels are anchored by ruckwoman Joanna Rutkowski (MTL), who will most likely be the tallest player on the women's side.  Fellow Northern Lights products Isabelle Senecal (MTL) and Larissa Andrusyshyn (MTL) should pair nicely with Australian playmaker Rebekah Quinn (CHI).  The most electrifying player on this conglomerate might very well be Yui Kawakatsu (CHI), who came over from Los Angeles this season and brings Bolt-like acceleration into the attack.
Bursting onto the scene in 2017, the Texas Heat roll into their third Nationals looking to improve on two straight 2-2 finishes at Nationals.  They finished in third at Central regionals, but that result belied a set of robust outings against the Minnesota Freeze and the two Denver entries.  As in last year, they'll be alongside the Los Angeles Dragons, who bring a speedy and athletic quintet to the fold.
Despite missing two key speedsters from the midfield, the Heat picked up former New York Magpie and Portland Sockeye Heather Serpico (TEX) to anchor with Jackie Sparling (TEX) as part of their "Long Island Iced D"-efense.  Hailey Rebar makes her long awaited Nats debut as the Heat's roving utility, and she'll look to clear out space for Freedom candidates Leilani Silvio (LA) and Aileen Yoon.
POOL B: [Philadelphia/AZ Hawks/Baltimore/Boston/Wisconsin], [Columbus, Nashville, North Star, Tampa Bay], [Sacramento/New York Reserves]
When you have two teams named the Hawks, it's a good idea to put them together, right?  The Philadelphia Hawks and Arizona Lady Hawks lead off the pool, combined with three programs that are finding their sea legs – the Baltimore Dockers, Boston Lady Demons, and the Wisconsin Wombats.  For Philly, it's been a banner year which started off with win in their first ever full women's match, defeating New York back in May.  Arizona's second season with their own expanded playing group went splendid as well, the big news being Danielle Marshall's (AZH) recruitment and signing with the AFLW's Western Bulldogs.
Marshall has been cleared to play this weekend, but opponents cannot key on her, no matter where she shows up on the ground, because there is talent on this side to rue any thought of that.  Melissa Wilhelm (AZH), Alex Pike (BOS), Nafla Poff (WIS), and Karen Stablein (BAL) are all veterans of the national team program and are strong defensively.  Philly captain Erica Sacci (PHI) and pacey mid-forwards Lindsey Turse (PHI), and Casey Troy (AZH) will provide a punch for the Wings n' Things combination.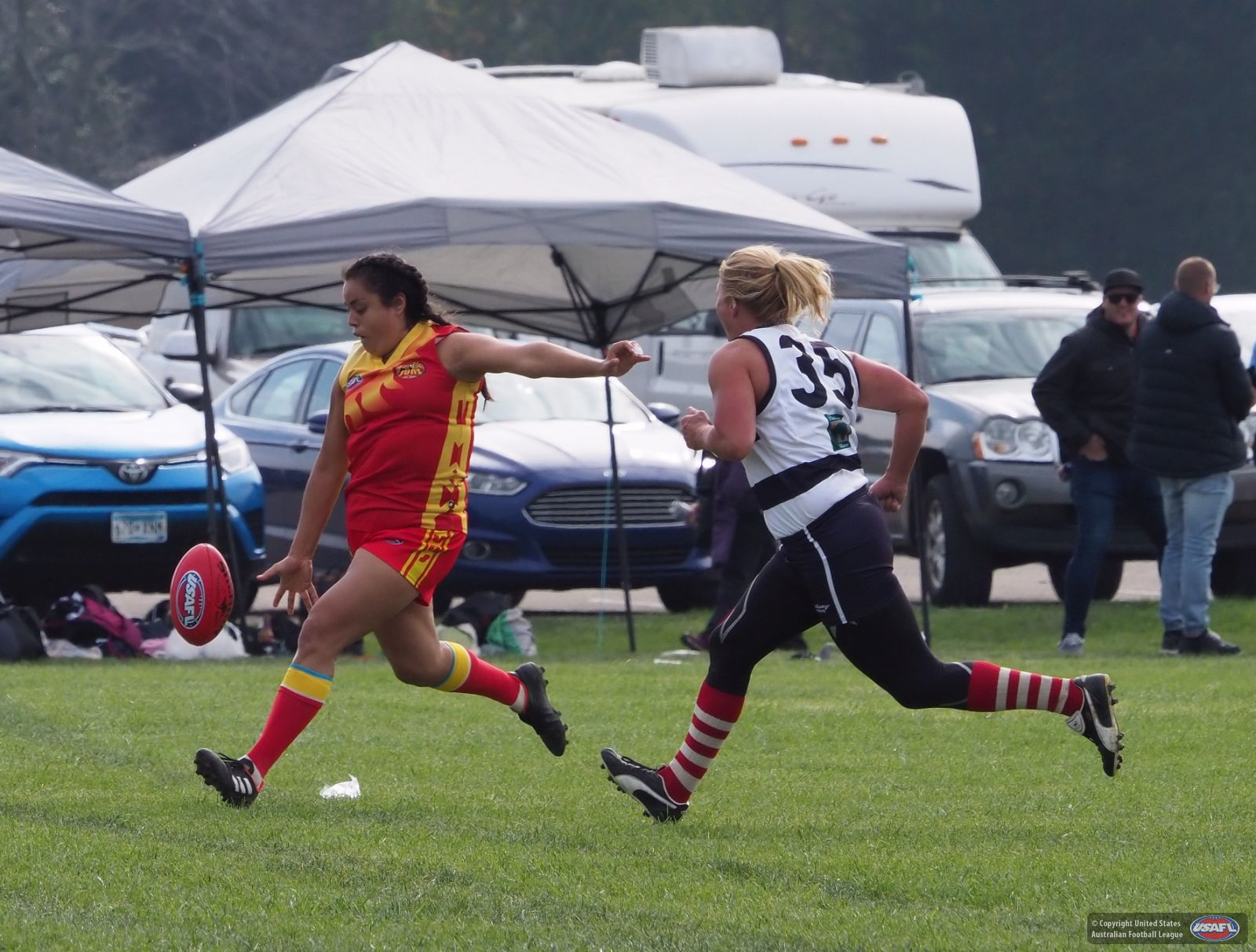 It's been a rough year for the Columbus Cats, who are still looking for their first win of the season.  But they know they can climb the mountain – they finished second, alongside Philly and Wisconsin, last year, their first ever medal at Nationals.  They'll be tagging with some spritely compatriots in 2019, suiting up with the Nashville Kangaroos, North Star Blue Ox, and hometown Tampa Bay Tiger Sharks.
Katrina Scherer (CLB) was the standout player for the Cats again this year, and veteran Stephanie McKitrick has found a second career as a full forward after playing at the other goal square for most of her decade career.  Veterans Annie Jones (TB) and Dionne Jones (TB), erstwhile members of the Freedom program, still have skills to go with their experience, as does Marie Lavictore (NSFC).  There will be a lot of attention on the Kangaroos' foundation players; Natalie Smith (NSH) and Alexa Roncancio (NSH) are achieving Swiss-Army Knife status out of the halfback line, and we might see breakout performances from the Volunteer State septet.
Nothing boosts spirits like a championship.  And it took a decade, but the Sacramento Suns finally got it, hooking up with the aforementioned Montreal Angels to go 4-0.  This is another case where a look at the season results betrays effort and potential, and Sactown's pairing with the New York Magpies reserves puts them right in the thick of a repeat chase.
Rosie Kloh's (SAC) return from a knee injury at the beginning of last season has been meteoric.  She has been working harder than a worker bee to get ready for an International Cup return, and to help the Suns onto a repeat.  Erika Titus-Lay (SAC) has put forth a strong statement towards making the National team, as has fellow midfielder Erin Graham (SAC).  Consistent scorer Christine Flok leads an offense that has seen its stock go up in recent years.  Veteran Lissette Hinojosa (NY) and newcomer Eunice Corona (NY) look to link up well with IC17 alumnus Liz Danielson (SAC) as well as rookies Izzy Greenblatt (SAC) and Jenna Taipaleti (SAC).
PREVIOUS WOMEN'S DIVISION 2 WINNERS:
2015: Calgary/Portland/Vancouver (3-0 in Round Robin)
2016: Portland/Seattle/AZ Hawks/Tampa 7.4.46 def Montreal/Boston/Philadelphia/Chicago/Des Moines 1.2.8
2017: Portland/Philadelphia (4-0 in Round Robin)
2018: Sacramento/Montreal (4-0 in Round Robin)