2019 Nationals Preview - Mens Division 1
"I'm back to livin' Floridays / Blue skies and ultra-violet rays / Lookin' for better days, lookin' for better days / Lookin' for Floridays." – Jimmy Buffett, Floridays
John Ringling.  Now that was a guy who knew how to put on a show.
He was the one who helped found the now-defunct circus.  But oh, back in its heyday, it was three rings of absolute and utter entertainment.  People from miles around would come and see the athletic wonder of acrobats and strongmen, the hilarity of the clowns, the booming voice of the ringmaster, and a cavalcade of animals tamed to do tricks and stunts for the audience.
Ringling owned a house, now an art museum, not terribly far from where the 2019 USAFL National Championships will be this coming weekend.  And one might wonder what Mr. Ringling would think of the five ring performance that will take place over the course of two days at the Premier Sports Campus at Lakewood Ranch.
There will be the high flying acrobatics of marks, athletic animal-like wizardry of the long runs and handballs, and booming cannonball kicks from all angles.  And yes, we'll have our ringmaster back as Grilla takes the microphone for the 17th year running.
Six divisions, 44 teams, more than a thousand athletes.  Six months of training, of running your guts out in the summer sun and travelling miles just to lay a shoulder into some guy / girl who is in persuit of the same red leather air pouch.
But of course we do it because we love it.
And so, the yearly pilgrimage takes us once again to Sarasota-Bradenton.  Each team stares down the barrel of 120 minutes of Aussie Rules football with breaks for Four n Twenty Pies in between.  And for just a lucky few, those Sunday night beers at the after party pub crawl will taste just a bit sweeter with a medal around your neck and a national championship to your name.
This is the first of three preview articles on this weekend's big dance.  We start with Men's Division 1, where one team has ruled with an iron fist for the better part of a decade, and seven more will try and chase 'em down.
---
POOL A: Austin Crows, Los Angeles Dragons, Quebec Saints, Minnesota Freeze
I'm not sure that, in 2010, many people outside of central Texas envisioned the Austin Crows supplanting the Denver Bulldogs as the USAFL's most prominent men's team.  But here we are, heading into the last USAFL Nationals of the 20teens, and the Crows come in winners of four of the last six D1 premierships, and participants of eight Grand Final matches across the top three divisions over the last eleven seasons.  That's saying something.
But coach Stefan Barr knows that, via the holes in his team's string of victories, that none of that means anything when his team steps on the field on Nationals weekend.  Though they've proven they can win on the road this year with victories at the Central Regionals, and on September 21st in Denver, among others.  Their winning streak, started anew at the beginning of last year, stands at 21 matches.
As much as Australians like Barr, Kenrick Tyrell, and former Golden Gate Roo Jacob Ryan have had to do with their success, so too has their seemingly endless crop of American stars, such as Ben Carpenter-Nwanyanwu, Hunter Lentz, and Nolan Cox.  And with other Yanks like tall timber Brian Malesa and swift mid Jacolby Smith starting to hit their stride with the senior side, the Crows come to Sarasota-Bradenton installed as the favorites to win flag number five and inch closer to Denver's eight.
Having said all of that, flags are not won with words on a page.  Especially not mine.  The Los Angeles Dragons provided one of the two blemishes in the Crows' flag run when they upended them in 2017.  Austin got revenge in pool play last year, but if the Dragons can navigate both games on Sunday, they'll get their chance to again spoil the Crows' muffin and have a second chance at their first D1 premiership.
The Dragons came within nine points of getting back to the decider a year ago, and though they navigated a topsy-turvy 5-7 season, they have the talent to get back.  Like Austin, they have fearsome American talent.  Gabriel Martin del Campo and Sam Murphy's return from Australia has found them in form, and former Philadelphia Hawk Ryan McGettigan has begun to hit his stride with his new team after coming over in midseason last year.  Murphy and big Donald Lee bring strength and reach to the contests, and might be the difference in LA once again playing on National TV on Sunday afternoon.
Every party needs a wild card, and this one has not a spade, a diamond, a club or a heart.  It's a Fleur-de-lis that adorns this jack-of-all-trades, and the Quebec Saints make their third appearance in D1 over the last four seasons.  They came in fifth last year out of six teams, but didn't seemed to be overawed by any of their opponents, no matter how much bluster they came in with.
This season, the Saints, who play a local, five team competition in AFL Quebec before coming together as the Saints, have three wins from three games against USAFL foes.  The last two came on September 21st in New York, when they very impressively accounted for travelling Denver and home standing New York.  The dual victories should serve notice that the Saints are contenders.  And while former D2 Roos Medalist Patrick Eefting will be back with his crew of veterans, teams will also be on the lookout for Kenneth Boudreau, Alexandre Bresse, and Morgan Whyte; all three were named to the Canada Northwind for next year's AFL International Cup.
Six seasons after dropping out of Division 1 and into near oblivion, the Seattle Grizzlies have come quite literally roaring back into the top tier.  Their turnaround has been something to behold, winning Division 3 two years ago and then making it all the way to the semis last year in Racine.  What was once two guys topping up a D4 team in 2014 is now one of the league's stronger clubs, and with eight wins this season, they are hoping that their experience against some of the best out west helps them in their D1 return.
This will be a tough task for the Emerald City boys, especially without playmaker Max Depina and all-world defender Saleh Tyebjee.  But the talent flows like the water through Puget Sound, and teams shouldn't let their guard down for a single second.  Former Cann Medal winner Alex Jessup returns to the side to anchor the back six, and he'll get a bear's eye view of his fellow local talent in front of him.  James Kinder, Robert Munn, and Brian Flaherty are all Revo caliber talent, and the height of Austin Cox and sniper forward Tex Edmonds will be tough to break.
---
POOL B: Golden Gate Roos, Denver Bulldogs, New York Magpies, Seattle Grizzlies
Spanning a wide swath of the Bay area, from the vineyards to the cities and all points in between, it's no surprise that the Golden Gate Roos have amassed a deep roster.  They've thoroughly stamped themselves as the best team on the West Coast, with three straight Western Regional Championships in their cupboards.  After a seventeen year drought, they've been to three straight D1 Grannies in a row, winning one, and tabulating a 36-2 in the process.  Their only two losses?  To the Austin Crows in the Grand Finals of 2016 and 2018.
With the heartbreaking loss that ended last season in their rear-view mirror, the Roos' steely resolve to get back at their foes from the Lone Star State have yielded another unbeaten regular season, their third in a row, and fireball form heading down to Florida.  David Jennings has emerged as one of the deadliest forwards in the competition alongside Revo gun Dan Livy and big target Zac Taylor, and the central core of Tim Lindfeldt, Manly Johnson, and Justin Mann out of the midfield has been perennially potent.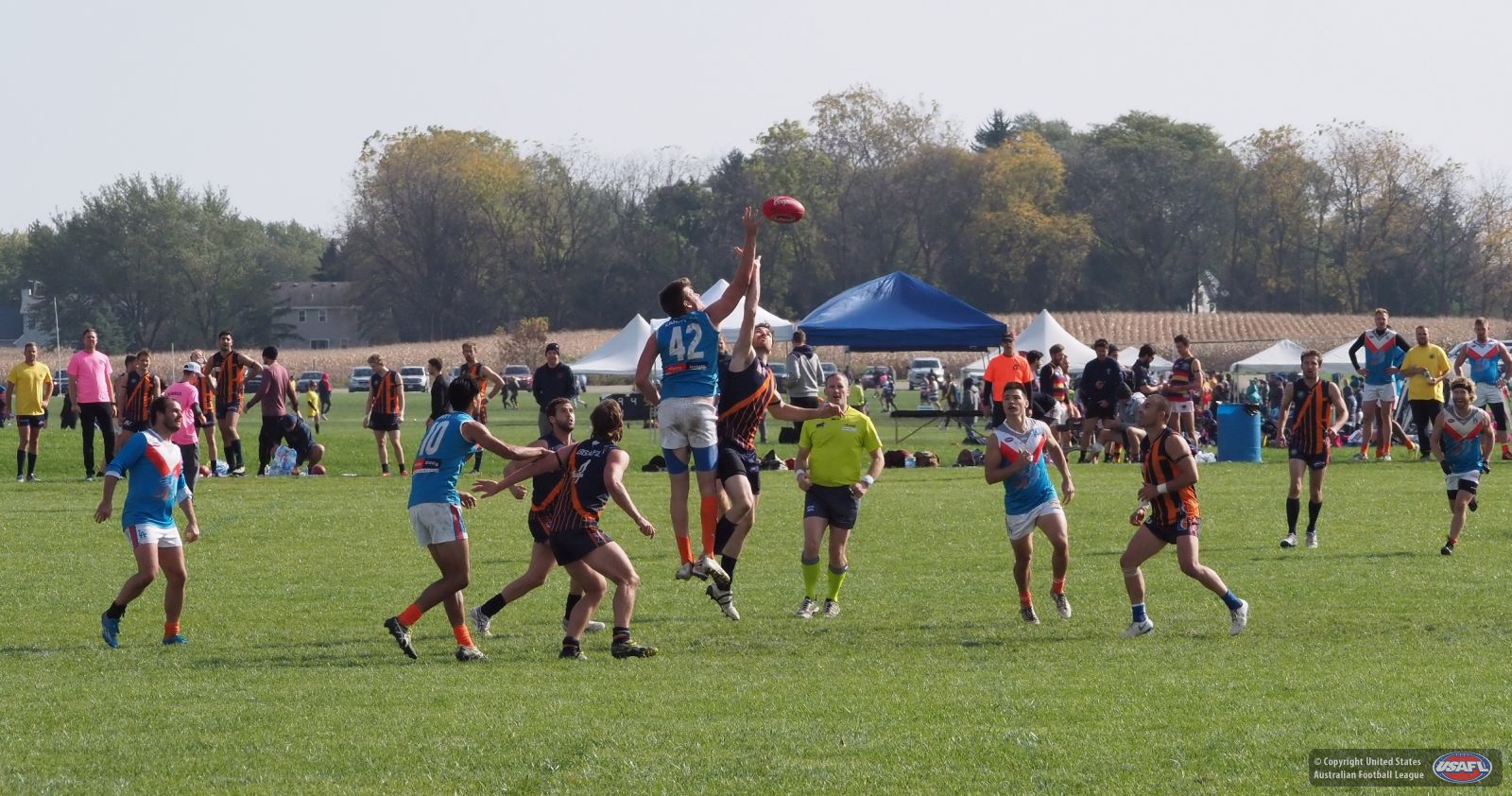 The Roos play a smart and exciting brand of footy.  But at their heels will be a pack of hungry animals who will be chasing them down by wing, paw, and claw.
It's been eight years since the Denver Bulldogs raised the last of their eight John Harrell Cups.  Though they've not played for the big chalice since then, they continually put together elite performances during the regular season.  Now it's just a matter of them putting together three victories on the big weekend.  They're 1-5 in their last two Nationals, but are still a consistently balanced team in terms of strength.
Andy Vanica's seemingly ageless play has keystoned the back line for the mountain dogs since coming over from Boston more than a decade ago.  In front of him is a veteran and tested team, with the ability to flatten a game at any stage.  They were able to keep within a goal of traveling Denver on September 21st, and if onballer Brandon Kauffman can have another breakout performance, along with the likes of Lachie Fleet and Tim Wilson-Humphries, Denver might be able to pull off a stunner.
Being in a New York state of mind, in an Aussie Rules sense, is feeling like you're in every game and every tournament.  That's even when they don't bring a full side, as happened at regionals in Raleigh, when they went 0-3.  They ended their season with a stunning loss to Quebec at home, but none of that will shake the swagger that the 'Pies bring down the coast in search of their first flag in five seasons.
Some of the names have changed over the past several years, but the 'Pies play a deliberate and thoughtful brand of football, and that tends to lull opponents into mistakes.  When you have forwards like Karl Schoenmakers and Matt Djordjevic lurking 'round the goal square, stout defense is required, and American veterans Mike Murphy, Nick Bowman, and strongman Basil Benjamin are nearly flawless with their execution.
Five seasons after last competing on the top rung of the metaphorical USAFL ladder, the Minnesota Freeze move on up to the East Side in 2019 after running the gauntlet in D2.  The Freeze put on a clinic last year, and led by Cann Medalist Ryan "Hanga" McLuen, the northerners dusted off Portland to pick up their third D2 crown – their first in six seasons.
If you remove their two heavy losses to Denver and Austin at the Central Regionals, Minnesota has an unbeaten seven matches on their backs.  The step up to D1 may seem like a giant leap, but with McLuen and Brent Mergen in the middle and up front, their height can neutralize some of the tough defenders. Not to mention the fact that both players, along with Andrew "Tiger" Werner, Dan Stephens, Brent Fischer and a few more names on the team list have played at this level before, the step forward should be just that – a step forward – for the Freeze.
---
Previous Winners, Men's Division 1
1997 - Cincinnati def Nashville
1998 - Boston 15.7.97 def Golden Gate 1.1.7
1999 - Boston 4.2.26 def Golden Gate 3.2.20 (Extra Time)
2000 - Denver 3.4.22 def San Diego 3.2.20
2001 - San Diego 10.4.64 def Boston 2.5.17
2002 - Denver 8.1.49 def San Diego 0.2.2
2003 - Denver 8.5.53 def Boston 1.3.9
2004 - Denver 2.6.18 def New York 1.1.7
2005 - Denver 4.8.32 def Milwaukee 1.1.7
2006 - San Diego 4.9.33 def Denver 2.0.12
2007 - Denver 3.3.21 def San Diego 2.3.15
2008 - Vancouver 4.4.28 def Baltimore-Washington 2.0.12
2009 - Denver 2.5.17 def Seattle 2.2.14
2010 - New York 4.4.28 def Denver 1.1.7
2011 - Denver 3.2.20 def Calgary 0.5.5
2012 - Title Vacated
2013 - Austin 4.2.26 def Calgary 4.2.25
2014 - New York 2.4.16 def Orange County 2.1.13
2015 - Austin 4.4.28 def Orange County 2.4.16
2016 - Austin 6.3.39 def Golden Gate 2.1.13
2017 - Golden Gate 6.4.40 def Los Angeles 2.2.14
2018 - Austin 4.6.30 def Golden Gate 4.1.25