Freedom, AFLW Grand Final Spotlight Women's Football
This weekend, the eyes of the footballing world will be drawn to historic Adelaide Oval for the AFLW Grand Final.
After a two month sprint which has showcased the continued growth of the women's game, it will come down whether Erin Phillips, Steve-Lee Thompson and the Adelaide Crows will complete their AFLW coronation, or whether the glass slipper will still fit for Darcy Vescio, Brianna Davey and the Carlton Blues.
While one group of women will toil away on a South Australian Sunday afternoon in the fulfillment of a dream, another one will be doing the same on the other side of the planet.
More than 70 women will converge upon Peroia, Arizona over the weekend to earn the right to represent the USA in international competition over the next two years.
The USA Freedom's 2019 open talent camp kicks off on Friday in the desert, and will go through to Sunday as head coach Christina Licata and her staff decide who will be a part of the national team.  Next year's International Cup and concurrent Australian tour, as well as 2021's Trans-Atlantic Cup will feature greatly improved competition as the standard of women's football strengthens all around the globe.
Part of the evidence to the emergence of female football in the USAFL is the number of talented newcomers who have not only embraced the game, but have made an impact on and off the field immediately.
Dani Marshall, who plays for the Arizona Lady Hawks, had an impressive debut season last year, taking out the Paul Roos Best and Fairest Medal in Division 2 at Nationals.  She discovered Aussie Rules through ESPN3's broadcast of AFL games in 2009, and was hooked instantly. 
"My roommate at the time happened to be Aubrey Bagley who now plays for the Houston women's USAFL team," she told USAFL.com. "She texted me in 2017 asking me if I was playing for the AZ Hawks and going to nationals. I couldn't make it that year but joined the team in 2018 and haven't looked back."
Marshall, who was a four-year starter a midfielder for the Colorado School of Mines soccer team, has brought her speed and quick decision making to the Lady Hawks, and will hope to bring that athleticism to the national program.  She is one of several from the home side who will be at the camp vying for spots of the Freedom and Liberty sides.
"I am most looking forward to playing footy with all the super strong and talented women from around the country," the Colorado Springs native said.  "The Hawks don't have enough women to do a full women's scrimmage so all of us are looking forward to competitive women's games."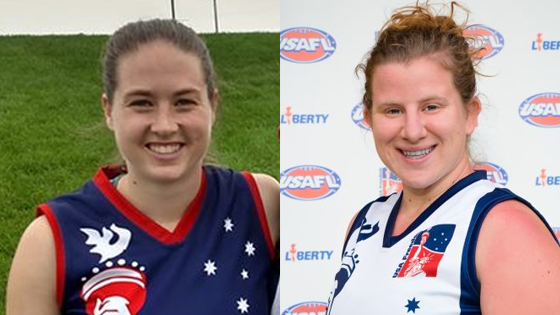 Marshall will be one of several fresh faces at the camp, but for others, this won't be their first rodeo.  Take Seattle Grizzlies utility Valerie Barber-Axthelm, who began her career with the Lady Hawks before moving to the Pacific Northwest to help start the women's program in the Emerald City.
Barber-Axthelm, who played for the Liberty at the 2015 49th Parallel Cup and the 2017 Liberty Tour of Australia, is now looking to take the next step towards the senior team, and the International Cup squad.
"Camps are an incredible experience," she said, "because you are always surrounded by players as passionate as you who want to learn and improve.  Everyone is there for the same reason and willing to work hard. Competing and playing with passionate, athletic, strong, and inspiring women is truly an unmatched experience.
"Every camp has made me a better player and a better person so I'm looking forward to the growth and the experience."
Improvement in her game has been noticeable to Barber-Axthelm, who like Marshall has a soccer background.  As she enters her fifth USAFL season, she attributes what she's learned to being at the camps, and has seen the league and the game get better with her.
"In 2015, I was first learning footy and I attended Spring camp in Arizona. I can't believe how much has changed for me personally and within the USAFL.  In women's footy around the nation, there are more teams (partial and full) and more players.  It is also a testament to the organization and behind the scenes work that the coaches and staff have put in."
As these athletes put their best in-action resumes forward towards getting the attention of Licata and company, they'll also take in the AFLW Grand Final on Saturday night US Time at a viewing party that will be a part of the Rob Dollar Memorial Metro Cup.  Both Marshall and Barber-Axthelm have been avid followers of AFLW season three, and both have noted how inspirational it has been toward their own footballing journeys.
"I have watched at least one full game from each week," Marshall said, "and have watched the highlights of every single AFLW game this season. It fires me up to see such amazing women playing this sport at such a high level.  If I had to put money down on who was going to win the AFLW Grand Final I would probably say the Crows, but the Blues held them close in their first meeting and are out to redeem themselves so I wouldn't give a huge margin on the game."
Carlton may be the underdog in many people's eyes, but not in Barber-Axthelm's: "Darcy Vescio is such a positive influence within her team and to women around the world on social media, especially for the younger gals interested in AFLW. So anytime she steps on the pitch, that is who I'm cheering for. My heart says Carlton has this. Tayla [Harris] just keeps getting better and they had a great game last week.
"But mostly, I'm excited to watch the Grand Final at camp with all the women from the Freedom Program. It should be a memorable experience!"
---
The AFLW Grand Final gets underway at 10pm EDT / 7pm PDT on Saturday, March 30th on LIVE WatchAFL.  It will be shown on Fox Soccer Plus on Delay at 3am EDT / Midnight PDT on Sunday the 31st.  All parties below start on the 30th unless indicated.
Below are a listing of USAFL hosted watch parties across the country.  To add yours, e-mail brian.barrish@usafl.com.
Atlanta, Georgia – Atlanta Kookaburras
For details: Email atlantafooty@gmail.com.
Houston, Texas – Houston Lonestars / Texas Heat
9pm-11pm CDT
The Phoenix on Westheimer – 1915 Westheimer Road, Houston, TX  77098
Event Page: https://www.facebook.com/events/2460271900650596
Join the Houston Lonestars & Texas Heat as we cheer on the Women of the Australian Football League in their biggest moment - the 2019 AFLW Grand Final LIVE at The Phoenix on Westheimer this Saturday March 30 at 9pm.
Montreal, Quebec – AFL Quebec
9:30pm-3am Sunday EDT
Mad Hatter Pub – 1240 Rue Crescent, Montreal, QC  H3G 2A9
Event Page: https://www.facebook.com/events/2064778616954586/
Come down and support the Adelaide Crows and Carlton Blues as they take each other on for the 2019 flag. Game will be screened live from 10pm!
Phoenix, Arizona – Arizona Outlaws, USA Freedom
6:30pm-10pm MST
Dos Gringos Mexigrill – 800 S Priest Drive, Tempe, AZ  85284
Event Page: https://www.facebook.com/events/273289000013537/
Join the USA Freedom and the Arizona Outlaws as part of the Rob Dollar Memorial Cup After Party!
Sacramento, California – Sacramento Suns
6pm-10pm PDT
Costanza's – 2107 L Street, Sacramento, CA  95816
Event Page: https://www.facebook.com/events/2097529960365318/
Join the Suns as we watch which women's team will take the cup!
San Francisco, California – Golden Gate Australian Football League
6:30pm-10pm PDT
BuzzWorks – 365 11th Street, San Francisco, CA  94103
Event Page: https://www.facebook.com/events/400839234077162/
GGAFLers and friends! Come watch the AFL Women's Grand Final this Saturday 3/30 at our sponsor bar, BUZZWORKS!! Who will win it all?? The Adelaide Crows or Carlton Blues?! Game starts at 7:00pm, but come by anytime.