2018 National Championships Wrap
Here is how each of the seven divisions contested in Racine on October 13-14 shook out.
---
MEN'S DIVISION 1 AND RESERVES: Crows Soar to D1 and Reserves Double at Nationals
---
WOMEN'S DIVISION 1: Maiden Heaven: San Fran Completes Three-Peat
---
MEN'S DIVISION TWO: FREEZE CHILL PORTLAND TO LIFT THIRD TROPHY
Minnesota and Portland had both defeated Calgary early in the morning before their meeting to decide the automatic semi-finalists from Pool A.  In a monumental tug-of-war I the mud of the hinterlands of Field 5, the Freeze won out 10-7 to punch their ticket through to the semis and end the Steelheads' perfect season.  Pool B was taken by the Chicago Swans, who had accounted for Houston and Orange County, and Pool C went to the defending D3 champion Seattle Grizzlies, who took care of San Diego and Dallas in their matches on Saturday.  The close loss, coupled with their big win over the Kangaroos, put Portland through as the wild card on percentage.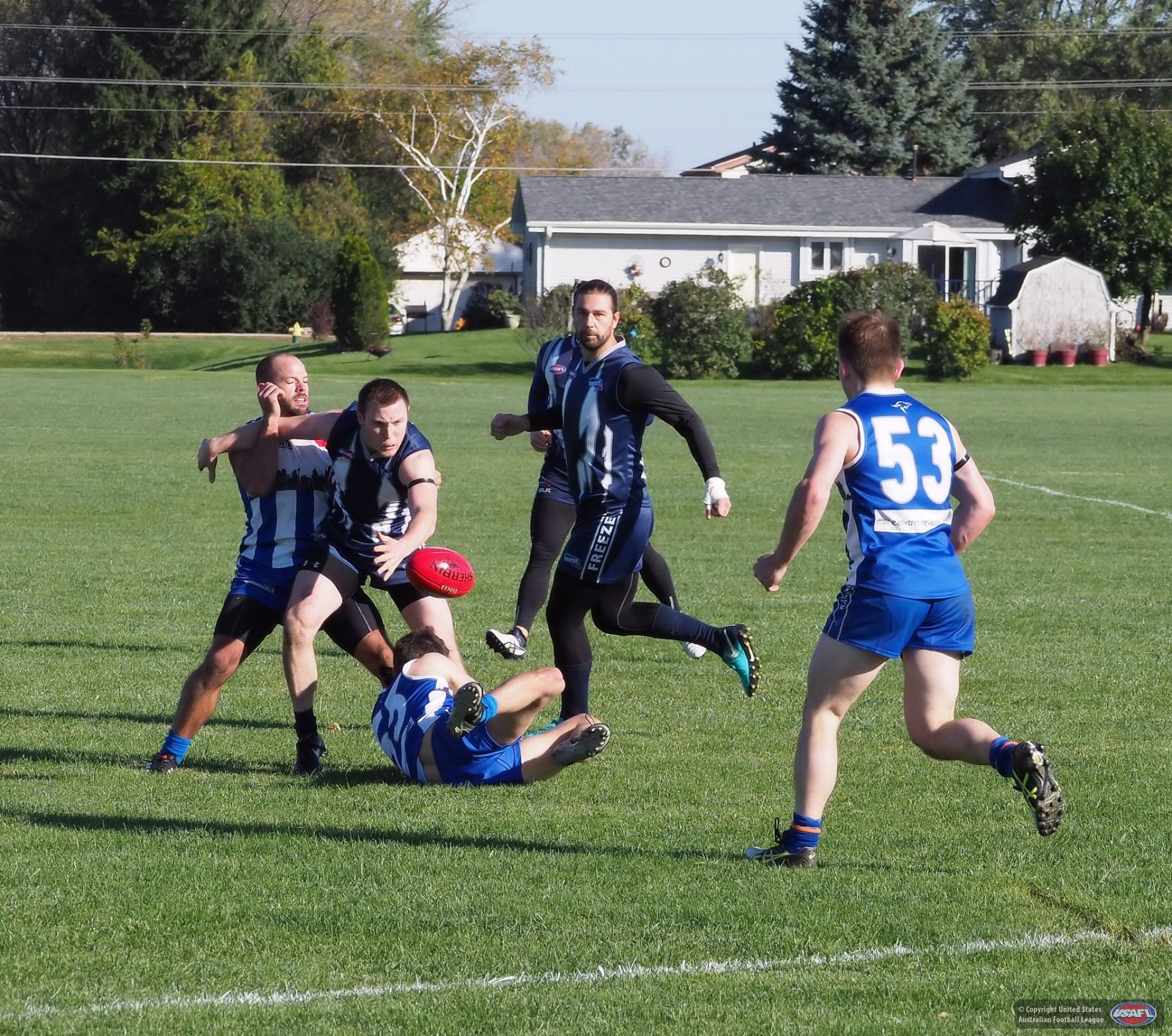 Because of the quirk of the nine-team format, two regional rivalries would punctuate the D2 semis; Minnesota and Chicago, and Portland v Seattle.  The Swans, who had pocketed wins over the Freeze during the season, were no match for their northwestern foes on this day falling by 52 points.  Their tournament was a strong one, however, and saw Tom Crameri win the Cooper's Medal for Most Consistent.  Portland, who had had their way with the Grizz during the regular season, got all they could handle from their Cascadia neighbors in a 31-21 triumph.  The Grizzlies, behind Melbourne-bound lighting bolt Max Depina and defender Alex Jessup, were the most improved team during the season and proved that they will be among the contenders for some time.
Meeting for the second time in 24 hours, the Steelheads and Freeze traded goals back and forth in the early going through their key forwards; Portland's Scott Waggoner and Minnesota's Ryan McLuen.  McLuen, nicknamed "Hanga" for his leaping ability inside fifty, would bag three goals during the game and take home a deserved Jeff Cann Medal.  Fellow veterans Brent Mergen, Brent Fisher, and up-and-comer Niranjan Sathianathen were not having many problems moving the ball against the Steelhead defense.
Despite going into the half down 21-6, the boys from the Rose City were playing good football, with their inspirational leader Martin Coventry leading the way.  Coventry provided a steady hand to the frantic opening twenty minutes, and at halftime, urged his teammates on; they had stayed with them for forty minutes the day before, and they could out play them over twenty to lift their third trophy in three years.  Dave Quinn heeded said advice and slotted home a major score from dead in front after thirty seconds of the second stanza, and Portland had momentum.
When it seemed the tides would turn, Minnesota's defense lived up to their name and froze the Steelheads into tasty filets.  Fischer, Steve Fashant, and David Meissner stopped the Portland surge and converted it into chances of their own.  McLuen topped off his hat-trick, and 18-year-old CJ Adams, who learned the game under his dad's wing in the DC suburbs, collected a goal of his own to go beside his championship medal.  Portland's best season in their decade-and-a-half history came to an end with a 37-18 loss, but their ascendency will continue, if this season is any indication.
But today was Minnesota's day, and quite a few of the veterans had been around for the previous two D2 titles they had claimed – 2007 in Kentucky over Baltimore-Washington, and 2012 in Ohio over Los Angeles.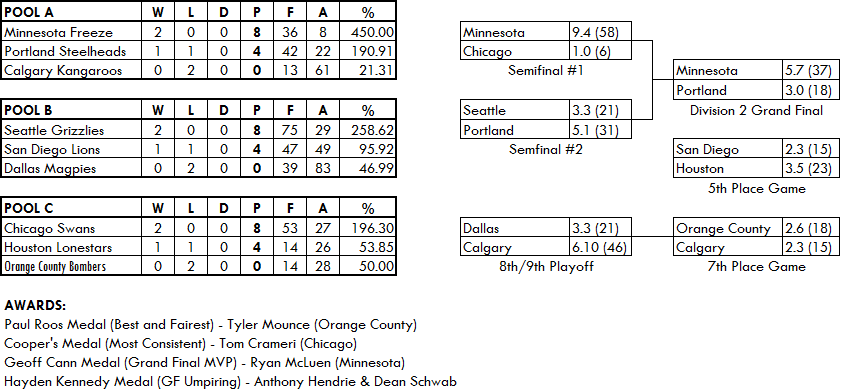 ---
WOMEN'S D2: SUNS, ANGELS, WOMBATS OUTLAST FIELD FOR FIRST CROWN
In just its fourth year of existence, play in the Women's D2 competition has improved steadily with each carnival, and 2018 was no exception.  Bringing together established and emerging women's clubs, five entries took to the ground on Saturday in a straight round robin.  It was also a chance for long time participants of women's footy for redemption, and there were a couple of takers on the weekend in that department.
The Texas Heat, fresh off an impressive 2-2 debut at the '17 Nationals, were fancied to go even further here in Racine in combination with a talented group from Los Angeles.  Emerging Texan talent Nadira Smith combine with Dragon sentinels Yuie Kawakatsu and Lani Silvio to take their opening match by two goals over an improved Columbus/Chicago/Philadelphia team.   They would come crashing down to earth in the afternoon, when Sacramento/Montreal/Wisconsin handed them a 46-0 hiding.  The Suns and sundry, boasting Canadian National teamer Valerie Moreau and up-and-comers Susan Cadman and Isabelle Senecal, stamped themselves as the new favorites, and finished the day with a 27-2 triumph over Calgary/North Star/Nashville/Arizona Hawks.
At sundown on Day 1, Sacramento was in the driver's seat at 2-0, but three hungry teams tailed them.  Columbus, Texas, and Calgary were all 1-1, bit had a lot of takeaways from Saturday to keep their fire alive.  DC/Baltimore/Boston/Des Moines were 0-2 in their openers, but had impressed with good play in both matches and were optimistic as Sunday loomed.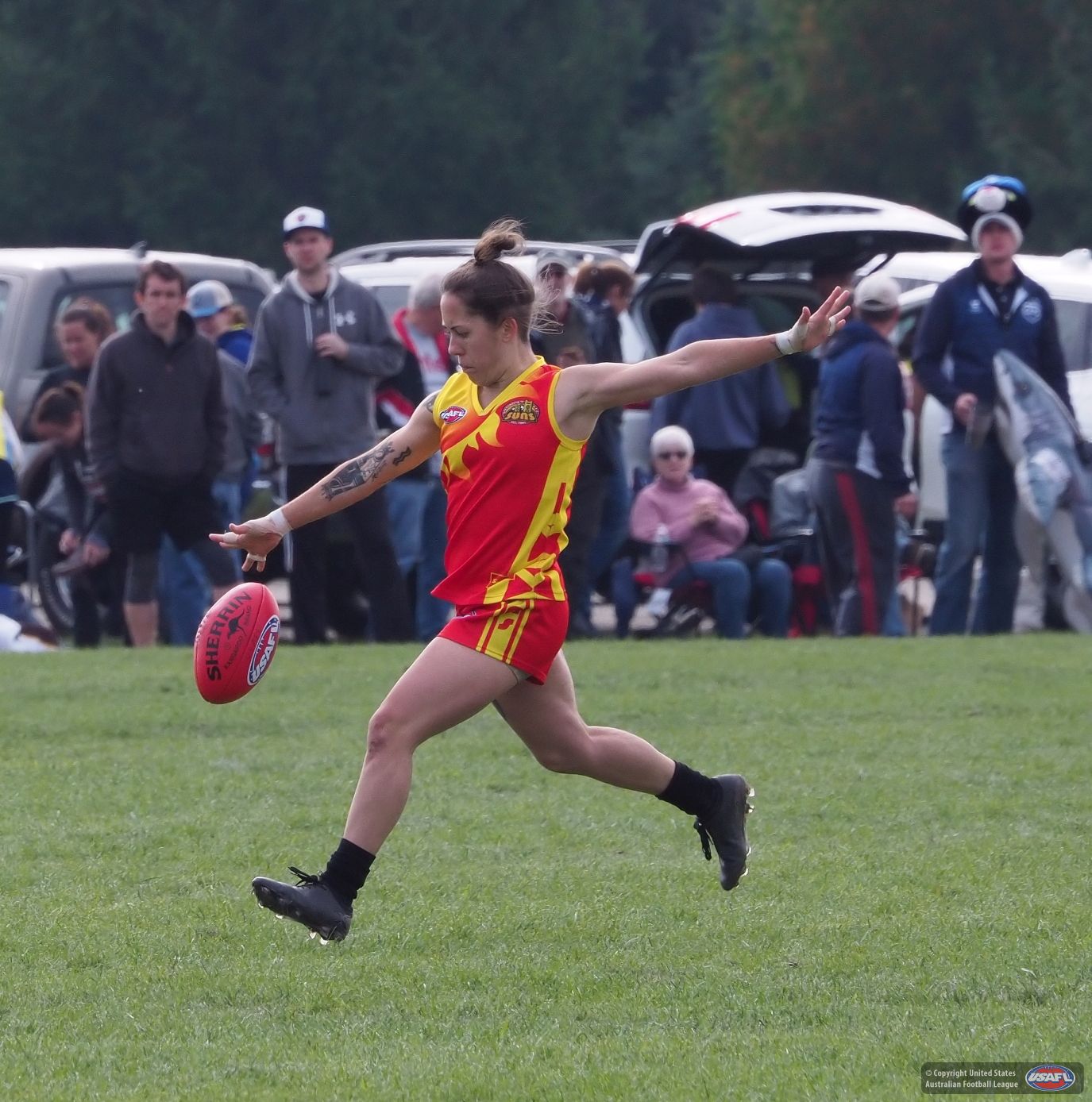 There was still frost on the ground at 8am Central time when four of the teams tipped off for their third games, all trying to keep their trophy hopes alive.  Texas and DC scrapped for forty minutes with scoring a premium.  The Heat only found the posts twice during that time, but it was enough for Aubrey Bagley's team to win 7-4 and eliminate DC.  Next door Columbus, locked in a low scoring battle of their own, also only needed one major score to put aside Calgary 9-3.  Katrina Scherer, Erica Sacci and the "Kitty Hawks" were now a half game out of first, and now very much alive for the cup.
Later on in the morning, Sacramento went to 3-0 behind Moreau, angular ruckwoman Joanna Rutkowski, and Sun stalwart Liz Danielson, accounting for DC by 57 points.  Two hours later, Calgary, eliminated earlier in the morning by the loss to the Cats, played the role of spoiler in the best game of the division.  Led by Nashville rookie Natalie Smith and Arizona Hawk rookie Dani Marshall, the Kookas withstood Bagley and the Heat and squeaked away with a 1-point win.  With the loss the Heat were now out of the equation, and the final game of the day, Columbus v Sacramento, was for all the marbles.
Both flagship clubs representing the final two teams came to Wisconsin looking to erase a long period of disappointment at Nationals.  Sacramento and Columbus, while high in development and passion for growth of the game, had little in the way of success to show for their efforts.  That would change in forty minutes of footy.  A Sacto win would give them a crown at 4-0.  A win by Columbus would draw them and the Suns level at 3-1, but the Cats would be awarded the championship on head-to-head.
The final match had tension, excitement, and big plays by players who had risen to the occasion.  Scherer, Margaret McFarland, and Philly defender Barb Dempsey made the Suns work harder than they had in any game that weekend.  Sacramento built themselves out to a lead while the Cats ate into it.  As hard as the Cats fought, however, it was not enough for Moreau, Danielson, Caroline LeDuc, Nafla Poff and the rest to outlast.
Sacramento, Montreal, and Wisconsin all claimed their first ever women's National championship.  Moreau, who may very well find herself in AFLW in the next couple of years, took out both the Roos and Cann medals.  For Columbus, however, it all was not lost.  They got their highest ever showing of second, based on percentage over Texas and Calgary.  Philadelphia, as part of the team, earned their third straight medal in Women's D2 play.
---
MEN'S DIVISION THREE: HAWKS OUTFLY RIVER RATS, BREAK 16 YEAR DROUGHT
2002 saw the introduction of a third men's division to the USAFL Nationals.  That year, the Philadelphia Crows defeated the Milwaukee Bombers on a snowy Kansas City day to lift their first cup.  In the years since the club, now known as the Hawks, has had a cyclic journey up to D2 and back down again, losing in the 2004, 2005, and 2014 Grand Finals.  Jon Loring, who was a part of that '02 team, has helmed Philly for over a decade, and built a solid, positive culture that breeds championships.  Now they just needed to win one.
After their best USAFL campaign in club history – 7 wins from 11 games, including two over New York and a first ever win in Boston – The Hawks were the top seeded team in D3, and were paired with Oklahoma and Ohio Valley in Pool A.  Led by the Hinchen Brothers, Rob and John, the Hawks edged out OFC by 10 points.  They encountered an underrated and hungry River Rats side on Saturday afternoon.  Aussie speedster Regan Smith and vets Eric "Sleepy" Floyd and Matt Seuling capitalized on their chances and held on for a 22-16 decision.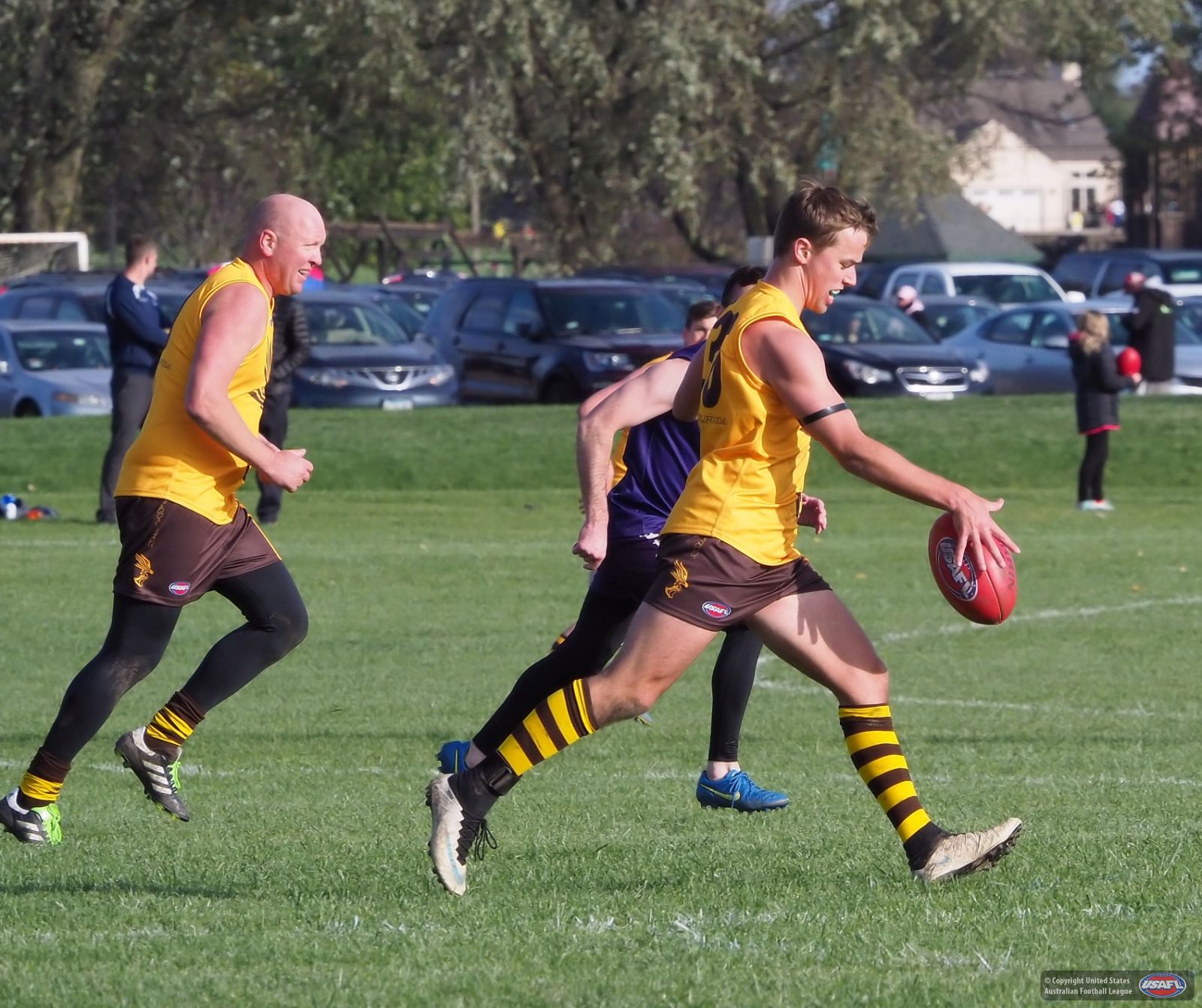 The win put the River Rats as tops of the group and through to the semis.  Philly left the field distraught; they had finished with a positive winning percentage, but their passage onto the knockout stage seemed highly in doubt.
But sometimes providence comes from unexpected places.  Columbus dusted off Des Moines and DC to win Group B, while Boston took care of North Carolina and Sacramento to claim Group C.  Though the Columbus-Des Moines and Boston-Sacto games were close, it was Philly who had the best percentage of the runners up and earned fourth and final spot.  Suddenly, Loring, Pat Miller, and the brown-and-gold were energized.
Sunday morning dawned with opportunity.  Smith and the Rats got up over an emerging Boston Demons side by two straight kicks while the Hawks earned their first ever win over Columbus, 38-14, to reach their fifth Grand Final.
The Rats had been here before – five time D4 champions, D3 runners up, and their Cincinnati core part of a perennial contender in the competition's dawning years.
Within two minutes of the Grand Final's commencement, the Hawks had a wrench thrown into their plans.  Target forward Jon Ginsberg went down with a ruptured Achilles, and suddenly Philly now had to find other ways to score.  They wouldn't have to wait or look for long.  Once again Seuling, Smith, and Scott Schrader put points on the board against the stingy Hawks backliners, but Greg Glasgow, Tristan Webster, the Hinchen boys, and Aleks Fedoriw created buzz in their own forward line to counter on the Cooper's scoreboard.
Webster, John Hinchen, and Fedoriw gained the Hawks only scoring shots of the opening term, but they were all straight, and their team trailed only 20-18 at the break.  If the opening stanza was first gear, Loring's side had more in the tank for the final twenty minutes of the season.
Two minutes into the ultimate frame, and lady luck shone on the Hawks when a clearing ball struck Fedoriw in the leg and ricocheted majestically through the goals.  Another goal from John Hinchen followed and the Hawks had opened the game with five straight.  They never looked back.
The Rats made Philly earn every ball and every point they got.  But they were up against a team that had been at the depths of despair – not just this year but in the past – and wanted none of it.  Dustin Jones, 21-year USAFL veteran and eventual Cann medal winner, applied the coup the grace with five to go.
Reverberating around the SCORe Complex, the hooter that sounded not only signaled a 46-20 result, but it heralded the end of a decade-and-a-half journey, and the deliverance of a premiership back to the Delaware Valley.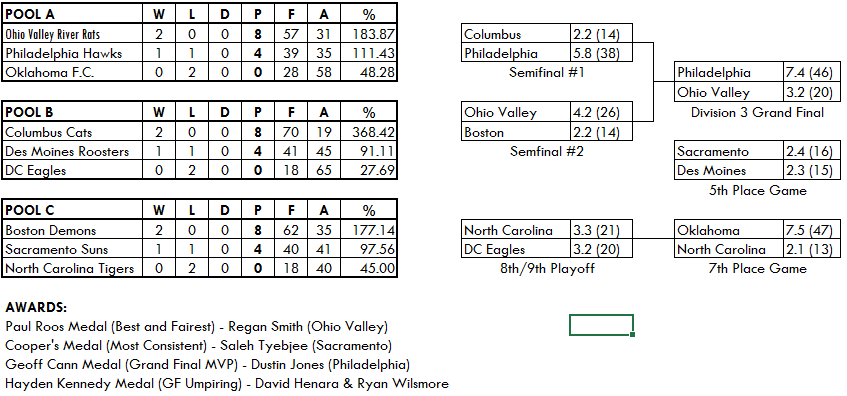 ---
MEN'S DIVISION FOUR: BALTIMORE FENDS OFF ARIZONA/SEATTLE/VEGAS COMBINED CHARGE
Division Four is an annual showcase of newer clubs dipping their toes into the competitive waters of Nationals for the first time, existing clubs keeping the flames of footballing passion going, and seconds players looking to make their mark en route to a National Championship.
The Grand Final ended up pitting a full side in their first year as a standalone club against a three-headed monster that included a new club, a surging club, and a band of talented seconds.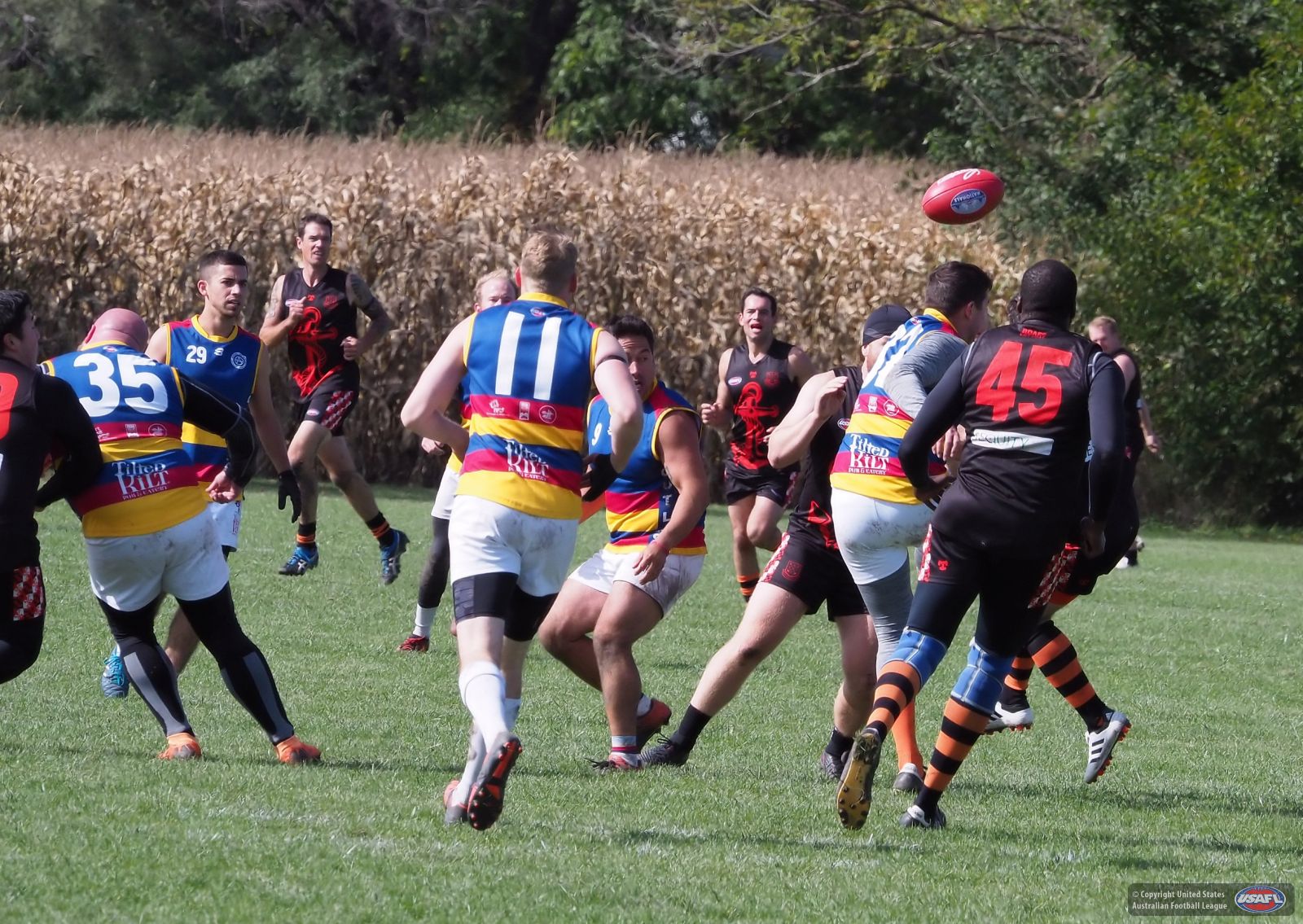 Playing in their first Nationals since splitting from DC last winter, the Baltimore Dockers brought a gaggle of players from the Charm City, having already gone through a sixteen game gauntlet in the regular season.  Across the way stood the Arizona Outlaws, Las Vegas Gamblers, and Seattle Grizzlies-B.  Both teams had met earlier in Pool A play, with the Outlaws and Co. holding off the hard charging Dock Show in a four-point thriller.  The win put the Arizona combo into the semi-finals, while Baltimore needed – and got – a win over Atlanta to secure the second spot form the pool.
The two finalists had relatively straightforward victories against challenging competition to get there.  AZ/LV/SEA were 14 point winners over the Houston-B, Ft. Lauderdale, Indianapolis conglomerate, while Baltimore whitewashed Nashville, the only other full side in the Division.  Coach Bryn Hansen's side knew, however, that Dockers' 3.9.27 spray-fest in the semi would not hold water on Sunday afternoon.
After surrendering the opening goal of the match, the Dockers' Aussie veterans put the clamps down on their opponents, led by the talented and dangerous Luto family and Las Vegas gun Adam Smith.  Eastern Regional MVP Travis Flight, aerial specialist Kit Drury, and big man Ian Payne were able to find their targets and stake their team to halftime lead.  It was a role-reversal from the pool match, and now the Outlaws, Gamblers, and Grizzlies side had to claw their way back if they wanted to drink from the cup.
The combined team sharpened their claws and dug into the lead, and while the Dockers continued to have trouble finding the sticks, Arizona and friends were making the most of their chances, converting on three of their four shots for goal.  They were able to close the gap to nine, but time ran out on them, and they fell 31-22.