Kickin' with Klatt: The One with all the Running
In just two weeks, I will be heading to Sydney, along with Kim Hemenway, to participate in the AFL Women's Talent Search. If you don't know what that is, it's basically an AFL combine for the new AFL women's league that will be starting in 2017. They are on the hunt for talented athletes who aren't already involved in the footy world, to join their academy training programs and established clubs in hopes of creating a skilled pool to draft from for the first league. We will be put through fitness testing, such as a 20-meter sprint, vertical jump, agility test, and a form of torture known as the beep test, along with skills testing. It has been a whirlwind month trying to get myself in shape; I'm here to share my journey with you in a few blog posts, starting with this one about my preparations.
We've all been there – maybe the month leading up to Nationals, or before the final round of your metro league. Usually, you know what's coming for you, and you know when you need to start getting focused on your training. But because of the short notice, this will be a unique experience for me. Ideally I would have liked to start training months ago. But it's the off-season, and I'll admit I was taking full advantage of the months without footy. Once I knew I was going, I have had to get ready FAST. I've been running, lifting, and even resting hard. The running part in particular has been kicking my ass. Physically, mentally, and emotionally, I have had to push myself harder than I have ever had to before.
Here's what has been getting me through this training:
Food. That was the first change I noticed – I'm hungry all the time! It has been a challenge to make sure I'm getting enough protein in my diet, and I find myself needing more meals in a day. I'm not dieting exactly, justtrying to be more conscious of what I eat. I'm cooking more of my meals at home, including lots of lean meat, leafy green vegetables, and such (I think a blog series later in life may feature my laughable cooking disasters). My sweet-tooth made cutting out a lot of desserts really difficult – I had to say goodbye to my beloved Nesquik, Ben & Jerry's, and Hershey Kisses. Quick shout-out to all the friends who have encountered me in my hangry state, I'm hoping I've solved that problem now that I'm eating more.
Spotify. They have every kind of workout playlist on there. I'm sure some poor pedestrians have seen me dancing around the track during my warm-ups, but honestly the "Workout Dance Edition" playlist has me jamming, even when I'm exhausted. That music keeps me going when my legs just want to quit.
My peeps. I've never trained for anything like this before, and it's been tough to do it all by myself. Luckily, I have some amazing friends and supporters who have been motivating me every step of the way. My managers and colleagues at work have been incredibly supportive. My close friends have helped encourage me through my doubts and nerves. My Sacramento teammates have given up their free time to run the beep test with me; I don't know about you, but not my idea of a fun Saturday morning. The USA coaches have given me countless tips, and have been working with me toimprove my kick. With Kim involved, it has been nice knowing that I won't be alone in this journey. And perhaps most surprising of all, people I've never even met have been sending me well-wishes and advice, and AFL managers excited to grow women's footy have been talking me through every step of the way. Without all these people by my side, this would have been a very lonely and difficult journey.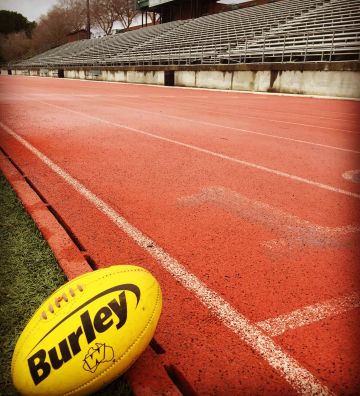 Something that deserves special attention is the running program I have been doing. I am combining the recommendations of several people, which all focus on repetitive sprints. Basically, you sprint as hard as you can for a set distance, get a set rest time, then sprint again as hard as you can, over and over (and over and over). The idea is that the rest times in between sprints allow you to recover enough to give high effort for each additional sprint. This type of running routine is meant to improve the aerobic speed of my muscles, which basically translates to me being faster for longer before I tire out.
 It would be very easy to give up during these runs, or not push myself hard enough. On top of that, I often have to run by myself, so I have to give myself some kind of mental incentive to make it through. When I was younger and training for different sporting events, I imagined something scary chasing me. But those things don't scare me so much anymore, so now I imagine something great at the finish line – like an AFL Women's League team welcoming me into their ranks (or a shirtless Nat Fyfe waiting for me, sometimes that's just as motivating).
All my time over the past few weeks has been dedicated to either training, or work. I have to be very conscious of how much I'm sleeping – I work as a nurse on night shift, so I have to be careful that I sleep enough to let my body recover between workouts and 12-hour shifts. I usually do sprints 2-3 days of the week, and lift twice a week, and beep test about once a week. Based on how things have been going, I'm expecting my beep test to be improved by a little over 1 full level by the time I go.
As tough as this is on my body, and my mind, and as much as it takes up all my free time, I find myself enjoying this. I've honestly never been as passionate about anything before, so I've come to relish the burn in my muscles after my workouts, and I feel stronger knowing I pushed myself to the limit when I wanted to quit. I've had a football in my hands every single day since I decided to go, and it's starting to feel like an extended part of myself. My kick is improving – I've been working on transitioning from a two-handed to a one-handed drop through the Kick Builders program. Tom Ellis of the USA Revolution has been using this program to train athletes how to kick a footy properly; it's a step-by-step process to help me get that muscle memory to make the one-handed drop natural. It's still not pretty yet, but that will come! I also feel myself getting leaner, and faster – my explosive speed is noticeably improving, and I feel more powerful. It seems that the training is working – I may not have had as much time as I had hoped to get ready, but I do know I've improved from where I started.
If you want to follow my progress, there will be more blog posts coming, or you can find me on Facebook, Twitter @krklatt7, or Instagram @krklatt. I'm going to be one of those annoying people who post their workouts and trainings, but I promise I'm not trying to show off – I'm trying to motivate you, because if I can do this, maybe you can too!
#USAFLgamechangers #changehergame #usaflfreedom #aflgamechangers #womensfooty