That Was the Season That Was 2022
Silver.  Atomic element number 47.
Its chemical symbol, Ag, comes from the Latin name argentum, meaning "shiny" and "white".  It's been utilized by just about every society in different forms.  From jewelry and currency to its use as a conductor.  It's used on solar panels and in photography.
And yes, you can also eat it.  But not too much.  Or else you'll turn into Long John Silver.  Or something.
So ingrained is silver in our society that it makes a traditional gift at different landmarks in time around the world.  It also happens to be nature's most highly reflective metal, putting forth a brilliance unmatched by its more famous cousins of copper, gold, and the like.
In this, the USAFL's 25th anniversary season, it seemed quite appropriate then for such a delineation to be marked by an element known for taking in the light it is given and blazing a way towards the future through the darkness.
The year that saw the USAFL return to normal, both in the number of games, number of players, and number of tournaments.  Covid is still very much a part of our lives, even almost three years after it shook us all, near and far, to its very core.  But footy in the USA is back on its way through the opaqueness not just by "bouncing back," but by surging forward.
New sponsors.  Old champions.  A renewal of an international rivalry.  Old friends and bookends.  A night to savor, remember, and recognize.  This year had it all.
This is the year that was, 2022.
The Apple (Isle) of Our Eye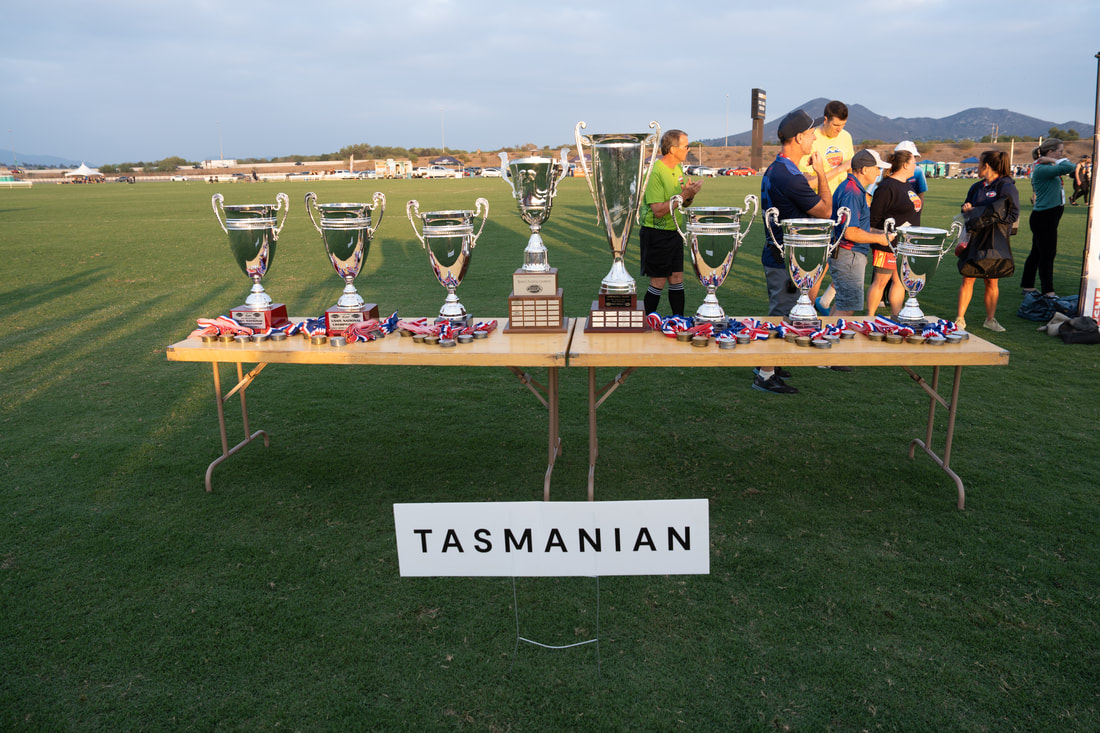 Competitions don't get to be successful unless they have working partnerships.  Players and coaches, clubs and supporters, umpires and athletes, and so on.
That leagues and organizations can come together working towards building a sport such as Aussie Rules in a foreign land is also very vital, and can provide each with new audiences.
In June, the USAFL got one of its largest partners to date.  Not just a company or an organization… but an entire Australian state.  And one that intensely loves its footy.
Tasmania signing on as a major sponsor was one of those rare things that happen to us as a league that makes waves in multiple hemispheres.  It was front page news from Launceston to Barrie to Hobart and all points in between.  Premier Jeremy Rockcliff praised the deal at the time as an "opportunity to build our relationship with the league and its players and supporters right across the USA."
It also helps that one of our clubs, the North Texas Devils, had the nickname and colors of Tassie's representative sides.  They were pretty stoked about it as well.
And you know they have many more people on this side of the Pacific hoping that Tasmania will take their rightful place in the AFL soon enough.
Regionals Comes Back With A Vengeance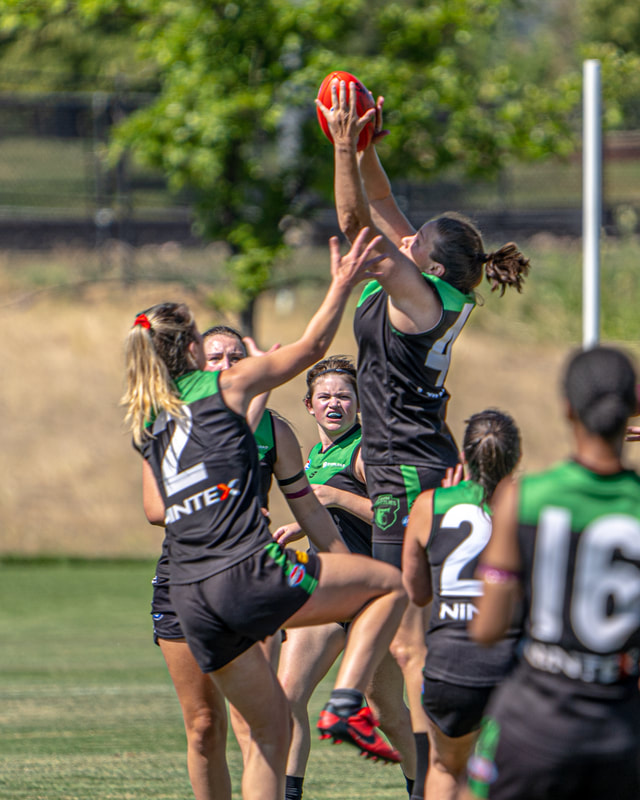 With last season still very much affected by Covid, the Summer Series would have to serve as a substitute for the Regional Championship Series for one more year after the COVID break.
But come 2022, it was back to what I lovingly call Footy's Summer Road Show for the first time in three years.  Though I'd only have to travel for two of the three tournaments (Easterns was a mere 45 minute jaunt up the Blue Route), it brought me back to the rush of producing anywhere from six to nine games a day.  
Only three of us – USAFL Executive Director Doren James, photographer and documentarian Jerry Long, and myself – got to experience all three tournaments in their glory.  But even if you made it out to one event, you saw some great Aussie Rules.
It began in Philadelphia with New York seizing back control of the Eastern Regionals men's title, winning their second tournament in a row and their first Regional Championship since 2016.  On the women's side, a three-way tangle saw the home side, coupled with players from Minnesota and Columbus, lift the trophy on percentage.
Two weeks later in Minnesota, the Austin Crows would roll to their fifth Central men's title, but not without stout resistance from the hometown Freeze and the upstart Nashville/Chicago combination.  The Freeze women combined with cross-town rival North Star Blue Ox to put on a fabulous display; no one outside of the North Star State could imagine that it would be a harbinger of a shock National finals run.
Finally, to Denver.  Sunny, hot, cloudy, rainy, breezy, cold, humid, Denver.   San Francisco stamped its authority over the West ahead of resilient Seattle.  Sacramento served notice to the other D2 teams around the county with a handsome 3-0 performance in Men's Division 2, while Denver became the first home team since New York in 2016 to take out a Men's D1 title at home.
Taking Two In Toronto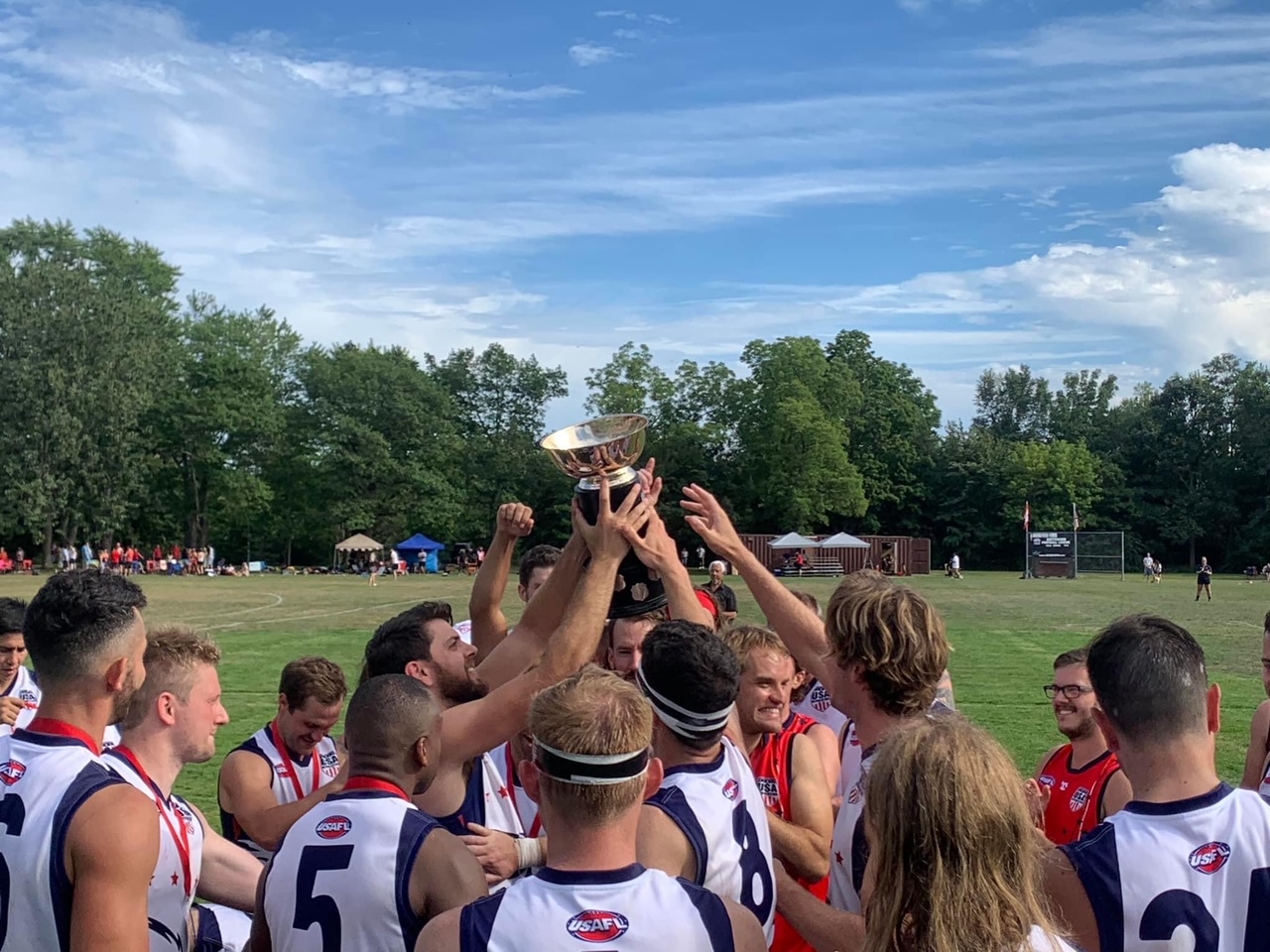 With the International Cup now glaring at us, for now, from the distant future (okay it's only 2024 now), the appetite of those of us in the international game was ready for the return of representative footy.
And we got it in August with the return of the 49th Parallel Cup.
It had been seven years since the last clash in the semi-regular season, and it had been five years since Tommy Ellis's Revos famous victory in Parkville, Melbourne over the Northwind.
Would Canada get their first victory over the Americans in fifteen years?  Or would the Yanks continue their men's championship dominance?
We sent two teams up to Humber College in Toronto; the seniors side, and a development team.  Both came home victorious.
Both teams were assembled from veterans and newcomers alike, with a number of players who had been around the game for some time getting the chance to put on the red, white, and blue for the first time.
The Development game was won by 17 points.  In the 49th Parallel Championship, the game quickly took on an epic tone.  The Northwind, themselves a mix of IC and PC veterans and fresh blood alike, took and retook the lead at several junctures of the game.  But it wasn't enough to prevent a final kick from the USA in the last term, and the Revolution improved their PC cup record to 10-1 and their overall record over the Northwind to 16-1.
One of the biggest stories from that hot day in August was the emergence of C.J. Adams as one of the league's first truly homegrown future stars.  Playing footy in the DC area since childhood, C.J.'s skills translated first to the D.C. Eagles, then to the Minnesota Freeze senior teams.  His performance on the day was masterful, and helped paint a promising future for club and country.
With the return of this tournament, all eyes turn to a possible international test tournament next summer, featuring the Revos men and Freedom women taking on comers from across the globe.  Keep your ears and eyes peeled for news about that as we get deeper into 2023.
A Reunion in Melbourne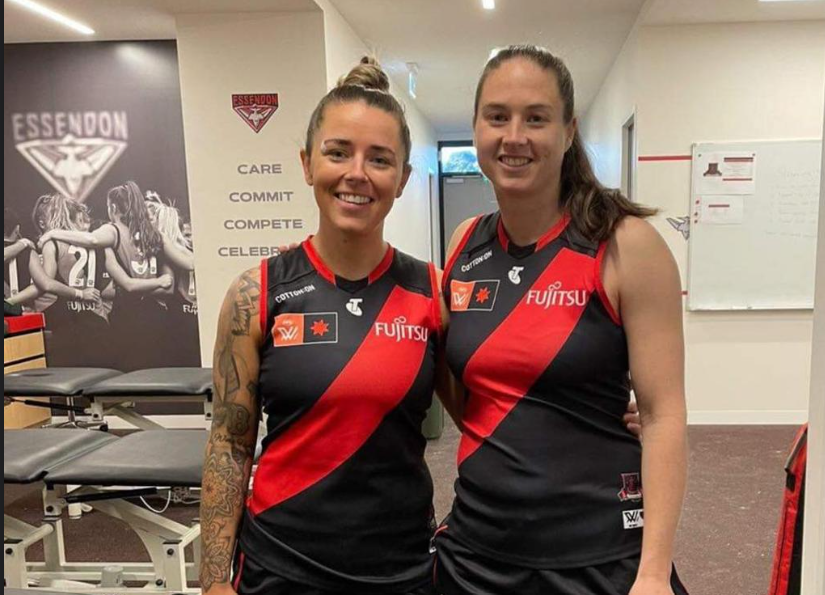 2021 saw the end of Dani Marshall's time in Footscray, as she was delisted by the Western Bulldogs of AFLW.  She would be picked up by Essendon in time for their VFLW campaign, and she fit right into the Bombers' system like a glove.  
Not only that, but with Essendon preparing for their first AFLW season in 2023 late 2022, it would be an opportunity for the former Arizona Hawk to break back into the big time.
Specializing in defensive play while platooning in the ruck, Dani cemented her spot into the regular lineup.  The 'Dons would roll through the regular season with a 12-0-2 record, then thump their way through three straight victories en route to the club's first VFLW championship.
Marshall's resilience and dedication to her team was rewarded with an AFLW contract.  But before Season 7 kicked off, she would be joined by another former USAFLer.
Jess Wuetschner came over from Australia to Boston in 2015 and spent the last month of that season as a player coach for the Demons women's team.  She'd go on to win best and fairest in Div 2 at Nationals, and form an indelible bond between herself and the USAFL.
After being drafted to the Brisbane Lions in 2017 and leading them to the premiership in 2021, "Woosha" was delisted after the year's first AFLW campaign.  She was soon snapped up by the Bombers, and thus the only two USAFL alumni playing in AFLW ended up at the Hangar.
Marshall would have her best AFLW season to date, playing in all ten games and averaging 7.3 disposals while proving a capable option in the ruck and on defense.  Wuetschner played in nine matches and was an important link up presence.  In the end, Essendon finished in tenth, 10 points out of a finals spot and the highest record of the four season seven expansion teams.
Not bad, not bad at all.
A Night to Remember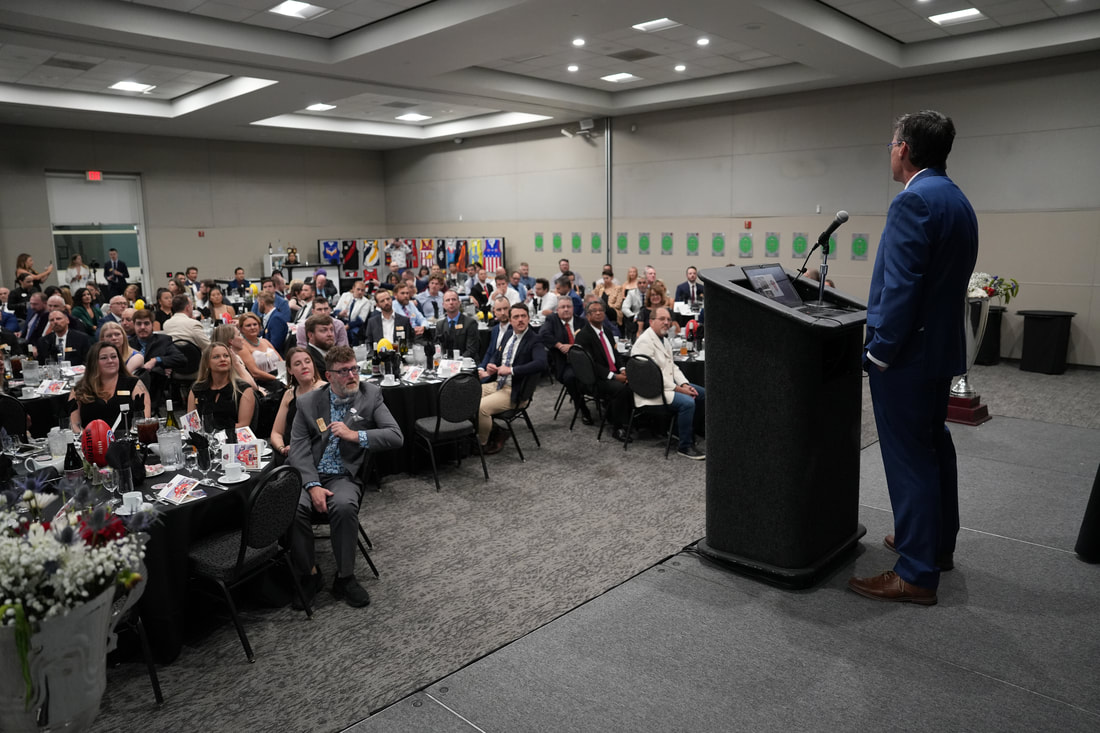 A year's worth of anniversary commemorations and remembrances came to its climax over four days in October in Ontario, California.  If Nationals is a family reunion, this was history almost leaping off the pages for a weekend.
In the leadup to the Gala and all of the other pomp and stuff, I was honored to get a chance to host a six part retrospective of the league with founding president Paul "Plugger" O'Keeffe.  Even though I was co-hosting and joined by many longtime members of the American footy community, it was like having a front row around the campfire listening to all of these stories about something that's been a part of most of my adult life.
If you haven't listened to it, I would recommend it.
Thursday, October 13th was the night of nights.  A gala featuring food and drink thanks to our new friends at Tasmania, auctions, fundraisers for the USAFL Foundation, and awards.  Six new life members were named – Tom Ellis, Christina Licata, Judith Stein, Adam Coleman, Jon Mills, and Bill Robert.  I have to shout out Bill here especially, since he gave me my commentary start at the 2012 USAFL Nationals.
The Revolution and Freedom anniversary teams were announced, as were the all-Nationals teams from over the first twenty-four in-person carnivals.  Each team also named their Silver Season clubs, which adorned the walls of the gala hall.  The clubs also named their Heritage Member, someone who, at the club level, is responsible for putting in the hard yards locally.
The award winners were given glass trophies designed by USAFL player Tegan Hamilton, and documentaries by Jerry Long and USAFL WA board member Rae Hale were shown.  You can find those on our YouTube Channel.
All in all, a wonderful evening, one that won't soon be forgotten.
They Say It Never Rains in Southern California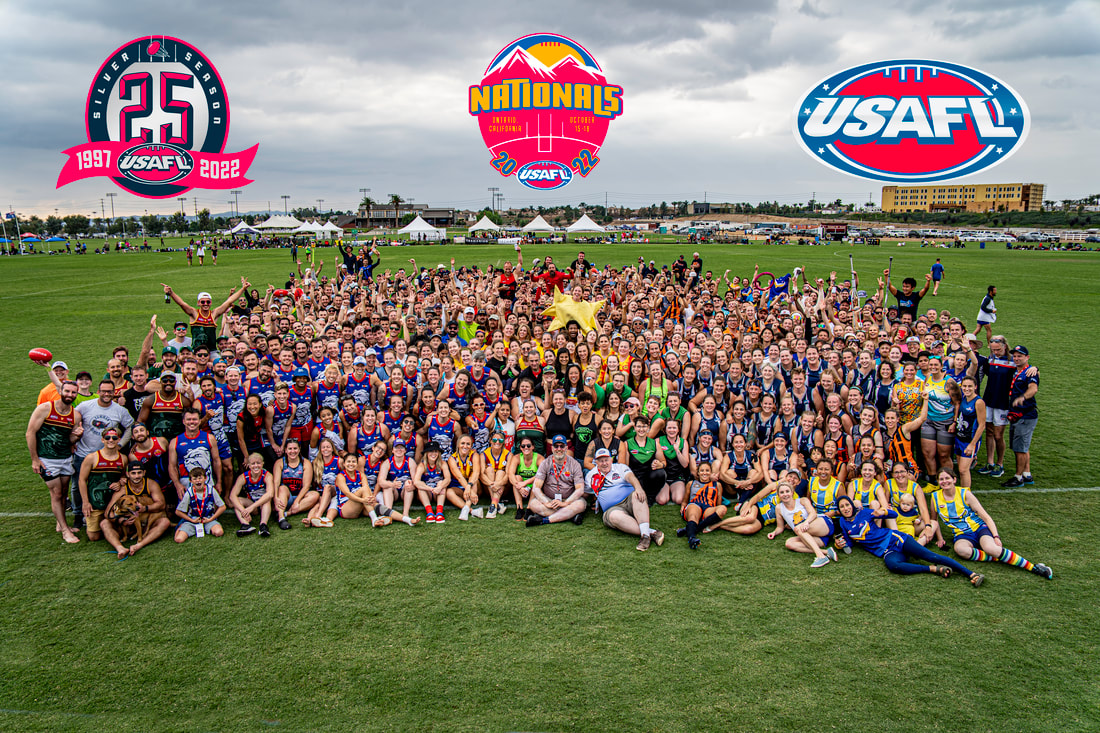 But it pours, man it pours.  Well, it did on Saturday at Nationals.  Melbourne likes to call their weather "four seasons in a day," and anyone who was thinking that Nationals was gonna have abundant sunshine had their minds changed when they first set foot at SilverLakes on Saturday.
The crowd that gathered, both at the ground and around the world on GoLive SportsCast, saw another weekend of footballing excitement that makes the Nationals what it is.  There was also the assembled multitude of special guests, including Collingwood legend Mason Cox, AFL Umpires Ray Chamberlain and Chris Donlon, and a number of others representing our great sponsors.
On the field, the number of teams and players returned nearly to that of pre-COVID times, including 11 women's teams in two divisions.
Austin did Austin things and ran away with the Men's Division 1 title, though they got a scare to end all scares against Golden Gate in what was selected as the best game of the year.  Still, they made it past them, and Denver, to win their seventh championship in nine seasons.
San Francisco did San Francisco things to win their sixth straight, tying mighty Denver at the top of the Women's D1 leaderboard.  But they did it over Minnesota; the Freeze made their first ever women's Division 1 Grand Final in this, their eleventh attempt.  And they did so as the fifth seed of the seven teams.
Boston took out Men's Div 2 in a thriller over Sacramento, winning their second title in three seasons and already looking to shake up D1 at Nationals next year.  The Texas Heat, with players from Houston, Austin, and North Texas, defeated Columbus and Cincinnati to win Women's D2 for the first time.  Denver's reserves won D3, claiming that club's 16th overall title, and capping off a weekend that saw them provide over 100 players in four different divisions.  And, finally, St Louis and Las Vegas completed their comebacks to lift the D4 cup in a division that saw all six clubs finish group play at 1-1.
And so that's it.  Another year. In the books.
Before I go, a personal message.
Each year is different.  And each has its challenges.  2022 was a challenging year for me personally, and I've had a number of those in the past as well.
But one thing has always brought me comfort and a sense of community.  The USAFL, and footy in general.
This league is unlike anything else in the world.  The people, the competition, the sport, the community.  It's top notch.  Is it perfect?  No.  Are there still things that need to be worked on to get this league to where it needs to be?  Absolutely.
I've always been grateful for what this sport has given me.  And that drives me to give back to it whenever I sit down at my laptop or put on my microphone.  I'm sure if you're reading this, it's given something to you too.
So I urge you… as we go forward in this next era of Aussie Rules in the USA, remember that we that are involved in this vast footy family are defined not by how the game serves us, but how we all serve the game.
May you and your family enjoy a prosperous and joyful 2023, and I'll talk at you when the Sherrin goes up in a couple of months' time for USAFL season twenty-six.