Misty Mountain Hop - Previewing the Western Regionals
West Virginia may have been "almost heaven," but in Colorado you're topologically closer to it.
Yes, there are mountains in Colorful Colorado.  And from Westminster City Park, you can see most of them in the backdrop as you go up to take your specky.  It's just picture perfect.
And thus we return for the third time as part of the USAFL Regional Championships Series, and the final leg of this year's tour.  We were here for the 2017 Westerns and 2019 Centrals, and further in from all of those pointy things in the background, it's one of the best fields we've played on.
This is the largest of the Series with twelve teams spread across two men's and a women's division.  The hometown Denver Bulldogs are represented in all three of them and are a chance to take out a historic treble.  But there will be plenty to say about that, especially from the Bay Area teams, the Pacific Northwest, and Southern California.
Take in a deep breath and get ready to ascend to our cruising altitude of 5,280 feet, here's a look at how the Western Regionals shake out:
2022 USAFL Western Regional Championships
Saturday, July 16th, 2022 -- 9am through 6pm MDT
Westminster City Park, Westminster, Colorado
Matches on delay: Youtube.com/usafl1997
Event Page, Schedule, Standings
---
Men's Division 1: Denver Bulldogs (0-0), Golden Gate Roos (0-0), [Los Angeles (2-1)/San Diego (2-2)], [Seattle (0-1-1)/Portland (0-0)]
The Denver Bulldogs have had their cracks at both the Central and Western Regionals over the years and they always seem to run into the big fish – either Austin or Golden Gate – when they get to the final.  But as the top seed in 2022 at home, that may very well come to an end on their senior team's sixth try of the season.  The eight-time defending National Champions make their debut at home, and with the names of skilled Aussies such as Crameri and Camping, Harknes and Hunt, and Mayberry and McMahon alongside veteran Americans who know how to move the ball, these Bulldogs might finally have their day.  
But the Golden Gate Roos have won four Western regionals on the trot, and there's a reason why.  Like Denver, it's a deep roster of American talent in every third of the oval that compliments a core of big play Aussies.  The Roos remember their last regionals here in 2017, when they trailed by 19 points midway though the second half against Denver and clawed their way to the title. There's plenty of height here, with Revo program players Tim Lindfelt and Zac Taylor known for ruck and forward presence, and the leadership of Justin Mann distrubiting the ball from the center. For a club looking to duplicate their Nationals D1 premiership of that year, this is a great place to start.
Southern California has not-so-quietly put together a hub of footballing excellence that has rattled throughout the league, and two of those teams – the 2-1 L.A. Dragons and 2-2 San Diego Lions – will team up and try to upturn the tables.  These two teams have split against each other this weekend The nucleus of the side competing in Westminster is made up of two athletic and dominant tall Yanks in Sam Murphy and Donald Lee, who look to control both the ruck and the forward line.  Roos Medal Winner from 2019 Michael Coffey leads the Lions contingent and will help bolster a quick midfield that will try to pile on points in a hurry.
The last two years have been difficult for the two Pacific Northwest sides, but the Seattle Grizzlies and Portland Steelheads – two unlikely partners in the natural world – are your dark horse for possibly running the group and taking the trophy back home.  The core is largely made up of Grizzlies, coming off a one-loss-one-draw weekend in Sacramento a couple of weeks ago. They are keystoned by athletic American recruits: Saleh Tyebjee, Austin Cox, Zach McKinney, and Rob Nunn.  A trio of PDX players top up the side, led by playmaker Elliott Boys.
 
---
Women's Division: Denver Bulldogs (1-0), [San Francisco (0-0)/Wasatch], [Seattle (1-0)/Orange County], [Sacramento (0-1)/Arizona/Portland/Denver-R]
Though they haven't won a National Championship since they polished off their sixth in a row in 2015, the Bulldogs women know how to get the job done in whichever region they've played at.  The resurgence as a club they experienced following their winless 2019 campaign and the pandemic break has been something to behold, and they will try to defend their home oval and win their fourth straight regional championship.  Premiership and National Team veterans Lindsay Kastanek, Hallie Kastanek, Jessica Gray and Anna Thexton are joined by some exciting newcomers.  That group is led by utility Courtney Jessamy, who is coming off an impressive showing at Nationals last year.
The team that has been the thorn in the proverbial Bulldog craw has been the one who has equaled Denver's run with six on the trot in their own right. And even though the San Francisco Iron Maidens will be missing some big guns, they still have the arsenal to lift their second straight Western crown.  Leilani Silvio comes across from Denver to provide extra speed in the middle alongside Freedom alumni Jessica Estrada-Finley and Ailbhe Dougherty, while the tall targets of Seini Moimoi and Panda Nguyen give coach Carly Smolak some options.  Add in a trio from the Wasatch War Gulls, led by formidable defender Lizzy Sawyer complimenting the transition play of Katie Klatt, will try to keep opponents to donuts.
Everyone loves Combos. The new garlic parm version is pretty great.  But the Seattle Grizzlies and Orange County Giants were part of a combo team at Nationals that challenged Iron Maidens and Bulldogs and forced them into enough mistakes, and they're hoping that an encore performance will be enough to perhaps take the teams at the top by surprise.  The Grizzlies, runners up in D1 in 2018 and 2019, have come back after a lean season with a full lineup that shut out Sacramento last month.  Amelia Kahr showed that she can play on-ball in addition to playing defense, so we'll see a lot of touches from her as well as Freedom products Ali Alcocer Amanda Boe.  Stephanie Peterson can play on both ends of the field, so we may see her provide the scoring punch alongside OC's Darin Kleinsmith and Delphina Delgadillo.
Winners of the 2018 D2 Nationals, the Sacramento Suns have always been consistent in their skills and bring one of the best cultures in the league.  The round out this group, topped up with players from the Arizona Hawks, Portland Sockeyes, and Denver Bulldogs reserves.  Looking to rebound off a tough loss at home to Seattle, the Suns are led from the back by strong legged fullback Jenna Taipaleti, and tall utility Bianca Marshall will provide a strong aerial presence next to Portland ruck Brandy Machado.  Arizona's Amanda Mora and Melissa Wilhelm will trio with Sacto's Erika Titus-Lay to attempt to run teams off their feet and provide electrifying playmaking.
Men's Division 2: Sacramento Suns (1-0), [Arizona Hawks (1-2)/Las Vegas], [Orange County (1-0)/Wasatch], Denver Bulldogs Reserves (3-3)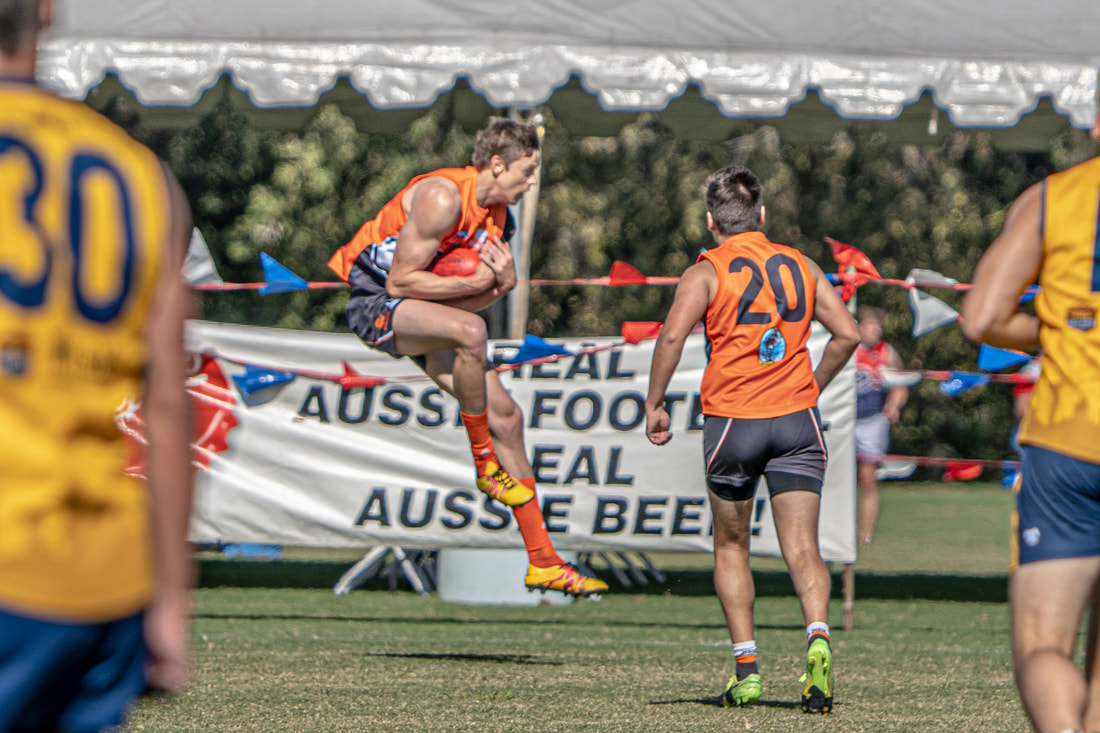 Rising to the occasion once again, the Sacramento Suns come to Colorado in search of their first Division 2 title since they went back-to-back in 2015 and 2016.  There are a few sparkles in this side, led by Tristan Boyer and Revolution call-up Kendall "Rabbit" Hutchings.  The backline is strong too, and is anchored by Aussies Tobby "Sheik" Simmons and Sean MacEachern.
A season ago, the Arizona Hawks flew to the D3 title, their first in a decade.  That run was part of a five year long resurgence that began at this tournament the last time it was in Denver, when they brought a loaded and competitive side to Division 2 at Nationals.  The Hawks play a hard-nosed style off football, as typified by ball winners Hunter Rickert and Kade Barney. Three members of the Las Vegas Gamblers, including Brett and Matthew Anderson, round out the team.
They might not have the top billing of the three SoCal clubs, but the Orange County Giants are an elite team that has rebounded in recent years to be on the cusp of the top sides.  Captain Harris Eilenberg has a strong nose for the footy, and the quick play of Tim Ellis and Adam Shanks will turn some heads. Also on this side is the debuting Wasatch Wargulls, led by Finnish ruck and International Cup player Fredrik Romar.
Last, but certainly not least, are the Denver Bulldogs Reserves.  They love playing at home, as evidenced by their Western D2 win over Nashville when the tournament was here last.  They ran the table at the 80/35 tournament in Des Moines in May, but combined with St. Louis to finish sixth from the six teams at Central regionals last month.  Still, there is a lot of experience and a lot of fight from this team from veterans like Jeff Posey and Bayden Goodall that will keep them in the hunt for another regional crown.