That Was the Season That Was 2021
The beauty and the tyranny of playing a game with an oblong ball is that you never know how it's gonna bounce.
Sometimes, it goes the way you want it to, leading to a magnificent goal or continuing a long thrilling run down the wing to set up a teammate.
Other times, however, it bounds away into nothing, causing absolute chaos in the process.
The whole of 2020 seemed like the former, like a Sherrin careening in ways that no one was ready for, leaving us all flummoxed.  The experience of that year is much more complex than that analogy, but I think we can all agree that we were hoping for kinder metaphorical physics when this year dawned some 365 days or so ago.
There was no reason not to be optimistic for 2021.  Vaccines starting to be rolled out, society was showing that it could be flexible in being as normal as possible during a pandemic, and it looked like we would be able to play footy again.
There was no football played in 2020.  But there was a lot of momentum and optimism provided by the push our sport got because of increased exposure.  New passion mixed with an itching to get back on the park made the league's 24th full year one of the most anticipated campaigns yet.
Our collective hope was that, much like a perfectly weighted downward push to the turf while at full sprint, we'd bounce back.  
And that's exactly what happened.  It was a memorable season, full of highlights and promise.  This is the year that was 2021:
Credit to the Girls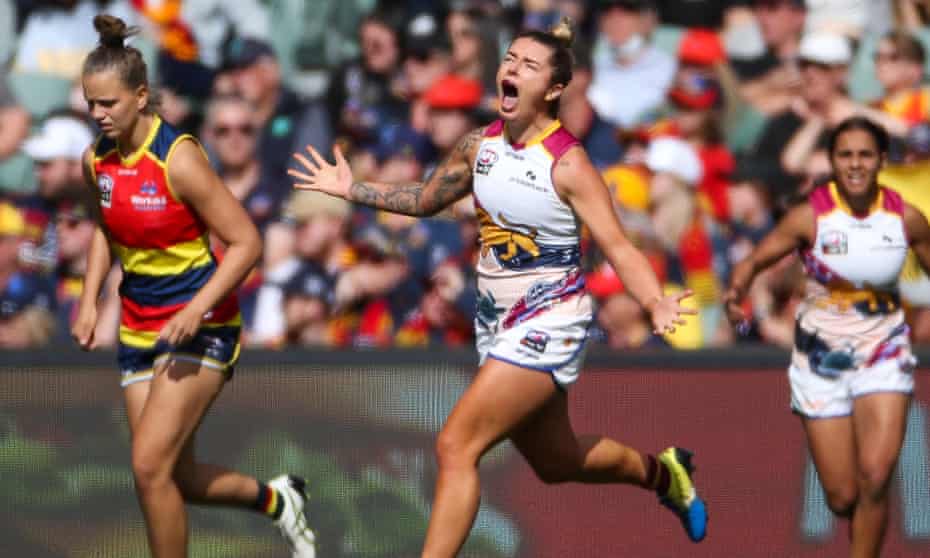 AFLW came back in full force after the league's fourth season was truncated due to the pandemic.  The USAFL hosted its first ever AFLW Grand Final preview show, hosted by yours truly with former Bulldogs' great Brad Johnson, current Bulldogs AFLW player Kirsty Lamb, and AFLW expert Gemma Bastiani.  
The game that followed was a thrilling victory for the Brisbane Lions, one that had a little local history in it; the Lions' Jess Weutschner, who played for the Boston Demons in 2015, became the first former USAFL player to win an AFLW premiership.  And it couldn't have happened to a nicer person.
It was a rough year for Colorado's Dani Marshall, who only played in five of the Bulldogs' matches before being delisted in June.  That didn't stop her from having a strong season for the Doggies VFLW outfit, as she kicked five goals and showed her ability as a defender in the process.
The Going get tough…
As the weather got warmer here in the States, so did our clubs.  And as more and more players got vaccinated and the possibility of a season became more real, teams got into the swing of things.
A handful of teams who came into the league during the last two seasons looked to find traction during a time when recruiting was tougher than a day-old soft pretzel.  And for the North Texas Devils, Wasatch War Gulls and Centennial Tigers, their efforts to get new teams together in the midst of all of the obstacles thrown up were herculean.  
The Tigers took on the two best women's teams in the country and remained competitive with a number of newcomers, while the Devils were up to the task against a challenging schedule of the Central regions' powerhouses.  Wasatch, meanwhile, benefited from the leadership of former USA Liberty captain and were able to assemble a playing squad that enjoyed successful hitouts on both the men's and women's sides.
…and the Tough get Going
New interest in the sport helped grow new teams, but there were dormant teams that were stirred to life by all of the new blood flowing through the sport.  Such was the case on both sides of Missouri, where the St Louis Blues and Kansas City Power rolled back to life in 2021.
The Blues hadn't appeared on their own at Nationals since 2008, having played as part of the Ohio Valley River Rats combination for more than a decade.  Club stalwarts such as former National teamer Dave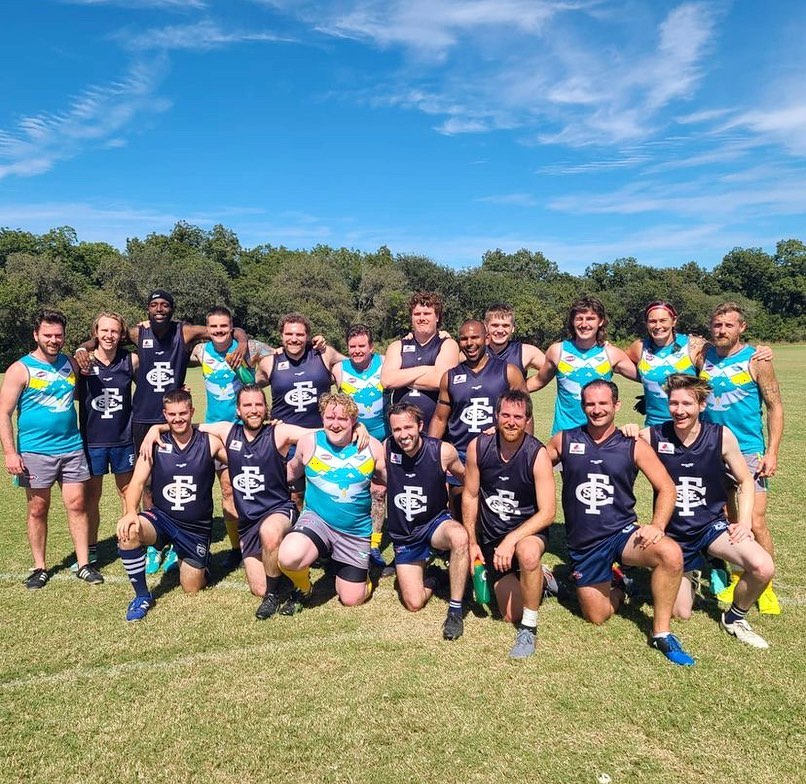 Zitko teamed with fresh devotees of the game, such as American Ninja Warrior contestant and super cool DJ Jake Bowling, to help bring footy back to the Lou.  The Blues were competitive in their matches, made a splash at the sub-regionals, and brought a healthy contingent to Austin for Nationals.
Many miles to the west and up I-70, the Power was back on.  KC last appeared at the 2015 Nationals, teaming up with Sacramento's reserves to make it to the D4 Grand Final, falling to San Diego.  Then, off the map they went.  But no more – Revo alumni Caleb Daugherty and company were able to put together a consistent team that tested their mettle against more established clubs around the upper midwest.  The look to sustain themselves into this coming year and beyond.
Forging ahead and building on strengths
With no games in 2020, opportunities abounded for those students of the game among us to learn about the finer parts of the sport.  The game needs umpires and coaches, and no one can play forever.  No, not even you, Seb Aguiari.  Though I know you will try.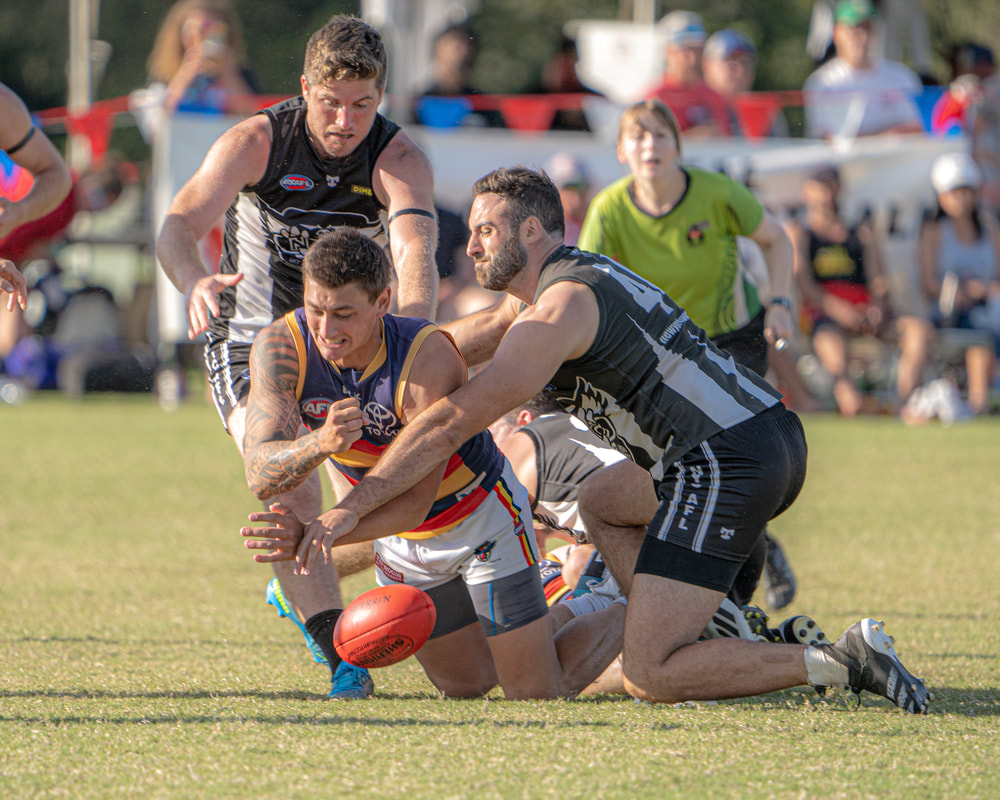 This season a continuation of resources to help develop the umpiring and coaching ranks continued.  A series of virtual development seminars led to new officials within the Umpires Association ranks.  The UA had a stellar year in very difficult circumstances, and that is evidenced by the leadership of new president Laurie Rupe and the board.  We'd be remiss not to mention that Laurie, who has several Haydon Kennedy Medals to her name for umpiring Nationals Grand Finals, became the first woman to umpire the USAFL Men's Division 1 Grand Final in October, and the honor was well deserved.
Great minds beget great football, and the USAFL goes into next season with twenty-four AFL accredited coaches, including thirteen new ones.  The Coaches Association hosted a number of well attended events, led by Paul Roos, Heath Jamieson, and Matthew Pell.  The USAFL has seen a rise in smart, driven local coaches over the past several seasons, and the series hopes to achieve more and more individuals aspiring to assume roles in helming our clubs.
Patrons and Paying it Forward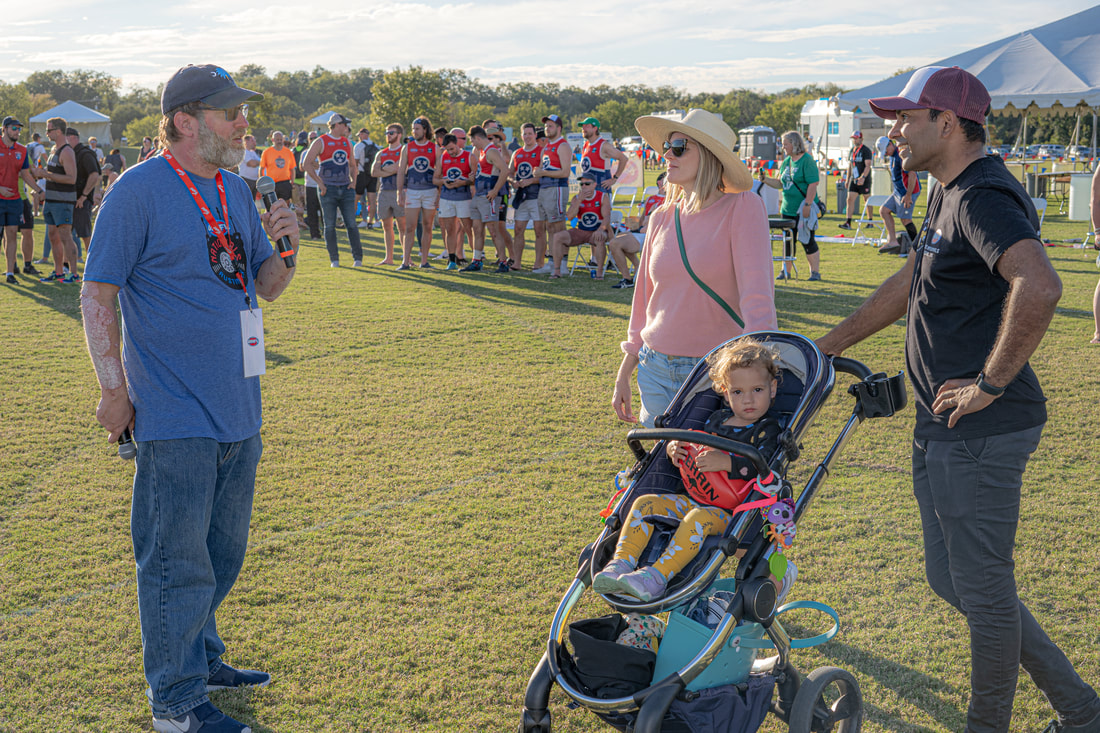 The USAFL was delighted to welcome the Honorable Arthur Sinodinos, Australian Ambassador the USA, as patron.  We were also honored with the presence of Australian Consul-General Benson Saulo, who came up from Houston for the Nationals and took part in the festivities.
Movember, which has become a tradition within the last four seasons at the end of each campaign, was once again a smashing success, seeing more than a hundred individuals and two dozen teams raising more than $25,000 for men's health.
A Summer of Footy Love
Aussie Rules football officially returned to the States in May, with the Florida Cup carnival marking the first recorded league matches in fifteen months. More and more teams got involved by June and July, and even from behind a computer screen, one could smell the grass and sunblock through the game reports and pictures trickling in from around the country.
With COVID restrictions and effects still prevalent through the summer, the Regional Championships series were scaled down into the USAFL Summer Series – six tournaments in half-a-dozen cities, played over three weekends.  It was a footy lovers' dream, and brought with it valuable game experience for some legs that were still shaking off the long break.
The traveling roadshow saw the New York Magpies men go to Philadelphia and dethrone the hometown Hawks as kings of the East, Golden Gate and Orange County top their western foes in Sacramento, Austin stay unbeatable in Arlington, Nashville bring home their first ever league trophy in a Cincinnati sweep, Minnesota manhandle their competition in Madison, and Atlanta and North Carolina team up to take out proceedings in Savannah.  The women's divisions were won by San Francisco, Denver, and the DC Eagles, three teams who would be on a collision course come Nationals weekend.
[Texas] Pete and Repeat
And so it came to pass that, after two long years, there would once again be a Nationals carnival, and a return of the big dance to Austin.  The Music Capital of the World welcomed in the best of American Aussie Rules for the fourth time, and the 750+ players who attended gave all and sundry a welcome and memorable weekend.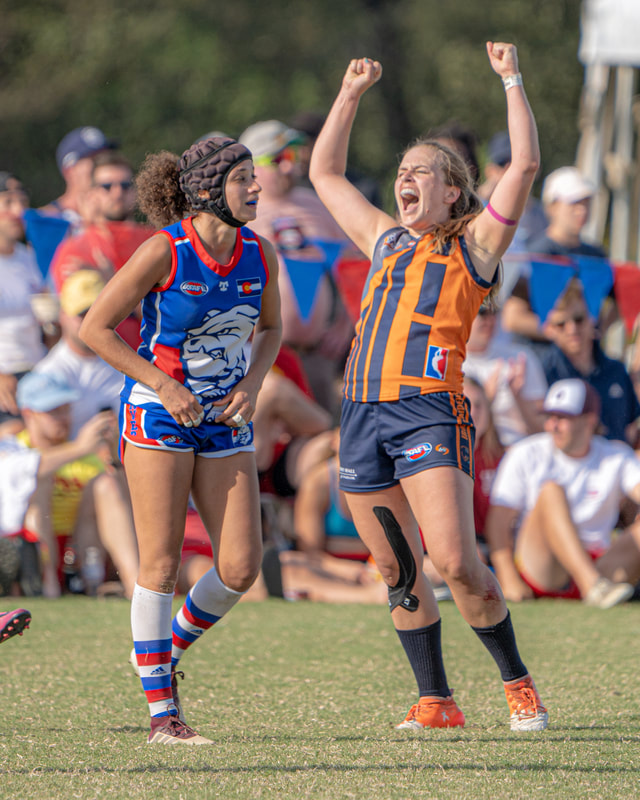 Nationals are a funny beast.  All of the work and preparation that goes into the season manifests itself in three or four games played over two days.  Sometimes, an unknown and heretofore unrecognized challenger lifts the cup at the end of Sunday.  But sometimes it's an old friend for whom winning never gets old, no matter how difficult the road becomes.
In Men's Division 1, the Austin Crows and Denver Bulldogs were expected to be on a collision course for a 2019 GF rematch, and the Bulldogs were licking their chops after upending a 34-game Crows winning streak just three weeks before.  But the funny beast roared its roar.  Golden Gate knocked off the Bulldogs in group play, meaning the Crows and Dogs would meet in the semi-final.  Austin stiff-armed their way into the final, then made mince-meat out of upstart New York in the big game, cementing their sixth title in eight years, and celebrating at home as if it was their first.
On the women's side, a reduced field still produced the competitive and closely fought tournament we always see from the queens of the oval.  San Francisco came in favored to win their fifth straight flag, but four other teams stood in the way.  Denver and DC had recruited heavily during the break and came equipped with deep rosters, and two combination outfits came together with talent and drive to upset the apple cart.  The Maidens and Bulldogs would be the two left standing come Sunday afternoon, dinged and bruised by the three matches they played on the way.  An arm wrestle between the two teams that had claimed every D1 championship since 2010 gave way to another winning performance by the Bay Area gals.
DC's women did their club proud, having finished third in their first year fielding a full side.  Their men's team, however, played nearly flawless football over their four games, and bowled over fancied Boston in the D2 men's final, kicking eight straight goals and winning their first title as an independent club.  The league's two Hawks teams, Arizona and Philadelphia, used height and skill to outplay Oklahoma to take out men's D3, while Nashville finally erased a 21-year drought at Nationals and lifted their first premiership as winners of D4.
Nationals always gets more and more attention from abroad.  And this year it seemed to bring in even more, with AFL.com.au, AFL Women's, and news outlets from both sides of the Pacific keying in on the tournament.  Much of it was due to Mason Cox's presence, but in the end, it was our players who took center stage, and brought us all home to enjoy the game we love once again.
25… and counting.
Congratulations… you did it!  You made it to the end… of this article.  For navigating nearly two thousand of my words, you deserve a little treat.
2022 marks the 25th anniversary of the USAFL, and we have some great surprises and other things to commemorate this milestone.  My, what a long strange trip it's been.  From a handful of fledgling clubs to 51 at the beginning of this new year (welcome, Grovetown Pirates!)... From a band of expats and a few curious Americans to a competition which counts three-quarters of its players as locals… and from a couple dozen pioneering women to a world leader in the code with thirty-plus women's teams.
It really is a beautiful thing.
From a personal standpoint, it's been amazing to see how the sport and the league have grown even since I first started playing for the Philadelphia Hawks in 2008.  And it's hard to believe that I've been involved with the USAFL for more than half of its existence.  It's been an important part of my life, and something that defines who I am, both personally and professionally.
The best part about the sport?  There's a few.  The game itself is unique.  Its community is all-encompassing, diverse, and unique.  And there's a history here of wonderful men and women whose dedication on and off the field has built it into what we have here today.
So when I was asked to put together a logo for our silver season, I incorporated all of these qualities into the design.  And, just a day or so before I post it to our social media and make it official, I wanted to share it with you.  For my fellow USAFLers, I hope I captured the essence of what it means to be a part of this organization.
My thanks to past presidents Paul O'Keeffe and Rich Mann, and to everyone else I've approached for their input and inspiration.  You'll hear from Paul, Rich, and others as the year goes on with reflections on some of the great moments we've shared since that first season in 1997, as well as how you can contribute to our future through the USAFL Foundation.
Until then, may you enjoy a safe and happy New Year, and I'll see you around when the Sherrin goes up in 2022.