That Was the Year That Was 2020
It is December 31st.  The final day of the year that seemed to drag on for three or four.
366 pages fell from the calendar in 2020.  In that respect, it was like any other year, or at least the ones that fall when we play catch up to account for the earth's rotation around the sun.
But 2020 was not any ordinary year.  It is one that we will have to carefully explain to our children, grandchildren, niblings, and others who are either too young or not hitherto born yet, about what excitedly living through this year was like.  
I'm already now trying to figure out how to do that with my 7-month old daughter, who spent her first month in the NICU while peaceful protests occurred mere blocks from where she was being cared for.
But I digress.
We all are excited at the year ahead and the symbols of change in prospect.  There is hope that we have, indeed, turned the corner, and that our lives will get back to some semblance of normalcy.
But I, being the sunny optimist that I am, learning that everything eventually manifests itself in some sort of positive way, either straight away or down the track.  And while 2020 was by and large the biggest challenge that many of us has faced, there were some sunny spots shining through the clouds.
We may not have had an Aussie Rules season here in the US.  But this year was the one where we watched two American women duel in the top end of Australia, a flock of Americans embrace the game almost at first sight, a group of heroes emerges from our ranks, and the USAFL and its clubs finds ways to adapt to growing the game in the middle of a global pandemic.
And, oh yeah, an American woman played in the highest level of the sport for the first time ever.  And she rocked it.
Here it is, the year that was, 2020.
---
BATTLE OF THE YANKS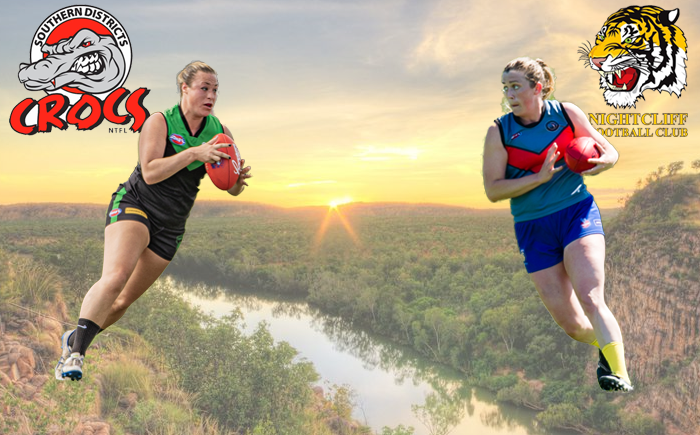 The year dawned brightly on the top end of Australia for a handful of Americans with professional aspirations in Aussie Rules.  Two of them, April Lewis (Seattle Grizzlies) and Rosemary Kwoka (née Kloh, Sacramento Suns), would be locked into battle during the competitive NTFL Women's Premiership campaign in Darwin. 
Kwoka touched down with Nightcliff and, less than 24 hours after arriving in the Northern Territory, found herself a part of a rising Tigers team.  Her impact was so sudden that she was instantaneously given the nickname "Dusty," after the AFL men's superstar.  The newly minted USA Freedom captain established herself as a defensive rock in her eight game stint, and helped propel the 'Cliff to a fifth place finish and a finals spot.
For Lewis, however, this season was all about redemption.  She had put an injury plagued 2019 VFLW season with Essendon behind her, and was part of the backbone of a Southern Crocs outfit that would eventually go on to win the league title.  Along the way, she kicked seven goals in fifteen games for the Crocs while being in the team's best four times.  It was an eye catching season that accentuated her prowess as a tall offensive threat, and, COVID be damned, may lead to her resurgence back in Melbourne.
While Rosie and April were undergoing their footballing ascendency, a road trod by other talented American footballers across the Pacific, another one had reached one of the furthest stars in the galaxy.
---
DANI BREAKS THROUGH IN FOOTSCRAY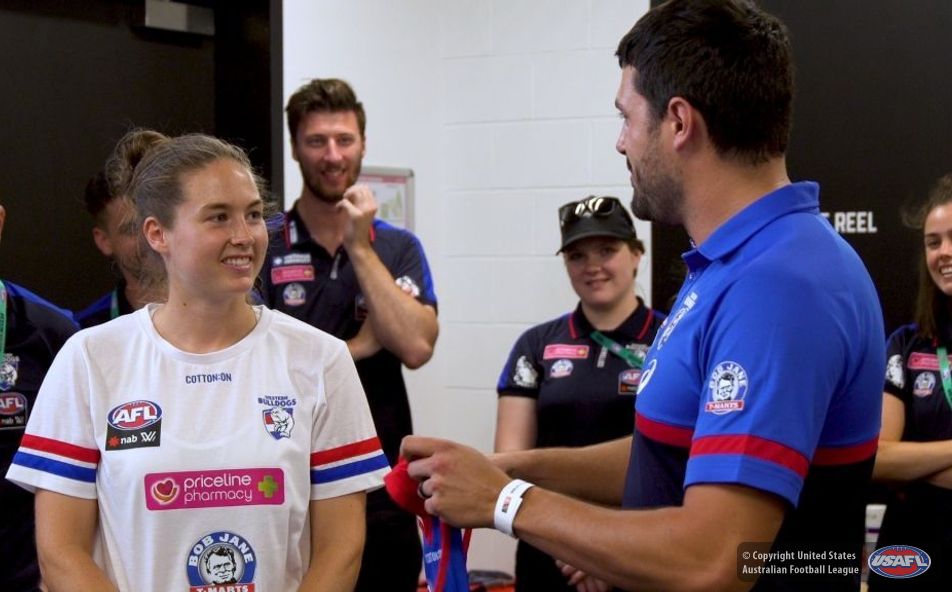 As 2020 has taught us, sometimes in brutal fashion, nothing should ever be taken for granted.  Dani Marshall becoming the first American to sign for an AFLW team in July, 2019 sparked great excitement among footy fans across the sport's community, but it was far from a certainty as to whether or not she would play for the Western Bulldogs in 2020.
So when the Colorado Springs native, by way of the Arizona Lady Hawks, took to the field wearing the famous tri-colors on February 8th against St Kilda, more than a few of us allowed ourselves to finally exhale and exalt in her triumph.  That exaltation doubled in decibel size when she booted home a goal with her first kick in senior football.  A truly unique club occupied by only one other American: Mason Cox.
The win was the only one for the Bulldogs in a tough season for the Daughters of the West.  For Marshall, who would add two more goals through the truncated season, however, it was anything but a letdown.  She is already back on the track for the 2021 season, which begins in just a few short weeks.  We'll be watching and cheering.
---
THE WORLD STANDS STILL...
The footy season was cranking up here, as it was overseas, through the first two months of the year.  Two matches -- one in Florida, and one in Hawaii -- were in the books, and a handful of tournaments, including one in Houston and one in Richmond, glistened on the horizon.  The news of a virus, like a gathering storm, was slow and ominous.
We all remember that week in mid-March when it was no longer a regional news story.  COVID-19, all at once, was a part of our lives.  We hoped it would be a temporary effect on our lives.  
It wouldn't be of course.  We sit in the shadows of 2021 with the pandemic still very much a part of what we do on a daily basis.  We have all been affected in profound ways.  Some of us have had the virus and recovered.  Some know loved ones who had it and recovered.  Some didn't.  Our jobs, our routines, our paths in life, our plans, have all been shook to its core.
And yes, the USAFL season was not spared.  Neither was the AFL International Cup, which was postponed twice, derailing the dreams of a promising group of men and women who had hoped to represent their country in Australia.
---
...AND TAKES NOTICE
But sometimes things work out in odd ways.
As American sports leagues ground to a halt, the AFL decided to go ahead with Round 1 of their men's season, and a reconfigured AFLW finals series.  Several games had already been on the TV schedule, but buried on more obscure channels such as Fox Sports 2 and Fox Soccer Plus.
So with no other live sports on the foreseeable horizon, the powers that be took a chance and moved a couple of games to Fox Sports 1.  And the response was damn near cataclysmic.
Sports-starved fans took notice and took to social media, wondering what on earth they were watching.  Thousands of tweets from Americans and Canadians floated across the web, and new footy fans were born.  One of the loudest and most prevalent was former NFL punter Pat McAfee, who revelled in his "one night stand" with the AFL.  Weeks later, while holding a USAFL-branded Sherrin, he even mused about one day playing in Australia.
Alas, the pandemic quickly caught up with the sport.  The AFLW season was terminated before its rightful end, much to the chagrin of Fremantle supporters, and the AFL men's season went on hiatus for more than two months.  But it eventually came back, and most of the curious fans who were there in March returned in June, and were with the rest of us throughout the northern summer, barracking for teams they never knew existed when the ball dropped to bring in 2020.
---
IN MEMORIAM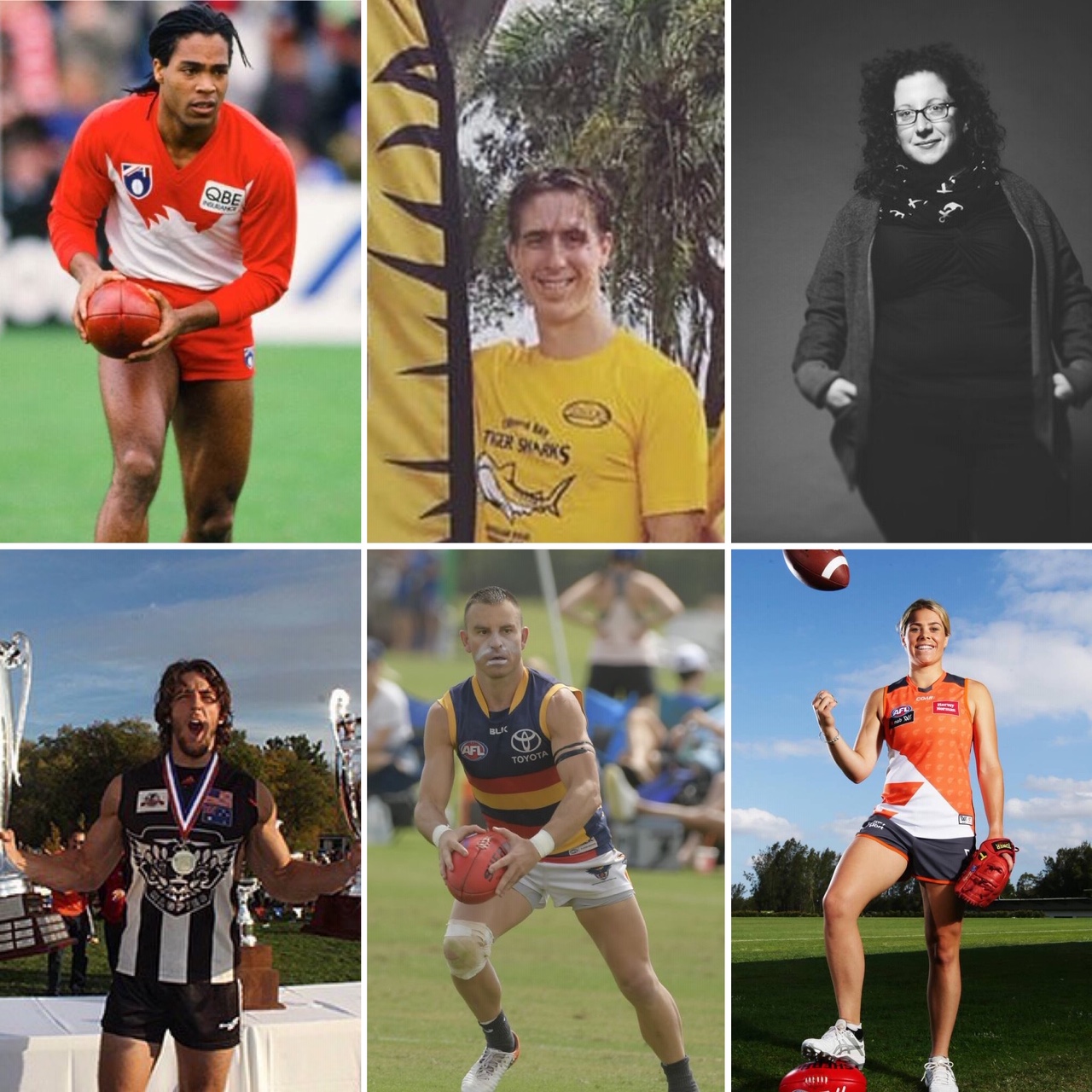 In a difficult year in which we clung to what we loved and what kept life normal, we also said goodbye to members of our footballing family.  Here and there, we have had to grieve over the years, but this of all years, there was profound and deep loss.  And from the sadness came contemplative reflection on the people who graced our sport.
There was Pat Bilder, the former Baton Rouge Tiger and New York Magpie champion who helped the growth of football in Florida.  
Sanford Wheeler, the second American to play in the AFL, whose determination and skill helped pave the way for future generations.  
Lauren Rice; teacher, educator, explorer, and heartbeat of the Des Moines Roosters Football Club.  
Jacinda Barclay; one of the most unique and dedicated all-rounders, whose efforts to grow footy abroad brought the Aussie Sparks to America in 2017.
Jake Ryan, survivor of the 2002 Bali attack, Gold Coast Academy coach, and talisman footballer, who played four seasons with Golden Gate and Austin and managed to play in a Grand Final in all three years he played in the USA.
And, Alex Aurrichio.  The former soccer goalie and New York Magpies premiership player who travelled all over Australia chasing his football dream, and won friends with his big heart in the process.
---
ALWAYS LOOK ON THE BRIGHT SIDE
In spite of the pandemic, the USAFL added three new clubs this year; the Centennial Tigers, North Texas Devils, and Birmingham Bushrangers.
In spite of having to curtail recruiting and drastically change the way that teams trained, planned, and continued the social traditions that the sport has come to bear, a good number of clubs saw an uptick in participation and membership.
Where we could not gather in person, we could be able to see each other's faces, and stoke the fires of the future through seminars and workshops.
While we couldn't have a proper Nationals in California as we had done to climax the previous 23 seasons, we were able to come together, with the help of many of our friends from the AFL men's and AFLW community, to have a virtual celebration of the game unlike any other.
---
AND ALWAYS KEEP OUR HEROES
Off the field, this year has reminded us of the power of the community that the USAFL has built over the last two decades.  It has also helped give us hope through the strength of our people.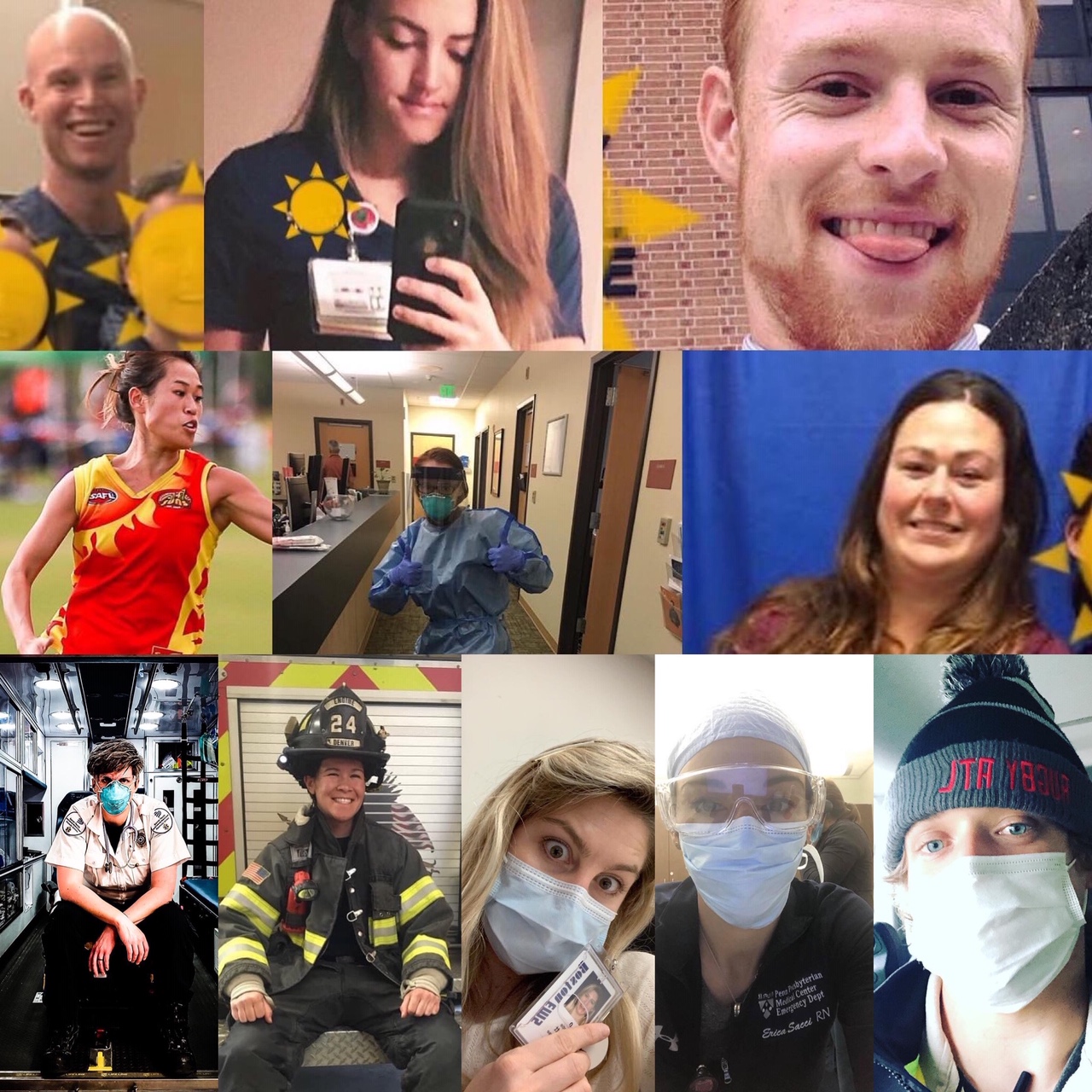 In January, as wildfires raged throughout Australia, USAFL clubs turned Australia Day festivities into fundraising appeals for the relief effort.  In all, more than $50,000 were raised by member clubs for the Australian Red Cross and other charities, showing how important the bridge formed by Aussie Rules across the Pacific has become.
Months later, as the pandemic affected our safety and health in the US, those essential workers who play, coach, and umpire were called to the fore.  Within the USAFL community, there are nurses, doctors, paramedics, EMTs, first responders, and others on the front lines, tasked with safeguarding their friends, family, neighbors, and total strangers.
Their work has been tireless.  From Philadelphia to San Francisco, Boston to Sacramento, Atlanta, Colorado and New York, they have put in many hours while also taking care of loved ones at home.
Many of them were among the first to receive the vaccines that were made available this month.  As we begin to turn the corner on this and head towards the dawn of the new year, their work and sacrifices make us proud.
And thus this year is breathing its last, thank goodness.  I hope the new year finds you healthy and happy and optimistic, because you absolutely should be.  And I hope that the metaphorical skies clear and we are able to play football again on the ovals of America, and that we can sip Cooper's (or your beverage of choice),
For we are footballers, and we will bounce back.
-BB