Sweet Home Alabama; USAFL Welcomes Birmingham Bushrangers
The state of Alabama has a long and robust history in gridiron football.
It is one that spans the long and time-honored traditional Iron Bowl rivalry to the mid-major and HBCU schools, all the way down through high school and the short lived forays into the pro ranks.
But from that, a new football tradition has emerged, crossing codes onto the Australian Football oval.
The USAFL is proud to welcome the Birmingham Bushrangers as the league's 47th member club, and the first from Alabama.  The league now has outposts in 31 states, and the "Bushies" join the growing list of teams to emerge from the southeast portion of the USA over the last several years.
"The main reason for forming the Birmingham Bushrangers is to bring an exciting and not so well-known new sport to the Birmingham area," team founder Joel Dixon told USAFL.com.  "Alabamians are accepting of introducing new sports and ventures with opportunities to the city and state."
Growing up the son of parents in the military, Dixon lived in Queensland, country Victoria, and Melbourne during his childhood.  The main constant of his early years was Aussie Rules, however, as he played for clubs in Brisbane, Wodonga, and the surrounding Melbourne area.  He went to Brighton Grammar on a footballing scholarship and played in regional leagues as a teenager.
But it was an interest in playing gridiron that lead him to look at possibly moving overseas.
"I was at my parents' home one afternoon in 2013 when I had saw that Brad Wing was playing for LSU. I had actually trained and played with Brad at an elite Under 18 football program when I thought I may enquire about this American Football.  It was at this stage that I decided to practice and see how I might go and started training to be a punter through the punting/kicking academy at Prokick Australia.
"I first moved to the States in 2014 to study and play as a punter with Junior College Football at San Joaquin Delta College located in Stockton, CA. From there I received an offer from University of Alabama at Birmingham (UAB) in 2017 to study and play football as a punter for the team."
Located in the north-central part of the state, Birmingham is Alabama's largest city.  With a population of about 230,000 people, it has a long history of being an industrial center in the American South.  With recent development around the UAB area, Birmingham has developed into a city that is becoming more known for its culture and cuisine.
From an athletic perspective, the city has some well-known teams representing it.  The Birmingham Barons baseball team has had notable players such as hall-of-famers Bo Jackson and Willie Mays, and famously hosted Michael Jordan in 1994.  Legion FC soccer has attracted a solid following since its founding, as has the Birmingham Bulls ice hockey team.  A number of gridiron teams have come and gone across numerous leagues that have also entered and exited the stage in the past four decades.  There was even a Canadian Football team, the Barracudas.  UAB's sports teams have been immensely successful and popular, including its own gridiron team, which competes in Conference USA and has appeared in three straight bowl games.
And all of that, says, Dixon, is why Australian football will be successful in the Magic City.
"The great thing about the Birmingham sporting scene, is there is room for all types of sporting teams as all we want is participation from children, women and men to participate and be active."
Despite the restrictions that the COVID Pandemic has brought, the Bushrangers have had a consistent group come out to the initial training sessions this summer and fall.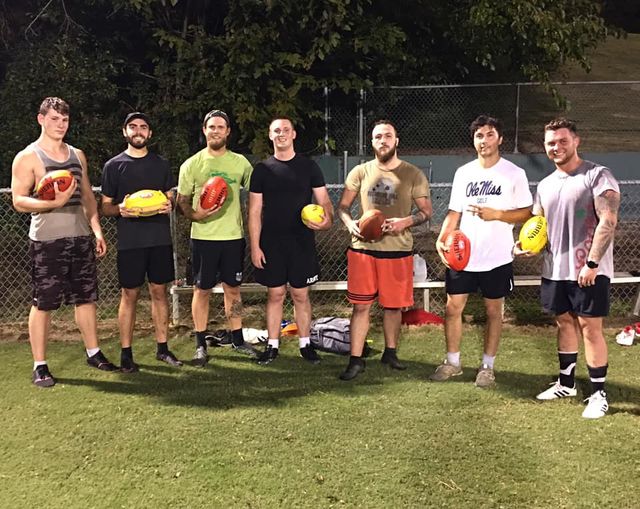 "We routinely have 10-11 players whom make training when they can unless other commitments interfere, Dixon explained.  "However, consistently have between 6-8 players who come down twice weekly. We have just transitioned to Saturday training so we'll see how that holds up based on commitments.
"Our plan for now is to develop a good core group of players so when we can expand, we will have more of the group guiding and developing the newer players as they come though.  We've had a number of interests from outside players to come down as soon as we get back out to training after the holiday season. We have a number of new players whom have indicated that they are interested to see what 'it's all about'."
Much like a number of other USAFL markets, Birmingham's population is not heavy on ex-pat Australians; Dixon mentioned that, in three years, he's only met a handful of Aussies.  However, their initial band of players come from a diverse array of sporting and geographical backgrounds.
"I have to say we are very excited that we have a combination of peoples just like the old League of Nations," Dixon said.  "Currently the make-up of the team we have Scottish, English, two Australians and American and in time we would wish to have nationalities from all corners of the world. These participants come from a combination of different sports including American football, soccer, basketball and rugby, which is great."
For the short term, the goal of the Bushrangers is to find a home ground for training and playing.  Long term, Dixon states, "is to include consistent ongoing promotion of footy in the local community.   Our plan is for men, women and children of all ages to get involved with this sporting team and 'enjoy the ride'."
Indeed, the Birmingham club is part of the fastest growing section of the country from a league standpoint.  The Bushrangers will play in the Eastern Region, which means they'll have natural rivals among other new clubs, such as the Rome Redbacks, Savannah Hurricane, Jacksonville Saints, and Tampa Bay Tiger Sharks, and established ones, such as the North Carolina Tigers and Atlanta Kookaburras.
But more than on the field, Dixon says the team wants to be part of the local fabric as an organization as well.
"Our plan is to a build solid relationship with the Birmingham community and give a lending hand where needed. We want to engage with local business and sponsors with a mutual relationship for all to foster and promote business at every opportunity."
In the end, 2021 will be a big year for footy in the south, and the addition of the Bushrangers is already one of the stories of the future.