A Mighty Wind - Savannah Hurricane Joins USAFL
Each of the big cities dotted up and down the eastern seaboard has its share of history.  
For Savannah, Georgia's first city and first capital, it is a history that still lives and breathes in its moss-covered trees, lush city squares, and beautiful architecture.  No matter how modern the times, it still maintains the regal charm it has kept for nearly three centuries.
Set against this picturesque bit of colonial charm on the banks of the river that shares its name, the city of Savannah welcomes Australian Rules football to its mist, as the Savannah Hurricane join as the USAFL's 45th member club.
The Hurricane are the Peach State's third club, joining the Atlanta Kookaburras and Rome Redbacks, and provide a natural regional rival for the Jacksonville Saints, located just two hours down I-95.
Two transplants to the area, Justin Ward and Elliott Szabo, had played Aussie Rules prior to moving to Savannah; Ward with the Kookaburras, and Szabo the Nashville Kangaroos.  Both are American, and both had a passion to spread the game to their new home.
"We both wanted to continue playing a game that we loved," Ward explained to USAFL.com. "Savannah didn't have a team and other members of the footy community had suggested we start one, so it was a great opportunity."
The past several months have been spent spreading the word around town, and Szabo reports that they get upwards of a half dozen players, including one woman, to training sessions at Forsyth Park.  They are predominately American, with one Irish-born participant.
Despite only just now becoming a USAFL member, the Hurricane have hosted a USAFL match and travelled to Jacksonville to play the Saints.
"Both matches were unparalleled experiences," explained Szabo.  "Savannah is a fantastic city to host a match in and we took full advantage of the once in a lifetime opportunity to host the first Australian Football match to be played in the city. Traveling to Jacksonville was an equally inspiring experience as we were able to bolster our relationship with a club so close to us. Each match was a learning experience for everyone on the Hurricane side as we had many first time players in both matches."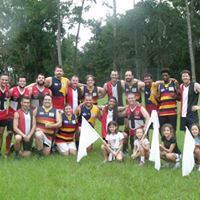 Savannah's sports scene has enjoyed a rejuvenation in the past couple of years, with the Savannah Bananas of the Coastal League baseball circuit bringing in attention and adulation from across the country.  With a population of 146,000, the ground is fertile for Australian Football to succeed, and Ward is confident that the Hurricane will be a sustainable part of that sports fabric:
"Being a 'big' small town, Savannahians really embrace their sports teams. If we can educate the public about Aussie Rules I believe we will be able to form a strong and loyal base of both players and fans alike.
"Within five years I would like to see a solid roster of competent athletes who can play the game at a decently high level. I would like our home games to be well-attended events that take a page from our Coastal League Bananas in attendance and entertainment value. I would also like to continue to grow the Savannah Invitational to be a showcase sporting event that does justice to Savannah being 'The Hostess City of the South.'"
Right now, the Hurricane are preparing for their first ever Nationals, not too terribly far from them in Sarasota-Bradenton, Florida.  They'll be bringing down three representatives for Division 4 play.
But the future looks bright for the great game as it gets set to bloom on the Georgia coast, and the Hurricane make their strides, and Savannah footy fanatics are ready for it:
"We want to thank everyone who has helped us along the way in getting this team off the ground."