Same as it Ever Was - Crows, Roos Lead Shifting Poll
It's a good chance that most of you reading this attend anywhere from zero to one of the three regional tournaments that the USAFL holds every year.  In some cases, there are those of you who managed to make it to two stops on the Regional Championship series. 
Whether you are a player, a fan, a spectator, or an umpire, the idea of regionals is to be a part of something bigger and enjoy seeing the barometer of where each team is against their rivals, and the color and flavor that regionals has built up over the years.  It's not quite Nationals, but it does tide one over until October.
But then there are those of us who are lucky to hit all three stops every summer.  It's tiring.  It's a lot of work, and it's a lot of travel.  But the upshot to all of that is that we who rack up the miles or kilometers get to see just about every team in the league – from the Davids to the Goliaths – and get a pretty good idea of where each team stacks up against which.
All three Regionals have come and gone and are arears now.  Some of us have caught our breaths, others are still panting, but all the same there are nine weekends left until we all get together in Sarasota for the largest Aussie Rules tournament in the world (yes, even bigger than you, Bali). 
And as we turn for home in season 2019, we posited to our nine panelists who they thought were the best 20 men's teams in the USAFL after the summer roadshow.
To the surprise of no one, it's still Austin and Golden Gate at 1-2, with little bumps and jumps down the track.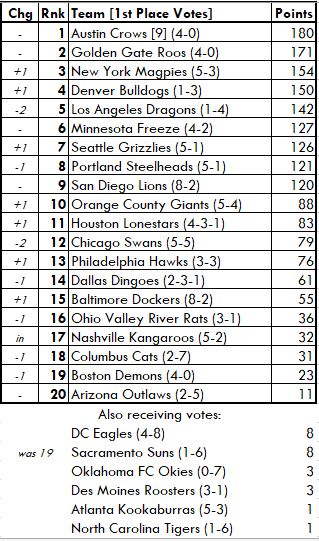 A million, billion different things can happen on Nationals Weekend, but one thing is for certain – the Austin Crows and Golden Gate Roos proved themselves to still be the best two teams in the country following near-flawless performances at their respective regionals.  It's hard to separate just how well they did, though it can be argued that Golden Gate had more of a challenge in their matches.  That said, all nine panelists picked both teams unanimously one and two, and appear to be on a collision course towards deciding the Division 1 Grand Final for the third time in four years.
Both the LA Dragons and New York Magpies brought relatively undermanned sides to regionals, and in both cases, finished 0-3 in Division 1 competition.  Because of the way our panelists compared these two sides to other teams, and each other, it was Los Angeles that took the fall, stepping down two notches to number five, allowing the Magpies and Denver Bulldogs to move up to #3 and #4.  To be fair, the Magpies' three losses all came on that one day in Raleigh, while Denver gave Austin a go in the D1 Central final.
Seattle and Portland flip-flopped seven and eight, as the two Cascadia Rivals both had successful months of July.  The Grizz defeated the Steelheads to decide the Cascadia Cup tournament on July 13th, then went a stellar 2-1 in Division 1 in the West.  That they hung with the powerful Roos for most of their game shows their meddle as a Divvy 2 favorite at Nats and a future D1 contender.  That win in Tacoma was Portland's only loss in July, winning the other two games at Cascadia and sweeping Western Regionals Division 2.
Orange County looked the best that they have in three seasons at Western Regional, which was good enough for them to bounce up a rung on the ladder, taking Houston with them.  The Lonestars went a disappointing 1-2 in Denver at Centrals, but didn't play all that bad in their three matches there.  Chicago's drop two notches, despite finishing third of the six teams at regionals.  All three sides will be dangerous in Division 2 play at Nationals, and all have difficult regional schedules down the stretch.
Philadelphia's reward for smiting Baltimore, Columbus, and New York in Raleigh back in June was a move up of only one spot.  Sure, they won three games in impressive style, but those are their only three wins of the season, and will need to prove themselves down the stretch ahead of Nationals.  Philly's trip up slid Dallas down a peg to #14, after the Dingoes came 4th in D2 at Centrals.
Baltimore and Ohio Valley also swapped spots, numbers 15 and 16.  Baltimore is looking like a deep and hungry D3-level side, and they have shown strongly both at regionals and in their games against DC this season.  Their travel heavy schedule hasn't worn them down yet.  Ohio Valley played alongside Dallas at regionals, though when they have had a full side have been potent, posting a 3-1 record so far this year.
Nashville was the only new entry in the twenty this go-round, and they did it thanks to a brilliant run over Chicago and Houston at regionals.  They gave Denver-B all they could handle in the D2 Grand Final, but came up a straight kick short.  Still, a full side at Nationals will give them a good shot in D3.  The Kangas entry into the poll meant Columbus and Boston went down; the latter of which unlucky to fall despite winning D2 at Easterns.  The Arizona Outlaws stood pat at #20, winning their first regionals game and performing well in Tacoma.
Enjoy the end of the season, footy nerds.  I'll see you all in Sarasota.