RVA Lions Roar into USAFL
For nearly three centuries, the city of Richmond has been an important beacon within the Commonwealth of Virginia.  Nestled along the James River, its legacy runs parallel with the birth, divide, and progress of the United States as a whole.
And now, a new page is written into that legacy, not with a quill but with a football.
The USAFL is proud to welcome the RVA Lions as the league's 44th club.  They'll kick off their inaugural season with a brand new mini-tournament, the inaugural Mid-Atlantic Cup on April 6th, this year hosting their league neighbors – the DC Eagles, Baltimore Dockers, and North Carolina Tigers.
With just a shade over 1.2 million people living in the region of Greater Richmond, the home of the Virginian capital, the RVA Lions will take their place in a city with a deep athletic background, especially in college sports.  The University of Richmond Spiders and the VCU Rams both boast perennially recognized programs, particularly basketball.  The area boasts of current and past sporting greats such as Olympic gold medal gymnast Gaby Douglas, Super Bowl winning QB Russell Wilson, and the immortal Grand Slam winning Arthur Ashe Jr (tennis).
Club founder Darren Green has been busy on social media ahead of inaugurating the prospective club back in October.  Interest, and word of the new club, spread quickly.  Its location almost exactly between two existing USAFL clubs, the Eagles and the Tigers, caught the eye of those who had been commuting north or south to play league matches.
"Within twelve hours of creating a face for the club on social media, we had several enthusiastic people pop up who live in Richmond and who had, or still, played for DC and North Carolina - who we didn't know existed – including a past member of the Revolution, the US men's national team." explained Green.  He also pointed to interest from an umpire previously involved with the Philadelphia Hawks who had recently moved south and has now volunteered to help with umpiring of matches and train club members to get involved with the whistle as well.
The RVA Lions' roadmap to building the club is deliberate, and one that looks for a sustainable future.  Right now, he says that there is anywhere from six to twelve people who have been taking part in distance runs to build up fitness levels.  While the small board of this new club is predominantly Australian at this stage, like Green, the growing supporter group is skewed American, but with an interesting mix of interest from those of other heritage. 
"Once we get our fitness levels up, then we can focus on skills," said Green.
From there, it's not just selling Americans on a sport and a team, but rather getting them involved in something larger.  Americans who haven't heard of Aussie Rules seem interested in it, enthusiastic about learning about the game, & supporting our club, but are initially cautious about committing to play.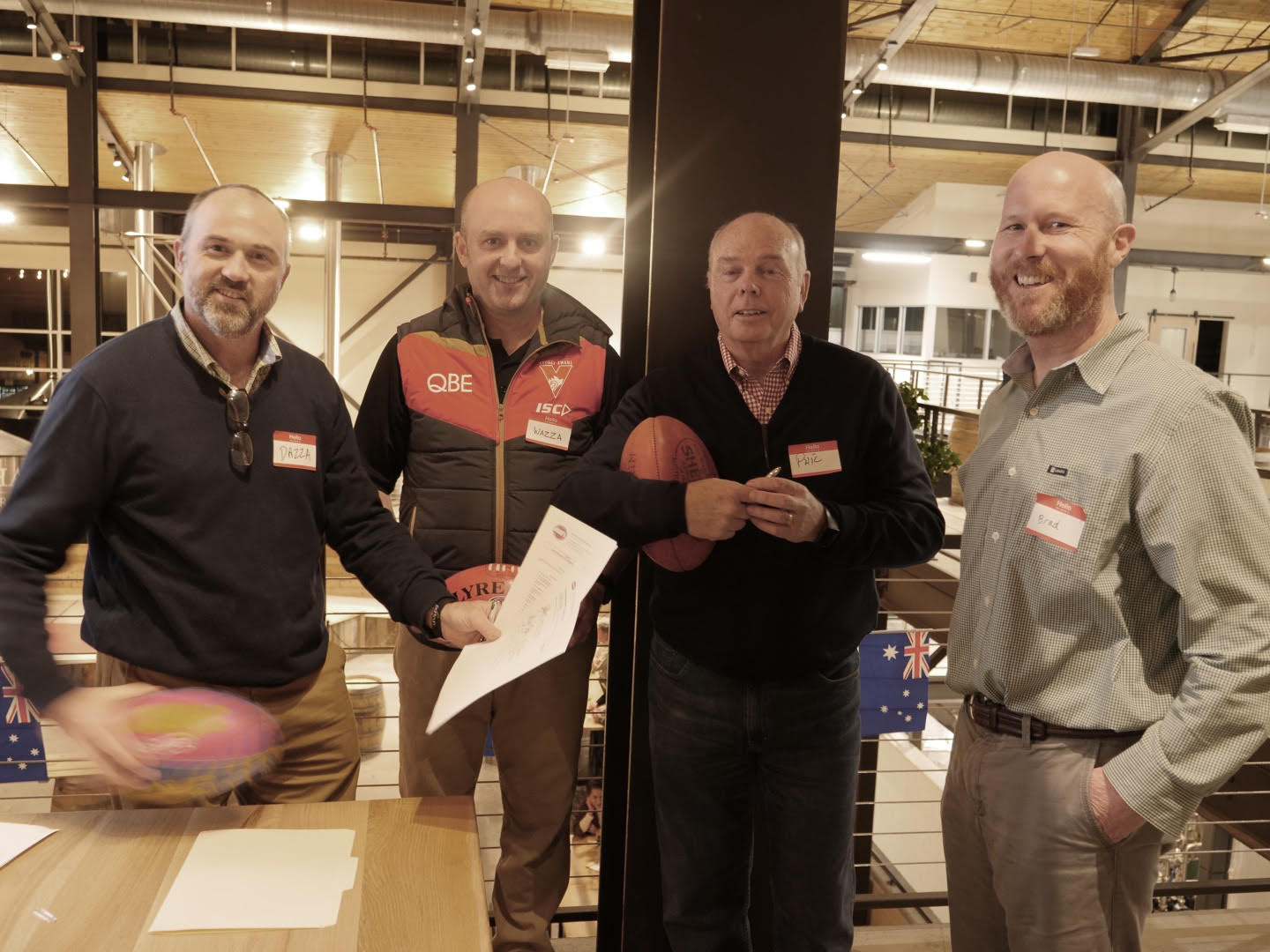 "What we want is to focus on a community-based sports club theme more than just a men's or women's team only," Green continued. "We want to connect and collaborate with other athletic communities, those who are active, "sports interested" and "fitness aware", including the global parkrun and local running, netball and rugby communities, among others, and find people who want a more diverse sports experience.  In doing so we also want to encourage our broader community to get involved and to help provide a pathway to an engaged and healthy lifestyle to those seeking to find one."
Looking for appropriate partners in this effort goes beyond just the sporting community, with the team partnering with Australian inspired, born in RVA Hardywood Park Craft Brewery.   They will be the founding major event sponsor for the Mid-Atlantic Cup – hosting the presentations and after party at their beautiful new West Creek taproom, nestled on 24 bucolic acres overlooking Tuckahoe Creek, James River, and Chesapeake Bay watershed.  
The choice of the Lions moniker for the team was for a purpose, one that goes beyond sport.  Green is Vice Chair of the Richmond Sister Cities Commission, which is looking to build a relationship with an Australian city, and the city of Brisbane, who also goes by the "River City" moniker, is the primary focus of his attention.
And of course, Brisbane's AFL club is the Brisbane Lions, winners of three premierships from 2001-03.
"I've been connecting with people across both cities and their regions," Green explained.  "We can use social media to continue to build bridges.  One of the initiatives of the Sister Cities Commission is turning the focus from a few bilateral relationships to also looking within and exploring the international relationships and communities within our own cities and within our region. Connecting with them and through them is our long-term strategy to building relationships with the rest of the world.
"We don't want to just build a drinking club who kick footballs.  It's more about creating something for the whole family, generate continuity and be part of the fabric of the community here."
As for their first season, their home debut will go a long way not only towards developing the team on the field, but strengthening relationships off of it.  It's a chance to get new and veteran players match experience on the oval and create collaborative opportunities off of it.
"We've taken our first 'home carnival' opportunity and elevated it to an exhibition tournament concept," said Green.  "This will become an annual mid-Atlantic season-opening event hosted here in the Greater Richmond Region, and is a strategic way not only get the word out about our club but also to help educate our local region as to what Aussie Rules is all about and what we collectively have to offer.  Not only in terms of the sport, but as a broader positive, inclusive, goodwill-building international community."
The Mid-Atlantic Cup will take place on Saturday, April 6th at Glover Park in Richmond, with first bounce of the first game taking place at 11am.  For more info, check out the event page here.