Steve McVicker: An American in Paris
(Steve McVicker is an American that has been playing forward/half-forward for the Denver Bulldogs since 2014)
It's 
9:30
 at night on a wet, rainy 
Monday
 night in France. I'm doing burpees in the cold, wet mud of a rugby pitch over an hour outside Paris with a bunch of French guys I've never met before, and I'm wondering: 
Was this really what I had in mind when I told work I was taking two weeks vacation to go play Australian Rules Football in France?
How did I get there? The idea originally came from a French friend of mine, who in conversation last year mentioned that there were Australian Football teams in Paris. I had some vacation time saved up and the USAFL (United States Australian Football League) offseason was getting to me here at home, so I started making contact via email with the CNFA (Comité National de Football Australien) to see if some clubs would host me in February. After I made some good connections, I started putting together this crazy trip to France.
I landed in Paris the morning of 
January 30th
 and spent the next fifteen days training with two very competitive, very impressive French teams. This was no casual kick-around time; these guys take footy just as seriously as we do in the US. I got right into it as these teams began their battle for the French Cup.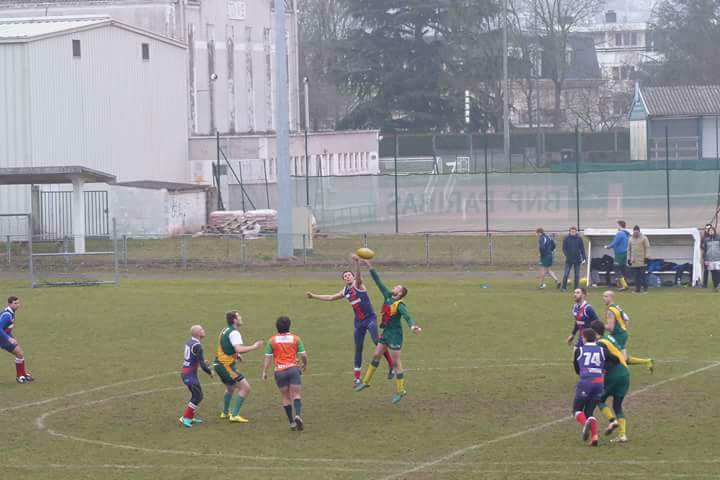 A few basics about French footy. The French season is a split season, running September to November and then February to April. They play 9-a-side on rugby pitches (soccer field space is, as you can imagine, impossibly hard to come by), for 4 quarters of 20 minutes each. As you can imagine, this makes for fast paced, skills based footy. There are 8 teams spread out across France, with the best clubs centered in Paris and Lyon, and more developing clubs in the smaller cities south and east. In total there are probably several hundred active footy players in France; a couple have been scouted in the most recent AFL Europe combine, and France's National Team has made appearances at several International Cups in Melbourne. I was lucky enough to train and play with several National Team players, who would stack up really well against any domestic US club.
Monday
-
Wednesday
 nights I trained with the Cergy-Pontoise Coyotes, and the physicality of their training sessions matched up nicely with my home club Denver Bulldog's way of training. Their coach is a tough guy who isn't afraid of yelling at everyone, but I appreciated him because he made me and all the other guys work really hard and communicate with each other. The Coyotes know their footy.
The guys from Cergy-Pontoise welcomed me in and were really friendly from the start. They were very helpful with questions, rides to/from the train station and in-practice translation. My French is not bad, but high school level only gets you so far, so having some English-speaking teammates was a huge bonus. These guys made me feel part of the team and we put in a lot of hard work those nights.
Tuesday
-Friday nights I had the pleasure of getting in with the Paris Cockerels, a longstanding French club with a mix of French players, Aussie expats and even a budding women's team! Steve Ryan on the Houston Lonestars has previously put in some years organizing and mentoring this club, and it really shows. The Australians gave a lot of direction to the drills and I saw a lot of excellent kicks, handballs and marks every night. I learned some new drills and felt some pretty good tackles from these guys (still feeling some of them even after I got back home!). Traditionally Paris is the club to beat; they have the most national championships in the CNFA of any club so far.
The rest of my free time (when I wasn't sleeping or recovering from training) was a marathon of tourist activity. I ran all over Paris seeing the sights (le Tour Eiffel, le Louvre, Cathédrale Notre-Dame) and trying delicious French foods. I also managed to cram in two 1-day trips to visit friends in Nantes (on the West Coast), and to meet my uncle and a Swiss cousin out in Switzerland. It was so great to see familiar faces again, and travelling by train in Europe is definitely the way to go - I got to see so much!
The Saturday before I left was the big cross-town rivalry match: Coyotes vs Cockerels. Before I arrived I had pledged to play for Cergy-Pontoise - without knowing the local politics, or that I'd end up staying at the home of the Paris club president for most of my time there - so when the first whistle blew and the ball dropped, the Paris guys gave me no mercy. Playing on a short ground has real disadvantages; the ball turns over quickly and you can be down a few goals in no time. At the same time, it's really exciting, because if your team is fitter and communicates well, you can take the fight to the other team very quickly. 
For my part, I felt very fit and enjoyed running all over the ground while other players were sucking wind. The benefits of off-season training, and playing full size fields here in the US! I got a lot of touches and some tackles, and a couple choice kicks to our full-fowards. At one point I took a hard tackle from two Cockerels players that put me down, but my teammates were instantly there to pull me up and dust me off.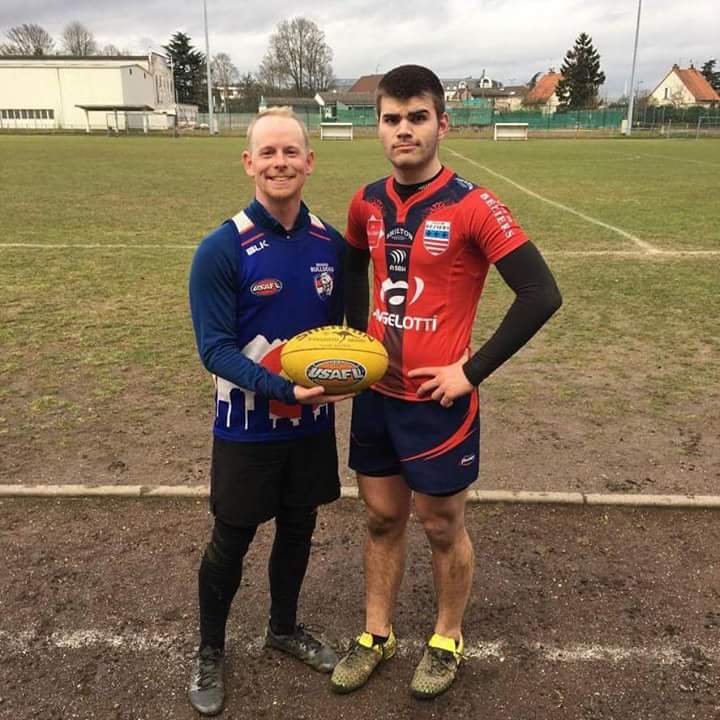 In total, it was a tough match, very physical, and you could tell there was a lot of animosity between the two team. The Coyotes were down by several goals at half-time. But we worked hard and never gave up, and ended up beating the Cockerels 96 to 87! The French are big on sportsmanship, so afterwards there were several rounds of clapping for each team in front of the fans who had turned out for the game. Then back to the locker room for beers and awards, off to the pub for more beers, another pub for more beers - a classic Australian big night out.
In the end I'm really happy that the trip turned out as well as it did. I went over not knowing anyone, not quite sure what to expect. I got a chance to brush up on my French language and culture, accomplished my fitness & training goals, and I saw old friends and made some new ones. I have to give big thanks to the Coyotes (Thomas, Seb, Alex, Herve, Julien, Billy, Max, Kevin and all the guys) and to the Cockerels (Steven, Julien, Swadda, Ryan, Mathieu, Bouchet, Simon and Boche) for welcoming me to train with them.
A special shout out to Fanny Maillet, club president of the Cockerels/Cockatoos/Cockerelles for her hospitality, and more importantly, for all the work she's been doing for the CNFA and for women's football in France. This year Europe is sending a combined women's team (The Crusaders) to IC17 in Melbourne and a lot of it is thanks to her hard work.
To anyone looking to visit or get in some training during the off season, France is a great choice. I'm glad I could contribute to the Coyotes win column this season, and I'm really looking forward to seeing all the guys (Cockerels and Coyotes) perform well at IC17. Allez les Coqs! Hopefully some of these boys will return the favor, and make the flight over to the US later this year for a couple USAFL matches. 
(PS: The footy I brought over to France for training was selected as the game ball for that Saturday's match. A USAFL Sherrin helped us win that day.)