Time for Footy - Bausele and USAFL Launch Partnership
The USAFL is pleased to announce a sponsorship agreement has been reached with Australian watch maker Bausele. As part of the deal USAFL members, mates and family will have a chance to win a watch and other great prizes. The giveaway competition will run for 6 weeks and be promoted across USAFL and Bausele social media channels. The campaign "Time for Footy" will tie in to the USAFL's weekly release of the AFL's US broadcast schedule.
The competition will be setup where people enter their name and email address for the chance to win a watch. Once someone has entered, they are encouraged to "share" via various social media channels to earn points. The most points wins the watch and there are prizes to be won along the way including discount codes, leather wallets.
The partnership is a natural fit as both Bausele and footy are uniquely Australian. The brand name Bausele is derived from "beyond Australian elements." Each watch features a piece of some of Australia's most famous attractions in the crown; options include red earth from the Outback or sand from Bondi Beach or crushed tile from the Sydney Opera House.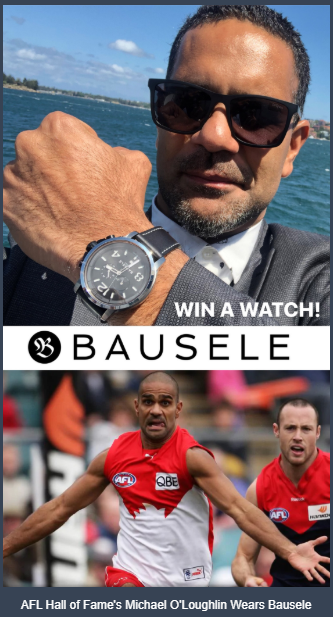 Speaking of Sydney, AFL Hall of Famer and former Sydney Swans Captain, Michael O'Loughlin wears Bausele, is a good friend of the brand, and is the face of the competition.
USAFL members play hard both on and off the field and Bausele watches are created to match those rugged demands with style. Bausele watches are tough enough to take on whatever you put them through and elegant enough to ensure that you look good doing it.
When kicking for goal accuracy is extremely important and accuracy is also important to Bausele which is why all their watches employ a quartz movement. Quartz movements are perfectly accurate and require minimal maintenance. Each Bausele watchcase is made from surgical grade 316 stainless steel and each timepiece comes with two quick-release straps so you can change the look of the watch in seconds.
Bausele offers several lines of watches including a smartwatch that does not look like a smartwatch. The Vintage 2.0 has a vintage analogue face, but it is actually connected to an app on your phone. The watch can count your steps, monitor your sleep, and alert you to missed calls and texts. The intent of the design is to give users a break from screen time whilst keeping them connected.
Follow the link below to enter the USAFL Bausele watch giveaway competition and start earning points for a chance to win an Oceanmoon II (pictured left) watch valued at $990AUD and other great prizes. The competition will run now through August 13.
https://www.bausele.com/pages/usafl