Women's Footy
Community News
Teams
 USAFL Clubs with an active women's team or are building a new team include:
History
Women's football in North America was started in 2003 wIth an exhibition match at the USAFL National Championship in Kansas City between the newly form Orange County Bombshells and an All-Comers team.. The Bombshells traveled to Phoenix to play the Arizona Lady Hawks and formed the CAFL women's division. Another exhibition match was played at the USAFL Championships in Atlanta in 2004. Subsequently, the players in this region united and form the Atlanta Lady Kookaburras. Women's footy had officially become a nation-wide sport!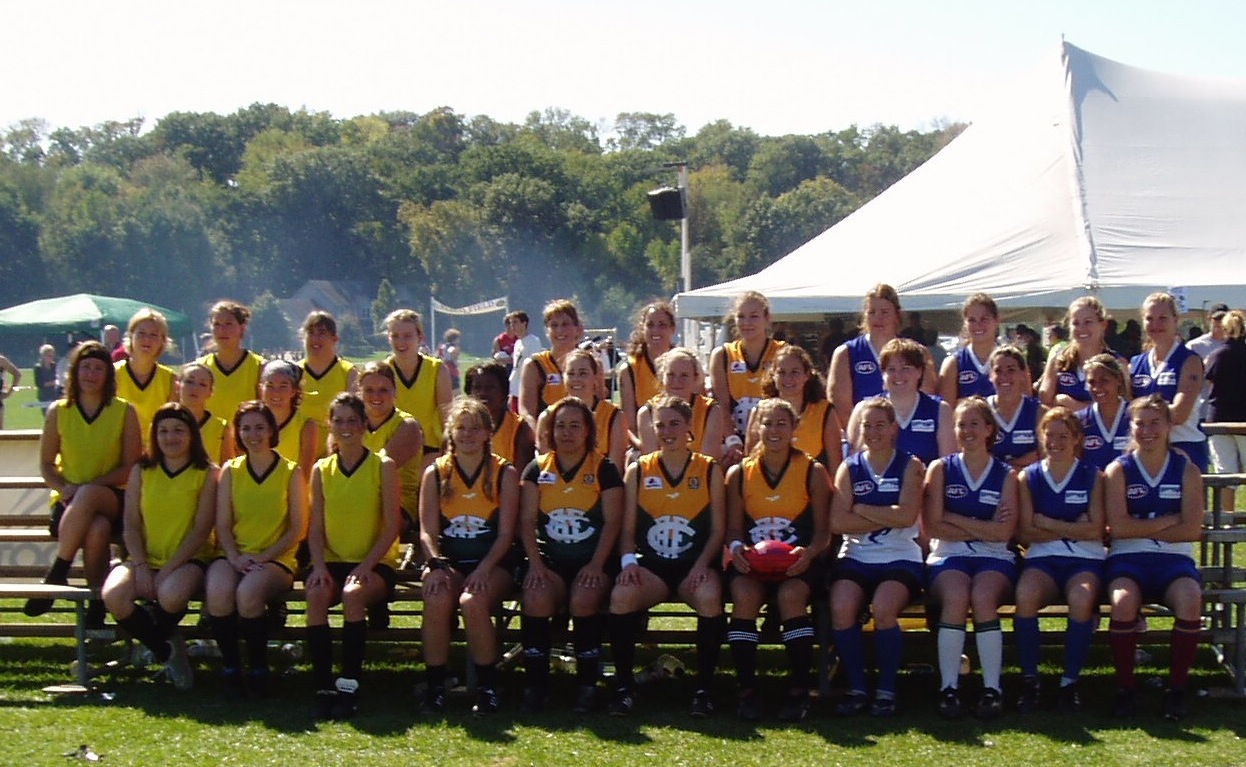 The Women's Division was officially included in the USAFL National Championship in 2005 (see photo). This inaugural competition was contested by three teams: Arizona Lady Hawks, Atlanta Kookaburras, and a third team "Fusion" made up of players from Minneapolis, Milwaukee, Florida, Washington DC, Seattle, Nashville and Toronto, Canada. Atlanta played a hard fought final against the 'Fusion' to capture the first women's USAFL National championship.
In commencing the 2006 season, women across the nation were hungry to play more. This was evident at the 2006 in Las Vegas where league participation had an overall increase in players allowing and the inclusion of the newly formed Milwaukee team. The Women's Division also took on the "Chicks Play Footy too!" mentality and dropped the "wrap up" rule (instead of tackling) and played without any rule compromises. The new team on the block Milwaukee defeated Arizona for third place. However Atlanta, once again, asserted themselves as the team to beat by shutting out Pacific Coast Highway 3.10.28 to 0.0.0. In fact, Atlanta became a dynasty and proceeded to be the undefeated Champions until the 2008 defeat by the Calgary Kookaburras at the Colorado Springs National Championship. Perhaps it was the upcoming Australian Freedom Tour or the promise of a bigger and better nationals tournament in Ohio, but women's footy was contagious.
Already established teams such as the Kookaburras, Bombers and Hawks saw veteran players follow paths outside of the sport and usher in an onslaught of newly recruited players. Rookie teams such as the New York Magpies and Denver Bulldogs doubled in size and solidified their presence with immeasurable new talent. In 2009, Sacramento came as a combined team with Montreal and Toronto to prove that experience is not always a determinative factor of success. For the first time, the eight teams at Nationals played twelve (instead of nine) a side. Women's footy has become all-encompassing; teams played more games regionally and locally.
Nearly every team has participated in traveling to tournaments and many have incorporated a metro season. Players not only learned from their coaches, but they learned from each other becoming quicker, smarter and enthusiastic to pass these skills on to new recruits. As a result, the quality of play has been forever changed. This has set the stage for new teams in Baltimore, Ohio and New England teams to be contenders for the upcoming 2010 season.