USAFL News
Dec 10, 2017

The 2017 USAFL Nationals were the largest in history; nearly 1200 players, 53 teams representing over 40 clubs competed on October 21-22 at the San Diego Surf Cup Park in Del Mar, CA.
Read more »
Dec 8, 2017

From its humble beginnings in the cracklings of spring through the largest National Championships on record, the 2017 USAFL season saw its share of great games and memorable performances.  With the season over, and with the calendar on its last page, we are once again counting down the Top Ten games from this year.
Read more »
Nov 16, 2017

After twenty seasons of jointly serving the Baltimore and Washington, DC metropolitan areas, the Baltimore-Washington Eagles voted last week to officially expand as two USAFL clubs, the Baltimore Dockers and DC Eagles.  The new clubs will begin league play in season 2018.
Read more »
Nov 14, 2017
It was once again great to catch up with everyone at the 2017 USAFL Nationals this year.  What a great weekend it was, and as I heard someone say, it was like a big family reunion.  That is what Australian Rules football has always been to me.  It doesn't matter how often you may see past teammates and/or other people involved with the sport, there is such a bond that is created around this great game and it is something that everyone needs to be able to exper
Read more »
Nov 10, 2017

Twelve months after lifting the Women's D1 National Championship trophy in Sarasota for the very first time, the San Francisco Iron Maidens tried to do it again.  This time, they'd face the largest field of standalone teams ever assembled.
Read more »
Nov 4, 2017

With the retirement of US Freedom Head Coach Leigh Barnes, the USAFL is embarking on a search for a new head coach to lead the US Freedom to the Women's International Cup in 2020.
Freedom Team Coach Position
Overview
USAFL is the recognized representative organization of Australian Football in the USA and is seeking to fill the Head Coaching position for the United States Freedom & United States Liberty, the women's national representative teams. Applications are due December 20, 2017.
Read more »
Nov 2, 2017
In a trend where teams have been defying history – Tigers, Bulldogs in the AFL, Cubs, Astros in baseball, for example – you can add the Golden Gate Roos to that list.
Read more »
Oct 21, 2017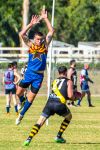 It's taken 17 years for the USAFL Nationals to come back to California.  After the opening day of competition here in San Diego, no less than six Golden State based sides are poised to bring home the chocolates.  A new champion looks to be crowned in Men's Division 1, an All-Canadian Grand Final has been avoided on the Women's D1 side, and still many Grand Final spots are up for grabs as we head into Nationals Sunday.  In addition history was made when three wo
Read more »
Oct 19, 2017

We wrap up our Nationals previews series with a look at the Women's Division 2 and Men's Division 4.  Hope you enjoyed these, and see you in San Diego!
Read more »
Oct 18, 2017

Women's football has grown faster than a patch of sunflowers in the rugged Northern California mountainsides, and sprouted with it the same amount of hope and potential.  From three teams in 2005, this year's edition of the USAFL Nationals boasts thirteen sides across two women's divisions, representing a record-breaking 21 clubs.
Read more »
Pages