Nationals Preview: Women D2, Men D4
We wrap up our Nationals previews series with a look at the Women's Division 2 and Men's Division 4.  Hope you enjoyed these, and see you in San Diego!
---
Single Pool: [Baltimore-Washington/Boston], [Columbus/North Star/Chicago], [Houston/Dallas/Wisconsin], [Los Angeles/Arizona/San Francisco-B/Des Moines], [Portland/Philadelphia].
The Baltimore-Washington Lady Eagles and Boston Lady Demons are no strangers to each other, both as rivals and as teammates.  The two squads last combined in 2012 and made it all the way to the Grand Final, losing out to mighty Denver 22-0.  Both teams have had turnover issues over the last few years, but have picked up new talent and should be competitive in Divvy 2.
Liberty defenders Karen Stablein (BWE) and Cailin Deal (BOS) were consistent performers in Australia, and Stablein's runs from the back are tough to contain.  Tracy Toner (BOS) contributed in the contests last season for the "Wild Bunch" at Nationals, and she'll be called on to do the same here.  Emily Riehl (BWE), aka the original "Swiss Army Knife" teams with Alex Pike (BWE) in the middle, and both are deceptively kick with their disposals.  Both clubs will also bring their young rising stars with them in Molly Halberstadt (BWE) and Katie Rhee (BOS), adding another dimension to the "Lady Deegles" attack.
Katrina Scherer's debut with the Columbus Jillaroos last season coincided with the rising star of her club, and they bring sixteen strong to San Diego.  They'll be topped up with players from the brand new North Star Blue Ox, as well as a singular player from the Chicago Swans.  The Jills had a successful campaign in 2017, which included a win over Minnesota in Chicago last month.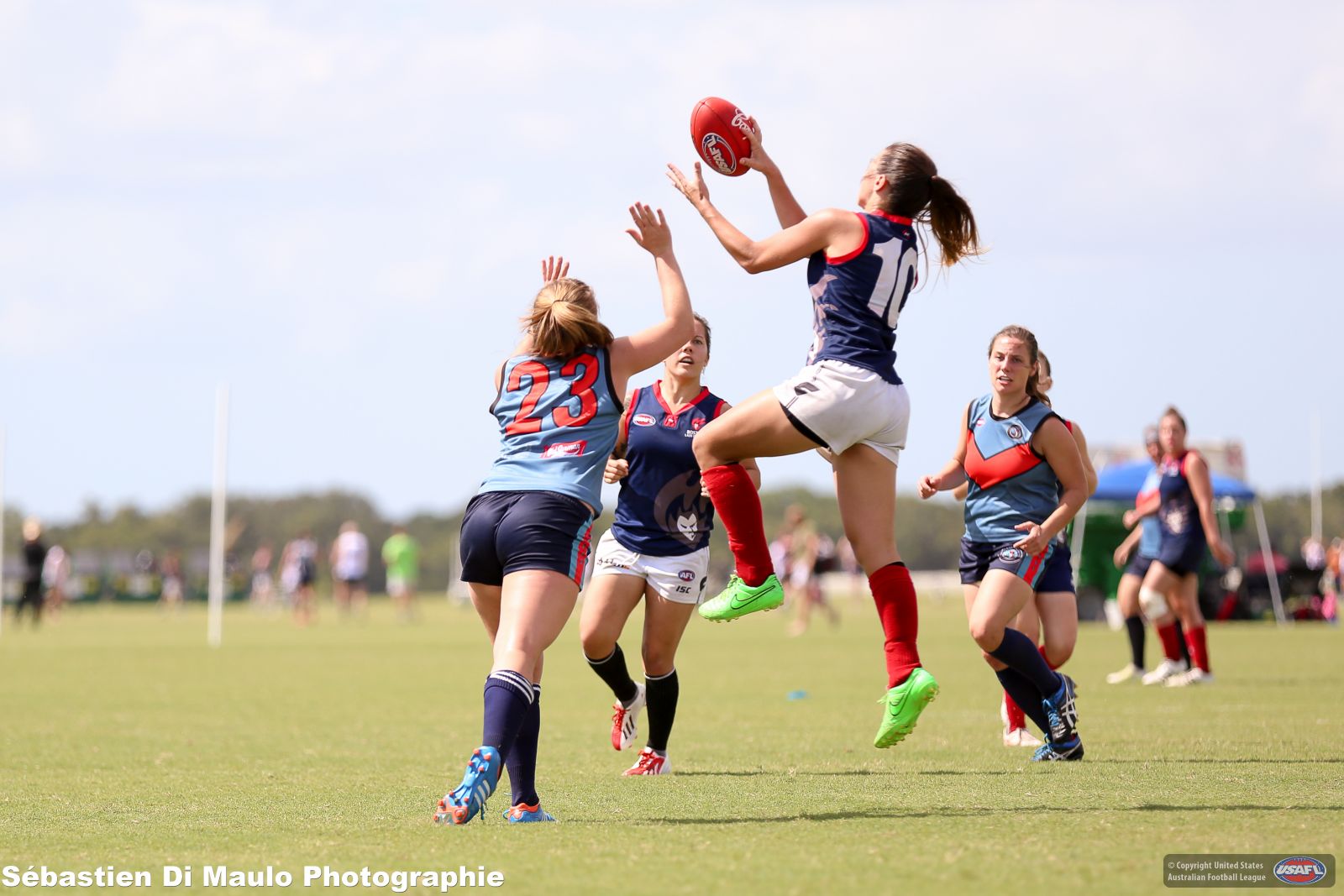 Scherer, a former handball player from Ohio State, has been joined on the Jills by former Australian beach handball national team player Bronwyn Smith (CLB) on Alan Gardner's side.  Smith impressed in her Columbus debut, and it will give the forward liners, including Ariel Balske (CLB), Amy McGuinness (CHI) and Stephanie Shipley-Snyder (CLB) some goalkicking support.  Speedy midfielder Olivia Vongharath (NS) joins Liberty debutants Lauren Balsley (CLB) and Amy Bryniarski in the middle of the ground.  On defense, North Star's Marie Lavictore (NS) keystones a back half anchored by veteran Stephanie McKitrick (CLB).
The reach of women's Aussie Rules hit Texas this season as the Houston Lonestars and Dallas Magpies joined together to form the Texas Heat.  With the exception of Rebecca Stevens, who played in the 2015 Nationals, and USA Liberty alumni Nafla Poff from the Wisconsin Wombats, this will be a team of Nationals newbs taking to the ground in San Diego.
Despite the lack of game experience, the Heat have some exciting raw talent.  Houston's Taylor Ballinger, Aubrey Bagley, and Sarah Pulliam have picked up the game quickly, as has Dallas's Caitlin Zemantis.  The experience of Poff will bolster the side, as well her flexibility of playing different areas of the field.  Texas has arrived on the footy scene, and the future truly begins this weekend.
Much like Houston, Seattle, and other new women's footy outposts that have sprung up, there is much optimism about the future of the Los Angeles Dragons side.  They'll form the core of a team this weekend that also features players from the Arizona Hawks, reserve players from the San Francisco Iron Maidens, and Emily Rice of Des Moines.  LA is coming off a very successful opening campaign, one that saw them team up with Seattle to beat Portland early in the season.
Any team needs to have a veteran core, and this one has it in spades.  Rover Melissa Armstrong (ARZ) is still one of the best midfielders in the country, and she will have service in the forward line by veteran and Liberty half-forward Leilani Silvio (LA).  Silvio's prowess was punctuated by her sparkling performance with the Liberty, and she'll have fellow linemate Jen Ferruci (ARZ) up there with her as well.  There will be plenty of speed in the midfield with Rice (DSM), Yukako Kawakatsu (LA), and Ryan Bartz (LA).  An interesting storyline to keep an eye on: we may see a battle of the household when this team takes on Columbus should Katiann Scherer (LA) take the ruck.
This group is rounded out by the core of the 2016 D2 women's champions, the Portland Sockeyes, augmented by the second year Philadelphia Hawks.  It was a growing year for both programs, with Portland adding players through Simone Shepherd's gridiron connections, and the Hawks bringing in some fresh talent from the Delaware Valley region.  Through Shepherd's participation with Calgary in 2015, the Sockeyes will try to take out their third straight D2 National Championship, and they may have the tools to do it.
Shepherd is arguably the best player in the league, and at times she takes over the game on her own.  But that doesn't mean she will do it on her own.  Jessica Blecher (POR) is improving with every game, and was an important part of the Freedom midfield in Melbourne.  Former Melbourne Ice hockey player Lucy Parrington (POR) has been a bolt of inspiration for Portland this year, and her experience has been innumerable.  There is a lot of physical strength here with gridiron converts Tara Krugel (POR) and Oana Dumitrescu (POR), and rookie Hollie Petrie (POR) has been praised for her field vision.  Up front, the Philly duo of Erica Sacci (PHI) and Amy Arundale (PHI) are a pair of rabbits in the forward line with an ever improving nose for goal.
---
MEN'S DIVISION 4:
POOL A: Oklahoma FC, [Cincinnati/Indianapolis/Cleveland], Des Moines Roosters, Golden Gate-C
Combining players from the Tulsa Buffaloes, Oklahoma City Flyers, and Little Rock Coyotes, the newly formed Oklahoma FC has put together possibly their strongest side yet, with Australian veteran and USAFL stalwart Alex Mirakian lending experience to a mostly American side.  This is one of the strongest, physically speaking, teams in the Division, with Chris Cox, Shane Hood, Dustin Brasel, Jeremy Ingram and Andrew Rose all able to bowl people off of the footy.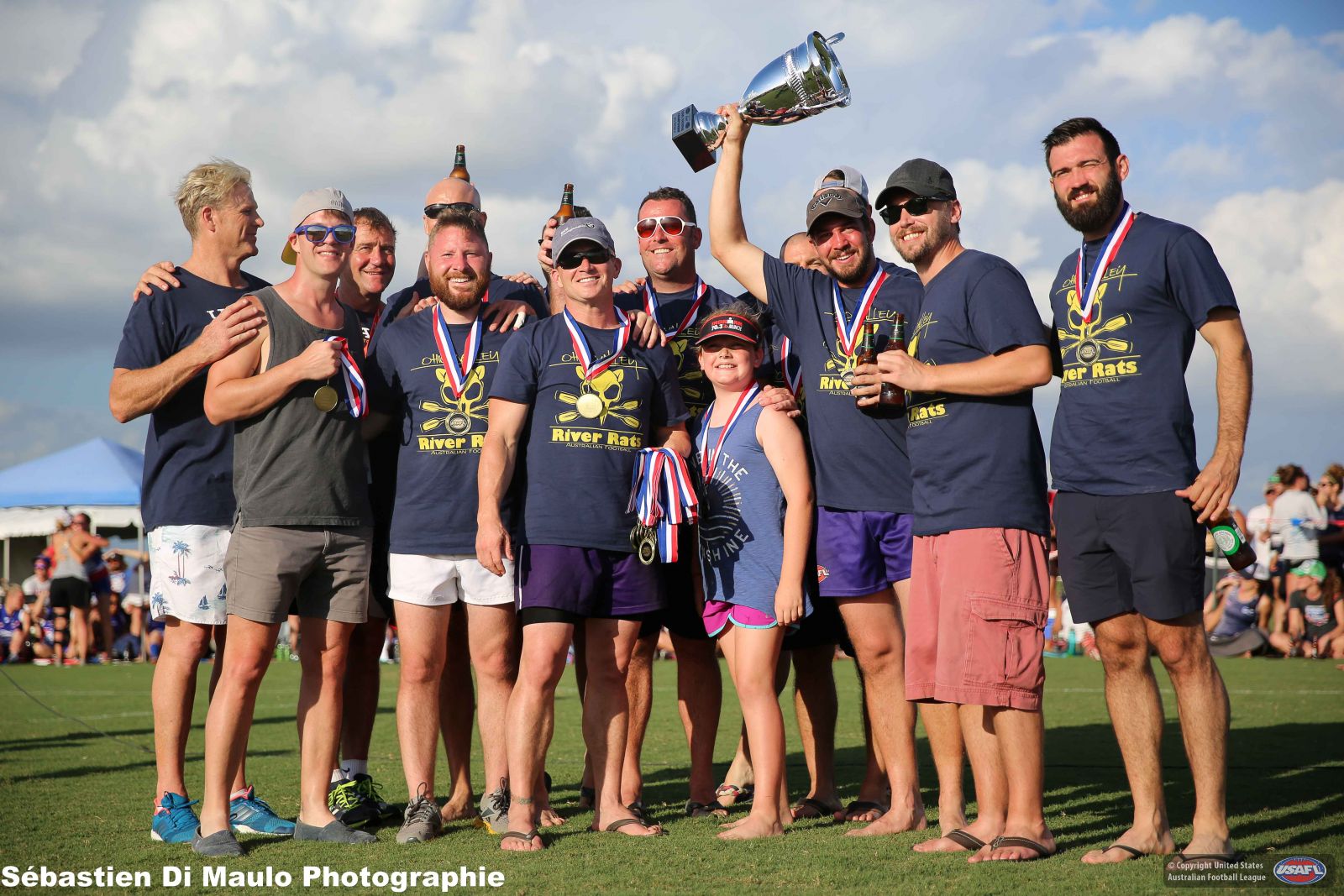 Having been a part of the five time D4 champion Ohio Valley congolomerate for most of the last decade, the Cincinnati Dockers team up with the Indianapolis Giants and Cleveland Cannons and bring to the table a team full of work-slash-war horses.  Mike Hanavan, Kyle Strenski, and Jack Jacobs have all been around the game a long time, and the skills are among the highest quality that you'll see in this field.
Coming off a competitive campaign, the Des Moines Roosters are a delightful mix of established names and exciting youngsters.  Revolution reps Ben Judge and Hamilton May are quick defensive types, and Revo alumni Christiaan Leyva adds to the speed factor for the Hawkeye boys. USAFL legend Paul "Plugger" O'Keeffe joins the Rooster roster down from Milwaukee, and lends vital experience to the group.
The relatively short jaunt to Nationals from the Bay Area means that the Golden Gate Roos will bring three teams this year, which isn't surprising given they're one of the biggest clubs in the country.  There should be some excellent footy out of this group with veterans such as Luke Quirk, Brian Whitaker, and Chris Corgas in tow.
Pool B: [Houston*/Dallas*], [Quebec*/Ft. Lauderdale], [Calgary*/Edmonton], [New York*/Orange County*/Portland*]
Like they have for the women, the Houston Lonestars and Dallas Magpies have teamed up for a seconds-side here in D4.  Rob Boothby, Angel Gomez and Dave McNair are young guns for this contingent, all who have picked up the game in a relatively quickly amount of time, and both teams will, like Oklahoma, be a physically tough side all together.
The strength and depth of the Quebec Saints will be tested as they pair up with the Ft. Lauderdale Fighting Squids here in D4.  Chris Cuellar helps lead the side, which will have a bit of pace about them.
Dripping with maple syrup and beaming with pride, the Calgary Kookaburras and Edmonton Emus combine, led by Lachlan Griffiths and paced by Josh Dimitriou.
Lastly, we have a Frankenstein-like combo in the New York Magpies, Orange County Bombers, and Portland Steelheads reserves, and there is a lot of firepower on this side.  Forward Toby Carrington and defender James Poulach will bookend a team with a good bit of experience running through their veins.  Nate Weinstock and Peter Mercouriou provide the speed.