Nationals Preview: Women Division 1
Women's football has grown faster than a patch of sunflowers in the rugged Northern California mountainsides, and sprouted with it the same amount of hope and potential.  From three teams in 2005, this year's edition of the USAFL Nationals boasts thirteen sides across two women's divisions, representing a record-breaking 21 clubs.
Division 1, which is made up of stand-alone clubs, will feature eight teams for the first time ever, and, like the men, will be divided into two pools of four.  After round robin play, the winners of each pool advances to the Division 1 Grand Final at 3pm Pacific Time on Sunday afternoon.
The field here is sparkling with individual talent, with more than three dozen players from this year's IC17 tournament and Liberty tour taking part on the weekend, all chasing down defending champion San Francisco and six time winner Denver.  Can one of those two lift the trophy again, will it be someone new who takes home the honor, or perhaps will the trophy spend the winter in the Great White North?
Today we look at Division 1. Tomorrow, we'll preview D2 and the men's D4 and Reserves.
---
WOMEN'S DIVISION 1
POOL A: San Francisco Iron Maidens, Montreal Angels, Minnesota Freeze, Seattle Grizzlies
When the final whistle blew on the San Francisco Iron Maidens' 9-6 victory over Denver at last year's Nationals, it culminated a half decade of effort to get to the top and dethrone the mighty Lady Bulldogs.  They did it on defense, which was amazing considering that they had the wind to contend with.  Their championship defense has been streaky, and despite a disappointing 1-2 record at the Western Regionals, they've played good footy, with victories over Denver and Sacramento during the regular year.
The Maidens bring their largest ever contingent to Nationals, including enough to help staff a D2 side.  Their defense is still one of the toughest in the league, led by IC17 All World team defender Bevin English, Liberty standout Robin Leslie, and veteran Julie Marks.  The side will miss Brette Brower, who suffered a serious neck injury at IC17, but Meg Leone, who filled in for both Brower and Hallie Kastanek in the ruck for the Freedom, is a dependable decision in the ruck or at either center back.  Jessica Estrada, Sara Magallón, and Nicole Makenzie pace the midfield, and though Carly Smolak was asked to play defense to preserve victory last year, she is quite dangerous in the forward line as well.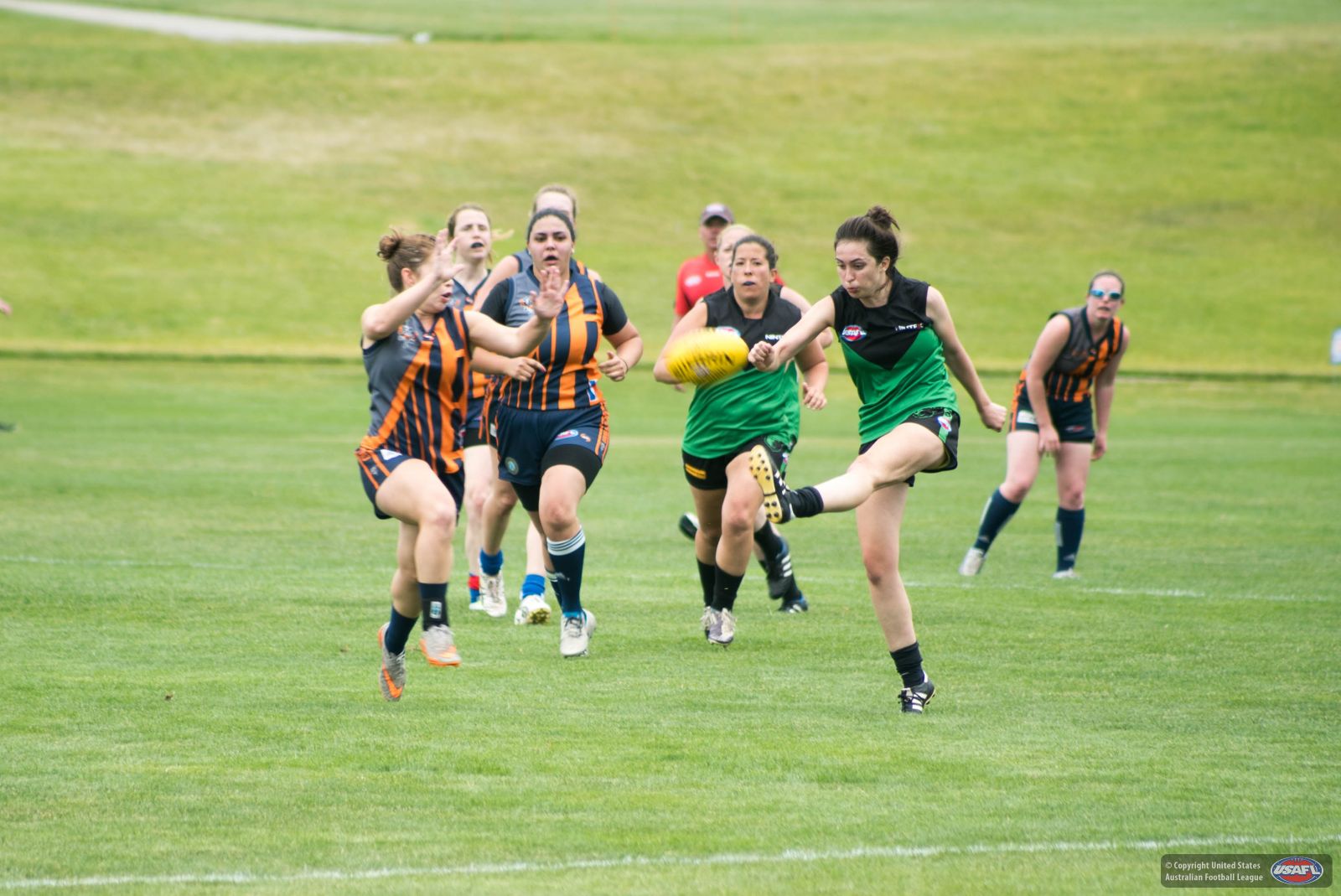 San Francisco's bid to become the USAFL's third D1 repeating champion (after Atlanta and Denver) will be tougher than previous years, but they're still a club that can do it.
Canada's ascension to the top of the women's global footy scene has not been concentrated in one place, and the Montreal Angels have contributed to that growth as much to the success of the Northern Lights cause.  They convincingly took their home tournament in June, and after bringing partial teams over the past six seasons, they make their D1 debut with a team that can certainly challenge the Maidens for the group and possibly for the whole shebang.
The Angels are led by the two women who were best and fairest of the last two International Cups and who both have experience in Australia.  Valerie Moreau turned heads with the Eastern Devils of the VWFL this season and took out MVP of the women's division in IC17 from the rover role with the Lights.  Aimee Legault, the IC14 MVP, had another strong tournament in Melbourne and is a possession machine.  Former Midnight Suns teamer Larissa Andrusyshyn is, like Moreau, tough to tackle, Margo Legault is among the best defenders in AFL Canada, and rucks are going to have their hands full with the angular Joanna Rutkowski.  A number of their players have experience playing overseas, including utility Caroline Le Duc.
Les belles du Nord are a skilled side, and they have the goods to raise the cup should they get by the defending champs, as well as their countrywomen from Calgary lurking on the other side of the draw.
Finishing third at Nationals was a significant achievement for the Minnesota Freeze, who traditionally have brought strong numbers on the road in October and who are a fixture on the National team scene.  Their schedule this year was relatively light compared to some of the other teams in the competition, but a look up and down the roster shows a stockade of talent.
The middle of the park will see last year's co-Cooper's Medal winner Jackie Thelen playing alongside Liberty midfielders Brianna Ostoff and Kathryn Mullin.  The defense is anchored by Liberty captain Lizzy Even, whose play in Melbourne solidified her as one of the most inspirational on-field leaders in the USAFL.  Even will have Freedom defenders Lauren Shelton and Paige Kiecker beside her, and they are looking to repeat a solid showing each of the last two seasons.  Jessica Nelson and Rae Hale were one consistent contributors for the Liberty in August, and they'll be in support of striker-esque forward Cathy Hoha.
Getting into the top two will be a tough task in this particular group for Minnesota, but they have the players to be able to make some noise.
The best story of this Division 1 field is the Seattle Grizzlies women, who went from non-existence a little more than eighteen months ago, to a D1 side brining the full complement of players down the coast to San Diego.  The Grizz teamed up with Sacramento to go 2-1 at the Western Regionals, and held their own in BCAFL women's competition.  While in the past some teams have struggled in their first full Nationals, Seattle arrives with players and skill at the same level of some of the better sides in this draw.
The heart of the team is defender-turned-utility Valerie Barber-Axthelm, who was the Liberty tour MVP.  Her quick closing speed is handy wherever she ends up playing, and she has license to show up just about anywhere.  April Lewis was a slight surprise in taking out the WRT best-and-fairest over Denver's Hallie Kastanek, but she proved to be difficult to bring down and was dropping dimes to her teammates through the middle.  Captain Marian Dickinson was the leading goalkicker early on, and opponents will need to watch for her cutting through the middle.  Athletic guns Amelia Kahr, Marisa Poorboy, and Tegan Hamilton round out this skilled side.
If you love a dark horse, this one is wearing black-and-green.
POOL B: Denver Lady Bulldogs, Calgary Kookaburras, Sacramento Lady Suns, New York Magpies
All things must pass, so George Harrison sang.  For the Denver Lady Bulldogs, the end of six straight National D1 Championships passed and only strengthened their resolve to get back to the top.  After dropping their season opener by just two points in San Franc, they celebrated hosting the Western Regionals for the first time by the sweeping their occidental rivals, including an 11-1 win over their Maiden nemesis.
Bruce Durrell's team always seems to recover from the turnover problem, and this year they were faced with the loss of a couple of key players.  Add to that injuries of Kassi Wilkerson (knee) and captain Hallie Kastanek (shoulder), though the latter hasn't ruled out playing in the tournament as of this writing.  But this year's DLB features a mixture of new and exciting players, including Baylee Hurtado and Monica Armstrong, surrounding veterans of their glory years.  Lindsay Kastanek has gone from forward sharpshooter to utility, which was evidenced by her play in Melbourne.  Allison Bremner was also a key mid for the Freedom, and her play is steadily improving.  Multiple Roos Medal winner Twannia Clark remains a dangerous weapon, and look for forward Kaitlyn Mascher to platoon in the ruck if needed.
The rest of the league has caught up to the Bulldogs, but they have remained a potent side with many facets and are well in the hunt to pick up title number seven.
The Calgary Kookaburras have a history at this tournament, being the first Canadian side to win a USAFL Nationals title.  That year, they edged out the then-three time defending champions from Atlanta by just five points.  They made it back to the final last year but lost out to Milwaukee.  The Kookas return to Nationals for the first time since 2015, when they swept the inaugural D2 competition convincingly.
With the exception of a July loss to provincial rivals Edmonton, Calgary has won every game they've played this year, and have seven Northern Lights members on their Nationals roster.  That's a lot.  Hillary Perry and Tricia Rolfe were among the stars at IC17 for the Canadians, and both are the keys from the center line on forward.  Caroline Ireland had a big game against the Freedom as a crumber, and Alana Robertson is an opportunistic forward up front who is adept at winning the high ball.  2015 medal winners Rachelle Chabot (Roos) and Sarah Cuomo (Cooper's) will be back and both can deal the cards as good as anyone North of the Border.
When they took out the D2 flag two years ago, many thought they would be right at home in D1.  They will get their chance in San Diego, and they may be fully favored to pick up their second cup.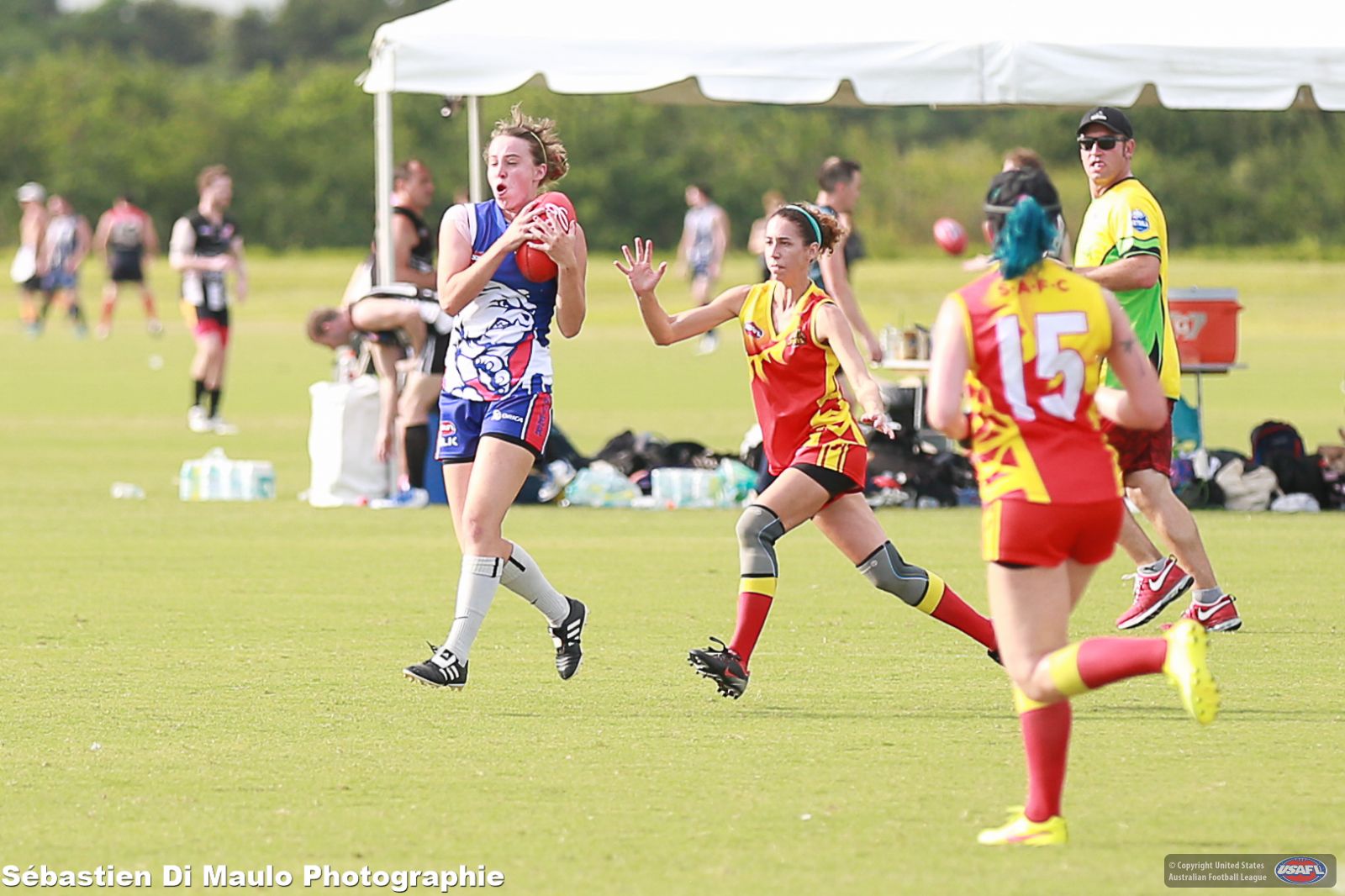 Continuing to improve from year-to-year, the Sacramento Lady Suns have been a fun team to watch as they have jelled together and picked up more of the tools of the trade.  They teamed up with Seattle to go 2-1 at Western Regionals in Denver, and more than held their own all season long against the likes of San Francisco and Denver.
San Diego native Rosemary Kloh has been one of the cornerstones of the Suns development the last two seasons, and has expanded her ruck game to include full back duties at the national level.  The backline has always been a strength for Sactown, as Liberty standouts Makenzie Carr and Lauré Kwoka can attest.  Liz Danielson went from defender to half-forward with the Freedom in Melbourne and showed a new side of her game, and looks to be a target for Elaine Schriber, Erin Sheaffer, and the midfield.  Oanh Nguyen had a fine tour in link-up for both the Liberty and Freedom in Melbourne in August, and she hopes to spark the offensive side of the ball.  Rookie rugby recruit Tonya Wessman has excited her teammates with her potential, and she'll look to break out on the big stage.
Sacramento's win last year was a signal of this team's forward momentum.  They will certainly raise the bar this year.
Christina Licata and the New York Magpies played valiantly at Sarasota last year despite their 0-4 record, and entered this year continuing to sharpen the tools of their 2016 recruiting class, which numbered more than a dozen.  The knocked off the Columbus Jillaroos to take home the Eastern title, and are coming off a good season-ending win at home against Boston.
Natalie Wolff's defensive play has been the cornerstone of a vetran back line that contains the USAFL's Secretary of Defense, Drea Casillas, as well as fullback Taylor Davison.  Melissa Fudor returns to the field after taking last year off to have a son, and Grace Koplow comes back into the fold to deal some punishing justice across the back and midfield.  Andrea Hargraves' ruck play has come along quickly, Australian Aishlin Grieg looks to support with a high number of possessions.  Licata was looking for support from the forward line alongside Kim Hemenway this season, and the emergence of Clare Algozin and Lauren Skonieczny as workhorses up front has eased that somewhat.  They'll come up against tough defenses this weekend, but the experience that both gained with the Liberty this summer has galvanized them to that task.
It's been six years since the 'Pies have been in a women's Grand Final, and it will be a big task for them to get back, but no one can question the spirit and advancement of the women from NYC.