Nationals Preview: Men's Division 1
In 1602, a Spanish merchant by the name of Sebastian Vizcaino, looking for prosperous regions to help spread trade, came upon the shores of Alta California.  The landing was made during the feast of San Diego de Alcala, he renamed the area. 
(It is probable that he didn't see any whales.  Sorry, Ron.)
Despite Vizcaino's optimism that the land would be a great development opportunity for Spain, their government was not interested.  It would be more than a century-and-a-half later before San Diego would be colonized by Westerners.
Sebastian Vizcaino was right: today San Diego is one of the USA's most desirable cities, and its location is a gateway to culture, arts, and good living.  It is here that the San Diego Lions continued that tradition, bringing Aussie Rules to the region two decades ago and building on the USAFL's premier clubs through its first decade.
This weekend, the largest Australian Football tournament in the world comes to the city nicknamed the Plymouth of the West.  And perhaps it is because of the charm of the host city that a record 53 teams representing more than 40 clubs from across the USA and Canada will converge upon the Surf Cup Sports Park.
Certainly those who took part in the first Nationals in Cincinnati in 1997 couldn't have imagined that there would be six fields hosting games every hour on the hour.  But here we are, and here we will be, on a thin slice of heaven roughly a mile from where the Pacific Ocean laps at some of the best coastline in the world, and where horses from the nearby racetrack dip their ankles as relief from a good day of hard competition.  (Perhaps the players will, as well.)
This is the first part of our look at the seven – yes, seven – divisions that will comprise this year's Nationals.  We begin with men's division one, and we'll continue this all week leading up to the big dance.
---
MEN'S DIVISION ONE
POOL A: Austin Crows, New York Magpies, Los Angeles Dragons, Baltimore-Washington Eagles
After going through two whole seasons unscathed, the Austin Crows finally showed that they're flesh and blood, just like the rest of us, going down to Dallas in the Central Regionals, and then again at Denver last month.  Despite the end of the long winning streak at 27 games, somehow they managed to stay at the top of the USAFL Top 20 Poll the entire season, and though the two-time defending D1 premiers still have a strong team led by the likes of Nolan Cox, Ben May, and rising star Joss Scholten, staying at the top of the heap in this difficult group is going to be a task.  
Pieces from previous titles will be back for the Crows, as Christian Merritt and Anthony Butt continue to patrol the center of the ground, and tall man Mike Montgomery is a good defensive piece and the squad they've built around them.  Quickman Jesse Aguirre was a prime mover in the 2015 flag, and Kenrick Tyrell will tandem with Cox as forward targets. 
Austin will try their best to pull off the three-peat, and their fourth D1 flag in five years; if they do, they will have earned it.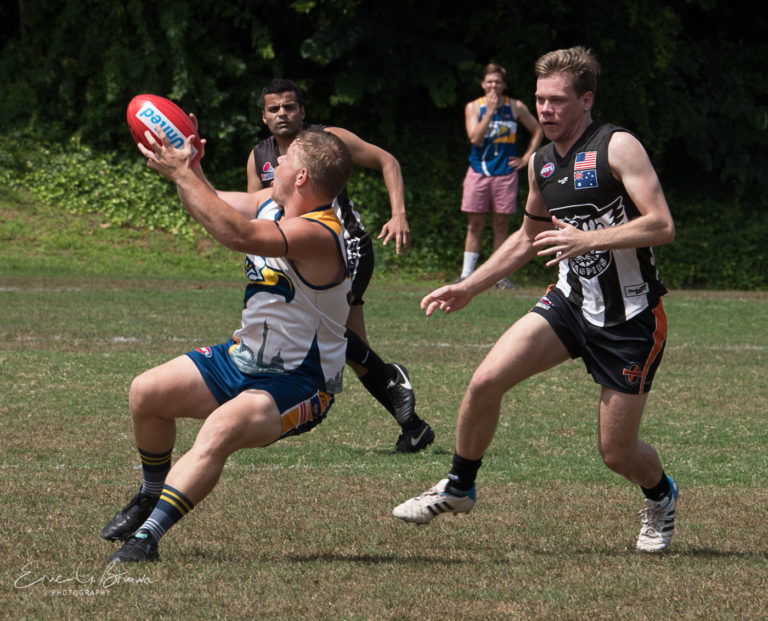 The Crows are paired with New York Magpies for the first time since 2013, when they beat the 'Pies on the route to their first D1 title.  Once one of the most feared teams in the country, and the undisputed beasts of the East, New York have had trouble on the road, losing to Baltimore-Washington twice and Boston once.  The 2014 D1 premiers now go cross country with something to prove and a lot of work to do.
American vets Mike Murphy and Ojas Desai have been bright spots for the Gothamers, as has scrappy workhorse Ed Heppt.  Matt Lovell, Brenton Hocking, and Marcus Jenkie are at the top of Sean Holmesby's arsenal, as the three Aussie guns played splendidly during the year, and their performance in Sarasota last year is still fresh.
The Pies are well disciplined and is among the best in the USAFL at controlling the tempo of games.  Despite their bumps away from home, they'll hope to use that trait to get to their third Div 1 Grand Final.
The Los Angeles Dragons have played a lot of footy this year, with over twenty SCAFL and USAFL games to their credit. They've played solidly all season, and have looked good all season long, even in defeats to Golden Gate, Orange County, and Dallas during the year, and a winless Western Regionals.  Despite all of that, and the fact that the Dragons have yet to make an impact on D1 since being promoted in 2015, they have developed into a talented and capable football side, and they match up well against the three teams in this group. 
Donald Lee has ascended into the upper tier of ruckmen across the USAFL, and fellow Americans Gabriel Martin del Campo and Robbie Descant have been among many consistent performers got the boys in teal.  Bill McGovern has made his name in the SCAFL as a dependable backliner, as has fullback Andrei Jansen.  Paul Ioakim is dangerous inside 50, where he'll be paired with Justin Kenna and former Manly-Warringah  Justin Hall.
With depth to spare coming down I-5, this will be the year LA makes in impact in D1.
Six years after last playing at the D1 level, the Baltimore-Washington Eagles have returned to the top rung of the American footballing ladder and though they are seeded eighth and last among the D1 sides, they have real shot at winning the whole thing.  Two convincing wins over New York, and a huge road win over Columbus are among the bullet points of a sparking resume for the Beltway Boys. 
They have the skills that other teams do, but they also have size.  Forwards Ian Payne and Sam Rowley, coupled with gargantuan ruck Ben Crenca are augmented by the speed of Jay Levesque, and hearty playmakers Robert Strange and Ryan Cartwright.  Nick Cisca has developed into the playmaker for BWE, and their defense is strong with American Peter Taylor and Aussie Bort Edwards keystoning the back.
It's been in long way back to the top for Baltimore-Washington, but they'll be ready to rock and roll this weekend.
POOL B: Golden Gate Roos, Denver Bulldogs, Dallas Magpies, Calgary Kangaroos
The Golden Gate Roos have come a long way (baby!) since being founded by John Ironmonger in 1997.  And last year, they went unbeaten right up until those Crows beat them in the Grand Final.  At the time, I said they were the best Roos team ever assembled.  This year's team is better. Again they've gone unbeaten, and yet somehow the Top 20 panel thought Austin was the better side.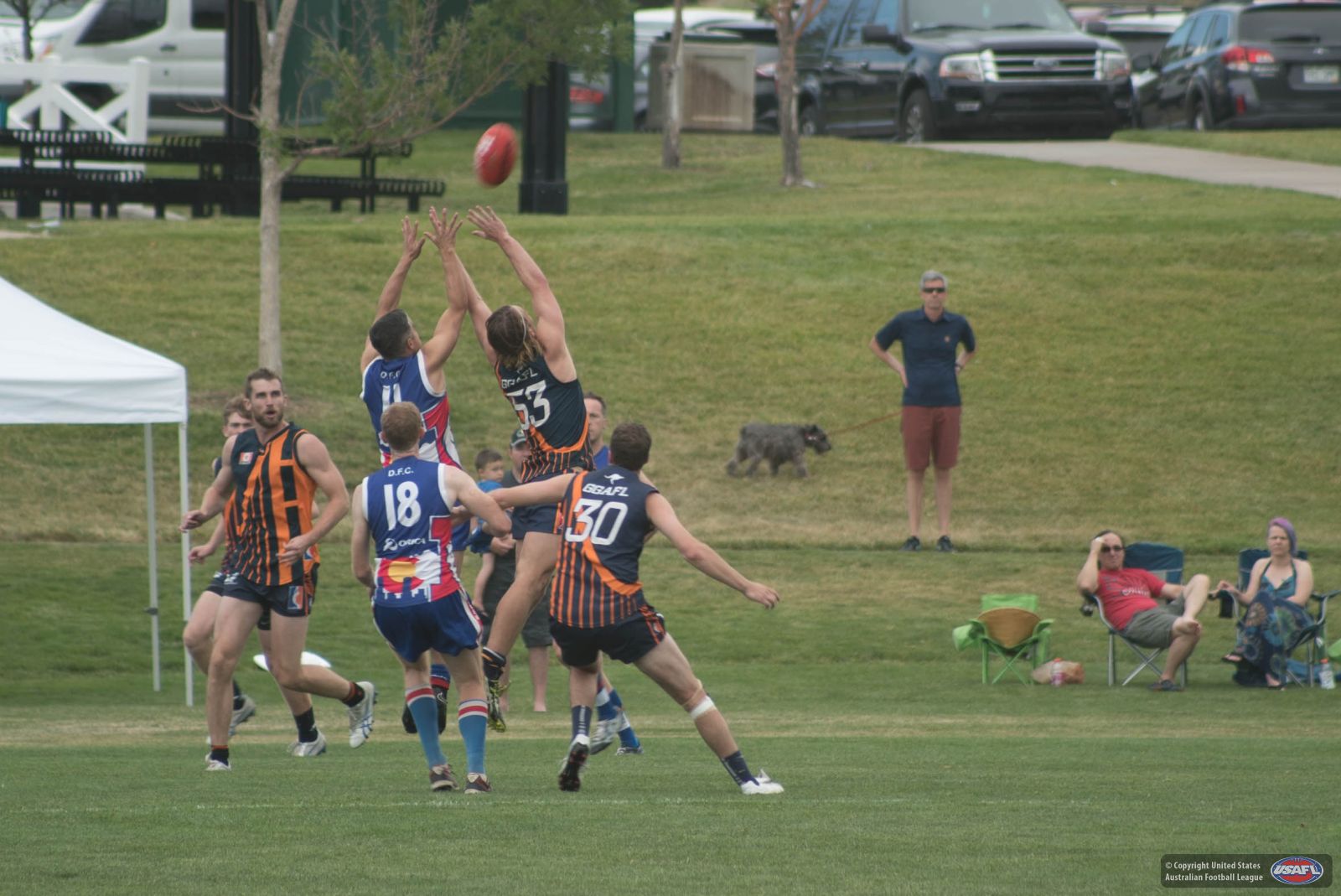 Their signature win of the regular campaign was a come-from-behind win against Denver in Denver at the Western Regionals.  They were missing star scorer Jake Ryan in that game, and yet they had something in the tank to get up over the Bulldogs.  They had five players – Kyle Johnson, Dan Livy, Bryan Dragus, Tim Lindfelt, and David Franco, go to IC17, and each contributed on the Revos side.  Rookie American Cody Burman had a breakout performance at that Regionals, and with Ryan, Ryan Clark, and George Smyth in toe, the Roos have talent all across the oval.
Say what you want about the Crows, the Roos must be a slight favorite to take out the flag.
Golden Gate may be fancied out of this group, but the Denver Bulldogs will have something very loud to say (bark?) about it.  They'll be coming to San Diego still riding the momentum of a two goal win over Austin at home, and they'll be licking their chops at a chance against the Roos, who they lost to twice this season.  They'll also be looking to improve on a disappointing 1-2 Nationals finish a year ago, and despite having more titles that anyone in the land, it's been six seasons since their last Grand Final. 
The X-factor for them (besides Max Eckstein, who embodies the name of said moniker), will be Brandon Kauffman, one time Buffalo Bill and another-time Gold Coast Suns prospect, who has taken over playmaker role for the Doggies in the middle.  Add in high flyer Casey Robertson, mainstays Leigh McMahon, Tom Harkness, USAFL's "Mr. Football," Andy Vanica, and All-World defender Ryan Garthright to the equation, and the answer may be the Bulldogs playing for their ninth D1 flag.  Tyler Ames returns from a whirlwind excursion that saw him play in Darwin and Montrose, and adds killer instinct around goal to the side.
If there's a dark horse in the group, it's a black and white flock of Dallas Magpies from the Lone Star State.  Dallas put a definitive end to Austin's 27-game win streak in June in Little Rock, and it was through their own hard hitting brand of footy that they were able to achieve it.  They arrive in San Diego winners of five of their last six, and that only loss was a narrow two-goal decision in Austin.
Craig Storer has perennially been one of the league's better players from the middle, as has Grant Jortner.  Big man Chris Willis had a dependable season up front, and Greg Paine is another dangerous runner that opposing teams will need to keep an eye one.  Like Denver, however, they have a big athletic American unit in Dave Grzesiak, whose skills have fit snuggly around the fact that he is stronger than a garlic Milkshake.  Cory Colvin, Ben Collins, and Alex Crampton were highlight players at Regionals, and each are capable of racking up possessions. 
Dallas has not won a game at Nationals since returning to Division 1 in 2014 (0-9), but that may very well change in San Diego this weekend.
Rounding out Pool B is an enigma wrapped in a riddle buried in a mystery and coated with a milk chocolate shell (okay, I made up that last part.)   The Calgary Kangaroos move back to D1 after knocking off Columbus to win D2 last season, but no one knows exactly how they'll match up against USAFL sides since they play their season north of the border. 
What we do know is that they sent two players, Mattias Singh and Trent Loosemoore, to IC17 in a respectable showing for the Northwind, and they are always among the skilled sides in the tournament.  Dane Rolfe took out the D1 Roos Medal several years ago and figured to be tough to stop. Calgary comes to SD in search of their first ever D1 title, and their first final since 2013.