Funny Funny Riddle: Western Regionals Preview
In 1858, a group of prospectors who had come from the east during the height of the Pike's Peak Gold Rush made camp in the North Platte Valley of what was then the Kansas Territory. 
They called it Montana City. 
Not long after that, they found some bits nearby that they thought were a little bit better and abandoned Montana City, until a land speculator from the other part of the Kansas Territory thought the original settlers were a bit harsh and rebuilt the settlement, rechristening it "Denver City" after the Kansan governor, because flattery will get you everywhere.
And it's a good thing too, because otherwise we'd all be singing Rocky Mountain High by John Montana City and that just doesn't have the same effect.
Through the magical effects of time, Denver is now a big and shiny city in the middle of some of the most beautiful scenery on this or any other planet, one that happens to be home to one of the most decorated Australian Football teams on this or any other continent.  Yes, even you, Collingwood.
And it's in that city that gold prospectors of a different sort -- goal prospectors, even -- converge upon Denver, more specifically to the northwestern suburb of Westminster, for the final leg of this midsummer roadshow.  It will be the biggest, as no fewer than 12 USAFL clubs will be sending players to do battle on an emerald wonderland across two men's divisions and a women's division.
And here are said teams that will do battle in the 2017 Western Regional Tournament.
---
2017 USAFL Western Regional Tournament
Westminster City Park, Westminster, Colorado
Saturday, July 8th, first bounce at 9am
Replays on YouTube (Tape Delay)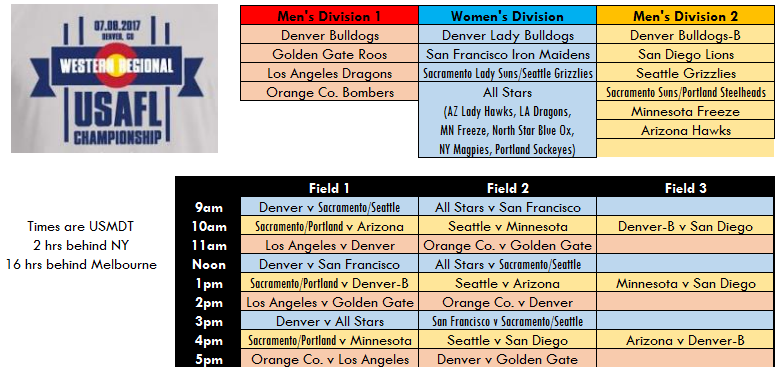 ---
MEN'S DIVISION 1:
Much like last year's edition of the WRT, this season's top division features four Division 1 Nationals sides, all of whom are inside the USAFL Top 20 Poll's top eight teams.  It'll be the same four teams that took to the field in Salem, with Golden Gate going 3-0 on the day, followed by Los Angeles at 2-1, Denver at 1-2, and then Orange County at 0-3.
If any team is licking their chops at what this tournament means in terms of their standing in the league, it's the Golden Gate Roos.  After opening their year with the traditional interlocking sparring matches of the GGAFL metro season, the Roos' A side turned aside Denver, and a mixed starters-reserves group eked out a one point victory over Sacramento.  They come to Colorado with an extra crackle of fire in their bellies after being denied the #1 spot in the country by the Top 20 panel.
Few teams in the country play as tight of a game as Golden Gate does, and they win with pace and accuracy.  The twin lightning bolts of Jake Ryan and Ryan Clark were consistently dangerous at Nationals last year, but the strength lies in their American players.  Five Roos are heading to Melbourne next month for IC17 – Bryan Dragus, Dave "Ace" Franco, Dan Livy, Tim Lindfelt, and Kyle "Manly" Johnson.  Each of them is capable of taking control of a game at any time, and the battles against equally top level competition this weekend will be a fun entrée ahead of their sortie to Australia.
Sitting one rung on the ladder behind the Roos, the 3rd ranked Los Angeles Dragons will also be motivated to run the table this weekend with a chance to claim the top spot in July's poll.  Their metro sides performed very well in the SCAFL, and they turned in two solid wins against a resurgent OC and renewed Arizona.
Though LA will be without ruck Donald Lee, they have the talent across the field to cover for it. Justin Kenna and Gary Green's disposal rates are always on the higher end of the spectrum.  Andrei Jansen put in a memorable performance at fullback at the Western regionals last year, and Bill McGovern, Paul Francis, and Trevor Osterholm are solid defensive players as well.  On the offensive end Kenna and Justin Hall will look to light up the scoreboard as they did in Salem last season, and Paul Ioakim can find the goals as well from the half-forward spot.
Hosting this tourney for the first time in the literal rarified air of their home state, the Denver Bulldogs footy club resides in the figurative rarified air of success in the USAFL.  Eight men's D1 titles, a men's D4 title, and those six straight women's titles have the Bulldogs organization in its own league.  The Dogs are #6 in the country after June with a 2-2 record, all numbers that belie the efforts of what is, simply, a darn good team.
In Denver's first hitout at home, they are expected to have a pretty loaded side.  Casey Robertson is good for at least two speckies and two eye popping goals a tournament.  And once everyone's eyes are back in their sockets, they'll be on the lookout for fellow leapers Philip Camping and defender Tom Harkness.  Scott Casarez has become a consistent player for them, as Brian Ripetto in the midfield, and the mercurial Michio McGrath.   Tim Wilson-Humphries, a veteran and leader in the backline, will lead a Denver defense that has a legendary reputation for shutting teams down.  The Dogs will hope the home field and the elevation are the final ingredients to a 3-0 weekend.
The Orange County Bombers were, for all intents and purposes, a rebuilding side in 2016.  After coming in as runners up in the SCAFL, they brought a good side to Los Angeles where they fell to the Dragons, but picked up a two point win against a scrappy Arizona side.  At #8 in the June Poll, the Bombers come to Colorado in the hopes of leaving it reestablishing their reputation as one of the West's – and USAFL's – top sides.
OC has a number of good ball control experts, including Aussie vets Adam Shanks and Gareth Allen. Kelson Mustoe has license to play just about anywhere, and has been historically hard to contain.  Tyler Mounce, a American veteran midfielder, is also known to rack up the pozzies, and feeding the forwards will be his most important task.  This is a much improved Bombers team than the one that came to Salem last season, and though they're the lowest seeded team in this group, it's not out of the realm of imagination to see them run the table.
WOMEN'S DIVISION:
Like last season, this year's women's division at the Westerns features two full sides and two combined teams.  Salem saw one of the dual entities win out as Portland and Minnesota joined forces to take out the title.  They'll be joined by players from five other clubs this year to make up one of the four entries in what should be a completely wide open round robin.  This also marks the last hitout for the USA Freedom IC17 squad, and the Liberty touring squad, before they leave for the great sunburnt land.
The San Francisco Iron Maidens' first two matches of their title defense were at home against Denver and Sacramento and though neither side were at full strength, both opponents were topped up with players from the idle team in the three way tournament.  The Maidens took both games, but just barely, winning by a combined five points.  They were disappointed to have come away from Salem with a 1-2 record last season, and will try to make up for it in Westminster.
No less than seven Maidens are heading to IC17, and this should be a barometer of how well oiled those cogs of the Freedom machine are.  The midfield is arguably the strongest in the country, with Jess Estrada, Sara Magallón, and Nikole Makenzie patrolling the center of the ground.  Carly Smolak is already off to a good start this season on defense, and has license to run through in transition, and she'll be partnered with South Carolina native Bevin English on defense.  Up front, Milli Bruce, who kicked what ended up being the decisive score against Denver, is tricky to contain, as are Meg Leone and Brette Brower, who can play anywhere on the ground.
Losing at Nationals and seeing their six year championship reign has only galvanized the Denver Lady Bulldogs' resolve to get back to the top, and though they went 1-1 in San Francisco last month, they are looking to reclaim themselves as the rightful queens of the USAFL Women's castle.  That journey begins at home, where they will have the home field, a good crowd, and the experience of playing at elevation.
It's been well documented that the 'Doggies have transitioned into a more skill-based side rather than a bash-it-forward team, but there is still pure athleticism flowing through the veins of this team, as personified by their captain and ruck, Hallie Adrian.  Forward Lindsay Kastanek is cut from the same cloth in terms of strength and skill, and preventing her from winning balls inside 50 is going to be difficult. Jessica Gray is a cunning midfielder of the highest order, and diminutive but shifty Kassi Wilkerson's job will be to wrap up ball carriers quickly on the wings.
The Freeze-Sockeyes twinning (emphasis on the winning part) from Salem worked because of how both sets of players complimented each other, despite never having played alongside the other.  The Sacramento Lady Suns and Seattle Grizzlies will combine looking to duplicate that feat, and it's possible that they may.  The Suns played competitively in their two defeats in San Francisco last month, while the Grizzlies are off to a 2-2 start for the year, including a 2-1 record against rival Portland.  Both sides are improving rapidly, and this weekend may be a coming out party.
Sacramento will bring defense to the party in the personage of Freedom halfback Liz Danielson and Liberty midfielder Lauré Kwoka.  They'll be sured up by fellow Liberty players Cho Tseng and Valerie Barber-Axthelm, though the latter may be used elsewhere to apply more pressure to the ball.  The key forwards will be Grizz co-captain Marian Dickenson, who is among the leading scorers this season, and Ballarat, Victoria native Tegan Hamilton, whose experience has helped the program in Seattle grow immensely.  Defenders can't worry about those two too heavily, though, as Suns midfielders Elaine Schriber and Erin Shaeffer, and forward Oanh Nguyen will burn them if that happens.  And they'll also have to deal with Rosie Kloh, who has quietly ascended into a top tier ruck.
The four team field is rounded out by the All-Stars.  Normally when we have a bunch of teams playing together, their names are combined as well, but with seven teams, less is more.  Thus, this conglomerate spans all three USAFL regions, as players from the Portland Sockeyes, Los Angeles Dragons, Arizona Lady Hawks, Minnesota Freeze, North Star Blue Ox, and New York Magpies will converge and try and knock over the competition while getting valuable pre-Melbourne experience.
So where do we start? How about Portland's Simone Shepherd, who arguably was the MVP of the entire league, if we had one of those awards to give out.  She will most likely play in the ruck and be a second covering of grass in terms of where she'll be on the field.  She'll have Arizona's Melissa Armstrong in support around the midfielder, as well as fellow Sockeye Jess Blecher and LA's Leilani Silvio.  Katiann Scherer, sister of Columbus's Katrina, impressed in her USAFL debut and promises to be a good tall option.  North Star's Marie LaVictoire and 13-year USAFL veteran Drea Casillas keystone the defense.
There are a bunch more names I can add here, showing how much depth this team has, but then more people would make fun about how much I ramble so I'll stop.
MEN'S DIVISION 2:
Up from three teams each of the last two years, the men's second division still boasts some good sides who look to make their own marks as the six teams race to the top of the weekend's ladder.
The two time defending champion Sacramento Suns, ranked 16th, will pair up with the 18th ranked Portland Steelheads for the weekend.  Individually, the Suns are 0-2, while the Steelheads are 1-2, not including split-squad matches.  Like most combination teams, this one will be quite fun to watch.  Portland Rover Martin Coventry and midfielder Seb Aguiari are slippery eels, and they'll be augmented by Revos and Suns defensive wizard Saleh Tyebjee, goalkicking rabbit Ramish Bahramand, and bruising forward Colby Campbell.
Hosting the tournament means a big turnout from the Denver Bulldogs reserves, and there are some names on this roster that conjure up memories of the halcyon days gone by, when the Doggies were on top of the American footy landscape.  Rich Mann, Tait Carmody, Brent Dowling, Brendon Feddema, Ben Harling, Geoff Shakespear, and Paul Meyer or just some of the names on this list, and though time has carried on with its normal chore, the blood of champions never congeals.
Invading like Vikings from the north, the Minnesota Freeze come to Denver after taking out the Des Moines Tournament and then knocking off Chicago and Des Moines in quick succession. The Freeze have been toiling in the purgatory of rebuilding, but are slowly coming out of the cave (like some sort of polar bear) and would love to pluck a cup to take back with them to their ice cave.  Revo veteran Brent Fischer and Revo alumni Brent Mergen are mirror images of themselves in terms of style, which can confuse opponents at times.  Big Ryan McLuen will be the target, and the supporting cast of guys like Dan Stephens, Tatsuro Tanioka, and Zach Weaver put in workmanlike performances game in and game out.
The other half of the six team field are sides that have come back from the blink of oblivion to be competitive and are on the upswing on and off the field.
Coming just a fur's breath away from taking out the Division 2 cup at last year's WRT, and perhaps fired up by that loss, the Seattle Grizzlies arrive in Denver looking for redemption and have the talent to do it.  They looked good in their BCAFL season despite going 2-3, and narrowly lost to Portland in their only USAFL full squad game this season.  Success or failure starts with defenders Max DePina and Jonathan Achelles, and funnels through the lines to Ken Vartanian, Tex Edmonds, and Brian Flaherty.
One team Seattle will see this weekend is the San Diego Lions, whose return has just about mirrored that of the Grizzlies, and who an old rivalry may be rekindled.  San Diego finished third in the five team SCAFL, and made waves last year by picking off Orange County in SoCal Cup play.  Recruiting has been good the last several years, but they're led by their trinity of vetern Americans, Brandon Blankenship, Justin Valley and Brian Steffy.
Last but certainly not least, the triumphant return of the Arizona Hawks men's team, who will play their first USAFL tournament in six years.  The last time we saw the Hawks, barring two weekends ago when they fought valiantly but lost to LA and OC, they were D3 champions at the 2011 Nationals in Austin, but numbers dwindled to the point of inactivity.  Now, led by Revolution ruckman Jason "Pony" Wilhelm, the Hawks are back and will bring a full-fledged side to regionals.  It's a roster that includes six guys named Lutostanski and USAFL legend and former Denver Bulldog Chris Candelaria.