Austin, Portland Double Up; Calgary, Rats Back on Top
It's always great to hear an old favorite come on the radio.  Or iPod.  Or whatever it is you kids listen to these days.
It's also nice to hear something new, though when it comes to music these days that can be sort of hit or miss.
But there were some old, sweet favorites playing at Nationals, at least in terms of the four clubs who emerged as Men's Division Champions at the Premier Sports Campus in Lakewood Ranch, Florida.
The Austin Crows repeated as D1 champions, only the third club to do so, and became the second team, behind Denver, to win three or more flags in the top division.  Calgary picked up D2 title number three, Portland became Division 3's first repeat champion, and Ohio Valley wrote another chapter of legend into their long histories.
---
MEN'S DIVISION ONE – ROOS RUE DEFEAT AS CROWS GO BACK-TO-BACK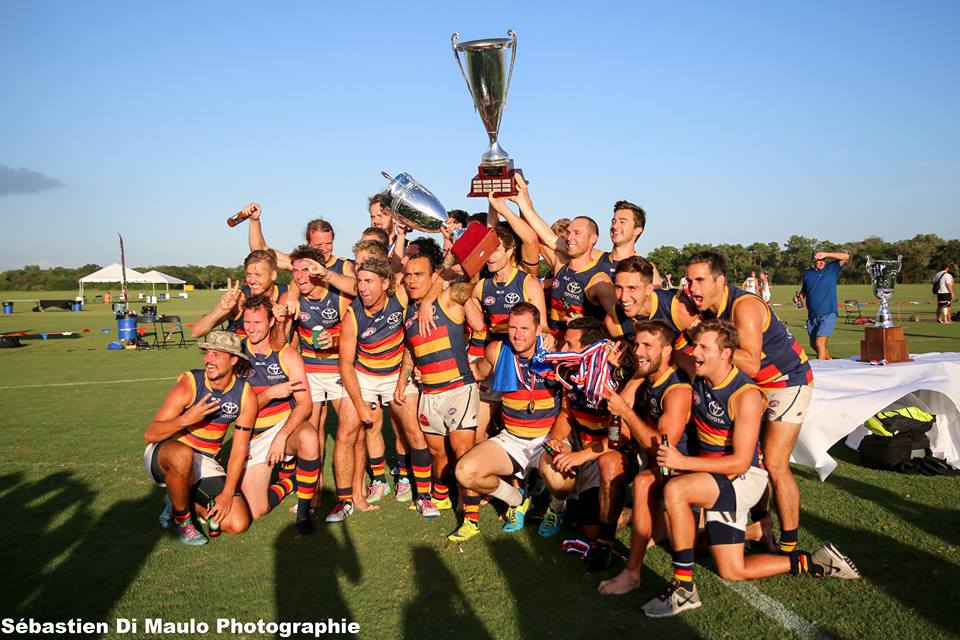 The Austin Crows blew into Florida on the heels of a fourteen win season that was punctuated by dominating efforts over good sides.  The more the season carried on, the more and more apparent that a second National Championship, and third in four years, would be a mere formality to the preceding. The Crows handled Quebec, Denver, and Los Angeles – three very good sides – with relative ease as they marched into the Grand Final.
Who they would play wouldn't be decided until Sunday morning, and a virtual prelim-final between the New York Magpies and Golden Gate Roos.  Both had defeated Dallas and Orange County with little resistance, and their meeting in a virtual preliminary final was the most anticipated game on the D1 calendar.  The Roos, led by forwards Bryan Dragus and Zac Taylor, outplayed a New York team that was accustomed to dictating play on their terms.  Their 24-9 win advanced them to their first D1 Grand Final since 1999.
The Roos, who had convincingly won the Western Regional back in July, seemed to be the only team able to put an end to Austin's winning streak.  They had a strong forward line and fast midfield corps going for them.  What's more, Austin had yet to win a National Championship away from home, having picked up the D2 flag in 2011 and each of their D1 championships in 2013 and 2015 at their home ground at Onion Creek.
But when Nolan Cox, whose brother's name has become a household one amongst Collingwood fans back in Australia, slotted the first goal after two minutes, you could feel that it would take something quite special to stop the inevitable.
Golden Gate fought hard.  They tried to create that something special.  They moved the ball through George Smyth from the back, Jake Ryan in the middle, and tried desperately to get it to their strong forwards.  But every time they did they were thwarted by the Austin backline, led by Brad Taheny, Sam Nix, and Sean Connell.
Austin's forwards were having no such difficulty.  Grant Campbell, the Peter Daicos of the USAFL, dominated the area inside 50 with the work rate of a team of Clydesdales, and was rewarded by converting on several key goals that slowly removed doubt from the issue.  Cox added two more goals by halftime, and with 20 minutes to go, the Crows were up 38-1.
The Crows had built their lead on the strength of resolve and the wind.  Golden Gate had both of those things in supply, but whether or not they had the time against the best defense in USAFL was a large question mark.  In fact, Austin would add just one more point to their first half total before final hooter went, but they had cashed in enough chances in the first half to make that fact irrelevant.
Roo Tim Lindfelt was starting to get the better out of Harley Nussman in the middle of the ground at the start of the second stanza, but that was one of the few glimpses of hope the Roos had had in possibly winning the game.  The defense of the Crows held, and as time went on began to shuffle away from their own defensive territory with the precision normally reserved for a regiment of Scottish highland bagpipes. 
Golden Gate would get a couple of consolation goals at the end, one through Taylor and another through Dragus, who could at least add the Paul Roos medal to the team silver around his neck.  Both will be important to the USA Revo program in the next two years, as will Lindfelt.  The Roos' advancement to this Grand Final game was indicative of the best season in club history, and they can at least keep their heads held up high, for there will be more Grand Finals in their near future.
But there was no doubting the completeness of the effort from Austin.  Even without their midfield engine in Ben Carpenter-Nwanyanwu in the final, they fielded a team full of depth and with few weaknesses.  More importantly, they proved that they could win away from home, and did so in one of the most convincing fashions in history.  Their win streak now stands at 23 going back to late last year, though they still have at least one or two more seasons of this to catch up to the 41-win streak of the 2004-06 Denver Bulldogs.
Austin 6.3.39 defeated Golden Gate 2.1.13
---
MEN'S DIVISION TWO – CALGARY BOPS BY COLUMBUS FOR THIRD D2 FLAG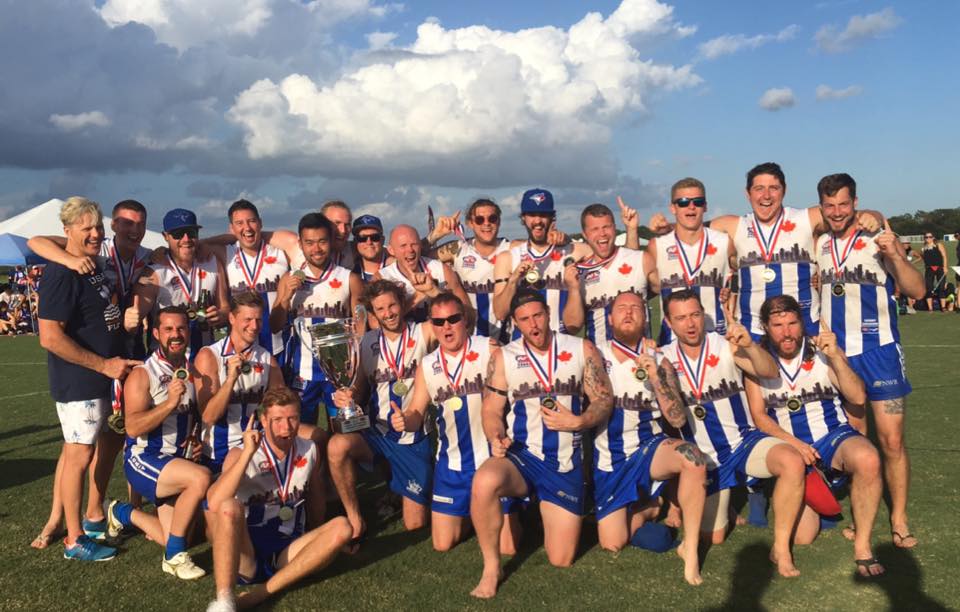 The Calgary Kangaroos brought a vastly different side from the one they took to Nationals last season, and settled into Division 2 for the first time since they went back to back in 2009 and 2010.  Led by Dane Rolfe and Daniel Pertot, the Kangas kicked a division best 19 goals in sweeping aside Minnesota, Chicago, and Boston to win Pool B and landed in their first Granny since they fell to Denver in 2011.
Over in Pool A, the Columbus Jackaroos scrapped their way to three well-earned wins.  They out-parried Houston by 15 points before edging top-seeded Sacramento by two goals.  They faced upstart Baltimore-Washington in their final group game, and produced their handsomest effort of the weekend in another two goal victory over a resurgent Eagles team, led by Paul Roos medal winner Jay Levesque, to clinch the group.  The appearance marked the third D2 final for the Jacks and fourth overall.
The wind was in full force by Grand Final time, and though the Kangas were kicking against it, flexed their muscles as the better side.  Rolfe was denied a goal in the opening half-minute was touched en route to the sticks, but he converted on a tricky set shot a minute later.  Though Columbus was keeping pace with Calgary's speed and keeping possession, they weren't able to take advantage much.  Craig Sargent was, however, as he kicked two goals to give his team a 19-2 lead at recess.
Kicking against the wind in the second half, Columbus's Clyde Simpson and Dan Hamilton started to get more of the ball and forced the Kangas back on their heels.  Chet Ridenour, playing with the heart the size of a mountain lion, took several strong grabs to try and will his team back into the game.  He would only be rewarded with a single point.  Calgary fended off the challenges and pumped home three more goals, including two more to Sargent, to cross the line by six goals.
Calgary's third D2 championship was impressive by the simple fact they ground out most of their games, even if the scoreboard showed a more comfortable set of score lines.   The Kangas' new local recruits were up to the task, and it showed.
"Our first year players really lifted and contributed well over the weekend," said Calgary player and president Lachlan Griffiths.  "We brought seven first year Canadians and they all competed strongly and weren't overawed by the occasion. 
"Overall it was our contested possession work rate that we credit for finishing 4-0.  Each game our lads attacked every contest, putting their heads over the ball and body on the line, and while we didn't have the skill or polish as our opponents we were able to grind out wins through effort and intensity."
Calgary Kangaroos 6.3.39 def Columbus Jackaroos 0.3.3.
---
MEN'S DIVISION THREE – STEELHEADS DECLAW TIGERS TO REPEAT AS D3 WINNERS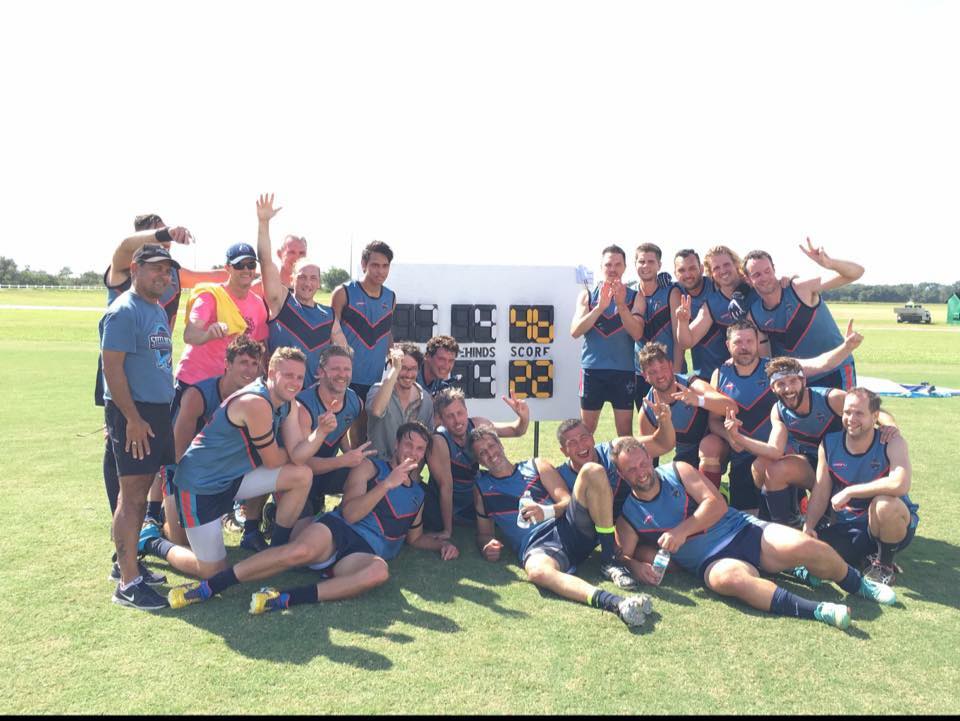 Though the Portland Steelheads had a good recruiting year in the wake of their first ever championship last season, they had been knocked around a bit by some of their rivals during the course of the year.  They seemed vulnerable to the three teams below them, and had to dig their way to a 20-20 draw against Austin's reserves in the opener.  They would recover to bury Fort Lauderdale and stiff-arm Philadelphia, and though Austin also went 2-0-1 weekend, it was Martin Coventry and fiends that would get the chance to defend their D3 premiership on percentage from Pool A.
Pool B looked to be a three team battle between clubs who recruited well in season 2016 – North Carolina, San Diego, and Seattle.  The Tigers deftly got by New York/Boston's reserve side and San Diego, while the Grizzlies eeked by the Lions by two points before hammering the Dee-Pies.  In the deciding game of the group, North Carolina faced Stiff resistance from the Grizzlies' defensive corp led by Alex Jessup and Max Depina, but held onto a 15-10 nailbiter.  The Tigers made it to their first D3 final since 2003, looking for their first title since they won D4 in 2014.
Again, the team who had the wind in the first half used it to unfurl their sails with a vengeance, and the Steelheads blew to a large first half lead.  Coventry got his usual bout of leather poisoning, as did Seb Aguiari in the middle of the ground.  Getting the ball up to Mike Borenstein and Luke Mooney up front, the Steelheads kicked a six pack in the first half, and limited Erik Hanson and the Tigers forwards to a single point.
With the gauntlet now thrown before them, the gritty yellow sashed-warriors pushed hard and quickly to try and dent the Steelheads back line.  They would get a couple of goals midway through the half, but when Mooney answered with a straight dagger with about five minutes to play, any unsureness flew away towards the gulf.  Darwin Buffalo legent Mark Motlop helped steer the Rose City boys to another win, with Coventry adding another best and fairest to his ever growing status as a USAFL legend.
Not satisfied with just winning their second straight D3 title in addition to the D2 championship won by the Portland ladies, club president Will Sandman set his eyes on the future.
"For those of us that have been coming for multiple years, we fall in love with the experience every time and look forward to seeing old friends that share a common bond," he said.  "Next year we hope to have the same experience and introduce even more newcomers to a unique and fun sporting event."
Portland Steelheads 7.4.46 def North Carolina Tigers 3.4.22
---
MEN'S DIVISION FOUR: RIVER RATS OUTKICK DEBUTANTE TAMPA FOR FIFTH FLAG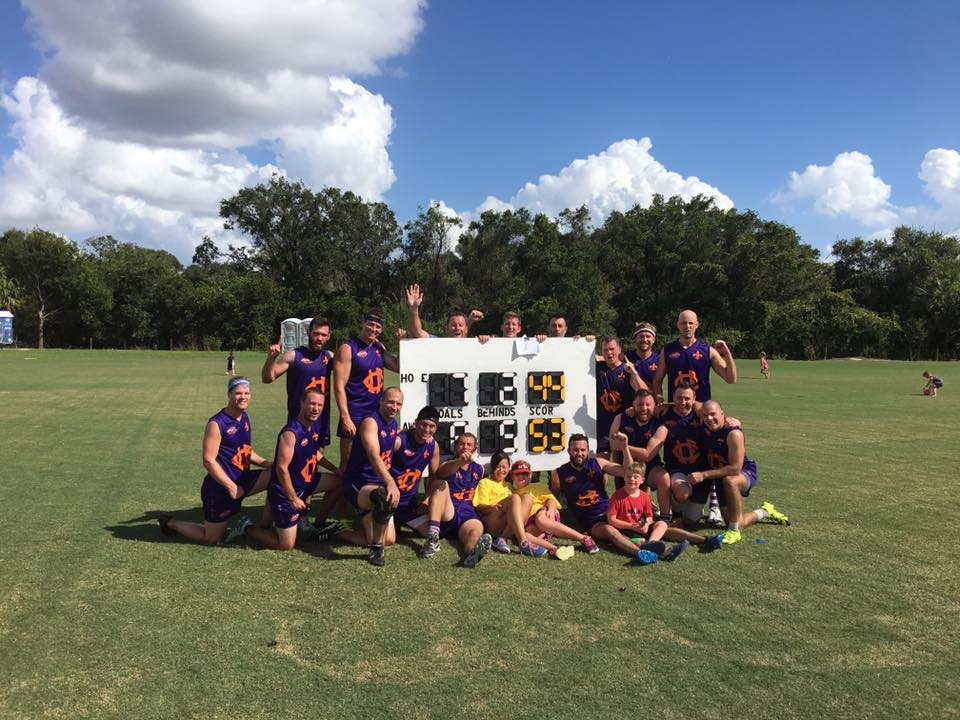 The field of nine challengers played perhaps one of the closest D4 pool rounds in history.  After Saturday's play, only one team, the Ohio Valley River Rats, finished at 2-0, while only one team, the Golden Gate/Columbus reserves combine, finished 0-2.  The River Rats, led by famed country singer Eric "Sleepy" Floyd, were the top seed going into the semi-finals.  Tampa Bay, playing in its first Nationals, was the 2-seed at 1-0-1, having drawn Tulsa and beat Nashville/Indy/Cleveland.
Semifinal #1 pitted the locals against the Denver reserves, and against the old Dogs, it was Tampa that won out by 15 points, 32-17.  Meanwhile, the Rats were pitted against wild-card qualifier Nashville/Indy/Cleveland in the other semi, and again showed their prowess in a 51-28 triumph.
The River Rats, made up of players from Cincinnati, Louisville and St. Louis, have played as a combined side since 2008.  This marked the sixth Grand Final appearance for them as an entity.  This was Tampa's first chance in their first full USAFL season to lift hardware.
The game was an offensive aerial show, with fifteen goals being potted in forty minutes.  Tampa, led by 17-year veteran Dustin Jones, threw everything they had at the Rats, but it wasn't enough as Ohio Valley held them off by 9 points.  The Rats had experience in their own right; a half dozen players with 15+ years of USAFL experience mixed in with newer recruits from the three clubs won another trophy for a band of USAFL originals.
"Nothing came easy all weekend and we would face our biggest challenge in the final," said Cincinnati's Kyle Strenski, himself a River Rat war horse.  "After suffering a few injuries over the weekend we had one healthy player on our bench for the championship.  This match took everything we had.  Tampa kept coming at us till the final siren.  We made some changes moving different people in the ruck and forward line which paid great dividends.  Our defense was solid all weekend and in the end it was a total team victory."
Ohio Valley River Rats 8.5.53 def Tampa Bay ARFC 7.2.44