2016 USAFL Nationals Preview - Men's D3 & D4
Rounding out our preview series of the 2016 USAFL National Championships, here is a look at Division 3 and Division 4.  Note that (*) denotes a reserve side.
---
DIVISION THREE
Pool A: Portland Steelheads, Philadelphia/Baltimore-Washington*, Ft. Lauderdale Fighting Squids, Austin Crows*
A year ago I called the Portland Steelheads underachievers, seeing as though they hadn't won a title in their nearly 20 years of existence.  All they did is go out onto the field in Austin and whip off four straight wins in domineering fashion to win the D3 premiership.
It took some time to get going in 2016, as they dropped their first three games, including two to arch rival Seattle, but they finished things up with a strong win at home over Houston and a small measure of revenge against the Grizzlies.
Portland will have the Derwint Destroyer, Martin Coventry, and the Little Maestro, Seb Aguiari at their disposal, leading a team on a mission for a repeat. 
It's been stormy going for the Philadelphia Hawks this season, as Jon Loring's team has dropped all eight games they played this year.  Though they are short on numbers coming to Sarasota, they'll have reinforcements coming from Baltimore-Washington's reserves, and that might help create a spoiler for the other teams in this group.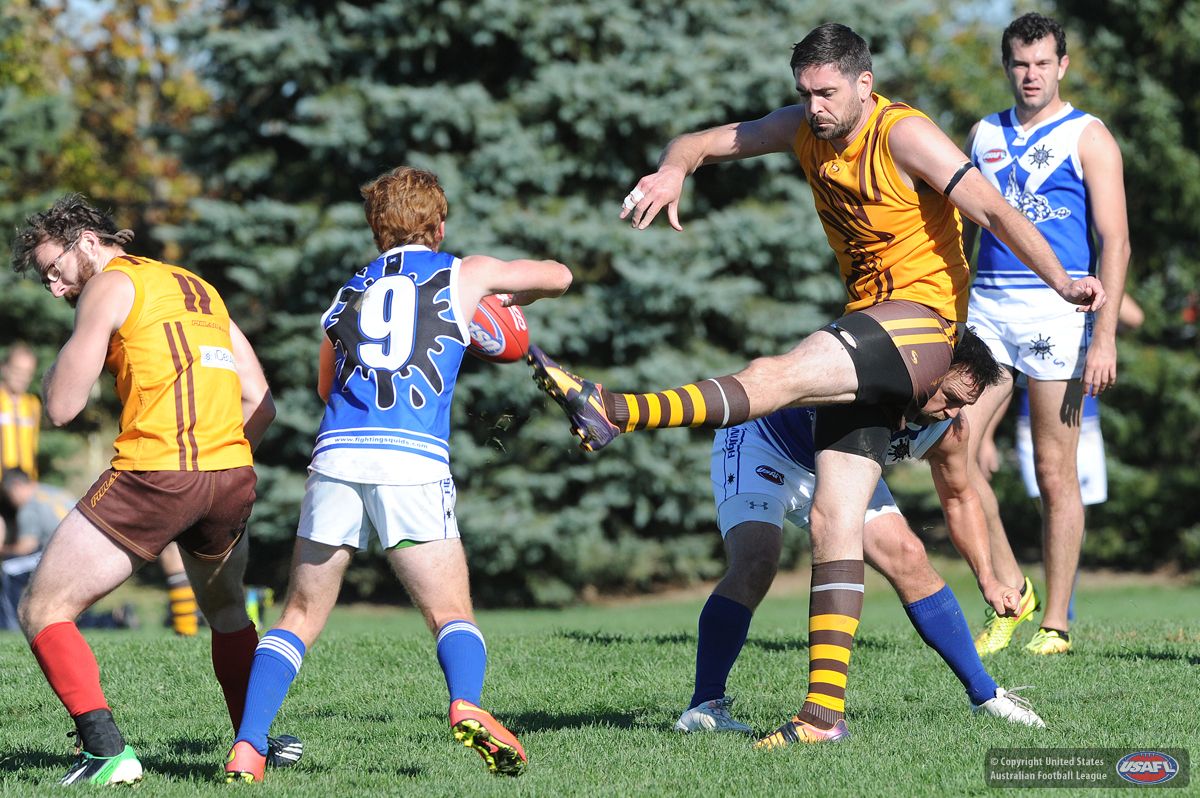 Philly brings with them a solid core of players, however, including ruck Alex Lyden, defender Patty Miller, and forward wrecking ball Jon Ginsburg.  Ginsburg and Greg Glasgow will look to team with Revo forward Ryan McGettigan to get some points.  If the offense can get going, it'll be up to the Hawks underrated defenders to hold back the tide.
While not having to travel very far up Alligator Alley to attend the carnival in Sarasota, the Fort Lauderdale Fighting Squids enter as a bit of a wild card.  The Squids only played two USAFL games this season, a split against Tampa Bay. 
The Squids have an Aussie edge to them, and it's led by Glen Parrish and Cameron Pinnock.  They always seem to have a good crop of Americans that come up through the ranks, and Fabio Saluhana looks to be the goods.  Fort Lauderdale hasn't won a game at Nationals since going 2-1 in D2 back in '13, but they can't be taken lightly against anyone.
The Austin Crows reserves round out this group, and though the A-side has done well in previous years, Austin's reserves are 2-4 in two weekends of Division 3 play.  But these Crows are not merely token opposition; John Huffine and Joss Scholten performed splendidly at the Central regionals, and Brian Malesa is an up and coming ruck that is has picked up the position easily.
POOL B: North Carolina Tigers, Seattle Grizzlies, San Diego Lions, New York*/Boston*
Two seasons after finally picking up their first premiership (having done so at in D4), the North Carolina Tigers have focused their efforts into being a heart-filled team with good fundimentals.  Some excellent recruiting has helped speed that along, and the YELLOW AND BLACK! will find themselves in an absolute dogfight with their poolmates this weekend in Florida.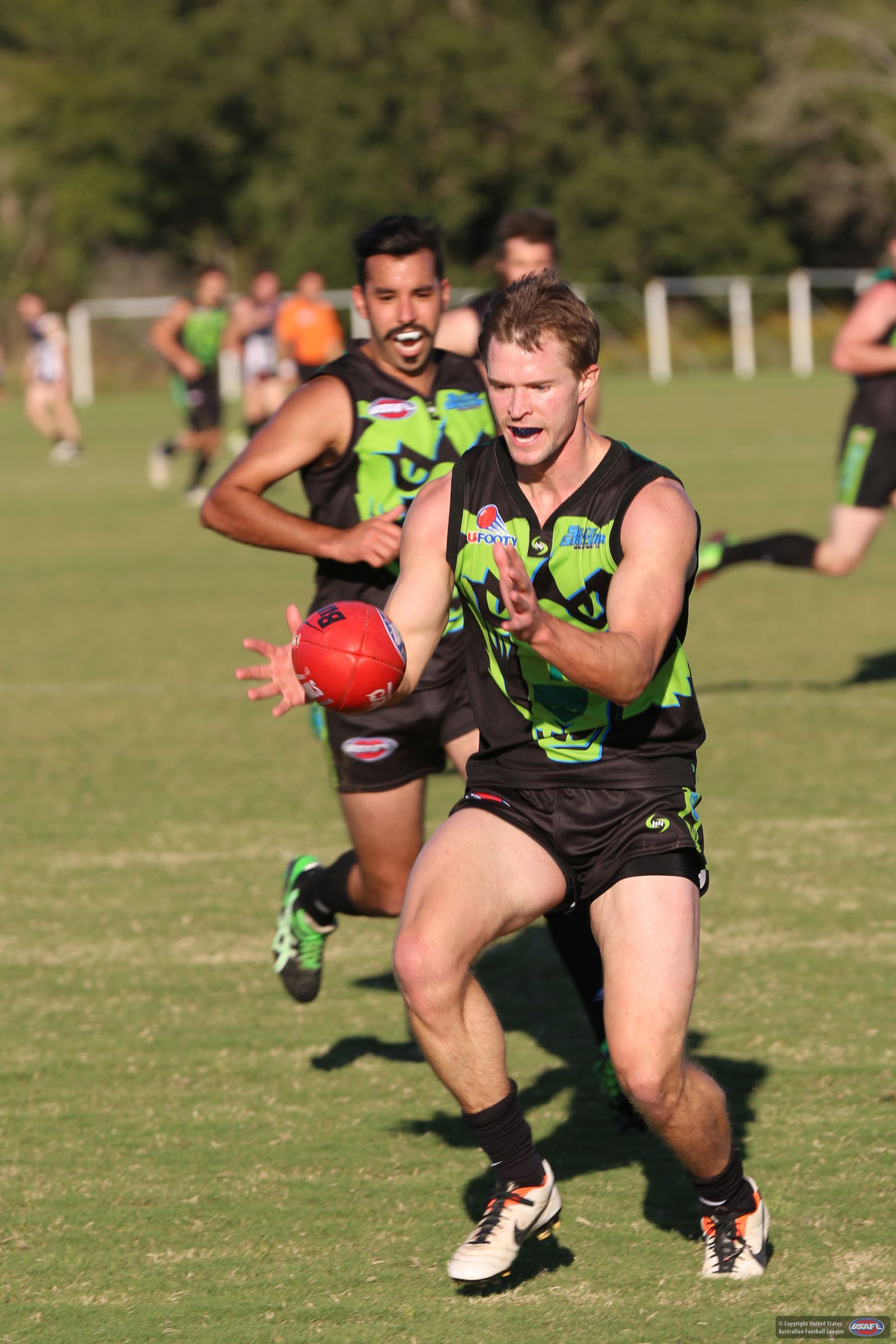 The Tigers have two players, Stuard McKenzie and Erik Hanson, who look like the stepped right out of a Nat Fyfe lookalike contest, but boy do their skills match.  Mike Felland was one of the top performers at the Eastern Regionals, and the veteran core of Nick Camilleri, Scott Bradley, Ben Wetzel, and Wes McCallister are disciplined and are hard to faze.
The most anticipated match, in my opinion, will be Seattle and San Diego on Saturday morning.  Both are clubs that at one time were in Division 1, only to sink into near oblivion.  Both are back, and both will challenge for this year's D3 crown.
The Seattle Grizzlies launched a massive recruiting push this offseason which grew their club on both the men's and women's side.  The result was a team that was unafraid of anyone – they beat Portland two out of three, and came within a holding call in the box of stealing the D2 title at the Western Regionals.
If Bruce McAvaney were here, he'd call winger Max Depina a delicious talent.  But he's not here, and I won't call him that, but Max is going to be on the national scene for some time to come.  Athletic defender Alex Jessup impressed at Westerns, as he too will be one to watch.  Ruck Matt Wood played a great year, and Tex Edmonds will be the key in the forward line for the boys from the Emerald City.
The San Diego Lions will have the added pep in their step in the knowledge that they'll be hosting next year's Nationals in their beautiful city.  It just so happens to coincide with the rebirth of their storied club, who at one time won two D1 titles over a decade ago. It all started after the team won the D4 Grand Final last year over Kansas City. 
After a 3rd place finish in the SCAFL, the Lions held their own against LA, and knocked old rival Orange County on their keester several times.  Veteran Americans and Revo legends Justin Valley and Brandon Blankenship are the team's talismans and have been their best players this season.  A new batch of recruits help drive the Lions forward, and they are very much in the mix to go back to back.
---
DIVISION FOUR
Pool A: Tulsa Buffaloes, [Nashville/Indianapolis/Cleveland], Tampa Bay ARFC
The Tulsa Buffaloes are back in Divvy 4 after a foray into D3.  They are an all-American side that is known for its physical strength, as exemplified by former college linebacker Chris Cox.  Jonathan Showman is the team's playmaker, and veterans Shane Hood and Revo hopeful Andrew Snead are versatile targets.  The Buffs will come in confidently looking to take out this group.
It's going to be a tough go, especially against the combo of the Nashville Kangaroos, Indianapolis Giants, and Cleveland Cannons, oddly enough three teams that played against each other in the Central regionals.  Nashville brings dangerous forward Cliff Conahan and athletic midfielder Mo Howell to the fray, and combined with quick Shane Branscum from Indy and Cleveland's AJ Olding, should be a tough nut.
Tampa Bay ARFC makes its Nationals debut, and they will bring a large contingent to down I-75 for their maiden tournament.  Dustin Jones, who has like been playing footy since the Victorian era (okay maybe not that long) is the man to look for, aside from fellow vet Mark Karver and big man Basil Benjamin.
Pool B: Denver Bulldogs*, [Des Moines/Milwaukee/Kansas City], [Atlanta/Baton Rouge]
Denver Bulldogs' reserves side will have a number of up and coming players as well as a number of old doggies that still have some bite in them.  Rich Mann, who like Dustin Jones has seemingly outlasted everyone else in his long career, will try and lead the Coloradans to yet another bleeping championship.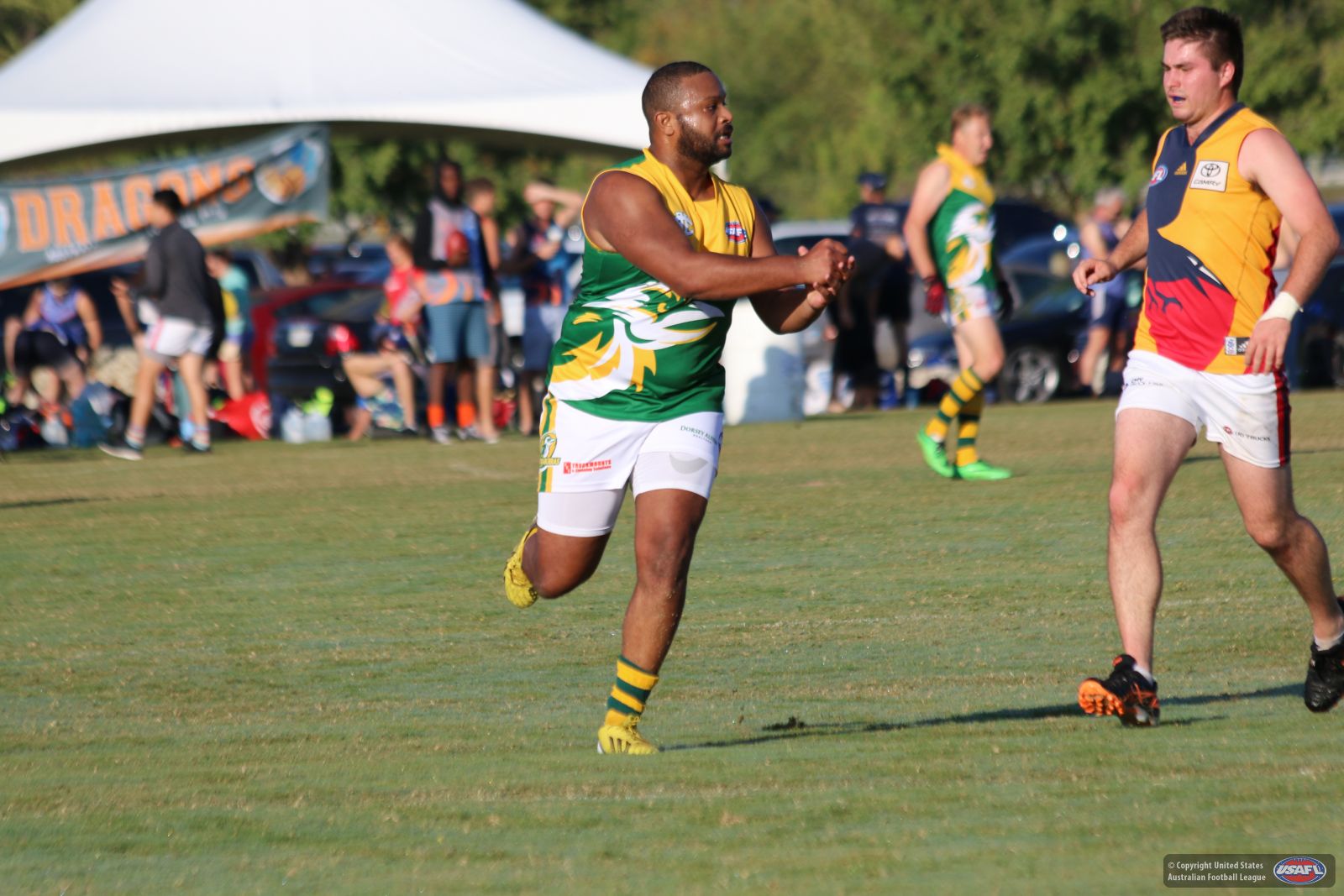 Combining a number of fledgling Midwestern sides, the conglomerate of Des Moines Roosters, Milwaukee Bombers, and Kansas City Power brings a breadth of talent with them to Sarasota.  Rooster Ben Judge, Bomber Brenton Riggall, and KC's Caleb Dougherty spearhead this side that could be a wild card from Pool B.
Rounding out this trio is the Atlanta Kookaburras and Baton Rouge Tigers, the latter of which literally have been through hell and high water over the past two months, and though the lowest of the seeds, could possibly jump up and bite the Doggies.  Ryan Moran and the Cajun crew had an inspiring tournament last month, and Wayne Kraska's charges should be a good pairing.
Pool C: Houston Lonestars*, Ohio Valley River Rats, [Golden Gate*/Columbus*]
Houston Lonestars reserves side lead off the final group in D4, and will have a number of their new American recruits on the ground for them.
A year after losing out to Portland in the D3 Grand Final, the Ohio Valley River Rats have taken a step back to D4, but go on the hunt for their 5th National Championship in this Division.  Eric "Sleepy" Floyd, Nick Bowman, and Dave Zitko bring their national team experience to augment that of Aussie veterans Matt Seuling, Scott Schroeder, and Jack Jacobs.
Lastly, the Golden Gate reserves, many of whom performed quite well in the GGAFL metro competition, pair up with a stead group from Columbus, led by big Ben Harcum in the middle.