2016 USAFL Nationals Preview - Women's Division
After an important growth year for women's footy in the USA, 2016 once again was a showcase of just how strong the female football program is in the country.
It's going to be hard to top last year's 10th Anniversary Nationals, however.  Heading into the last set of Division 1 matches, four of the five clubs competition had a chance to be crowned premiers, and in the end the song remained the same.  Denver, despite being tripped up by Minnesota, continued to write their legendary story and hoist their sixth straight Nationals cup.
And of course there was the story of programs making their debut, and others showing returning strength in numbers in the newly created Division 2 field.
This year, teams representing 16 clubs – including one from AFL Canada – take to the ground in search of the proverbial Holy Grail in two divisions. 
Division 1 contains the same five clubs as last year, playing in a round-robin format.  The team with the best record is declared the champion, with head-to-head breaking any ties, followed by percentage. 
Division 2 features three teams made up of combinations from multiple clubs.  After Saturday's round robin, the 2nd and 3rd place teams will meet in the semifinal on Sunday morning, with the winner advancing to Sunday afternoon's final.
For the first time ever, the USAFL is proud to live stream all 14 matches from the women's competition.  The commentary team will be led by Peter Holden, host of the GirlsPlayFooty.com podcast and voice of the VWFL in Melbourne, as well as your humble author.
So how does each team look?  Here is a glance at the talented teams of women who will decide the issue this weekend in Sarasota:
WOMEN'S DIVISION 1: Denver Lady Bulldogs, New York Magpies, San Francisco Iron Maidens, Minnesota Freeze, Sacramento Lady Suns
---
For the past six years, it has appeared to many in the women's footballing community that this world generally belongs to the Denver Lady Bulldogs, we are all just living in it.
There have been bumps and hurdles and the odd setback (or two), but generally speaking, Denver's ladies always find a way to be top of heap, A number 1, and so on.  They come to Sarasota with the belief and expectation that they will, as they put it, #SevWin.
But it's not just been that they've done it, but rather how they've done it.  Coach Bruce Durrell, countering the quicker nature of their opponents, have refined their game to spread the ball and run in support.  Though they still boast the strength of ruck Hallie Lee, forward-turned-utility Lindsey Kastanek, tall forward Kaitlyn Mascher-Mace, and half forwards Anna Thexton and Jessie Hazen. That strength is balanced with quick players such as Kassi Wilkerson, Sara Plummer, and Carrie Eckstein.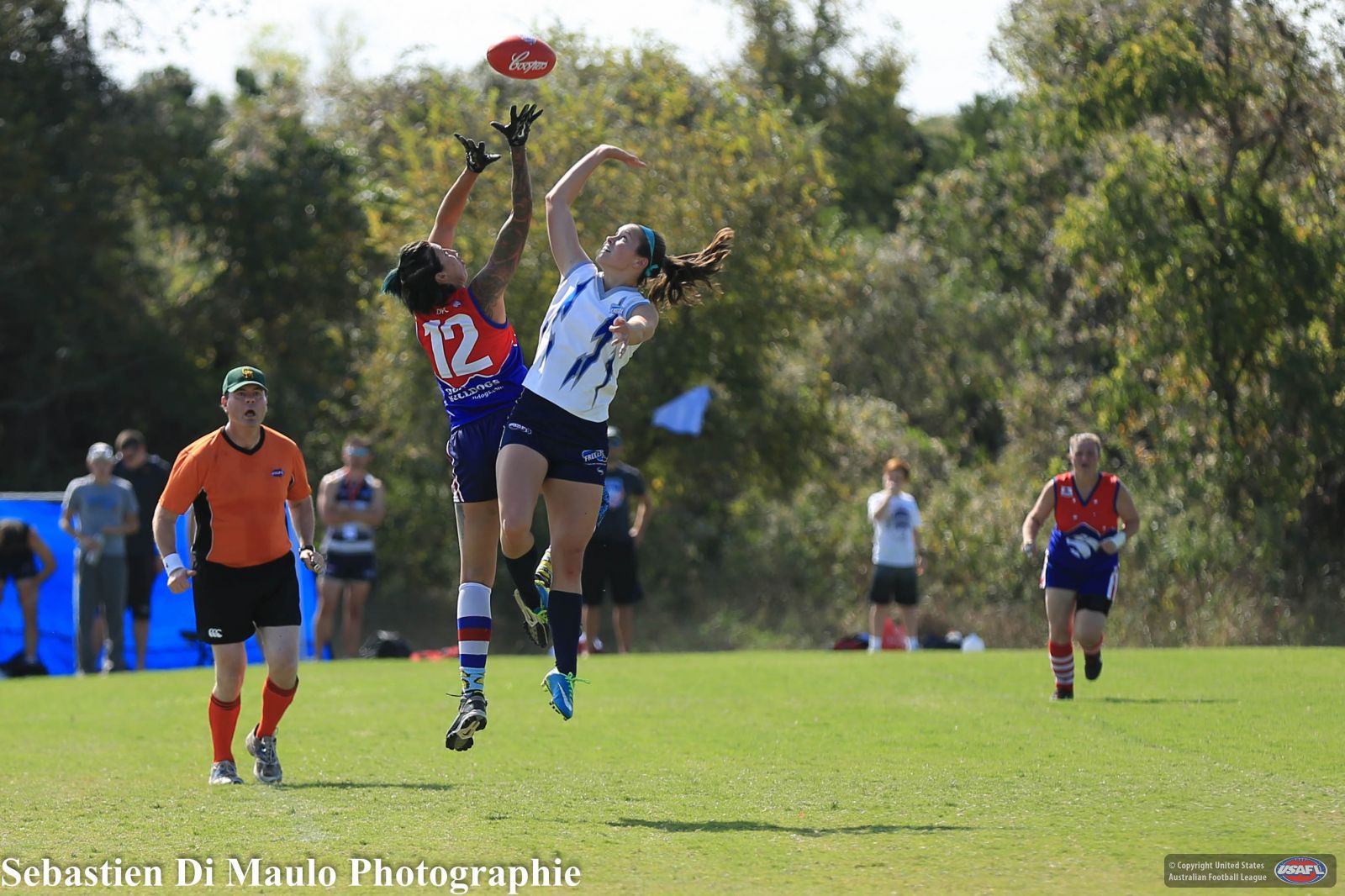 The key to victory will be the defense.  Tara Cilke, Janell Myers, and Ti Strieff anchor the backs, and they'll be in the firing line of some pretty good forwards during the course of the weekend.  How they go may be how the team goes.
Last year's defeat to Minnesota, and the near-loss to Sacramento that preceded it, may serve as the mental impetus towards that seventh straight.  It is also a tell-tale sign that the field has caught up to the Doggies, and each Nationals brings the hope from the pack that they'll eventually catch the fox.
Teams go through transformations from year to year, some morph into a stronger, more cohesive unit, and some into its opposite.  The New York Magpies came into 2016 having lost a number of players, and though they recruited a record thirteen new players into the black and white jumpers this spring to fill in the gaps, Coach Christina Licata probably figured it would take a full season for them all to find their feet.
Any pictures of a rebuilding year for New York were smudged away in a dominating performance at Baltimore-Washington, and then obliterated with three straight wins at the Eastern Regionals in June.  Debutantes like Natalie Wolff, KJ Russell, Emily Eastlake, and Danielle Gallagher stepped in and impressed from the start.
How have the newer players managed to fit in so well so quickly?  It starts with Licata, who can read players as well as anyone, and then trickles down through the blocks of experienced and hungry players throughout the field.  Taylor Davidson and Drea Casillas are dedicated leaders, not to mention excellent defenders.  Up front, Lauren Skonieczny and Renee Coff pace the offense, and are among the smartest at their positions.
The biggest addition of the team has to be Wolff – she stepped right into ruck and has quickly become one of the best in the country at that position.  This has allowed Kim Hemenway to do Kim Hemenway things and focus on affecting play on offense. This could be the X factor towards finally putting the crown on the heads of the Magpies.
It's a bit cliché to term the last three years of the San Francisco Iron Maidens' run "always the bridesmaids, never the brides," but after two runners up in '13 and '14 and a disappointing third place finish last year, it's hard to think of a better way to put it.
Like New York, there has been some turnover in the Maidens personnel, but here it has been the depth that they have built over the past several years that has kept them competitive and still a chance to possibly climb the mountain.  After a 2-3 start to the season, the Maidens have reeled of three straight wins heading into Nationals, and with the taste of winning on the tip of their lounges are hungry for a championship entrée.
Again in comparison to the Magpies, San Francisco's recruitment of a new ruck has allowed a strong player to contribute elsewhere.  Here it is Jacquie de Leuw, who made an imprint right from her first game, allowing Brette Brower to platoon in the forwards on at fullback, and her height is an important asset.  Meg Leone has developed into a strong utility type player with a scoring touch, and the ever dangerous Carly Smolak has free reign to show up anywhere on the ground and do her thing.
San Fran's midfield will be the skeleton key to unlocking victory.  Melissa Armstrong, Jess Estrada, Sara Magallón, and Nicole Makenzie are a skilled foursome, and those skills in the hornet's nest of the center square will be what decides most games.  The defense will be just as important, and top-shelf defender Julie Marks is the keystone there.
The ladies of the Minnesota Freeze finished in fourth a season ago, a harsh result considering that they were the ones who finally burst the balloon that was Denver's long winning streak.  The Freeze could always boast that their side was one of the biggest and most cohesive of all of the USAFL Women's clubs, but they didn't have any hardware to show for it.
And then they go to Salem, Oregon, combine with the Portland Sockeyes, and rattle off three wins to hoist the Western Regional title.  The genius of Kat Hogg was evident – she had taken two sets of women who had never played together and built a combination that saw them beat San Francisco, Sacramento, and a team that included Vancouver.
The Freeze won't be fully at 100%, as they'll be missing a couple of key players.  Still, they'll have two of the fittest and most opportune players at their disposal – midfielder Cathy Georgiadis and forward Cathy Hoha.  Paige Kiecker, who booted the famous goal after the siren to down the Lady Bulldogs in Austin last year, assumed defensive duties and is a threat to run the ball through.  The midfield will be critical to the Minnesota efforts, and veterans Andrea Tobias and Jackie Thelen are dependable to get the job done.
The five team field is rounded out by the Sacramento Lady Suns, and this you can file under "last but certainly not least."  The Lady Suns have been around since 2009, and their Nationals record through 14 games playing as an individual club (not combined with another team), is 1-13.  That only win came in 2013 against New York.  Last year, they finished 0-4, and averaged just 8 points a game on offense. 
But, something more positive became apparent.  They only allowed 50 points in 120 minutes of football that weekend in Austin, second only behind Denver.  The trend continued this year, as Sacramento surrendered just 12 points a game in the Western Regional, and notched wins over San Francisco/Denver and New York.
This is undoubtedly the best team Sactown has brought to Nationals, and despite being without Katie Klatt, the Lady Suns defense is still a strong and formidable ensemble of footballers.  Makenzie Carr and Liz Danielson are relentless at the ball, and both are known for winning free kicks.  Lauré Kwoka will need to provide the pace and transition in Klatt's absence, and she's capable of doing that.
This year may be the year the offense clicks to life.  Rosemary Kloh is improving with every game, and her second efforts at the ball are a handy trait for a ruck.  Carly Hartman has improved in her first full season, and veterans Elaine Schreiber, Victoria Schoennagel, and Erin Sheaffer complete a fast midfield that needs to get the ball into forwards Oanh Nguyen, Lelani Silvio and Jessica Smith and put points on the board.
---
Women's Division 2: [Columbus/Baltimore-Washington], [Montreal/Boston/Philadelphia/Des Moines/Chicago], [Seattle/Portland/Arizona/Tampa]
The first combo in this division is the Columbus Jillaroos and Baltimore-Washington Lady Eagles, two teams that are quite familiar with each other, and have both done wonderfully in recruiting over the past two seasons. 
Eagles Midfielder Emily Riehl, a veritable Swiss Army knife in a footy jumper, will be the one to watch in the middle of the ground alongside fellow Freedom rep Alex Pike.  Metro sensation Sam Worrall will be making her Nationals debut, and will be a big help for the team this weekend.
Those players are augmented by footballers from a Columbus program that has experienced one of the most inspiring resurgences in American women's footy.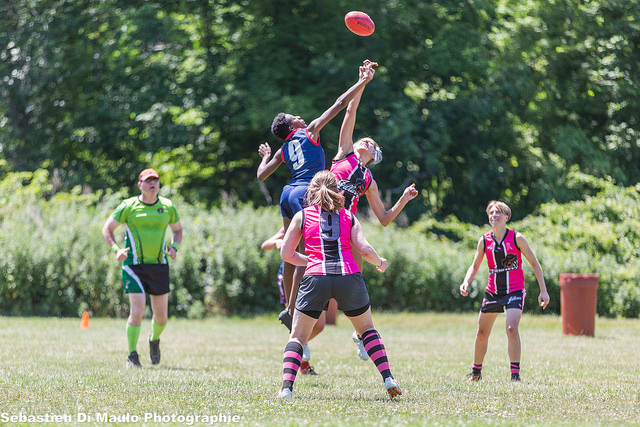 Their best recruit, and arguably the best rookie player across the USAFL, has been Katrina Scherer.  She has lightning fast acceleration – something unheard of in a ruck – and a scorer's instinct. Fellow rookie Lauren Balsley has also picked up the game quickly, and will gain much experience playing with Riehl in the middle.   Veteran forward Ariel Balske has been the most improved for C-bus this year, and she along with the rest of the team will need to convert on every chance they get in order to have a chance.
Women's footy has grown innumerably on the West Coast over the last three years, and the quality of that growth is evident in the combination of the Portland Sockeyes, Seattle Grizzlies, Arizona Hawks and hometown Tampa Bay ARFC.
The Sockeyes' program, bolstered by the impetus of former New York Magpie Heather Serpico, flourished in 2016, combining with Minnesota to take out the Western Regional crown.  Simone Shepherd dominated play in that tournament, and is fast and cunning enough to magically appear on the ball in an instant.  Serpico and Jess Blecher give pace and quick hands to the midfield, and rookie Zaya McSky will be looked upon to create chances in the goal square.
Seattle's first representation in the women's division will help this club defensively.  USAFL veterans Valerie Barber-Axthelm and Chung-Yi Tseng are tenacious on defense and don't give up the ball.  Arizona's Drea Placencio and Jenn Ferrucci ply similar qualities, making their side tough to score against.
Tampa Bay may be a new USAFL club, bring a lot of skill and experience in the trio of Holly Jones (Wenrich), Annie Jones, and Dionne Jones.  Annie and Holly debuted at 2005 Nationals and have played in 3 Grand Finals, winning one in 2009 with the Milwaukee Bombers.   Dionne has played for the Freedom at the 2007 49th Parallel Cup and several nationals campaigns through 2010.
Rounding out the field is an entry containing players largely from the Montreal Angels and Boston Lady Demons along with those from the Philadelphia Hawks, Chicago Swans and Des Moines Roosters.
Philadelphia's Erica Sacci and Amy Arundale, and Des Moines' Emily Rice, pioneer their clubs' first foray into the women's competition at USAFL Nationals.  All of them are quick midfielders, and they'll have the tutelage of some of the best players in North America.
Montreal is the home to a good piece of the Canadian Northern Lights national team.  Valerie Moreau was most consistent in D2 at Nats last year, and has a reputation as a midfielder that is really hard to tackle.  Gabby Bureau rarely make mistakes in the middle of the ground, and veteran defender Margo Legault brings the play of her fellow lineups up two notches just by her presence.
Boston's program is still very much on the way up, led the Tesla-like efficiency of Lisa Arredondo.  Amanda King is yet another in a crop of rapidly improving rucks across the USAFL Women's ranks, and Ashley Mallat will be a big help in the half-backs.