2016 USAFL Nationals Preview - Men's Division 1
"I'm back to livin' Floridays / Blue skies and ultra-violet rays / Lookin' for better days, lookin' for better days / Lookin' for Floridays." – Jimmy Buffett
There is a little bit of incredulity running through my fingertips as I begin this preview series of the 2016 USAFL National Championships.
Firstly, it's a tad hard to believe that this is the 20th edition of this amazing tournament.  That's a lot of footy, and I don't know how many of those who took to the ground back in Cincinnati in 1997 could imagine what the event would have become two decades later.
It's also hard to believe that this will be our first ever trip – from a Nationals standpoint – to the state of Florida, where Northerners come to perpetually warm themselves by the hearth of Mother Nature's fireplace, where palm trees are plentiful, and where the weather is about as moody as my cat first thing in the morning.
And lastly, it's hard to believe that it's that magical weekend in October again.  The season does seem to have sped past us like the boats do out on the gulf, but it's been a memorable one, as they usually are.  And invariably, six months of training and hard work and travel and all of the accoutrements that go with playing this great game of ours have focused themselves into one final series on an angelic strip of sports heaven smack in the middle of the Sunshine State.
As always, there are a number of questions to be answered out there,
Can ANYONE beat the Austin Crows?
Will this be the year someone finally tops the Denver Lady Bulldogs?
Who will win the Men's Division 2 dog fight?
And, how many Jimmy Buffett references will we hear from Grilla's magical vocal cords?
This is the first of three preview articles ahead of this weekend.  Today will be the men's Division 1 competition, tomorrow (Wednesday) will see both women's divisions, followed by men's D2, D3, and D4 on Thursday.  Enjoy, and I'll see you down there.
---
MEN'S DIVISION 1
POOL A: Austin Crows, Los Angeles Dragons, Denver Bulldogs, Québec Saints
It's hard to remember a time when a USAFL team traversed a season as triumphantly and with such precision as the Austin Crows have.  Perhaps the Denver teams of the '00s or New York circa five years ago could make such a claim, but heading into this weekend, the mighty murder of the Texan capital is a definitive favorite to win their second consecutive D1 National championship and their third in three years.
The senior squad played fourteen matches during the campaign, and won each and every one of them.  It wasn't just that they won, but how they won.  The Central Regional tournament in June was perhaps their handsomest set of wins, having dusted off Columbus, rallied from a 20 point halftime deficit against Denver, and then outmuscling Dallas on the way to another cup for the trophy case.
Austin has a layer of depth as thick as the crust of a Chicago-style pizza.  Ben Carpenter-Nwanyanwu, having seasoned himself in Montrose, Victoria again this year, is still on the upward arc of his playing ability.  Veteran Americans Christian Merritt and Jeff Talmadge, and crafty Aussies Grant "Cambo" Campbell and Sam Nix are just some of the weapons toted by this Austin side.
But the Crows to-be coronation is not a foregone conclusion, not by any stretch.  Remember that the Crows' three National championships (including the D3 title in 2011) all came at home.  They have yet to win the Granny in hinterlands, and the gauntlet to get into the Grand Final is going to be unforgiving.
The L.A. Dragons found themselves humbled at Nationals last year after the strongest season in their five year history, going 0-3 at Nationals including a drubbing at to the homestanding Crows, and entered 2016 searching again for their identity.
It wouldn't take long to find it.  Following one of their best recruiting drives ever, Los Angeles' two entries in the SCAFL metro league finished 1-2 in the competition, and when they began their regular season, it became clear that this was a team on a mission.  Aside from two losses to Golden Gate – one at the Western Regionals and one at home – the Dragons have looked a team of confidence.
New South Welshman Justin Hall has had his best season in the USAFL as L.A.'s key forward alongside Paul Ioakim, with help from speedy midfielder Justin Kenna and aerial threat Gary Green.  Defenders Andrei Jansen and Robbie Descant and midfielder Chris Bagot are among the toughest on the west coast, and will look to force mistakes.  The return of big ruckman Donald Lee has been a big boost as well, as the second-year former basketballer has recovered nicely from an early season injury.
The Denver Bulldogs may be witnessing another team trying to take the "dynasty" mantle away from them (on the men's side, at least), but this is a team of champions, and champions fight on.  It's been an up and down year for the Doggies; they went 6-5-1 this year, including a dramatic, come from behind draw against Dallas at the Centrals that could've very well have been a win.  They fought hard in a 1-2 effort at the Westerns, but did well against solid competition including Minnesota and Houston down the stretch.
These dogs might be getting long in the tooth, but they are no less ferocious.  The cornerstone has always been a group of veteran Aussies, among them offensive genius Casey Robertson, defensive rock Tom "Harko" Harkness, and midfield gun Michio McGrath.  There are a number of long standing American studs on the team too, among them Peter Taylor, ruck Adam Wufsus, midfielder Marcus Lehmann, and the inimitable Andy Vanica.
The eight time D1 champions, however, are going to have a tough road to hoe if they want to bag number nine in Florida.  Like the other western teams, this will be one of their longest trips ever, but no team should ever, ever count them out of any game.  Ever.
Rounding out the field in this pool is a true dark horse.  The Québec Saints travelled to Austin for last year's Nationals in two vans, making the long way down from Le Belle Province as the lowest seed among the eight in Division 2.  They left with the cup, having convincingly beaten Sacramento 27-0 in the final.
They played only one USAFL game this year, a 13-point loss to Boston at home back in May.  Their players had a largely good set of showings at the Canadian nationals in Vancouver that same month, and once again had a successful metro season.
No team should ever be taken lightly, and the Saints are the embodiment of that fact.  Its heart and soul is Gaelic football wunderkind Ronan Shaughnessy, and its gears are fellow Canadian national teamers Bogdan Rotaru and Morgan Whyte, and last year's D2 Roos Medal winner (best and fairest), Phil Manassa.
POOL B: New York Magpies, Golden Gate Roos, Orange County Bombers, Dallas Magpies
Sean Holmesby took over as coach of the New York Magpies at the beginning of the season, taking the helm of a club that was wobbly in its title defense in 2015.  A 1-2 showing at Nationals was not how the Gotham City blackbirds wanted to end their season, and the festering feelings of that winter were fashioned into a sparkling 2016 campaign.
The Pies had a brutal June schedule, but came out unscathed, beating Baltimore-Washington, Philly, and North Carolina on the road in succession before going 2-0 at home in the Eastern Regional.  Their only trip-up was a 0-2 showing in Texas against Dallas and Austin, but that wasn't for the lack of effort.
Holmesby has been proud of the fact that the Magpies' recruiting efforts this season, and it's brought in some good forwards in the personages of goal sneak Harry O'Sullivan and American Eddy Heppt.   Though Australians such as Matt Lovell and Marcus Jankie help drive the 'Pies, they're molded by a number of American veterans including Ojas "Juice" Desai, "Magic" Mike Muprhy, and Paul Guarino.  Dan Lehane, who has practically has been playing footy since he was old enough to walk, is back for his first Nats since his stint in Queensland.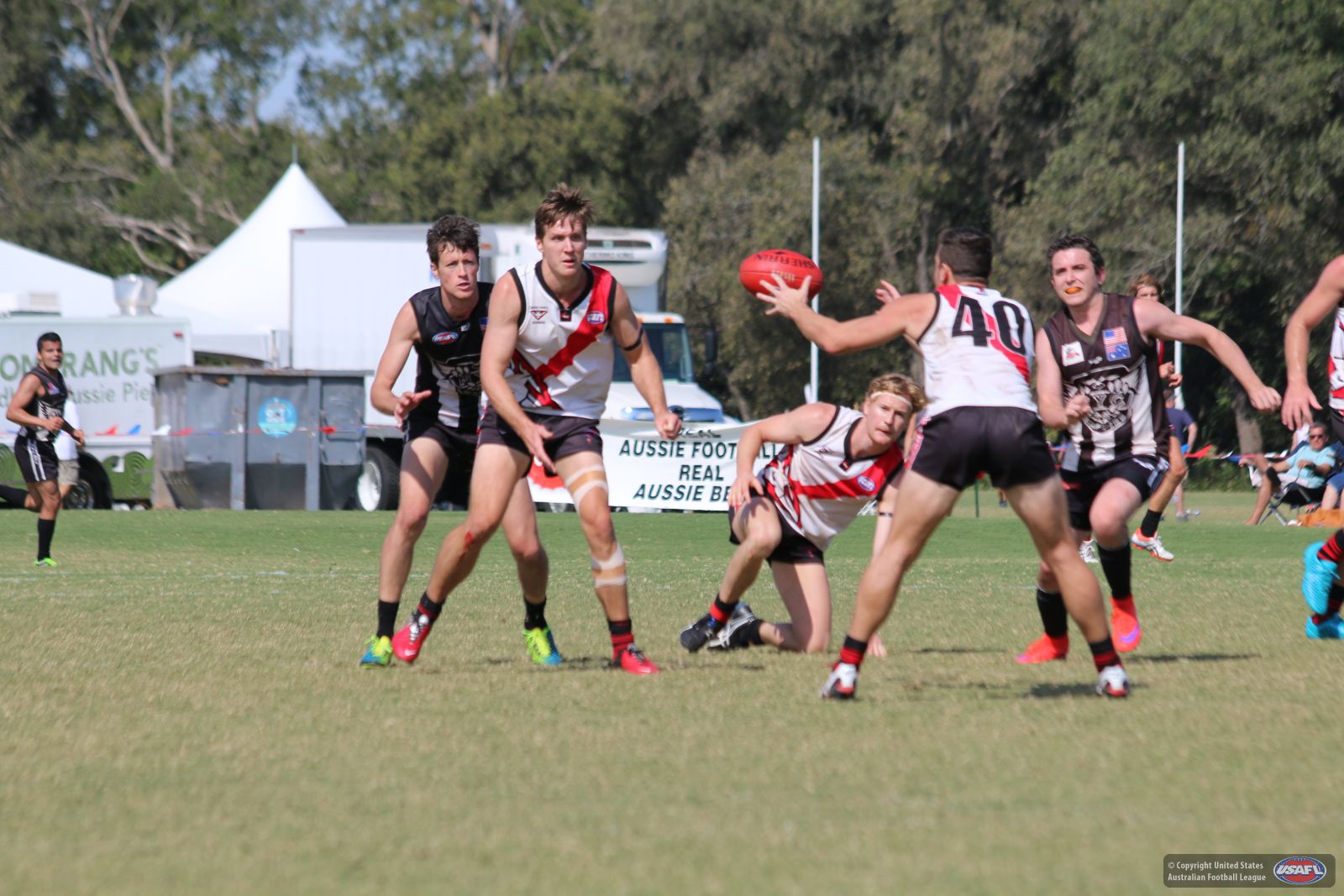 A team that is a perennial puzzle piece in D1 is the Golden Gate Roos, a team forged from a local metro competition in the Bay Area into a Transformers-like wrecking machine.  One hesitates to put the underachiever tag on the Gaters, but ten straight misses on the D1 Grand Final are outside of expectations of observers, and the club themselves.
2016 has been different, however, as the Roos went through the regular year unscathed at 6-0, winning the Western Regional title, racking up a total of three wins over Los Angeles, and playing the best footy that they've produced as a team in recent memory.
The Bay Area is rich with American talent, and standouts at each position.  Brian Dragus is arguably the most fearsome forward in the USAFL, and linemate Zac "Moose" Taylor is having a fine year alongside him.  Fellow Revo Tim Lindfeldt can platoon as ruck or on defense, and midfielders Ryan Clark and George Smyth are invaluable in the middle, as is the always looming presence of Kyle "Manly" Johnson.
A return to the D1 Grand Final since 1999 is very much in the cards for the Roos, they just have to play those cards right.
While the Roos have been surging, their SoCal counterparts, the Orange County Bombers, have been moving in the opposite direction.  The two-time defending runners up were decimated by club turnover in the offseason, and have struggled to find their form against some of the clubs they've swept aside in the past two National Championships – their only victories have come against D3 San Diego.
Good airmen never give up the fight, and though O.C. brings a thin side cross-country to Sarasota, it will be one that will challenge for three games on the weekend.  Veteran Aussies Adam Shanks, Brad Weatherall, and former Centrals Bulldog (SANFL) Jake Snowden play important roles top to bottom down the ground.  The late edition of Adrian Hefernan, who has come out of retirement, will be a welcome edition.  American stalwarts Tim Ellis and Kelson Mustoe will also need to have big performances for the Bombers to be successful.
Nothing is impossible at Nationals, but it may take something special for the Bombers to make it back to their third straight Grand Final on Sunday afternoon.
The Dallas Magpies complete the Pool B field, and like the Dragons, they came into Nationals at Austin last year hoping to grasp at victory but instead came away with sand and pebbles and an 0-3 record.  They are, and have always been, a workmanlike team: rugged and tough as the surrounding environment that they represent.
This year was no exception.  They went 1-1-1 at Centrals, blowing a late lead to Denver that resulted in a draw, barely holding off Columbus for a one point win, and fighting gallantly but falling to Austin, one of four losses at the hands of the Crows.  But they played well overall, and finished off the year with a win over travelling New York.
Dallas's hard-at-the-ball philosophy is accented by the pace of Craig Storer in the midfield.  Even his pace comes with a hint of muscle, and forward Matt Taggart uses his to win marks inside 50.  Veteran Mike Mayne is dangerous in the midfield, and opposing centerfielders will need to keep their head on a swivel lest they want to feel the wrath of Jack O'Dell, Brenn Miller and company.  Having ruckman Jason Wilhelm will also be a massive bonus, and hitouts against him will be rare.
Facing New York and Golden Gate will be difficult, but not impossible, for the boys from Big D.  The games on Sunday will be crucial, and with a 2-0 record could set themselves up nicely.