USAFL News
Aug 13, 2021

Week one of the Summer Series is in the books.  And we still have two more weeks and four more carnivals to go.
From Cincy and Sac-town we now go to the Mad-House and Philly.  The keystone of our early nation, and the center of the USAFL mid-atlantic region, the Philadelphia Hawks host their second USAFL event with familiar foes for the hosts.  The Wisconsin Wombats, based in Madison, will welcome in new and old rivals as they build up their own reputation against some of the league's best.
Here's what's on tap for Saturday, August 14th.
Read more »
Aug 6, 2021

After 22 months, tournament football returns to the USAFL.
The USAFL Summer Series, a set of six subregional carnivals (try saying that ten times fast), kicks off this weekend with tournaments in Cincinnati and Sacramento, two cities with strong Aussie Rules football histories.
We'll have live coverage on each of the tournament home pages, as well as our Facebook, Instagram, and Twitter accounts.
Here's what's on tap for this weekend:
Read more »
Jul 31, 2021

The month of July has been filled to the brim with matches every week, and the last weekend will be no exception.  We're in four cities this week: DC, Savannah, Des Moines, and Austin.  It's the last weekend before the Summer Series kicks off, and everyone will be getting that last run in, both in games and locally.
Here's what's on tap for the Saturday:
---
Baltimore Dockers (1-1) and Philadelphia Hawks (0-1) at DC Eagles (1-0)
DC Lady Eagles (1-0) vs Philadelphia Lady Hawks (0-1)
11am EDT - West Potomac Park, Washington, DC
Read more »
Jul 23, 2021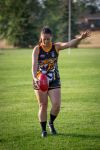 Another week, another loaded schedule of games as we go traipsing through the Bounce Back summer of USAFL football.
This new Saturday dawns with four events; a battle in a battleground state, a three-way tussle not terribly far from the mighty MIssissip', a showdown between two teams separated by a lot of desert, and debutante standing up against a historical Goliath in the women's game.
Here is what's on tap for Saturday, July 24th.
---
Boston Demons (0-0) vs Maine Cats (0-0)
10am EDT - Griffin Park, Windham, NH
Read more »
Jul 15, 2021

After almost two months of drips and drops of footy, we have our first deluge of the season.
Five events, including our first women's match, all take place during the day on Saturday.  North Texas hosts its first ever home game, Dallas takes on familiar Sun Belt foes, Baltimore welcomes in two local rivals, and the return of footy in the Show Me State round out the action.
---
Oklahoma Okies (1-0) and Austin Crows Reserves (0-0) @ North Texas Devils (0-2)
Old Shepard Park -- Plano, Texas
First Game: 8:45am CDT
Read more »
Jun 18, 2021

WORLD'S LARGEST AUSTRALIAN FOOTBALL TOURNAMENT RETURNS TO AUSTIN
Austin, TX – The largest Australian Football event of the year (and the biggest Australian football tournament in the world!), the United States Australian Football League (USAFL) National Championships brings together clubs and teams from across America to compete for the Men's First through Fourth Division titles and Women's First and Second Division titles. The tournament will take place at the Onion Creek Soccer Complex in south Austin throughout the weekend of October 16 – 17.
Read more »
May 5, 2021

The USAFL Executive Board is excited to announce that the USAFL will be hosting 6 sub-regional tournaments across the country for summer 2021.
Club input via the USAFL Club Conference in February and recent Regional calls has been critical to shaping the 2021 season. Based on this feedback and the varying circumstances across the country, the USAFL Executive Board has decided to pivot from the normal Regionals format this year to sub-regional tournaments to provide all clubs accessible USAFL tournament football ahead of 2021 Nationals.
Read more »
Jan 29, 2021

The saying goes that everything is bigger in Texas.  And that is true in every sense of the word.
It's the biggest state in the continental US.  Heck, it was its own country at one time.  It has its own culture and its own identity.  And when they embrace something, they do it wholeheartedly.
The Dallas-Fort Worth metro area and greater northern Texas embody this.  Nearly two centuries after its foundation, it continues to be one of the fastest growing areas in the country.  And… they love their football.
Read more »
Dec 30, 2020

It is December 31st.  The final day of the year that seemed to drag on for three or four.
366 pages fell from the calendar in 2020.  In that respect, it was like any other year, or at least the ones that fall when we play catch up to account for the earth's rotation around the sun.
But 2020 was not any ordinary year.  It is one that we will have to carefully explain to our children, grandchildren, niblings, and others who are either too young or not hitherto born yet, about what excitedly living through this year was like.  
Read more »
Dec 7, 2020

The state of Alabama has a long and robust history in gridiron football.
It is one that spans the long and time-honored traditional Iron Bowl rivalry to the mid-major and HBCU schools, all the way down through high school and the short lived forays into the pro ranks.
But from that, a new football tradition has emerged, crossing codes onto the Australian Football oval.
Read more »
Oct 14, 2020

It will be a USAFL Nationals like no other in a year like no other! Join us on the eve of AFL Prelim Finals weekend - Friday, October 16th 7pm-9pm USA CDT - for a USAFL Nationals Virtual Celebration showcasing the best of USAFL & AFL skills, competition and entertainment.
Read more »
Oct 8, 2020

Secure our Future
The USAFL Foundation was launched in 2020. The Foundation's mission is to provide ongoing financial assistance for the development of Australian Football in the United States.
Read more »
Pages