USAFL News
Mar 13, 2017

More and more, the effect and influence of women on the USAFL community is growing and becoming more vital to its sustainability.  As has been the trend over the past several of seasons, their role has grown on the field, and has ballooned with equal fervency away from it.
Read more »
Mar 11, 2017

The overall character of a football community, be it local, national, or international, is a sum of its parts.  Usually, we only see the high profile ones – the players on the ground, the coaches, and those in the upper reaches of the administrative hierarchy.  But the living and breathing dynamic of a club or a league also includes and relies on umpires, clubpeople, and fans for continuity.  For if it wasn't for those, this community wouldn't be here.
Read more »
Mar 10, 2017
USAFL President Denis Ryan has tendered his resignation to the league, effective immediately.  Michael Sheppard, the current USAFL Eastern Regional VP, will take over as interim president.
Read more »
Feb 14, 2017
For the third straight season, the USAFL will travel around the country bringing exciting Australian football action to three American cities.
The 2017 USAFL Regionals series sees the best men's and women's teams in the country converge to see who will lift the hardware in a pivotal series of midseason matches.
Last year saw 26 clubs and several hundred players take to grounds across the country, and this year the hope is that more teams and footballers will get involved to help continue to make these among the best events on the USAFL calendar.
Read more »
Jan 17, 2017

Australia Day commemorates the landing of the the first fleet of British ships in Port Jackson Harbour, Sydney, in 1788.  Traditionally celebrated with cricket, barbeques, cold beverages, and the like, the fesitivities will not be limited just to Australia.
Below is a listing of USAFL clubs who will be holding Australia Day events in the week surrounding Australia Day proper (January 26th).  If you don't see your club listed here, check out our team page.
Austin, Texas (Austin Crows)
Read more »
Dec 23, 2016

Following the completion of the 2016 USAFL season, many clubs across the country held year end dinners, banquets, and presentations to recognize the best players and clubpeople in local tradition.  For many, this truly brought down the curtain on this season which began some nine or so months ago (if not earlier), and which will dawn again in some weeks' time.
Read more »
Nov 23, 2016
Much like any season, the 2016 USAFL campaign was dotted with great matches with memorable performances and fantastic finishes.
Each weekday, beginning on Monday, November 28th, we'll count down the top ten matches of the season, in our humble opinion, of those that were filmed by the USAFL and our broadcast partners, including Stateside Footy TV, GoLive SportsCast, and Capitol Community TV.
Read more »
Nov 10, 2016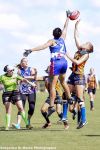 The USAFL Women's Association is proud to launch an off season challenge to each of the women's teams.
The challenge: Get your players certified in the various USAFL programs listed below and earn a Sherrin football for your club.
Who should participate?
Anyone wanting to better their skills.
Anyone who wants to improve their game strategy. 
Anyone who wants to help their home club get more women's footballs. 
Read more »
Oct 28, 2016

It's always great to hear an old favorite come on the radio.  Or iPod.  Or whatever it is you kids listen to these days.
It's also nice to hear something new, though when it comes to music these days that can be sort of hit or miss.
But there were some old, sweet favorites playing at Nationals, at least in terms of the four clubs who emerged as Men's Division Champions at the Premier Sports Campus in Lakewood Ranch, Florida.
Read more »
Oct 26, 2016

For the second straight season, the USAFL Nationals had two women's divisions contested.  Nearly 200 women again took to the ground, and put on another memorable carnival.
Most people will look at the records of the women's division and note its posterity for the fact that the longest title streak of any division in the two-decade history of the tournament came to an end in heart stopping fashion. 
Others will see the combination of three new clubs and a USAFL original with familiar names at the top of Division 2, marking a resurgence of women's footy on the west coast.
Read more »
Oct 15, 2016

Four seasons in a day.  That's what we had on Saturday in Lakewood Ranch; sun, clouds, rain, wind, humidity.
We also saw another slate of amazing footy matches, many of which were streamed online via USAFL.com.  As in last year, there is still a lot to play for across all six divisions, with virtually no dead rubbers and many teams still with a crack at Sunday afternoon glory.
Read more »
Oct 13, 2016

Rounding out our preview series of the 2016 USAFL National Championships, here is a look at Division 3 and Division 4.  Note that (*) denotes a reserve side.
Read more »
Oct 13, 2016

Continuing our preview of the USAFL Nationals, here is a look at how Division 2 should shape up, as it looks to be one of the most competitive fields in some time.
Read more »
Oct 12, 2016

After an important growth year for women's footy in the USA, 2016 once again was a showcase of just how strong the female football program is in the country.
It's going to be hard to top last year's 10th Anniversary Nationals, however.  Heading into the last set of Division 1 matches, four of the five clubs competition had a chance to be crowned premiers, and in the end the song remained the same.  Denver, despite being tripped up by Minnesota, continued to write their legendary story and hoist their sixth straight Nationals cup.
Read more »
Pages