Nationals Preview: Mens Division 2 and 3
We continue our look at the previews for the 2017 USAFL National Championships in San Diego with a look at the Men's Division 2 and 3 competitions.
Tomorrow (Wednesday) will be the Women's D1, followed by the Women's D2, and Men's D4 and Reserves.
---
MEN'S DIVISION 2:
POOL A: Orange County Bombers, Minnesota Freeze, Boston Demons, Sacramento Suns
For the first time since 2006, the Orange County Bombers will be playing down in Division 2 after two years of regathering status.  They do have success at this level, knocking off Golden Gate to take home the 2002 title in Kansas City, and they hope to be travelling well down the highway to get back on top in hopes of a move back to Division 1 in 2018.  OC finished second as a standalone side in the SCAFL, and went on to pick off Los Angeles twice during the season.  Zach Allmon and Michael Birch provide height for Chris Browne's side, and young gun Abe Chase pairs with Harris Eilenburg and Lloyd Davis across the middle.  Vets Tyler Mounce, Jon Collins, and Gareth Allen were integral parts of the Bombers back-to-back D1 Grand Final appearances in 2014 and 2015, and will be among the keys if OC wants to be back on top.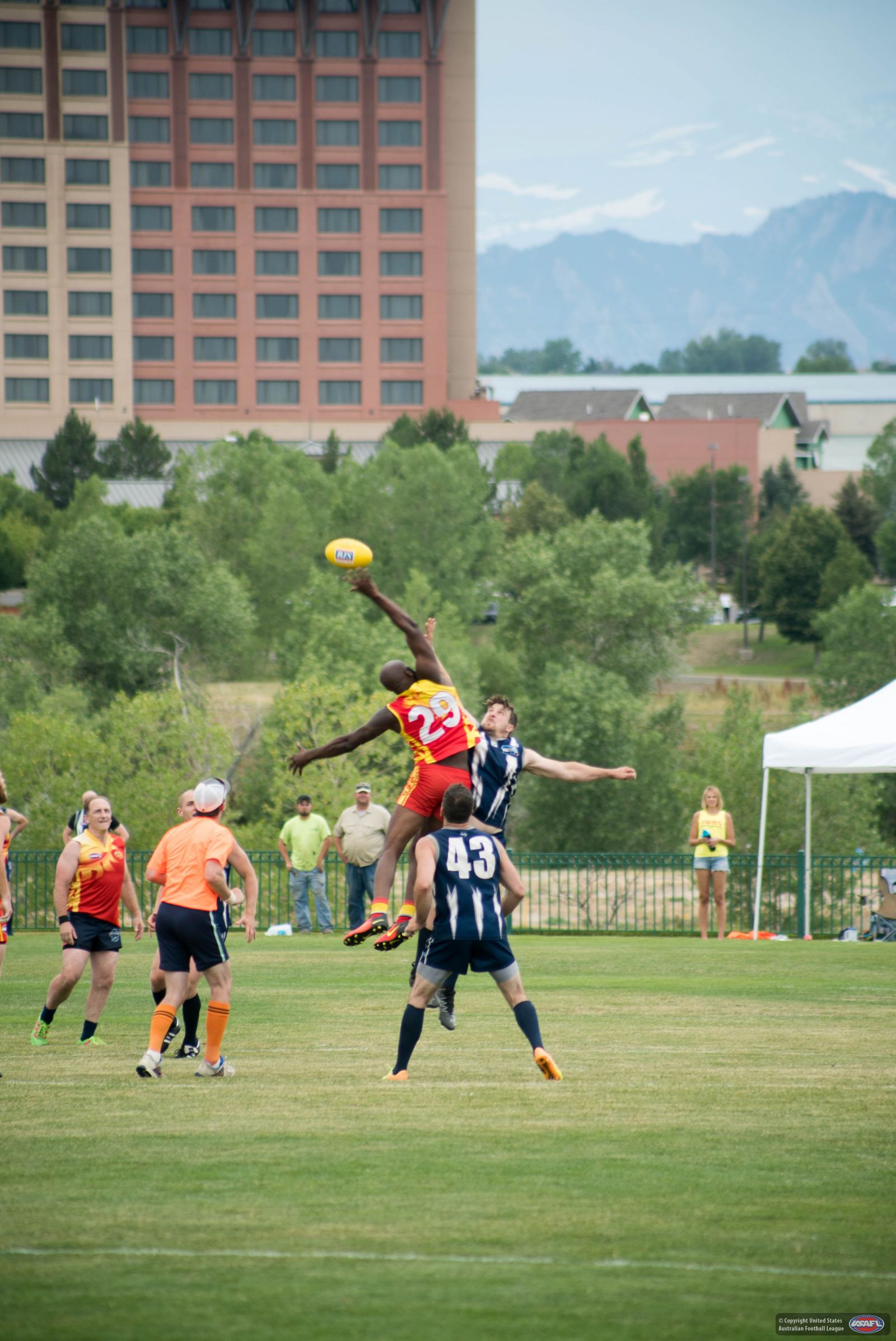 The Bombers may be strong, but the Minnesota Freeze have experienced a resurgence in 2017.  Losing only to Denver as a split-side in Des Moines in May, and falling gamely to Seattle at the Western Regionals in June, the Freeze have gone out and picked off wins with the precision of a Swiss clock.  Their highlight victory was a two point triumph over a combined Sacramento/Seattle outfit at Regionals.  They're led by two Revo representatives in Will Gleason and Brent Fischer, who each had superb hitouts in Melbourne during IC17.  Revo alumni Brent Mergen will be there too, and his veteran presence has helped newcomers such as sophomore player Tasturu Tanioka succeed for the Freeze.  Ryan "Hanga" McLuen, who has been around so long he was taking marks over pterodactyls, is among the key forwards.
Up in Beantown, the Boston Demons have once again have had a Jackson Pollock type season – all over the place.  They beat New York at home, taking out the Magpies for the first time since 2009, but last month lost to Philadelphia at home for the first time in club history.  David Pederson's side also went down in all three games at the Eastern Regionals in a hearty effort.  They will travel brims up across to Cali in 2017, with good numbers in support.  John "Stretch" Newton, Aaron Tenbuuren, and Ben Thivierige lead the Dees as they seek their first winning record at Nationals since 2011.
The Sacramento Suns came to Sarasota last year fancied for their fourth straight Grand Final, and after an early stumble to Baltimore-Washington finished last in their pool.  The Suns of the SacTown sky recovered from an 0-2 start to win their first two games to win their first two at Westerns, only to be stopped by Minnesota in the final game.  Coach Matt Bishop will bring a healthy side downstate with him, led by all-World defender Saleh Tyebjee.  Ed Manning's ruckwork has improve mightily in this, his second full season, and high leaping defender Kendall Hutchings will be difficult to penetrate in the back line.  Up front, speedy Ramish Bahramand and bruiser Colby Campbell pace the offense.
POOL B: Quebec Saints, Houston Lonestars, Chicago Swans, Portland Steelheads
Les Saints de Quebec were a bit of a sweetheart team in Division 2 two seasons ago, when the majority of their team made the 26 hour trip in a van from Montreal to Austin and pulled off a surprise four game romp to win their first USAFL flag.  After a 1-2 cameo in last season's D1 competition, Quebec is back in D2 after splitting their only USAFL matches, against Boston, and have a real chance to get back on top.  Led by Northwind representatives Kyle Graham and Morgan Whyte, and by team talisman Ronan Shaughnessy, the Saints are a skilled side and move the football as well as any team in the competition.
But there are three good sides nipping at their heels here, and one of them is the Houston Lonestars.  Under the direction of Dave Bryant and Sonia Lovel, the 'Stars have built one of the best club cultures in the USAFL, and the steady climb of the club has been a testament to it.  Despite not getting the results against D1 sides such as Los Angeles, Austin, and Dallas, Houston has punched well against teams at their weight level.  They'll be getting David Restrepo back from Melbourne Uni after a wonderful campaign there, as well as leading all Revolution players in goals at IC17.  David Anastas is another goal kicking threat, and ruck Josh Devlin's height gives Houston an advantage in the contests.  Houston will have three tests on their hands, but it's within their capacity to pass them all and make the final.
Since winning Division 3 back in 2012, the Chicago Swans have treaded water at the D2 level and have been a hard team to read during the last few regular seasons.  They took a big step forward in Sarasota last year, finishing 2-1, and got two decisive victories against Columbus, the reigning D2 champions, during the year.  The Bloods come to San Diego a better side for all of it, and their defense is keystoned by Revo fullback Jeff Kraemer.  It's a bit of a headscratcher as to how Kraemer didn't make the All-World team, but the guys in front of him will play with confidence knowing that he's one of the better fullbacks in the league.  Stu Nicol comes off a solid effort playing for Scotland in this month's Euro Cup, and Pedro Jiminez remains a dangerous playmaker in the middle of the park.
After two straight D3 championships, the Portland Steelheads return to Division 2 for the first time since a cameo in 2012.  Portland frontloaded their schedule with USAFL games, playing strongly on the road despite loses to Houston and Austin-B, combining with Sacto to almost take out the D2 WRT, and getting a solid win at home against rival Seattle.  Coach Brandon Snider's team may be seeded fourth in this group, but they're not a bottom ranked side.  Scott Waggener had a breakout performance at regionals, the American rookie controlling the middle seemed born to play the position.  2nd year player Erik Anderson, another American quicker-picker-upper, has developed into a quick run-through player in the middle.  The core of the team is two Australian vets in the middle of the ground in Tyson Okely and Martin Coventry.
---
MEN'S DIVISION 3
Pool A: Seattle Grizzlies, Philadelphia Hawks, Nashville Kangaroos, Columbus Jackaroos
The ascending part of the Seattle Grizzlies slow rebirth from D1 runner up to near oblivion back to D3 contender in roughly a decade has been fun to watch, especially considering that they've built up one of the most talented defenses in the league.  They went 3-0 en route to the D2 Westerns title in Denver, posted a solid 3-4 record in BCAFL play, and did it mostly without their full back, Kiel Rasp, who suffered a knee injury at the final Revos camp, causing him to miss out on IC17.  He'll be back for Nationals, and will have speedy, athletic Max Depina and Alex Jessup in front him patrolling the defensive side of the field.  Tex Edmonds and Brian Flaherty had sparkling seasons for the Grizz up front, and both have caused trouble for Western defenders all year long.
It must be said that the Philly Hawks have struggled over the past two years during the regular season, including going winless during the 2016 campaign.  As it started, it looked like 2017 would be the same.  But the Hawks picked up four wins, the most they've had in a regular campaign since 2006, and did it all on the road.  Australian Matt Beer has been instrumental in the second half success of the Hawks, injecting fresh blood into a veteran side led by 19 year USAFL veteran Jon Loring, former Revo Pat Miller, and current Revo Ryan McGettigan.  Understated defenders Bradd Gower and Chris Casey have played some of their best footy this year, as has forward Greg "GG" Glasgow.   The Hawks stand a good chance of getting to their first Grand Final since 2014 in search of their first D3 flag since 2002.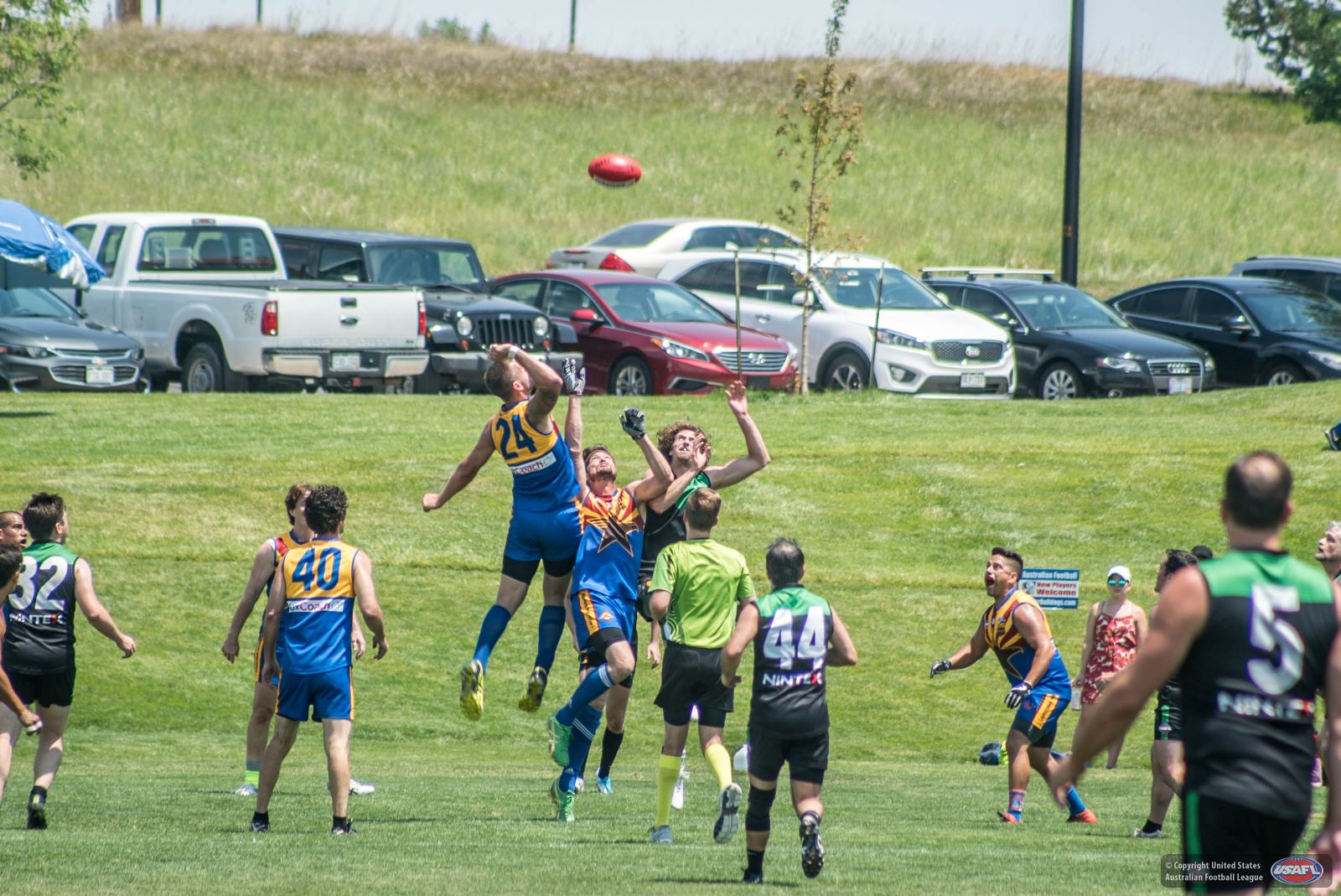 Despite dropping down from D1 through to D4 over the past several years, the Nashville Kangaroos have maintained a consistently competitive side, a trend that continued into 2017.  A split with Atlanta, two wins over Baton Rouge, and good showings against D2 Houston have shaped the Kangas into a competitive side in their D3 return.  They're led by John Freeman, who was arguably Rookie of the Year for the league in 2016 (someone should really create that award or something) and who is coming off an impressive showing at IC17, as well as rocketlike midfielder Mo Howell.  Veterans Nate Caldwell, Dee Vstecka and Cliff Cosnahan polish off an improving offensive corps, as Nashville look to complete their 20th anniversary season with their first trophy.
Four Grand Finals in five seasons with a mostly American side has made the Columbus Jackaroos a bit of a blueprint in terms of building a club culture.  The men who take to the ground to execute it were put to the test after ruckman Mark McClure went down with a season ending injury during the Eastern Regionals, as the Jacks went 1-4 after "Stork" got hurt.  Though Columbus comes to San Diego banged up, they bring talent in their briefcase, led by captain Clyde Simpson, two months removed from being his normal game-changing self in Melbourne with the Revos.  Veterans Rob Adams and Matt Beeghley are good decision makers in the middle, and big Matt Linsenmayer had an understated performance in at the Eastern Regionals in Raleigh.  It's going to be a tough road to hoe for the Jackaroos this year, but they'll put up a fight in each game.
Pool B: San Diego Lions, North Carolina Tigers, Arizona Hawks, Baton Rouge/Atlanta
It's fitting, in a way, that the San Diego Lions resurgence coincides with them hosting Nationals for the first time.  Once a thorn in the paw of the Denver Bulldogs, the Lions have gone from rock bottom to legitimate D3 contenders after a good showing during the year against tough competition in the West.  Names which have been associated with the club through its halcyon days in D1, such as Brandon Blankenship and Justin Valley, headline a Lions side that has come out in spades during 2017.  The Lions are a fundamentally sound team, and will try to get back to the Grand Final at home this weekend looking for their second flag in three years after taking out D4 in 2015.
It was a good year for the AFL's Tigers, and their Carolina cousins are looking to be just like the original YELLOW AND BLACK! and bring home hardware in '17.  The North Carolina Tigers are 6-0 on the year, including road wins at Atlanta and Baltimore-Washington, and they lifted the D2 trophy at home in the Eastern Regionals.  Led by curly-haired destroyer Erik Hanson, a man who impacted IC17 as well, North Carolina are a hardened team which is known for getting to the ball first more often than not.  There is good veteran leadership in support here, including 2015 D4 Roos Medal winner Peter Capiozello, Matthew "The Tank" Sherman, and Dara O'hAnnaidh.  The 2014 D4 winners are looking to erase last year's loss in the D3 Grand Final to Portland, and they have the club to do it.
But Pool B is going to be the footy equivalent of the Group of Death, and with the hometown Lions and unbeaten Carolina ahead of them, the Arizona Hawks men's side have gone from non-existent to legitimate contenders after being re-gathered late last year.  Led by Jason Wilhelm, the well-traveled and angular ruckman-cum-forward, the Hawks put together a competitive Western Regional effort and then took out San Diego late in the year.  Wilhelm, arguably the best ruck in the league (and there are a lot of arguments for other players, but this reporter regards him as tops), anchors a team that features the Lutostanski family – all six of them – and Chris Candelaria, the longtime Denver Bulldog who played in the first tournament twenty years ago.  The Hawks are back, and we may see them chasing their first flag since their last appearance, as D3 champs in 2011.
Bruce McAveney says it's Tiger Time, and that must be because there are two Tigers teams in this pool.  It's been a long time since the Baton Rouge Tigers have been in D3 – 2008, to be exact, when they paired up with the Atlanta Kookaburras.  The Tigers and Kookas team up again to round out the field in this division and Pool B, and both teams were active this year, playing many games across the Southland.  Aussie veteran Lachlan McQueen-Miscamble was a white-jumpered brick wall during the Central Regional Tournament, and teams are going to have trouble getting by him.  The Moran clan – Brady, Ryan, and Kyle – are always lurking, and USAFL fixture Wayne Kraska completes this motley crew that will try and shake things up in this tough pool.