A Force Awakens: 9 Women Elected to Lead USAFL Clubs in 2017
So sayeth the decree of Queen Beyoncé, in anno Domini 2011:
"Girls run the world."
More and more, the effect and influence of women on the USAFL community is growing and becoming more vital to its sustainability.  As has been the trend over the past several of seasons, their role has grown on the field, and has ballooned with equal fervency away from it.
That growth reaches another zenith this year, as no less than nine women hold presidential positions within USAFL clubs.  Some of the nine are in charge of the women's operation, while others are at the helm of the entire club.  All of them are American born and raised, and eight of the nine have played or will play within the Freedom National Team program.
Those women helming programs this year include Drea Casillas (New York Magpies), Julie Marks (Golden Gate AFL), Stephanie Snyder (Columbus ARFC), Cailin Deal (Boston Demons), Marie LaVictoire (North Star Blue Ox), Emily Rice (Des Moines Roosters), Victoria Schoenagel (Sacramento Suns), Aileen Yoon (Los Angeles Dragons), and Nafla Poff (Wisconsin Wombats).
Each of these women made the decision to step up for different reasons, and each of their clubs face different challenges for the 2017 season and beyond.
One of the challenges facing the larger clubs based in the USA's major markets is retaining players and maintaining club stability in transient and dynamic cities.
"Since we are in a transient city, we deal with the constant issue of having to continuously recruit and be engaged with our community," says Casillas, who has been involved in the USAFL at different capacities since 2005.  "At the same time, we have many long term contributors, both players and sponsors, while this issue manifests in different ways for the men and the women, we have to always be mindful of striking the right balance.
"Our previous Presidents have all been amazing clubmen and the Magpies organization has grown under each of them," she continues.  "Personally, I think that I needed time to grow into being the player/clubwoman who would do justice to my predecessors. After all of these years, I'm confident that I am able to do this and help bring our club to the next level."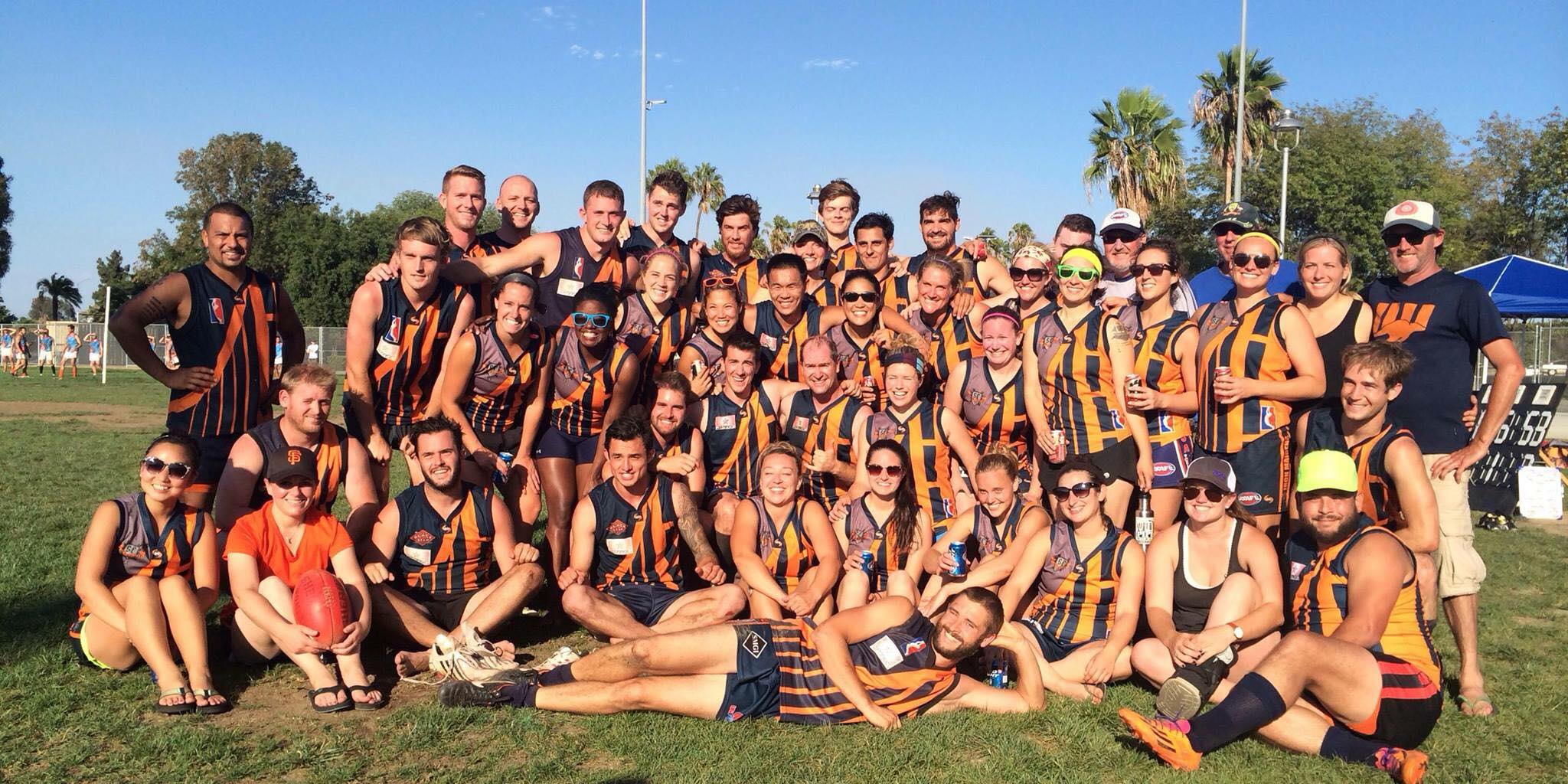 n the Bay Area, Julie Marks comes to the fore of a Golden Gate program that is celebrating its most successful season last year.  Marks helped lead the San Francisco Iron Maidens ladies to their first National Championship, while the Roos men made it to their first Division 1 Grand Final since 1999.
"The main challenge our club faces is with recruitment and retention," says Marks.  The Bay area is very transient with a multitude of completing activities.  We are constantly meeting new people and trying to get them to an event, practice or game so they can meet us, learn about our community and of course footy.  We have found for first timers at a game, to put the new person in a position to make a tackle or kick a goal.  That rush of adrenaline helps keep them coming back for more.
"I have been a part of the GGAFL for almost 5 years, and have loved every moment of it. In the beginning I was able to learn and watch how the club works. Then I had the opportunity to join our board to see how everything is really run.  The more I came to know about the GGALF, the more I wanted to be a part of its path forward."
Just across from Marks and the GGAFL, the Sacramento footy club sees Vicky Schoenagel take over from Matt Bishop, who helped form the team in the California capital.  She has slowly risen from the ranks within the board, first as treasurer, then as VP, and is one of six females on the Suns' executive board for 2017.
The Suns are one of the fastest growing clubs in the USAFL from their inception in 2009, and Schoenagel hopes to carry forward SAFC's lofty Vision 2020 into the future.
"I ran for President in hopes of helping the SAFC become a club that someday has a 100 year anniversary and continues to provide a tight footy family for all our future club members," she says. "Our club has become a huge part of my life in building friendships, growing my confidence, and providing me a place to be part of a team.  I want to help provide that opportunity to many others."
The Suns have built their success from a largely American fan base, and though that is a source of pride, Schoenagel also points it out as a challenge: "Recruiting and building numbers for both the men and women's leagues is an ongoing challenge for us.  It seems that Sacramento attracts fewer Aussies than some other cities, so we are mostly recruiting from a population who has never heard of the sport."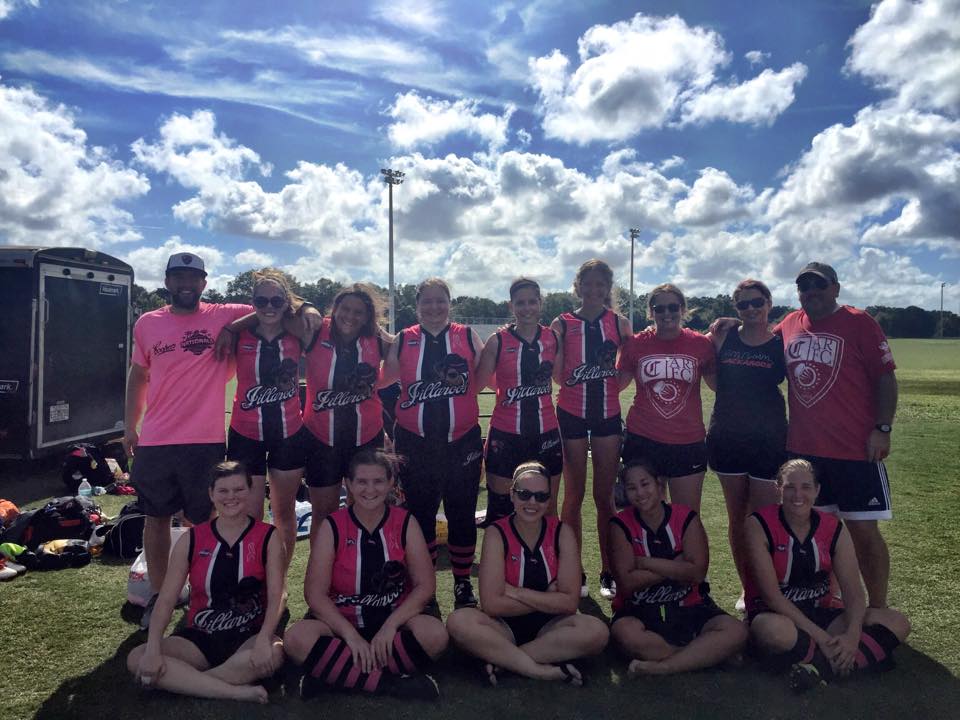 Another club that has built success off of a largely American membership has been the Columbus ARFC, with the Jackaroos having played in four Nationals Grand Finals in the past five seasons, and the Jillaroos resurgence into a steady future on the women's side.  Stephanie Snyder has been a part of the Jills' renaissance, and brings commitment and leadership to the Buckeye capital side.
"I was a member at large in 2015.  My prior experience on the board was challenging because I took on more responsibilities than anticipated but I was able to learn what it took to run our club," said Snyder, who began playing with Columbus in 2014.  "The skills that I use on a daily basis managing people and projects in an office lend well to club leadership off the field. The club needed someone to step up this year as President so I decided to commit to the challenge.
In Boston, Cailin Deal became the second female to handle the duties of Demons club president, trying to build the club atmosphere and mindset that exists in other clubs around the country.
"Boston always faces recruitment challenges and getting new faces, especially on the women's side," Deal stated.  "We have in the past struggled with continuity within the club and I really want to reinforce the 'one club, two teams' atmosphere to make everyone feel like a Demon and not men versus women.  This year we are really trying to tackle getting more concrete sponsors for an influx of money to hopefully start to subsidize the cost of footy more as we have several college and grad school students, along with postdocs, teachers, etc., that do not have a large income."
Three of the women in charge in 2017 front new programs, hoping to forge club legacies in the veins of others that have come before it.  They too face recruitment challenges of varying types.
"Once I was fully committed to starting the new LA Women's Team with my fellow team members, I realized just how passionate I was about building the team," says Aileen Yoon, women's president of the Los Angeles Dragons.  The Dragons' ladies were formed following Nationals last season by Yoon, Larin Sullivan, and Leilani Silvio.  Yoon began playing footy with Sacramento last year, and joined with the other two ladies and the Dragons men to start a women's footy club in Southern California.
"I was motivated by the wonderful women we were able to recruit, and I wanted to do everything I possibly could to make our inaugural year fun and successful for everyone involved," she continued.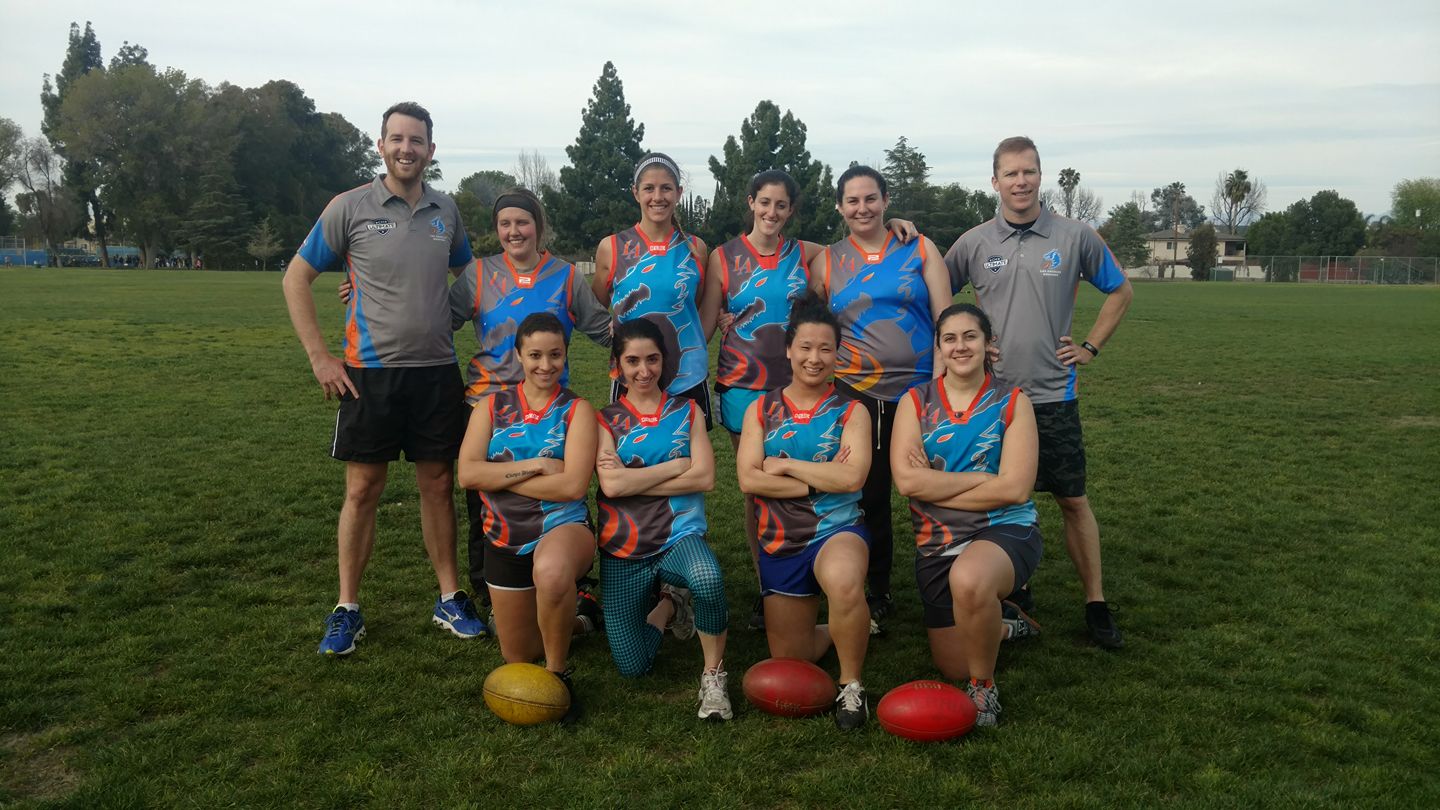 The Dragons, who have ascended to Division 1 on the men's side, have established themselves in the upper echelon of the USAFL.  "Both sides currently have different priorities," Yoon explained.  "The men working toward a D1 Championship and the women working on recruiting and building a strong foundation for women's footy, but we will need to work together this year to find the right balance of working together as one club."
Two clubs enter the year in development status, with the hopes of gaining full membership in the next year, and both have women presidents.
Marie LaVictoire brings her local and national team experience to the new North Star Blue Ox, which was formed earlier this year and serves the Minneapolis-St. Paul area.  The Blue Ox are th first independently formed women's footy club int he USAFL, and LaVictoire's focus for the Ox is making the sport a fun endeavor.
"This year we are focusing on our love of the game and spreading that love to any new recruits we get.  With this new club we are looking to spread the game of footy within Minnesota by focusing on the fact that this sport is for everyone and there is a place on the field for all types of players."
Finally, the Wisconsin Wombats head into 2017 with an eye on blooming the sport in the capital of Madison.  Nafla Poff, a veteran of the Minnesota Freeze, has the goal ahead of her of kindling interest in Aussie Rules in a college town that loves its sports.
"We have struggled with recruitment," Poff admits.  "While we have a large student population, it has been difficult to pull in people that do not know someone who is already on the team. And to get regular attendance, as schedules shift rapidly with students.
"My biggest initiative is getting this club to nationals. Ensuring that we have the game experience and skill base to feel confident on the field.  I also want to make sure that we have fun, which is not hard to do with this club."
The success of the USAFL and the building blocks of Aussie Rules in America is directly dependent on how well their clubs thrive within their cities. This new crop of leaders with vision on said success should make American footy followers optimistic in that respect, as we move onward into the sport's future.