2016 USAFL Nationals Preview - Men's Division 2
Continuing our preview of the USAFL Nationals, here is a look at how Division 2 should shape up, as it looks to be one of the most competitive fields in some time.
---
DIVISION 2
Pool A: Sacramento Suns, Houston Lonestars, Columbus Jackaroos, Baltimore-Washington Eagles
Science and astronomers and people who have gone to school for many years to study these sorts of things will tell you that the sun rises in the east.  But in the American footy universe, the Suns have risen from the west.  The Sacramento Suns enter Sarasota looking for their fourth consecutive Nationals Grand Final appearance, their only win coming in the 2014 D3 decider.
Matt Bishop's team won their second straight D2 Western Regionals cup, beating Seattle and Portland, and ended up 3-3 on the year.  They also struggled to find the big sticks on occasion, including a rough 7.17 performance at home against the Steelheads.  That said, they have the ball control capabilities of an elite team, and when their fundamentals are on, there are few better clubs out there.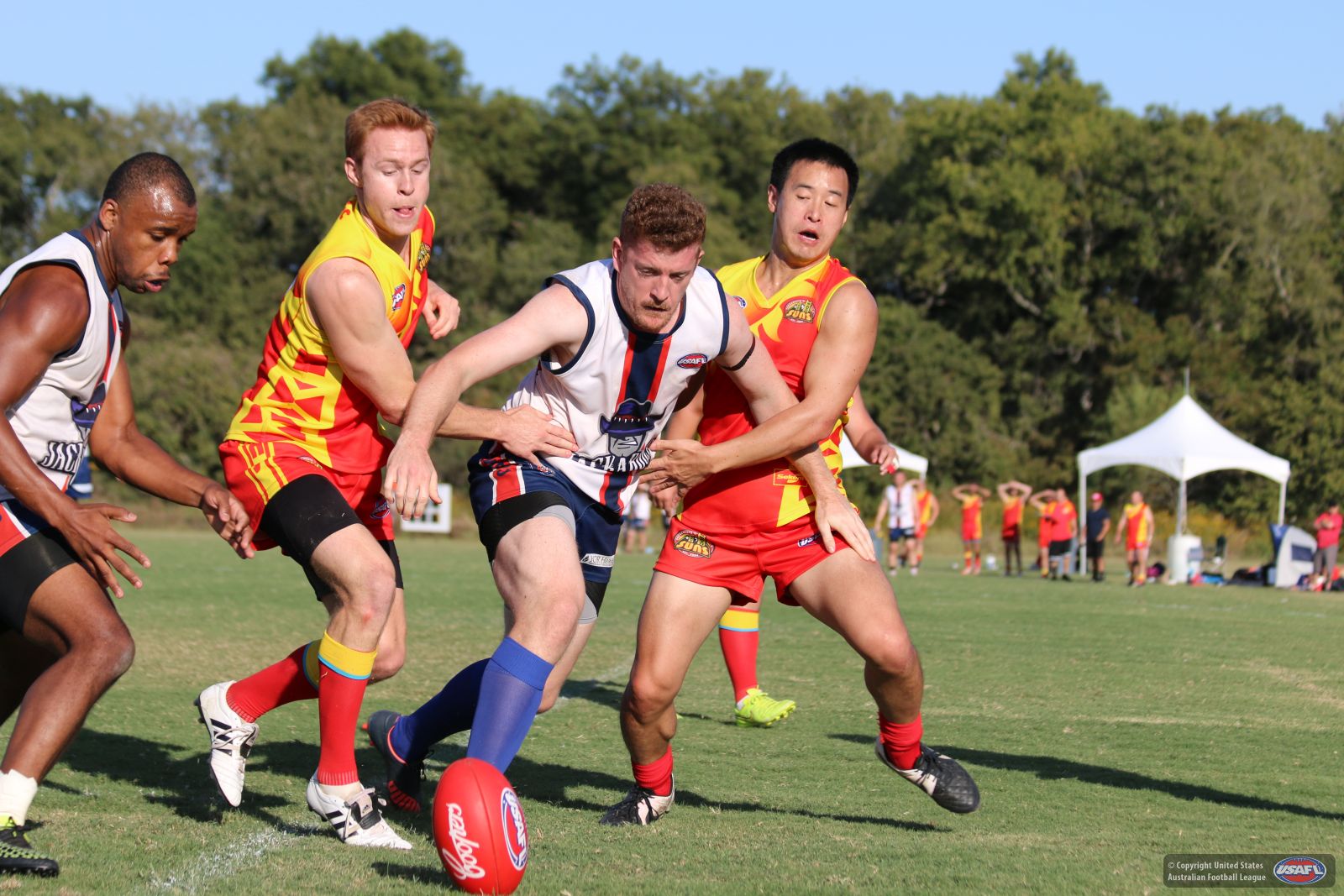 ​Saleh Tyebjee, who once again had the type of season that you'd want hanging on your refrigerator, anchors a stingy Sun defense.  Ruck Ed Manning has also had a fine year, and may find himself in the Paul Roos Medal hunt.  Sham Sanghera and Ramish Baharahand have emerged as offensive stars in the forward line, and Colby Campbell has quickly developed a reputation as a punishing player with good ability.
One of the two teams to beat Sacramento in their Grand Final string has been the Houston Lonestars, a club that, like Sacramento, has steadily grown in size and in quality in a relatively short amount of time.  Houston's season was tempered under the glare of the hot Texas sun, and that of constant tests against D1 level teams in Austin and Dallas. 
The highlight, however, was a 3-game sweep of the Division 2 field at Centrals.  They beat Dallas in a monsoon at home last month, and put in a strong road performance up in Portland.
Sean Smyth and David Restrepo were the offensive highlight reels in a dominative performance for Houston at Centrals, and combined with former Ft. Lauderdale man David Anastas will make things interesting for defenses.  This weekend, Bobby Sears, who came up through the Golden Gate system, lends his national team experience through a quick midfield that includes Trigue Allen and Jesse Carcamo, who are certified and licensed guns through the center.  
The Columbus Jackaroos have rooted themselves (in the American sense of the word, of course), firmly in Division 2 at Nationals, and every year they come into the weekend with the expectation that they'll be playing for the Divvy 2 cup like they did in 2013, when they won, and 2014, when they didn't.
Columbus's men scheduled their campaign with the Ric Flair mentality – if you want to be the man, you've got to beat the man. (WOOOOOO!)  They played in both the Eastern and Central regionals, and to their credit, they fell to Dallas by 1 point, to Denver by just 8, and by 10 to Boston, all teams that have ranked above them during the season.
With a couple of small exceptions, the Jacks' roster is a largely American slate.  Clyde Simpson remains one of the most consistent players through the middle for his team, and Mark "Stork" McClure is going to win more hitouts than not, and national team products Dan Hamilton and Chet Ridenour are veterans that are consistently hard at the ball.
Soaring like their nicknamed doppelgangers from the purgatory of rebuilding, the Baltimore-Washington Eagles make their triumphant return to Division 2 after one year in D-4.  Coach Robert Stankovic's team didn't just cobble together a good season, they went out with a purpose and manufactured a future.
Aside from spirited but ultimately losing efforts against New York and Boston, the Eagles teed off on Philly and North Carolina during the year, beating both three times each including the D2 Eastern Regional.  Like Sacramento, they'll need to straighten out their kicking yips to be successful.
Though Jay Levesque gets most of the adulation as with heaps of Revos experience, other Americans such as Robert Strange, Nick Siska and Tracy Williams have improved to become good all-rounders in BWE's toolkit.  But it's the Australian veteran contingent of former Collingwood player Danny Seow and potent forward Kit Drury lead the way, and with three matches of smart footy within them, the Beltway boys are a nice dark horse pick.
Pool B: Calgary Kangaroos, Boston Demons, Chicago Swans, Minnesota Freeze
Sweeping in like the Alberta clippers that force me to spend twenty minutes warming up my car in January, the Calgary Kangaroos have become known as a ruthless invader from the north.  They are a bit of an enigma to the teams they play at Nationals, if only because they rarely play any USAFL clubs during the course of the season.
After five seasons up in Division 1, the Kangas have dropped down to Div 2, where they previously excelled, having won back-to-back Grand Finals in 2009 and 2010.   The long trip from the great white North has tempered the strength of the side that is making their way to Sarasota, but it should be a formidable side nonetheless.
Calgary always brings down a fair number of Aussie experience, but there are some talented Canadian nationals in the mix too, including Mattia Singh and Trent Loosemore, both of whom will be representing their country at next year's IC17.
A long time ago, in a galaxy far far away, the Boston Demons were once the best team in the country.  Of course, when they won the Division 1 Grand Final in 1998 and 1999, Y2K was still a concern.  Things have changed a bit since then.
After sinking into D2 a couple of years ago, Ed Callaghan's side has bobbed like a buoy in Massachusetts Bay.  But this year, as the second seed in this Pool B, they have a good chance of eeking into the Grand Final.  Outside of a loss at the Eastern Regional to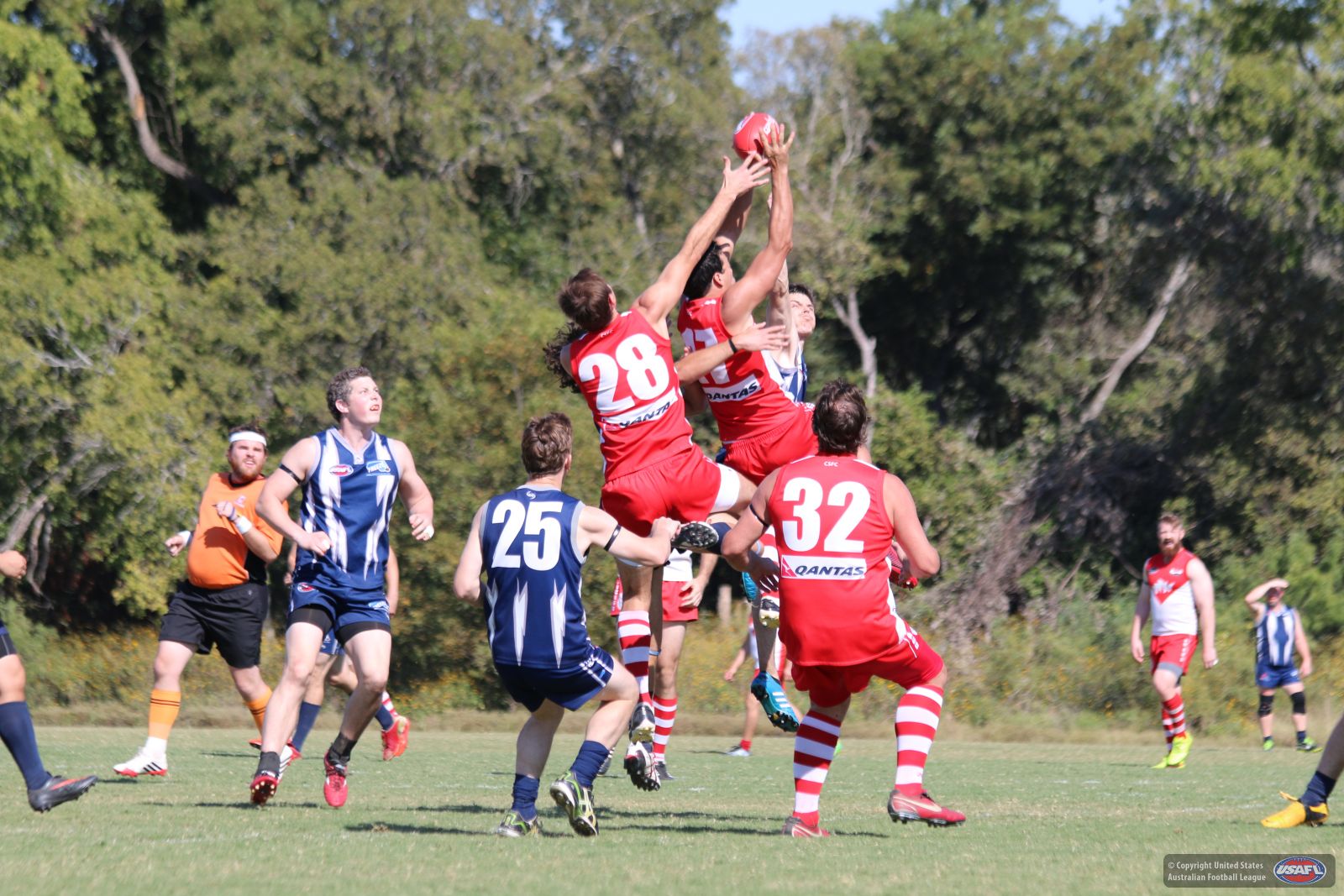 New York, Boston has road wins at Quebec, Philly, and against Columbus, as well as a win at home over rival Baltimore-Washington.
Jeremy Humm, who once upon a time played for the AFL's West Coast Eagles, has starred as an aerial and scoring threat.  Captain PJ Devine leads a rock-solid defensive corp, and the ever sneaky Ari Joniec rules the middle.  Matthew Wood, not to be confused with Seattle's Matthew Wood, is a tall presence, and Aaron Tenbuuren is worth keeping an eye on.
The Chicago Swans were hoping that their mother club in Sydney would win the AFL Grand Final – the last time that happened, in 2012, the Windy City white birds won the D3 title in Mason, Ohio.  No such luck this time, and so the Swannies will have to do it on their own.
After a 1-12 showing at the 80/35 tourney in Des Moines, Chicago went 1-2 at the Central Regionals.  Though they would finish the year at 4-7, they put together a more consistent campaign and, through the finish of their metro season, seem focused at finally making a breakthrough.
Pedro Jiminez has been the most exciting player for the Bloods this year, and Revo hopeful Jeff Kraemer is a danger with the ball.  Stu Nicol and Andrew Woodman are the backbone of consistency, and Nathan Bird's hustle will trouble opponent's halfbacks.
The Minnesota Freeze round out the group and came into the year having to rebuild the team from a carton of Lincoln Logs after losing some key veterans in the offseason (except these are Bunyan Logs because Lincoln isn't from Minnesota.)
But this wasn't a typical rebuilding year – the Freeze lost just 2 of their seven games this season, both at the paws of the Denver Bulldogs.  They'll be very happy to see the Swans in their pool as the yetis beat the bloods twice, reversing the trend from last year.
Much like their women's team, Minnesota plays with a balanced attack.  The return of Revo veteran Bret Mergen will help the cause, and that should get things going in the center of the ground.  Ryan McLuen will be a pivotal cog in coach Mark Fischer's gameplan, and Luke Gagnon might be his usual game changing self.
Minnesota hasn't hoisted a cup since 2012 when they took out D2, it'll be a mighty feat to accomplish in 2016.